9 Most Impressive Basketball Stars of the 2012 Olympics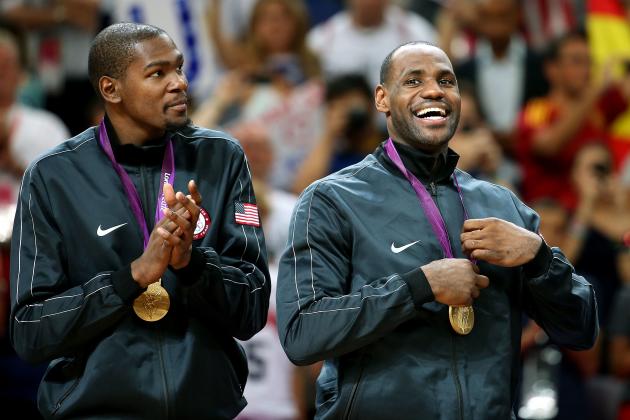 Christian Petersen/Getty Images

The pulse-pounding gold-medal match between Spain and the United States and bronze-medal game between Argentina and Russia capped off what was a tremendous Olympic Games for the sport of basketball. While the USA ultimately defended its gold medal from Beijing, players from all over the globe showcased their tremendous talents as they led their countries on the quest for a medal.
Beyond just the NBA All-Stars suiting up for America and Spain, a number of players had brilliant runs that demonstrated just how powerful a motivator representing your nation can be.
Even though they may not have had the most success, these athletes carried their teams with their scoring, defense and pure playmaking ability. From Olympic veterans to young bucks, there was no shortage of dynamic players to watch over the past few weeks.
Without further ado, let's take a look at nine of the most impressive basketball players from the 2012 London Olympics.
Begin Slideshow

»
Christian Petersen/Getty Images

Team USA's lack of size was repeatedly brought up during the weeks leading up to the Olympic Games, but the play of Kevin Love off the bench helped to offset that weakness and actually gave America an inside advantage in a number of contests.

Love did not play heavy minutes but made his presence felt both by scoring the basketball and most importantly by attacking the glass with relish. The Minnesota Timberwolves' star averaged 11.6 points and 7.6 rebounds per game while shooting 63 percent from the field and 36.4 percent from three-point range.

Love has been one of the NBA's best rebounders over the past two seasons, and he brought that aggressiveness with him to England, where he used his strength to consistently carve out excellent position and his length to snare tough rebounds in traffic.

He did a good deal of the dirty work for Team USA, banging in the paint and creating easy baskets on putbacks and dunks. Hustle plays like diving on the floor or tapping the ball out to the perimeter were Love's speciality, but he contributed as a scorer too.

Love shot a blistering 81.3 percent from inside the arc, picking his spots perfectly and dominating in the pick-and-roll/pick-and-pop game with the United States' elite point guards. He also hit his share of three-pointers and created mismatches with his shooting while playing both the 4 and 5 positions as necessary.
Perhaps most importantly, Love's play improved as the tournament wore on. Though he scored more early on, he had nine or more rebounds in the final four games, including eight offensive boards against Australia.

In time Kevin Love's contributions to this year's gold medal may be forgotten in the shadow of LeBron James' all-around excellence or Kevin Durant and Carmelo Anthony's barrage of scoring, but without Love's energy and activity, there may very well have been no gold-medal celebration for the United States.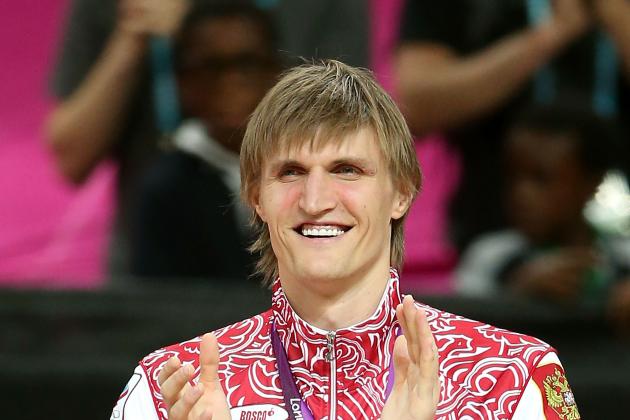 Streeter Lecka/Getty Images

Andrei Kirilenko spent last season out of the NBA playing with CSKA Moscow and winning the Euroleague MVP award, but many fans and pundits balked at the two-year, $20 million contract he signed with the Minnesota Timberwolves. However, Kirilenko's brilliant run to the bronze medal with Russia silenced his critics, as he was easily the team's best player.

Looking rejuvenated in his country's uniform, Kirilenko averaged 17.5 points, 7.5 rebounds, 1.4 assists, 1.8 blocks and 1.9 steals per game while shooting 54 percent from the field. He was Russia's first option on offense and one of their best defensive players, and his versatility was instrumental in the team's shocking run to the medal stand.
He exploded for 35 points against Great Britain and 20 in the bronze-medal match against Argentina while dipping below double digits just once in the tournament. He was also excellent at drawing fouls, making 13 trips to the charity stripe against Brazil, 12 against Lithuania and 10 against Spain.
At 6'9", Kirilenko was asked to play both forward spots and even some center for this Russian team while providing them with veteran leadership both on and off the court. As Russia's best defender he was asked to check players like Pau Gasol, Linas Kleiza, Carlos Delfino and Luol Deng thanks to his length, quickness and shot-blocking ability.
Kirilenko scored out of the post and from mid-range consistently, although he did not shoot the three-ball all that well. He used his strong handle and quick first step to attack off the dribble and barrel his way to the rim.

He also paced Russia on the glass both offensively and defensively, highlighted by his 13 boards, five on the offensive end, in the quarterfinals against Lithuania.
There were low expectations for Russia in these Olympic games, but the play of Kirilenko served as a catalyst for their incredible run. Minnesota fans are just praying the former All-Star can keep this momentum rolling into next season.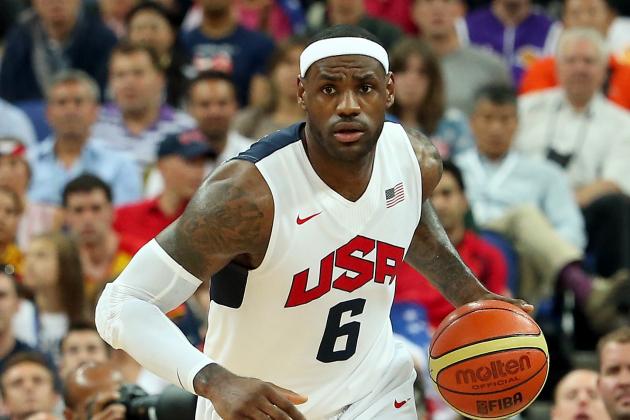 Christian Petersen/Getty Images

Sure, there were players who scored more or who snagged more boards, but you would be hard-pressed to find a better all-around player in the 2012 Olympics than LeBron James. James' versatility on both ends of the court and vocal leadership were absolutely critical in leading Team USA to their second consecutive gold medal.

During their eight contests, James averaged 13.3 points, 5.6 rebounds, 5.6 assists and 1.4 steals per game while shooting a staggering 60.3 percent from the floor. James was one of the squad's best passers, working with the ball in his hands and initiating the offense while averaging just one turnover per contest.

Although some criticized him for being too passive offensively, he always managed to take over when the team needed him, whether it was with a late scoring barrage against Lithuania or dominating the glass and notching a triple-double against Australia.
Without a player like James that could impose his will on the game, opposing teams like Spain and Lithuania would have had an easier time exploiting USA's advantages on the interior.
On a team that was lacking in size, James spent time playing every position on the floor while primarily guarding the opposing team's best offensive player. He helped to dictate the tempo of the game and was a true multi-tool for coach Mike Krzyzewski and the Team USA staff.
He shot a decent 30 percent from beyond the arc, making some extremely timely three-pointers, but excelled driving the ball and shot an absurd 71.7 percent from inside the arc. There was simply no player capable of keeping him from attacking, and with the offensive firepower around him, James was able to find lanes and create high-percentage opportunities.

James' athleticism and ability to play in transition helped define the identity of the team, and in a year where he earned a third MVP award, an NBA title and an NBA Finals MVP, James capped it off by being the best player on the world's best basketball team.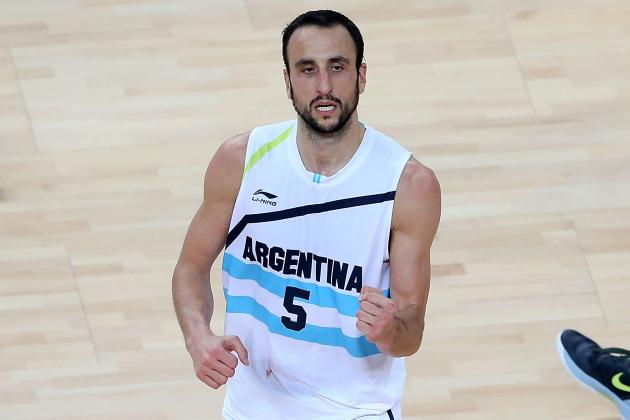 Streeter Lecka/Getty Images

Though the "Golden Age" of Argentinian basketball ended in disappointment as the team settled for fourth place, 35-year-old Manu Ginobili played tremendously for his home country in what will most likely be his final trip to the Olympics.

Ginobili anchored the team's offense, averaging 19.4 points, 5.4 rebounds, 4.1 assists and 1.6 steals while shooting 49.5 percent from the field and 44.2 percent from deep.

On an Argentina team filled with veterans, Ginobili's quickness and ability to break down a defense gave their offense a much-needed boost. He spent plenty of time handling the ball and was also a threat spotting up and taking advantage of the closer three-point line.

Ginobili was able to get to the rim consistently with his bevy of moves off the dribble and connected on all 34 of his free-throw attempts over the eight games.
In addition to putting up his own numbers, Ginobili also excelled as a playmaker, racking up six or more assists three times, running the pick-and-roll well and making some excellent kick-out passes after getting into the lane. His 2.6 turnovers per game were a bit high, but for as much time as he spent with the ball in his hands, it is not a staggering number.

Ginobili was more than just an offensive player, crashing the glass from the perimeter and reading passing lanes in order to come up with loose balls. He was a nightmare in transition and formed a formidable backcourt with Pablo Prigioni.

Scoring 16 or more points in all but one game and playing heavy minutes, Ginobili was a pillar of consistency for an Argentina team that was good enough to see a fourth-place finish as a failure.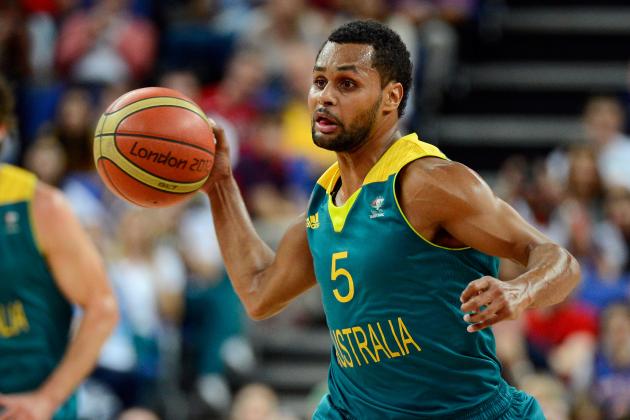 Ronald Martinez/Getty Images

Although their run was cut short in the quarterfinals by the United States, guard Patrick Mills was nothing short of electric in Australia's six games, as he led the Olympics in scoring and was simply unstoppable in stretches.

In stints with the Portland Trail Blazers and San Antonio Spurs, Mills has not exactly seen much time on the court or had the opportunity to showcase his skills, but he took full advantage of his leadership role in London.

Mills averaged 21.2 points, 4.5 rebounds, 2.2 assists and 0.8 steals per contest. He shot the ball fairly well to boot, shooting 42.2 percent from the field and 35.4 percent from three-point territory as the primary ball-handler and scorer for Australia.

His quickness made him a nightmare to cover off the dribble, and he was capable of knifing his way into the lane and attacking the basket or making a drop-off pass to one of the number of young, athletic big men he played with. He was as capable of finding a seam and collapsing a defense as any of the dynamic guards that played in London.
Mills shifted between both guard spots as necessary, and though he wasn't a stellar defender, he was capable of contributing on the boards, making plays for his teammates and helping to space the floor. His 2.5 turnovers per game were high, but like Ginobili it was hardly surprising given how much of the load he had to shoulder offensively.

Australia lacked consistent scoring outside of Mills, and the 6'0" guard's explosiveness was instrumental in the success that the nation had. He dropped 26 points on the United States and a staggering, tournament-high 39 against Great Britain.

Patrick Mills will not have the same offensive freedom in San Antonio, but he has proven this summer that he could be a special player in the future.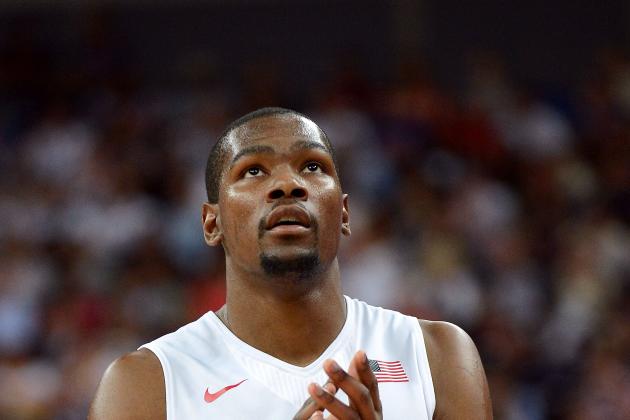 Harry How/Getty Images

Few NBA players are as tailor-made for international play as Kevin Durant, and the first-time Olympian excelled for Team USA as both a scorer and an all-around player.

Durant led the team with 19.5 points along with 5.8 rebounds, 2.6 assists and 1.6 steals per contest. He was the focal point of the squad's offense and thrived spotting up, slashing to the basket and making plays with the ball in his hands.

Over the eight games in London he shot 48.5 percent from the field, picking his spots wisely, while connecting on 52.3 percent of his three-point attempts. No player on the team benefited as heavily from the shorter three-point line than Durant, who has excellent range and, with his ability to heat up in an instant, could drill shots in bunches.
Durant logged time at both forward spots and did not simply camp out on the perimeter, attacking the glass, playing aggressive defense and handling the ball. He was capable of driving and either finishing at the rim or drawing fouls.
Durant's ability to both create his own offense and make the extra pass to an open teammate was essential in the team's offense. Defensively he used his length to make his man take tough shots and was also capable of reading passing lanes and knocking balls loose.

He ran the floor extremely well, making at least one above-the-rim highlight play per contest, and contributed to the up-tempo style of play employed so successfully by Team USA. Durant had a brilliant Olympic run and is poised to become a LeBron-type leader for the next squad.
At just 23 years old, Durant has an extremely bright future ahead of him both in Oklahoma City and in Rio.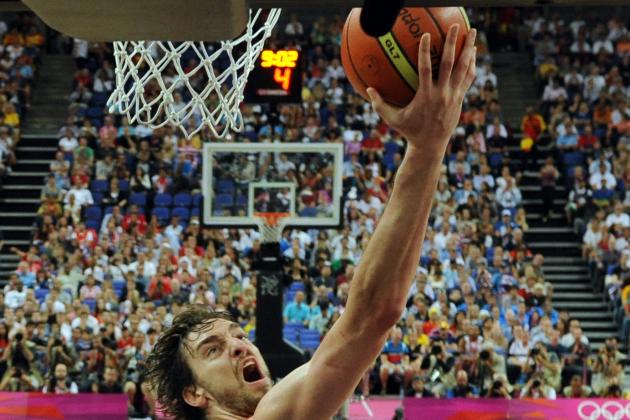 Pool/Getty Images

Easily one of the best non-American players competing in London, Pau Gasol's outstanding play helped Spain to another silver medal that could have easily been a gold if not for the United States' fourth-quarter heroics.

The big man continued to show the versatility that has made him a four-time NBA All-Star and an All-NBA selection during his career. He scored inside with his myriad of post moves but was also a reliable mid-range threat and even stepped out to the three-point line as a stretch-4, creating some serious mismatch problems.

Gasol averaged 19.1 points, leading his team, along with 7.6 rebounds, 2.9 assists and 1.1 blocks over Spain's eight-game run while shooting 57 percent from the field and 31.2 percent from beyond the arc.
He was a key part of the dominant frontcourt that Spain trotted out each night and exploited on the boards and on the interior. Their big men were simply able to overwhelm many of the smaller teams, and Gasol's presence both offensively and defensively was instrumental in that.
Beyond just his scoring and rebounding, Gasol's passing ability stood out. He was excellent at making plays out of the post and finding shooters on the perimeter while also proving to be a lethal interior passer finding his brother Marc, Serge Ibaka or Felipe Reyes inside for easy scoring opportunities.
While facing double-teams and constant defensive attention, Gasol turned the ball over a mere 1.8 times per game. He notched three double-doubles in the tournament and absolutely locked down the defensive glass with his length and ability to box out opponents.

Gasol was extremely efficient with his shooting but still managed to score more than 20 points in five games, including 25 against Brazil and 24 in the gold-medal match, where he had a brilliant third quarter that saw Spain take the lead.

Should London turn out to be his last Olympics, Gasol can rest assured that his legacy is cemented by his tremendous contributions in 2012.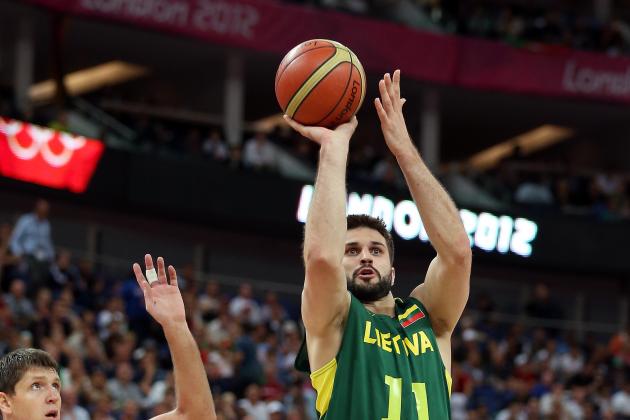 Christian Petersen/Getty Images

His Olympic run didn't end in stellar fashion, posting just four points per game against Tunisia and Russia, but for Lithuania's first four games Linas Kleiza played truly remarkable basketball.

Kleiza has struggled with knee problems over the past few seasons and looked fully healthy for the first time in years during these games. He was a leader on the court for a dangerous Lithuania team that gave the United States all it could handle in Pool A and played well in the quarterfinals against Russia.

Kleiza averaged 13.5 points, 6.3 rebounds and 1.7 assists on 43.1 percent shooting from the floor, but his play was better than merely his stats indicate. Although he fouled at a fairly high rate, Kleiza's aggressiveness and Lithuania's gritty style of play made that inevitable.

He was a main scorer for Lithuania, and while he did not shoot the three extremely well, he was physical in the paint, muscling his way inside and attacking the rim or getting to the line. Kleiza has long been considered a player who relished contact, and that physicality was highlighted during his time in London.
The brightest moment of Kleiza's Olympic run was his 25-point, five-rebound and three-assist performance against the United States, where he was quite possibly the best player on the court that day. He hit shots from all over the court, making a pair of threes and eight of 14 two-point attempts while seriously disrupting the USA with his activity both offensively and defensively.
Kleiza, who spent time playing both the 3 and 4 spots, ran the floor extremely well and was able to find his way to the rim while displaying the athleticism that he lacked during his past few years with the Toronto Raptors.
Though his numbers were not the best we saw this summer, Linas Kleiza was easily one of the most impressive players in these Olympic Games.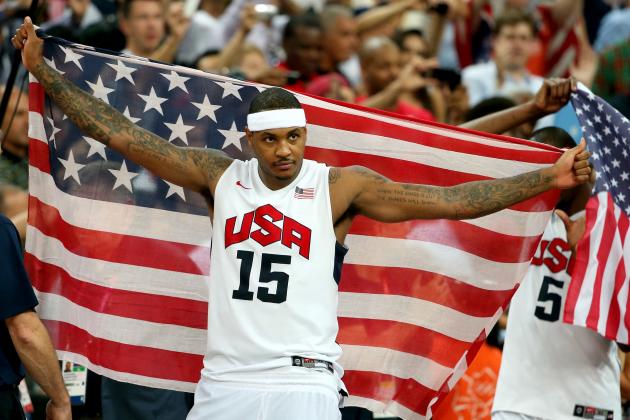 Christian Petersen/Getty Images

Perhaps no player in London this year took advantage of his time on the floor quite like Carmelo Anthony. With a number of quality forwards on the Team USA roster, there was not exactly a surplus of minutes available for the gifted scorer, but he made every second he played count.
Anthony's averages of 16.3 points, 4.8 rebounds, 1.3 assists and 0.5 steals are impressive, but when one considers the fact that he played just 17.8 minutes per night they become even more jaw-dropping. Anthony took advantage of the freedom given to the team on offense by shooting the ball with staggering efficiency and taking over games with his scoring.
Anthony, who has been criticized for his shot selection since he entered the NBA, hit 53.5 percent of his field-goal attempts and 50 percent of his three-point attempts. Though he is a good three-point shooter for New York, Anthony took advantage of his ability to drain the long two-pointer and was one of the primary long-range options for the United States.
In addition to being one of only three American players to appear in three Olympics, Anthony earned his place in history by becoming the United States' highest scorer internationally as he dropped 37 points on Nigeria, including a surreal 10-of-12 performance from beyond the arc.
He was not just a long-distance marksman though. Anthony bought into the team's aggressive defensive strategy and used his strength and physicality to drive hard to the basket. He reacted well to closeouts and was able to simply overpower weaker forwards in the post.
He chipped in on the boards and averaged less than a turnover per game, refusing to play outside of his strengths and not trying to force the issue.
Anthony demonstrated not just phenomenal shooting, but also a more mature approach to to the game that Knicks fans can only hope he brings back stateside.