2012 MLB Playoffs: Breaking Down AL Wild Card Race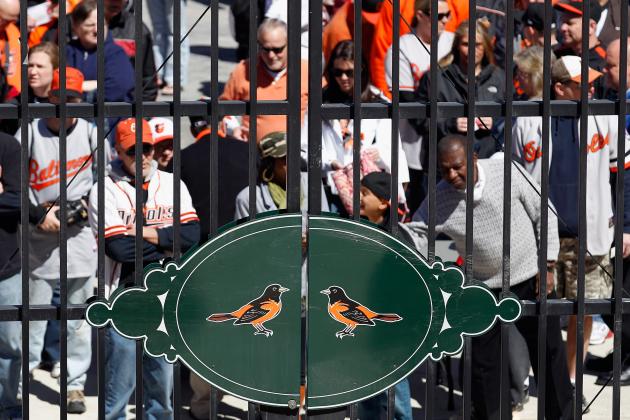 Rob Carr/Getty Images
Will the Postseason Gates Finally Open for the Baltimore Orioles?
Ladies and gentlemen, we have a potentially epic American League playoff race on our hands.
In a turn of events nearly nobody would have anticipated at the beginning of the 2012 season, we have five big league teams within two games of a wild card spot. And we have one team—the Boston Red Sox—that while trailing by 7.5 games still has time to get its house in order and make a move.
How exhilarating it is to watch the Baltimore Orioles and Oakland Athletics rise from the ashes of misery to hold leads over three ball clubs slated to be virtual locks for the postseason at the start of this season!
How nail-biting it must be for followers of the Detroit Tigers, Tampa Bay Rays and Los Angeles Angels. All three of these teams were considered locks for postseason bids at the start of the year. Yet each team is locked in a battle with Baltimore and Oakland.
How frustrating it must be for Red Sox nation. This team has endured enough drama, injuries and inconsistency to last a lifetime. Yet, for all its issues, the Red Sox are one solid run from throwing a wrench into things.
In this slideshow, I will break down each team in the AL wild card hunt and provide analysis regarding what each team must do to reach the postseason.
Note: Standings and statistics current through August 20, 2012.
Begin Slideshow

»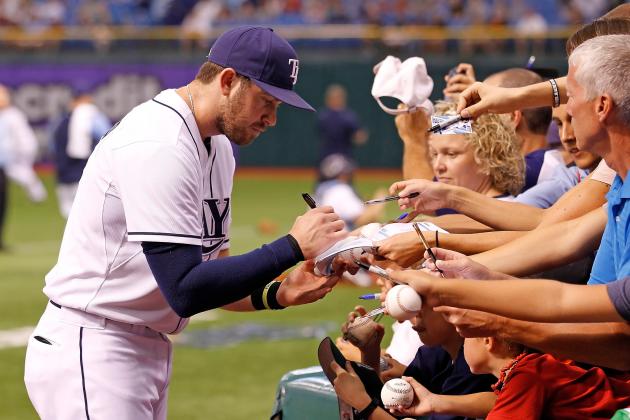 J. Meric/Getty Images

Record: (67-54, Wild Card Lead)
Synopsis: With the return of Evan Longoria, the Tampa Bay Rays are the most dangerous threat to make the playoffs.
Winners of six in a row and eight of the last 10 games, the Rays have all the tools to make a big move down the stretch.
Again, Tampa is near the top of the league in team pitching. With a 3.33 team ERA, Tampa trails only the Washington Nationals (3.25).
And while still near the bottom of the big leagues offensively (.236 team BA), Longoria has given the Rays a huge boost. Defensively, the Rays have also cleaned things up a bit since late July.
Must Do: To have a shot at earning the postseason, the Rays must hit better. Watching this team play can make fans want to throw things at television sets. Yet here they are, rejuvenated with Longoria back in the lineup. It will be interesting to see how much better the Rays thwack the baseball with this power all-star in the lineup.
Prediction: I have heard some baseball pundits compare the Athletics to the Rays. The difference between these two teams, however, is the Rays have a proven track record of boasting a pitching staff that consistently excels in the face of anemic offense.
The Rays also have this uncanny way of getting clutch hits at just the right moments to snatch victory from defeat. Should the Rays hang around, it will become hard to argue against this team not being in the playoffs this season.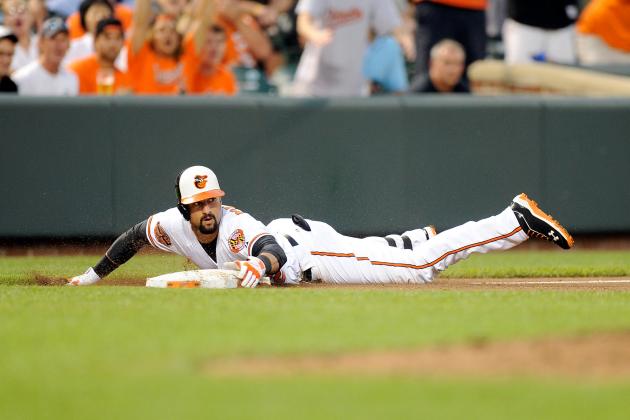 Greg Fiume/Getty Images

Record: 66-55 (Second Wild Card)
Synopsis: In the movie Gladiator, Roman Emperor Commodus asks the honorable warrior Maximus, "What am I going to do with you? You simply won't…die."
This is the 2012 Baltimore Orioles.
Baltimore has defied human logic. This team is the great death defying magic trick of big league baseball. This team has struggled to hit, pitch and defend. Yet, this team keeps winning, which makes baseball fans scratch their heads and say, "how?" (Hint: They are really really good at winning one-run ballgames).
With Baltimore's recent call-up of infield prospect Manny Machado, the Orioles have become the subject of national acclaim. Quite the contradiction of the 100-loss team many predicted entering this season.
Must Do: While hitting and fielding have improved of late, it will be starting pitching that will dictate this team's course. Fortunately for Baltimore, Chris Tillman and Miguel Gonzalez have emerged as pleasant surprises at the right time. Even better, per Greg Luca of MLB.com, Orioles ace Jason Hammel may return sooner than expected.
Prediction: Time and again, when pontificators wave Baltimore to the valley of MLB death, this team proves everyone wrong. I predict the Orioles will be there right to the end, and if they can keep this almost inexplicable magic going, this team will make the postseason. But if starting pitching unravels like it did Saturday against the Kansas City Royals, the show is over.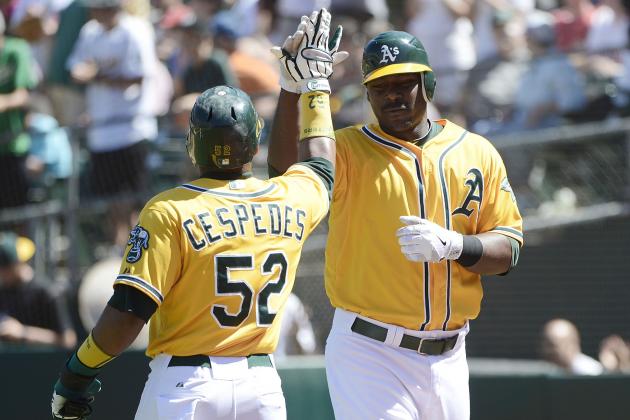 Thearon W. Henderson/Getty Images

Record: 65-55 (.5 Behind Wild Card)
Synopsis: What Oakland lacks in hitting (MLB worst .232 team BA), it makes up with outstanding speed and pitching. The A's are eighth in baseball in stolen bases (95) and 10th in triples (25). Oakland's 3.49 team ERA is fifth in the league.
Must Do: Oakland must improve its hitting down the stretch. While the Athletics do have the offensive skill to put up big numbers at times, the Athletics have to play a scrappy, blue-collar style of offense to keep pressure off the pitching staff.
Prediction: While certainly fun to watch, Oakland's woeful hitting may become this team's Achilles heel. Should I be wrong and should Oakland do just enough offensively to make the postseason, this team becomes dangerous in a short series with its pitching ability. If I were a big league manager, I would be wary of facing Oakland in this case. With great pitching and a few breaks, anything is possible.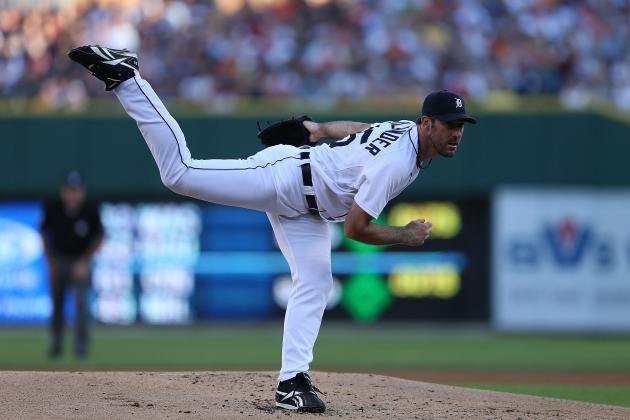 Leon Halip/Getty Images

Record: 64-57 (2.0 games back)
Synopsis: Originally slated to run away with the AL Central from the get-go, Detroit is scratching and clawing just for a postseason spot. Fortunately for the Tigers, the White Sox have not pulled away in the division. Thus, of all the wild card teams in the playoff hunt, Detroit seems to have the best chance.
As expected, Detroit has a potent offense. Detroit is fifth in the big leagues in team batting average (.270) and third in OBP (.337) They are also sixth in OPS (.765) and eighth in slugging percentage (.427).
Must Do: Detroit's pitching staff has been inconsistent this season. The squad has a 4.01 ERA, which is 16th in the MLB. Opposing hitters are batting .263 against Detroit. Only seven teams have a worse BAA. In order for Detroit to solidify its postseason chances, its pitching staff must show more consistency.
Prediction: Detroit is simply too gifted to not find a way to turn it up down the stretch. With more consistent pitching, the Tigers have a great shot at slipping past the Chicago White Sox to win the AL Central. This will leave Robin Ventura and Co. fighting for a wild card spot. But if Detroit cannot, and they continue to toe the line, fate may work against this team.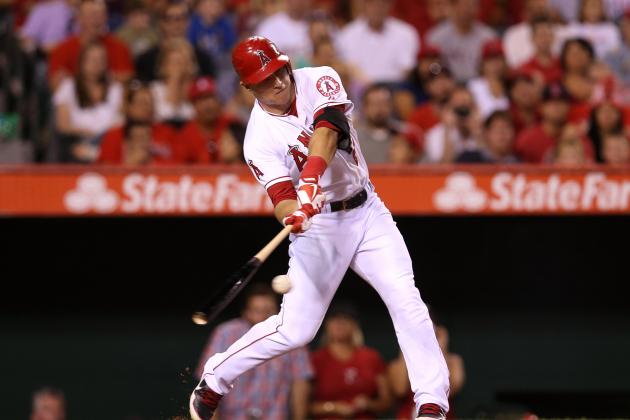 Stephen Dunn/Getty Images

Record: 62-60 (4.5 games back)
Synopsis: The LA Angels are the ultimate enigma in this wild card race. They have a boatload of talent offensively. They have heavy hitting Albert Pujols and exciting rookie outfielder Mike Trout.
The Angels also have the fourth best team batting average in baseball (.272) and are right up there in OBP, SLG, and OPS (.330/.436/.766).
And while LA's pitching is not immaculate, it has a 4.21 ERA. Though they have a good starting rotation on paper, Jered Weaver, Zack Greinke, C.J. Wilson and Dan Haren are just not getting the job done.
So why has LA not found its groove?
Must Do: It is no secret the Angels are struggling to find a hurler that can close games. LA has used nine different pitchers this season to save games. As a bullpen, the Angels have converted just 26-of-43 save opportunities. Only the Milwaukee Brewers and Colorado Rockies have blown more saves than the Angels this season (17).
Going Forward: There is no circumventing the need for a solid closer. Now, the Angels do have Ernesto Frieri. He has converted 13-of-14 saves for the Angels this year. Should Frieri step up and hold the fort, the Angels potent offense combined with Jered Weaver's great pitching would be enough to carry this club into the postseason. Until then, the Angels will remain MLB's most exciting, yet underachieving, team.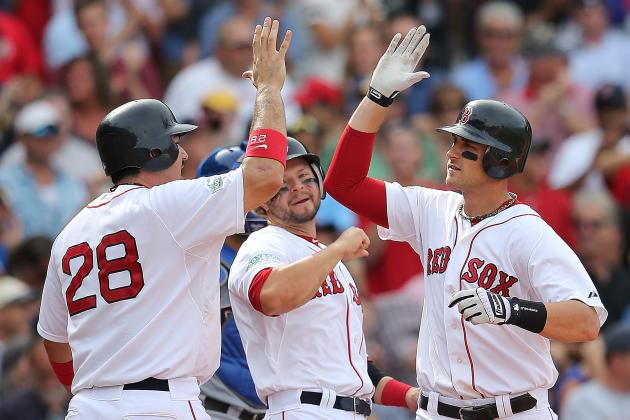 Jim Rogash/Getty Images

Record: 59-63 (7.5 games back)
Synopsis: For all the talent and big name stars the Boston Red Sox boast, it seems this team just can't put things together.
Some blame leadership. Some blame injury. Some blame the players themselves.
Whatever the reasons, regardless of everything it is incredibly difficult to count this proud team out of the postseason.
Must Do: Regardless of differences in the organization, this team must find a way to unite under one banner. The AL East is simply too competitive this season for Boston to think it can simply flip the switch.
It is no surprise starting pitching is a big issue. The team has a 4.30 team ERA, which is 23rd in the MLB. Boston also has issues with finding a formidable closer. Ironclad prior to this season, Alfredo Aceves has proven he is not the man to close games.
Yet, Boston plays great defense and boasts an offense that sits in the top 10 in nearly all MLB categories.
Prediction: Not yet mid-August, Boston still has a legitimate shot at climbing the ladder to earn a postseason bid. But Boston will not achieve this end without unity and players willing to swallow pride for the betterment of the team.
Like the Tigers, this team is simply too gifted to tolerate events that are currently unfolding in Beantown. With teamwork, patience and selflessness, this team can get the job done.
If not, Red Sox brass needs to do a lot of soul-searching in the offseason to correct what went wrong. The biggest issue this team has is chemistry. And if Boston cannot pull it together, it is best to start looking forward to football season.