Pittsburgh Steelers: Breaking Down Chris Rainey's First NFL Outing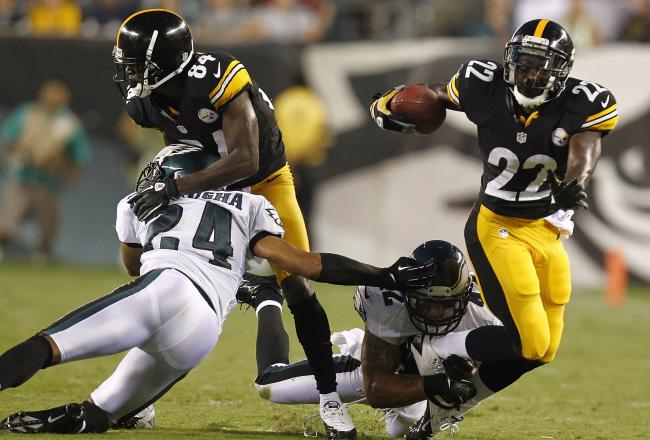 Jeff Zelevansky/Getty Images
Ever since the Pittsburgh Steelers selected Chris Rainey in the fifth round of the 2012 NFL draft, the Steelers' fan base has been eagerly anticipating his first action on the field. That action finally came Thursday night against the Philadelphia Eagles and Rainey didn't disappoint for the most part.
The lightning fast running back/wide receiver spent a lot of time in the backfield for the Steelers on his way to 71 total yards. The 24-year-old had four rushes for just a yard, but a long of 14, two receptions for 65 yards and a touchdown. He also had three punt returns for six yards.
Here is a breakdown of a few of Rainey's biggest plays.
Hesitation:
Judging by the Steelers' first drive of the preseason, Rainey is in pole position to be the team's third-down back. Rainey's ability to pick up pass rushers will be worrisome because of his size, but it was not a factor on his first play of the game.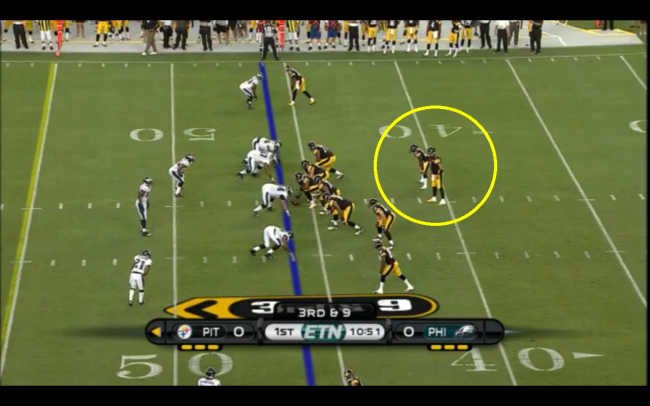 On 3rd-and-9, Rainey was lined up in the backfield alongside Roethlisberger in a three receiver and one tight end formation.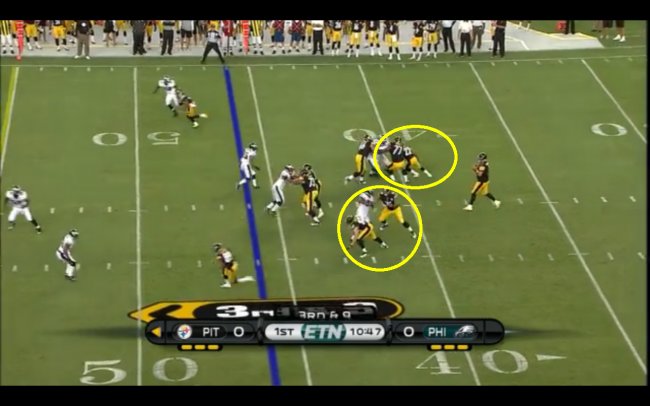 From the snap the three receivers clear out running deep routes, while Heath Miller stays in to chip block the right defensive end. Because only four Eagles rush the passer and Miller stays in to chip block, the Steelers effectively have six blockers on four rushers, not including Rainey.
Rainey releases to the right hand side and immediately looks to help out Marcus Gilbert by chip blocking the defensive end. While Rainey obviously was supposed to carry out that block, if he accurately read the situation he would not have chip blocked the defensive end at all.
Gilbert had good position on the end and Rainey had to run around his teammate to even touch the rusher. Because Miller had chip blocked on the other side, there was a clean pocket for Ben Roethlisberger to step into with Gilbert, De Castro and Mike Adams doing enough to push the rushers pass their quarterback.
Adding Rainey's 180 pounds to the mix on chip blocks won't be very effective in the most needy of situations, but here his efforts weren't necessary.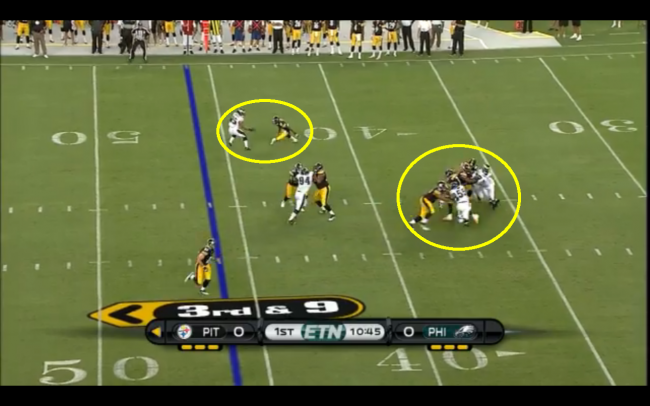 Once Rainey even entered his route, Roethlisberger was already running forward. It's unclear whether Rainey broke from his original route to the outside, when Mychal Kendricks moved outside and Roethlisberger was essentially scrambling, or if the play called for him to fake outside and run inside from the off.
Regardless, Rainey planted well and lost his defender to free himself through the middle. Once Rainey cut, Kendricks went straight for Roethlisberger.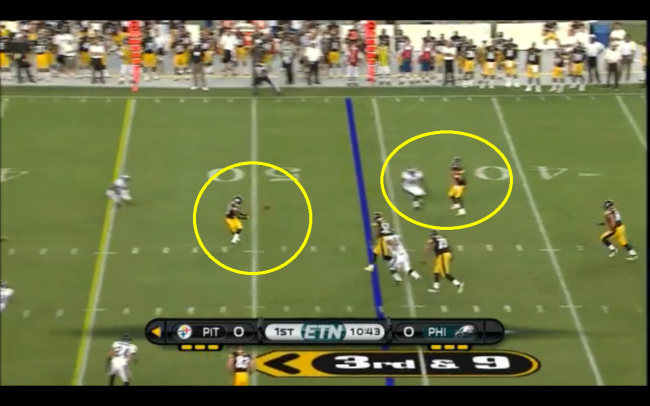 Roethlisberger had an easy dump off to Rainey who was running to a spot with three defenders converging on him. Rainey caught the ball comfortably and turned in stride.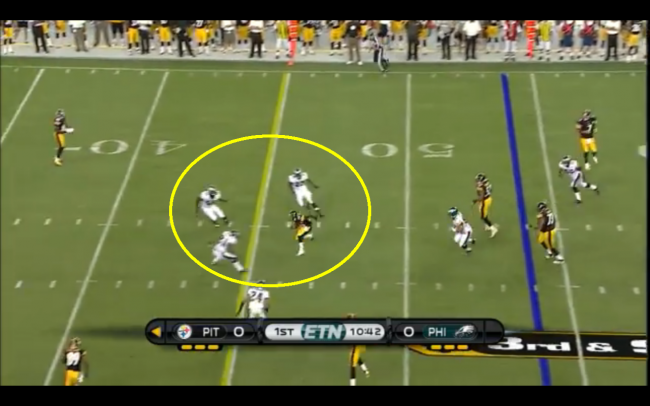 However, once he saw DeMeco Ryans in front of him, Rainey hesitated opposed to continuing his stride into space. Rainey planted his foot and tried to shuffle past Ryans where there was no space and ultimately cost himself the first down.
Had Rainey not looked to chip block initially, he may have had the first down with greater ease, as the linebackers would have had less time to react, but that is not certain.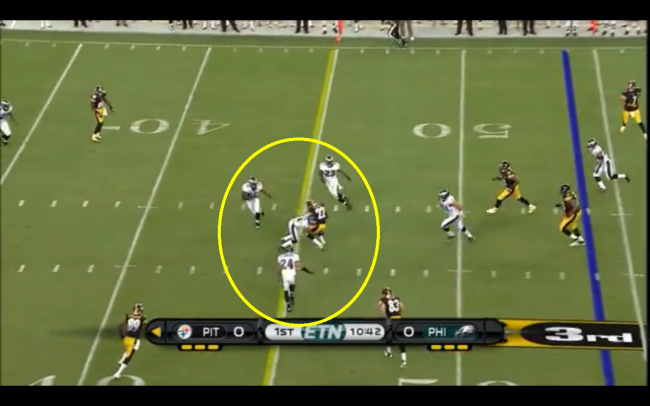 He definitely would have had the first down if he had aggressively attacked the little space at either side of Ryans however. It's no surprise really that Rainey was hesitant, he is a very diminutive rookie and it was his very first competitive touch in the NFL.
For years, Mewelde Moore made a good living out of knowing where the sticks were and doing just enough to move the chains. If Rainey is to adequately replace him, he will need to be more aggressive with the ball in his hands.
Dynamism: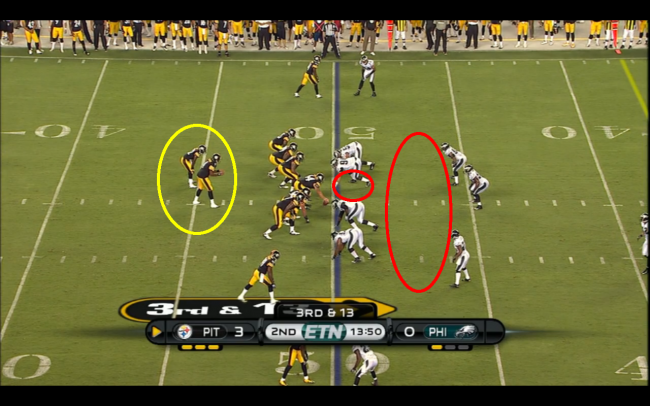 Once again in the shotgun on third down, Rainey lined up alongside Byron Leftwich with three receivers outside and a tight end to the left. With 13 yards to go for a first down, the Steelers tried to catch the Eagles off guard by running the ball with Rainey.
Expecting the pass, the Eagles defensive line was spread very wide with the two defensive ends in wide nines and the defensive tackles covering the B gaps (gap between guard and tackle). Only two linebackers were on the field but both were five yards deep, most likely dropping into zones or coming on delayed blitzes.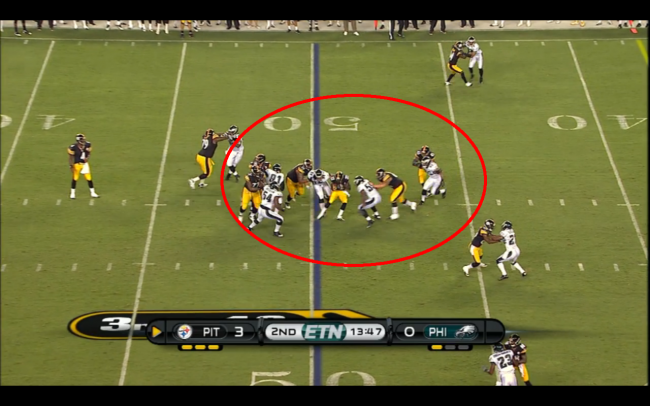 At the snap of the ball both linebackers dropped deeper but were quick to react and got ahead of the Steelers' blockers. The Eagles' defensive line was quick to react also and were able to cage Rainey in.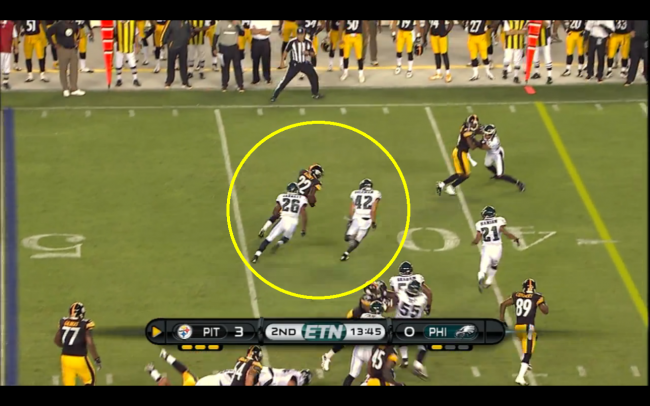 With an excellent spin move, Rainey found space and took the immediate defenders out of the equation. Rainey showed great agility and awareness on the play to find the edge.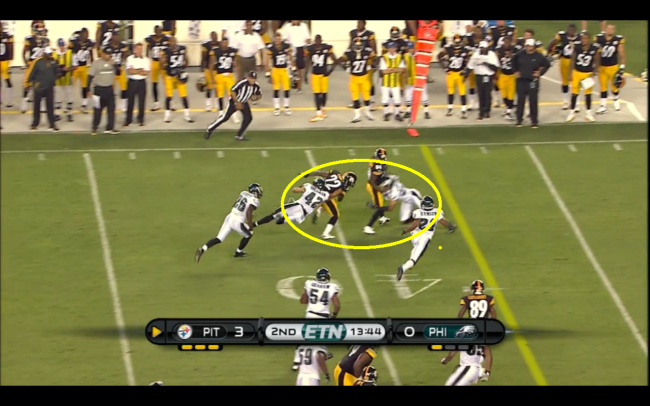 Once in the open field, Rainey beat the two safeties in pursuit to get to the sideline. Significantly however, Rainey ran aggressively but still had the awareness to use Antonio Brown's downfield blocking.
Rainey initially ran at Brown's inside shoulder before skipping to the outside for the first down yardage. Had he ran inside, he would have been tackled short of the line.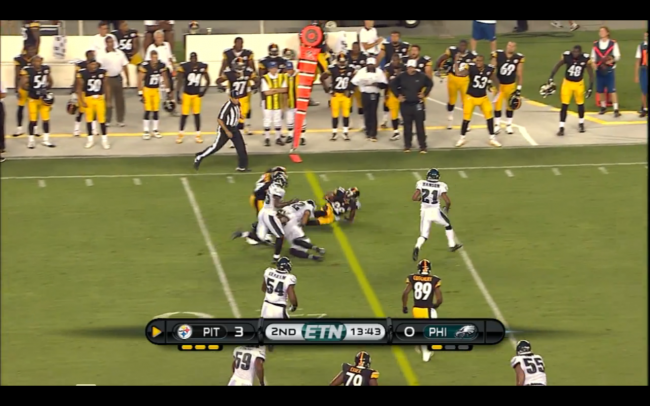 Explosion:
When a player is as quick as Rainey, he does not need to cut like an average back. When you look at a player like Devin Hester in his kickoff returns, you watch a player who constantly moves forward and slightly shifts the angles at which he runs at opposed to completely changing direction.
The less change in direction, the less acceleration that is required post change of direction. Rainey needs to adopt this approach. When he does, it is very difficult to stop him in full flight.
On the rookie's 57-yard touchdown reception, it proved impossible to stop him.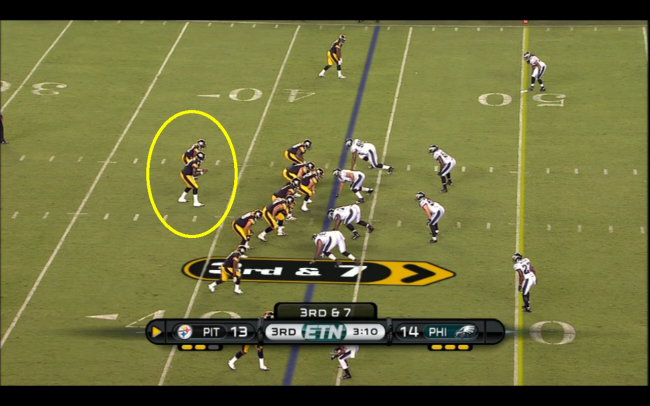 Once again, Rainey was in the backfield on third down with three receivers and a tight end in the formation.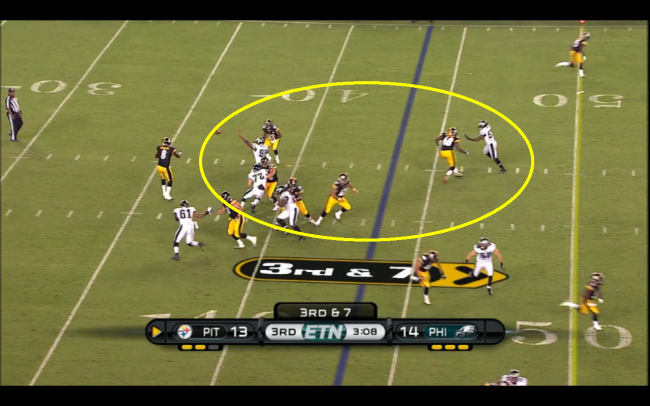 Rainey received the pass in a good situation with blockers out in front. He did well to initially sell the block to the defensive end before quickly catching the screen pass to turn upfield. Kelvin Beachum was already in place past the line of scrimmage with Ryan Lee and Chris Scott in good position to support him.

From there it was straight forward for Rainey over the next two yards. His acceleration alone allowed him to get deep into the opposition's secondary.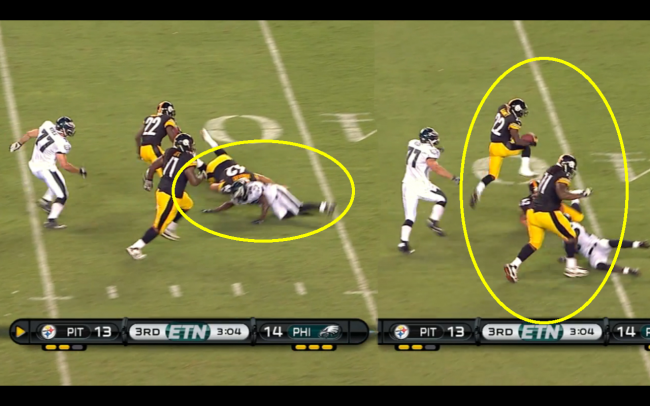 An acute cut allowed Rainey to get all the way to the endzone however. With defenders ahead and blockers around him, Rainey slightly adjusted his path. One of his lead blockers fell to the ground ahead of Rainey.
Many backs would have cut completely to the outside to get around him, but Rainey was quick enough mentally to hurdle his own player and slice towards the outside of the defenders ahead. Because he glided opposed to a hard cut, Rainey didn't lose any significant pace despite leaving both feet.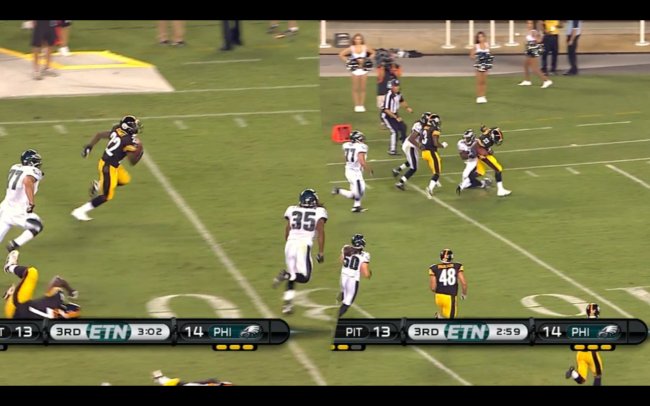 Even though Rainey had gained the sideline, he still had some work to do. However, he showed enough strength to break a tackle from a defensive back with just 10 yards to go before diving into the endzone for the touchdown.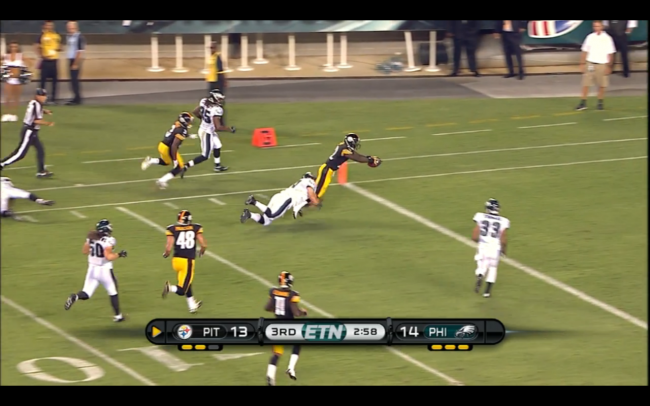 Chris Rainey showed the Pittsburgh Steelers a lot during his first preseason game. It will be some time before we can properly evaluate Rainey because we still aren't certain of what role he will carry with the team through the regular season.
Certainly, there were more positives than negatives with Rainey during his first outing.
I tweet @Cianaf
This article is
What is the duplicate article?
Why is this article offensive?
Where is this article plagiarized from?
Why is this article poorly edited?

Pittsburgh Steelers: Like this team?