Odds for Each of Phillies' Top 25 Prospects Being Called Up on September 1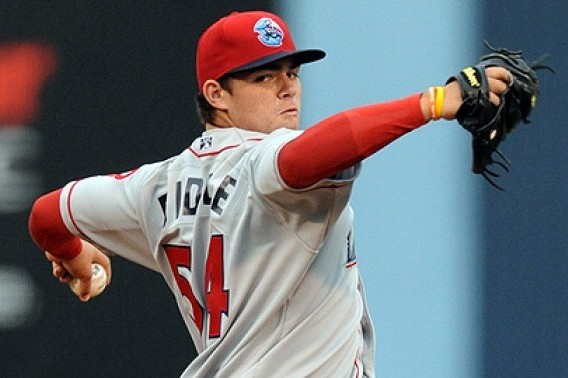 (photo: T.Farlow/MiLB.com)
The Philadelphia Phillies didn't want to be in a position to evaluate talent for the future in the month of September because it would mean that they were on the outside looking in at the postseason race.
Now that they're nearly 20 games out of first place in the National League East and double-digits out of the Wild Card race, however, that's exactly the position that they find themselves in.
Though a lot of the Phillies' top talent is in the lower levels of the farm system and slowly moving its way towards the MLB, there are still some exciting prospects in the upper levels of the system. Without a doubt, the Phillies will be giving some of these guys an audition in September, but who?
The following list will place odds on each prospect's chances of receiving a September call-up this season. Ranking the prospects is not a focal point of this list. Instead, it attempts to handicap each prospect's chances of being in the MLB on September 1.
The 2012 season may be a lost cause for most of the veterans on the Phillies roster, but for some of the prospects waiting on the doorstep, the journey is just beginning.
Begin Slideshow

»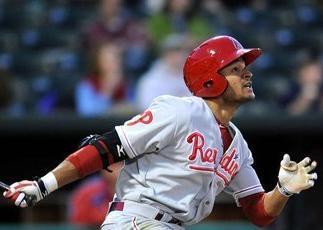 (DAVID M. SCHOFIELD )
Odds: 50%
I don't think that the Phillies are going to be in the mood to do much promoting of Tyson Gillies this season after an altercation with a team bus driver left him suspended.
Gillies, who was acquired by the Phillies from the Seattle Mariners as part of the return for Cliff Lee before the 2010 season, has just never panned out, falling further and further out of the Phillies' top prospects.
Gillies, who has played in all of 84 games since joining the Phillies, is finally getting things going offensively in Double-A Reading, but given his inability to stay healthy, it would be a surprise to see him in the MLB in September.
Of course, he is on the 40-man roster and the Phillies could just as easily resort to desperation and get a firsthand look at their outfield depth moving forward.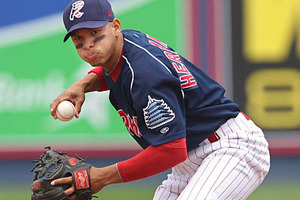 (Michael Bryant/Staff Photographer) (Philly.com)
Odds: 50%
Cesar Hernandez has quietly been one of the Phillies' best offensive minor league players this season, but a September call-up could realistically go either way.
After hitting .304 for Double-A Reading, the Phillies rewarded their contact-oriented second baseman with a promotion to Triple-A Lehigh Valley, where he has hit .263 in nine games.
Given the uncertain future of Chase Utley, it wouldn't be all that surprising to see the Phillies give Hernandez a look in September, but personally, I think he stays in Triple-A.
With the return of Freddy Galvis in 2013, there's really no spot on the roster for Hernandez. No need to look at him right now.
http://randombaseballstuff.com/2012/07/22/photos-from-sundays-reading-vs-trenton-game/#
Odds: 1%
The clock is ticking on Jiwan James and the Phillies are going to be forced into making a decision on him.
James, who will be eligible for the Rule 5 Draft following the season—assuming that the Phillies do not add him to the 40-man roster—has made very minimal progress as an offensive player this season.
The converted pitcher has always been an excellent defensive player, but his offense is holding him back big time. He's hitting just .249 with an OPS of .662 in Double-A Reading this season.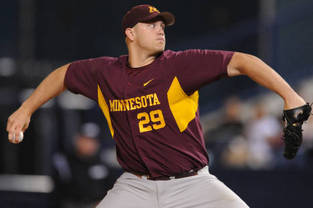 http://beyondthebleachers.com/archive/201006?page=6
Odds: 0%
After acquiring him from the San Francisco Giants, the Phillies added Seth Rosin to their High-A Clearwater club, which wasn't much of a surprise.
The real surprise is that Rosin has made just one appearance since—as a starting pitcher.
The Giants had been using Rosin as a reliever and his plus-control led scouts to believe that he would be able to move through the system quickly. As a starting pitcher, he still has quite a bit of work to do.
Regardless, you wouldn't have seen Rosin in the MLB this season in either scenario.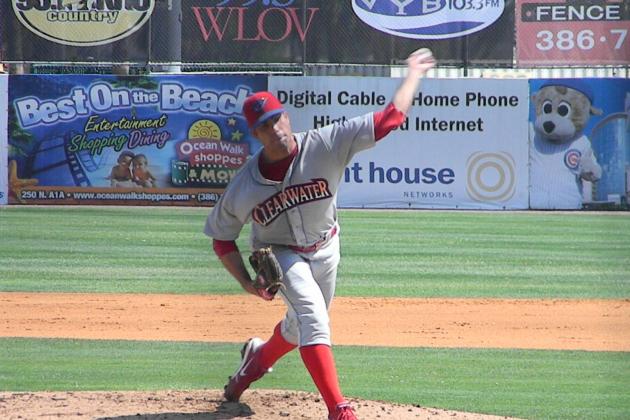 http://baseballbetsy.wordpress.com/2012/05/02/austin-wright-is-alright-with-me/
Odds: 0%
Austin Wright won't be getting a September call-up this season, but with the way he's pitching in High-A Clearwater this season, that could come sooner than most expected.
The 22-year-old, drafted in the eighth round of the 2011 draft, has pitched very well for the Phillies since joining the organization.
With Clearwater this season, he has posted a record of 9-4 with an ERA of 3.23. Assuming that he can finish the season strong, it certainly wouldn't be a surprise to see him in Double-A by 2013.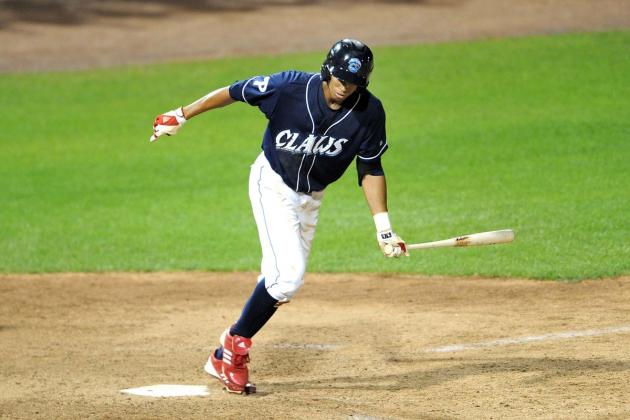 Dave Schofield, Lakewood BlueClaws
Odds: 0%
Aaron Altherr came into the organization as a "project" prospect and for a while, it just didn't look like he was going to pan out.
Of course, by "project" prospect, I mean that he came into the Phillies' system with more raw talent than anything else. The "upside" serves as the motivation to stick with him. Luckily enough for Altherr, the Phillies stuck with him.
Though he is still years away from the MLB, Altherr has made noticeable progress this season, hitting .257 with a .735 OPS and seven home runs for Single-A Lakewood this season.
Ideally, the Phillies would like to have him in a position to advance to High-A Clearwater, at the very least, next season.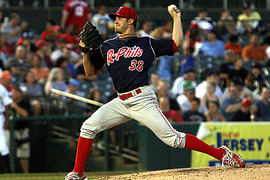 (Rudy C. Jones/MiLB.com)
Odds: 20%
No prospect in the Phillies' organization has made more progress than Adam Morgan this season, and it isn't particularly close.
The left-handed pitcher came into the season with the almost cliche, at least in the baseball world, description of "serviceable lefty who could move through the system quickly and at worst, is a solid reliever."
Well, it's time to ditch the cliches with Morgan. He's made huge progress and a lot of the big-time prospect gurus are on board.
Yes. Big breakout. RT @phrontiersman Adam Morgan: ML SP future?

— Ben Badler (@BenBadler) August 10, 2012
He has. stuff improved, very interesting "@sports_lines: What's your thoughts on LHP Adam Morgan? Made big jumps from last year in PHI org"

— keithlaw (@keithlaw) August 11, 2012
All things told, he probably won't be in the MLB this season and putting the odds at 20% is probably a bit high. However, it is time for Phillies fans to get excited over the future of Morgan.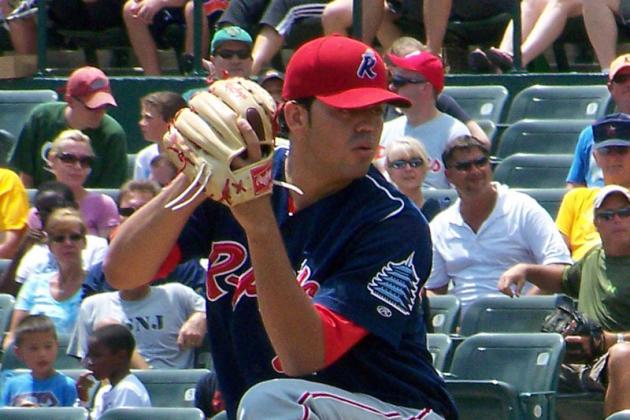 http://randombaseballstuff.com/2012/07/22/photos-from-sundays-reading-vs-trenton-game/
Odds: 5%
It isn't all that surprising that Julio Rodriguez is struggling in Double-A Reading this season.
First and foremost, he is a right-handed pitcher without a good fastball. Not many of those succeed. The one thing that keeps scouts fixated on Rodriguez is his curveball, which can be very good in the MLB, but even that still has some development left.
Mix in the fact that he's pitching in an extremely hitter-friendly park this season and isn't much of a ground-ball pitcher—if at all—and it isn't surprising that his numbers have ballooned.
There are definitely concerns though. The obvious one is that pitching in Reading is kind of like pitching in Philadelphia. The ballpark can get into your head. The other is that his control has faded big time. He is walking nearly two batters more per nine innings than he did last season.
I've never been overly interested in Rodriguez as a prospect, simply because he doesn't have the good fastball (in both velocity and command) to set up his secondary offerings.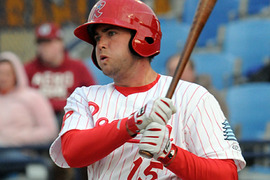 (Ralph Trout/Reading Phillies)
Odds: 80%
At this point in time, how do you explain not giving Darin Ruf a September call-up this season?
Ruf came into the season as an afterthought by most prospect experts, and that's understandable. He's 26-years-old playing in Double-A Reading. A lot of observers are quick to compare him to former Phillies' minor leaguer Matt Rizzotti, and things haven't worked out well for him.
But Ruf seems to be different. First and foremost, he's a bit more athletic. Blocked at first base by Ryan Howard, the Phillies asked him to play some left field and at least by the numbers, he seems to be capable of doing that.
But come on now. We all know why Ruf is on this list. The man can just hit. All he's done since the 2009 draft is destroy baseballs in the Phillies system.
This season in particular has been one of his best. Ruf is hitting .309 with an OPS of .970 and 24 home runs.
I understand that he's not the greatest of left fielders, but given the Phillies' current monetary restraints, what is the harm in giving him an audition in left field in September?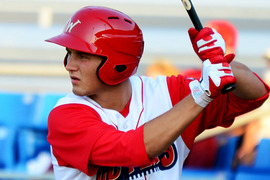 http://www.milb.com/news/article.jsp?ymd=20120620&content_id=33673484&vkey=news_t449&fext=.jsp&sid=t449
Odds: 0%
Mitch Walding is still years away from the MLB and definitely won't be getting a September call-up this season, but the third baseman has certainly been one of the most impressive players in Low-A Williamsport this season.
Scouts have raved about Walding this season, which is even more impressive considering that this is his first season at the hot corner after being drafted in 2011 as a high school shortstop.
While most scouts are still uncomfortable with saying that Walding has a higher ceiling than fellow third baseman Maikel Franco, I think it is only a matter of time. If you're looking for the safer bet, I would definitely go with Walding.
He's currently hitting .239 with an OPS of .653 in Williamsport, but those are deceiving numbers. Walding is a legitimate positional prospect for the Phillies.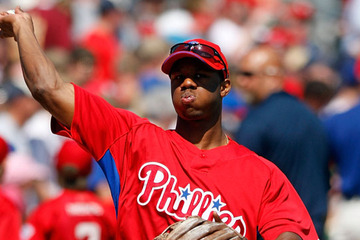 http://philadelphia.phillies.mlb.com/news/article.jsp?ymd=20120619&content_id=33563782&vkey=news_phi&c_id=phi
Odds: 0%
Had the season gone differently for Lisalverto Bonilla, his odds at getting a September call-up probably would have been much higher.
The right-handed reliever was one of the most promising pitchers in Double-A Reading throughout the first half of the season, culminating in a trip to Kansas City to partake in the Futures Game.
That ended up being a disappointing trip, however, as Bonilla would fracture a bone just under the thumb on his pitching hand "messing around" with some teammates. The fracture required surgery and, according to Phillies scouting director Joe Johnson, there is only a "chance" that Bonilla could return before the end of the season.
Assuming that he can return and pitch with the same effectiveness that he was using early in the 2012 season, it wouldn't be surprising to see Bonilla in this conversation again next season, but with a much higher chance of actually making his MLB debut.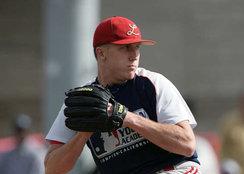 (LARRY GOREN…), (Philly.com)
Odds: 0%
This is probably the most obvious one one the list, but the Phillies' first pick in the 2012 draft will not be getting a call to the MLB this September.
Shane Watson, who was dealing with a minor injury after the draft, has finally gotten into some games down in the Gulf Coast League, but it is still too soon to make any kind of judgement. He's only appeared in three games.
Of course, if you're feeling optimistic, Watson has definitely been impressive. He's faced 10 batters and retired nine of them, striking out six.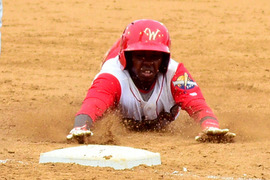 http://www.milb.com/news/article.jsp?ymd=20120629&content_id=34156586&vkey=news_t449&fext=.jsp&sid=t449
Odds: 0%
Roman Quinn came into the organization touting some of the best speed—if not the best speed—of the 2011 draft class and certainly has not disappointed in his first professional season.
While his defense at shortstop has left something to be desired this season, scouts believe that he'll improve in that area. If one thing is certain, however, it is that Quinn is thrilling to watch offensively.
He's currently hitting .280 with an OPS of .761 in Low-A Williamsport with nine triples and 17 stolen bases.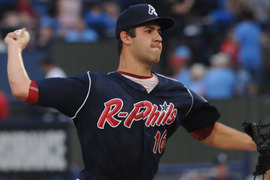 (Ralph Trout)
Odds: 1%
To put things into perspective here, it was a big surprise that the Phillies promoted Brody Colvin to Double-A Reading this season, so seeing him called up to the MLB would be nothing short of a minor miracle.
The Phillies are hoping that the tougher competition in Double-A lights a fire under Colvin, and it was working until last Saturday's game to the tune of eight runs. In his previous two Double-A starts, he allowed just five runs.
Colvin has some of the best upside in the Phillies' organization, but he hasn't come close to putting it all together. Scouts have hope for him as a starting pitcher, but he may end up in the bullpen in the future.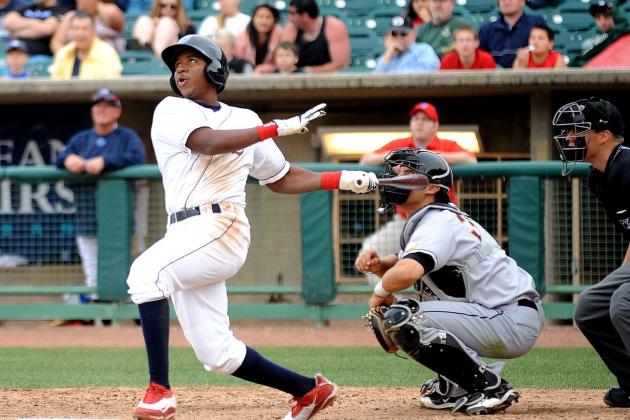 (Photo by Dave Schofield, Lakewood BlueClaws)
Odds: 0%
A lot of scouts believe that Maikel Franco is the Phillies' third baseman of the future, but he's still years away and hasn't come particularly close to proving that he's even capable of playing regularly in the MLB.
Of course, Franco is only 19-years-old and has a ton of potential, and that's what scouts are banking on when they make bold proclamations like that.
Franco is currently in his second season at Single-A Lakewood and hitting .254 with an OPS of .721 and 12 home runs.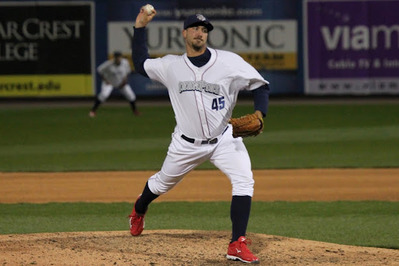 http://www.baconandbiscuits.com/2012_04_01_archive.html
Odds: 100%
You're going to see Phillippe Aumont in the MLB this season, health permitting.
One of the biggest areas of concerns for the Phillies this season has been the bullpen and they're going to want to find out what they have in Triple-A for next season, so you'll see a couple of guys, Aumont included.
Already a member of the 40-man roster, the hulking flamethrower had a solid spring training before heading back to Triple-A Lehigh Valley where he struggled a bit.
With that being said, as the season has progressed, so too has Aumont. Now 23-years-old, it isn't unreasonable to assume that there's really nothing left for him at Triple-A.
To be successful in the MLB, he'll need to reign in his control, but he has all of the tools to develop into a dominant, back of the bullpen reliever.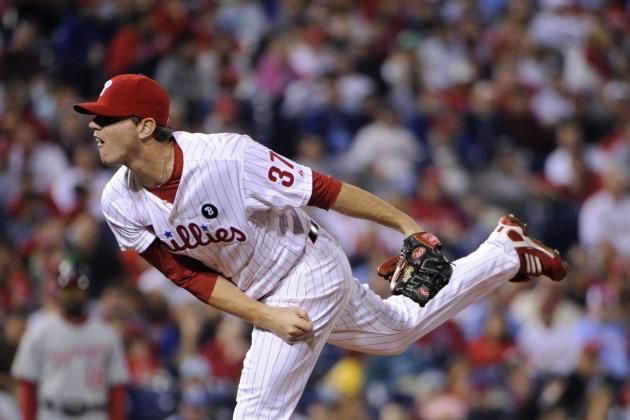 Howard Smith-US PRESSWIRE

Odds: 100%
Like Phillippe Aumont, you'll be seeing Justin De Fratus in the MLB this season as well.
The right-handed reliever caught a tough break this season. He injured himself coming into spring training and spent most of the season on the disabled list. Had he not been injured, there's a good chance that De Fratus could have been in the MLB all season.
But things have been looking up for De Fratus since his return. Currently with Triple-A Lehigh Valley, he has appeared in 10 games, allowing five earned runs. He has struck out seven and walked one.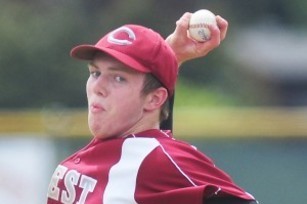 (Philly.com)
Odds: 0%
Scouts love Mitch Gueller's ceiling, but the 2012 draft pick is still years away from the MLB.
Gueller, who entered the draft as both a pitcher and a position player, will do the former for the Phillies.
He was sent to the Gulf Coast League following the draft and it has been somewhat of an adjustment for the former high school athlete. Though he has allowed 13 earned runs, the eight walks are more of a concern. He's also struck out 13.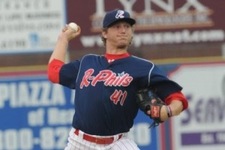 (credit: Reading Phillies)
Odds: 40%
Ethan Martin has been impressive since joining the Phillies' organization, but the right-handed starter is still a bit of a project.
One of the better pitching prospects in the Los Angeles Dodgers' system prior to the trade deadline, control has always been the issue for Martin. If you're a believer in baseball magic, joining Double-A Reading has been magical for Martin.
Acquired in the deal for Shane Victorino, Martin has since made two starts for Reading, posting a record of 1-0 with an ERA of 1.46. What has been even more impressive for Martin is his strikeout to walk ratio. He's struck out eight and walked just two.
So much for control issues. Martin is looking like he could be a steal by the Phillies.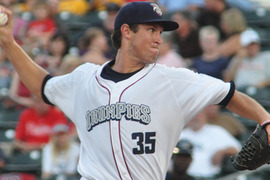 (Mike Feifel)
Odds: 80%
There really hasn't been much talk about Jon Pettibone getting a September call-up, but I really like the chances of that happening.
While most of the chatter about who should already be in the starting rotation has been centered around Tyler Cloyd, Pettibone has something working for him that Cloyd doesn't: Upside.
Pettibone has shot his way up the Phillies' prospect rankings by proving to be one of the most consistent starting pitchers in their organization.
He received a promotion to Triple-A Lehigh Valley not too long ago and has since made three starts for the IronPigs. He's 2-0 with an ERA of 2.50 with nine walks and 13 strikeouts.
The Phillies may be content to use Kyle Kendrick in the starting rotation right now, but looking at the bigger picture, Pettibone could realistically contribute as the club's fifth starter next season.
(Photo by Mitch Hyman)
Odds: 50%
A September call-up for Sebastian Valle could realistically go either way. Personally, I don't think that he's ready.
Coming into the season, Valle wasn't just the Phillies' top catching prospect. He was the club's top positional prospect as well. The trade deadline changed that, however. Tommy Joseph, acquired from the San Francisco Giants in the Hunter Pence trade, has taken both of those titles.
But if Valle still has anything working for him, it's that he is further along. He received the promotion to Triple-A following the acquisition of Joseph and is definitely getting closer to the MLB.
The 22-year-old has struggled mightily at the plate this season, however, and it certainly hasn't gotten any easier in Triple-A. He's currently hitting .120 with an OPS of .508 through seven games. He has hit two home runs though.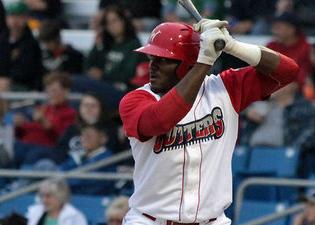 MARK OLSON / MiLB
Odds: 0%
Coming out of high school, scouts question Larry Greene Jr.'s bat. He wasn't challenged against the toughest competition around and it was tough to get a gauge on what he could do by his inflated high school statistics.
Everyone knew that he has monstrous power, however. Scouts thought that it would be the tool to carry him through the system. The rest of his hit tool was questionable.
But baseball is a funny sport.
Greene's first season of professional ball has showed a surprisingly good plate discipline and a lack of, well, power. He's struck out 55 times, but walked 27. He also has just two home runs.
I wouldn't but too much stock in a 19-year-old's first season against professional pitching, but this is promising, in my opinion. It shows that Greene won't resort to being a "one-trick pony."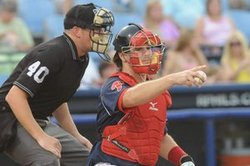 RALPH TROUT / READING PHILLIES
Odds: 1%
The Phillies gave up a king's ransom to pry Hunter Pence out of Houston and didn't get nearly the same return from the San Francisco Giants. However, they're happy to have Tommy Joseph aboard.
Joseph is a highly regarded catcher with a high ceiling at the plate. He hasn't gotten off to the greatest of starts in Double-A Reading, but Joseph has some of the greatest potential of any hitter in the Phillies' system.
With Sebastian Valle also in the fold, it will be interesting to see how the Phillies handle having two top catching prospects moving forward.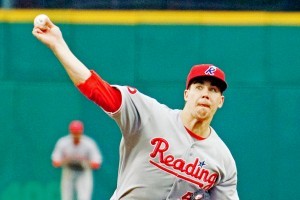 http://m.tdn.com/mobile/article_3e03b0e8-bfff-11e1-9e86-0019bb2963f4.html
Odds: 1%
Coming into this season, I would have been inclined to place these odds much higher. After dominating the competition with High-A Clearwater last season, Trevor May joined Double-A Reading as the Phillies' tp prospect.
Things haven't gone so smoothly for the right-handed pitcher.
May has taken a big step backwards, especially as far as his command is concerned. He's made 23 starts this season and has posted a record of 8-10 with a 4.94 ERA. His 68 walks this season are already more than his total walks from 2011.
With that being said, he has been better lately. Keeping the ball in the park in Double-A has been a problem for May, and assuming that he can make the necessary adjustments to his command and keeping the ball on the ground more frequently, he should be okay.
He's not ready for the MLB, however.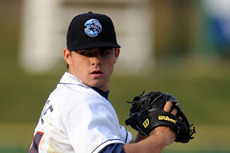 http://blog.blueclaws.com/2011/biddle-talks-season-instructional-league/
Odds: 0%
Jesse Biddle isn't ready for the MLB yet either, but he will be, and sooner than people originally thought at this pace.
In my own personal opinion, Biddle is the Phillies' top prospect, and he hasn't done anything to prove me wrong this season.
The 20-year-old left-handed pitcher is currently with High-A Clearwater and is having a fine season. He has posted a record of 7-5 with an ERA of 3.47. Biddle has already racked up 122 strikeouts (more than Trevor May has in Double-A this season) and walked 47.
To be honest, I thought that Biddle was more deserving of a promotion to Double-A Reading than Brody Colvin when the Phillies made that decision, but the development of Biddle should be nothing but exciting for Phillies fans.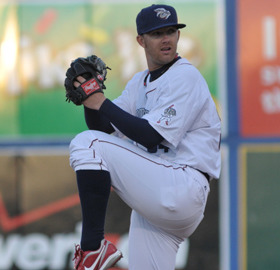 http://www.milb.com/news/article.jsp?ymd=20120405&content_id=27988232&vkey=news_t1410&fext=.jsp&sid=t1410
The following players are players in the Phillies' organization that didn't make my top 25 prospects list, but still have a chance to get a September call-up, listed in no particular order.
- Tyler Cloyd, SP: (95%) It wouldn't be a shocker if the Phillies don't call up Cloyd this season.
- J.C. Ramirez, RP: (50%) He is on the 40-man roster, but he's also getting shelled in Triple-A, so this one could go either way.
- Cody Overbeck, 1B: (30%) Currently leads the IronPigs in total bases.
- Jake Diekman, RP: (100%) Diekman will be back in September.
- Joe Savery, RP: (100%) Savery will be back too.
- Leandro Castro, OF: (1%) He thinks he is ready for the MLB, but he's not.
- Cody Asche, 3B: (1%) I got a lot of grief about leaving him out of the top 25, but he's definitely not ready for the MLB and I'm still not convinced that he can play third base everyday in the bigs.
- Tyson Brummett, RP: (1%) Having a good season, but I think the Phillies see him as more of organization depth than a legitimate prospect. Ditto for Justin Friend and Michael Cisco.