One Burning Question for Every Member of the Raiders Roster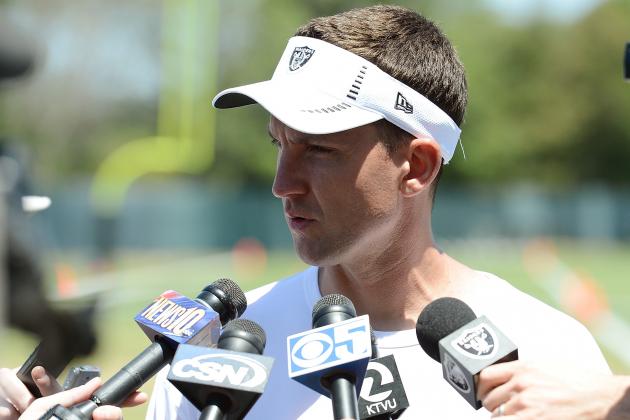 Thearon W. Henderson/Getty Images

Are you excited yet, Raider Nation? We're less than 96 hours away from the Raiders' first preseason game. As we head into the start of the 2012 season, let's take a look at Oakland's roster and examine what burning questions we have for everyone on the roster.
For more foolish analysis, along with the occasional witty comment, Follow @FernandoRGallo.
Begin Slideshow

»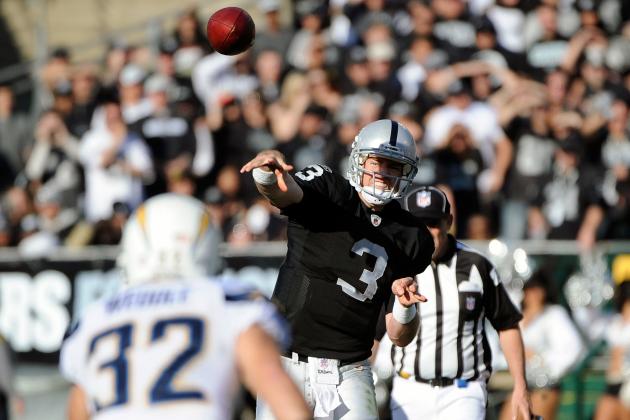 Thearon W. Henderson/Getty Images

Carson Palmer: Can he cut down the turnovers and return to 2006 form?
Nobody questions Palmer's talent level, but his decision making is suspect. Ever since the fateful day Kimo von Oelhoffen rolled Palmer's way (blowing out the quarterback's knee), he's never been the same. He's shown plenty of glimpses of his former self—but can a motivated Palmer return to his once Pro-Bowl-caliber level?
Terrelle Pryor: Can you play quarterback in this league?
Pryor is a little like Tim Tebow in a few ways—both have questionable futures as quarterbacks, both are very mobile, and both have eerily devoted fanbases.
There are many Pryor fanboys in the Raider Nation, and I still can't figure out why. For every running quarterback who has success (Mike Vick), there's half a dozen who don't (Vince Young, Seneca Wallace). I remain unconvinced that Pryor will ever be a quality starter in the NFL, but we've yet to see what he's got. I am very interested to see how he performs in the preseason.
Matt Leinart: Have you become nothing but a career backup?
There was a time when Matt Leinart was Andrew Luck: the consensus no. 1 pick in the draft. After his junior year, there's little doubt Leinart would have gone first overall in the draft. But like Luck, Leinart went back for his senior year—unlike Luck, Leinart would fall to 10th in the 2006 draft and cost himself tens of millions of dollars.
Leinart has talent, but can he ever amount to anything more than a backup in the NFL? So far, the numbers say no.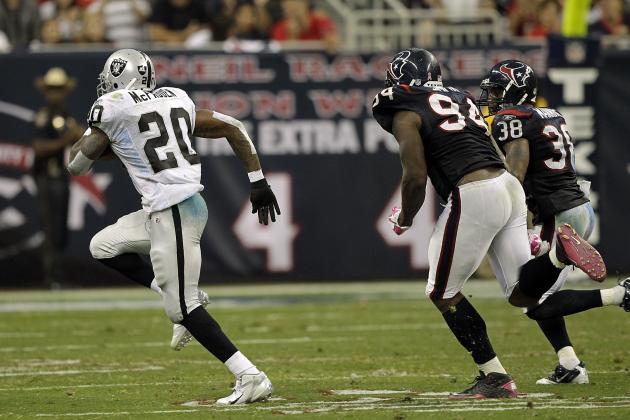 Bob Levey/Getty Images

Darren McFadden: Will you ever stay healthy?
This was the easiest question I had to come up with for this article. McFadden is a game-changing, home-run threat every moment he's on the field—but how often will he actually be on the field? He's been as brittle as he's been explosive. If McFadden can ever get close to 16 games in a season, he can be an MVP candidate.
Taiwan Jones: Will you live up to the preseason hype?
Last offseason, the Raiders' coaching staff was full of praise for Jones—he was to become the speedy secondary weapon after McFadden. But Jones failed to impress last year, racking up just 73 rushing yards on 16 carries in 2011. With Michael Bush gone, the backup role can be all his—will he take it?
Marcel Reece: Can you keep sneaking up on people?
Reece has been an exciting hybrid player for the Raiders—a fullback who's also critical in the receiving game. Ousted coach Hue Jackson used to call Reece his secret weapon, but the secret's out now. Teams know about Reece. Can he continue to contribute now that teams will be on the lookout for him?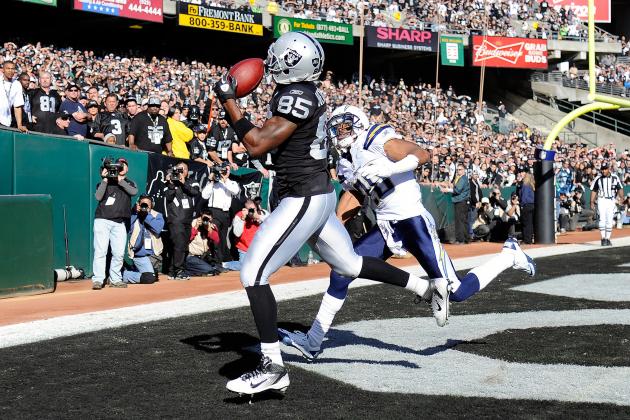 Thearon W. Henderson/Getty Images

Darrius Heyward-Bey: Have you finally turned the corner?
Heyward-Bey really blossomed in his third season and became much more of a go-to receiver. He still had some issues with drops, but overall, he was a very pleasant surprise for Raider Nation. If he builds on that in 2012, he's going to be one of the best receivers in the NFL.
Denarius Moore: Are you ready for prime time?
Moore showed he was a serious downfield threat as a rookie before he was slowed by injuries. Can he become a dynamic secondary option to Heyward-Bey? His ability to stretch the field would do wonders to open up the short passing game that's favored in the West Coast offense, which the Raiders will use this season.
Jacoby Ford: Will you stay healthy?
There's no doubt that Ford is fast and that he is dangerous in the return game. But like McFadden, will he ever stay healthy? He's been injury-prone so far in his career, and his explosive kick return abilities were sorely missed last season.
Juron Criner, Rod Streater, Duke Calhoun, Eddie McGee, Derrick Carrier: Who wants it the most?
The first three receiver spots are pretty much locked in, so that means the remaining receivers on the roster will be duking it out for two spots. Who will prove they belong in the NFL? Will it be the physically imposing Criner? Speedy Streater? Journeymen Calhoun, McGee or Jones? I see Criner as a shoe-in, but it's all about who performs in preseason.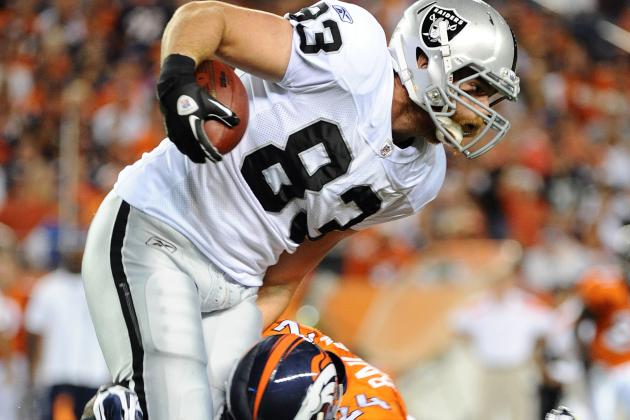 Garrett Ellwood/Getty Images

David Ausberry: Are you a starter in the NFL?
The converted receiver was supposed to bring speed to the tight end position, but he had more tackles (seven) than catches (two) last season. With Kevin Boss gone, the tight end job is there for the taking. Is Ausberry good enough to claim it? His athleticism says yes, but there are plenty of great athletes who never amount to anything in the NFL.
Brandon Myers: Can you become a vital part of the offense?
Myers has been a quality contributor with the Raiders, but he's more useful as a blocker than a receiver. Can he become the starting tight end Oakland needs? He'll need to step up his receiving ability if he wants a shot to be the starter.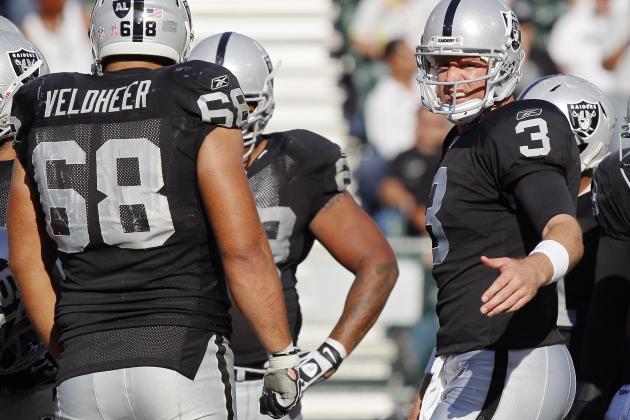 Brian Bahr/Getty Images

Khalif Barnes, Cooper Carlisle: Why should we trust you?
Barnes and Carlisle are kind of like those socks in your drawer that have a little hole in them—they're good enough to get the job done in a pinch, but they really should be discarded.
Both of these guys would be backups on a good team. At this point, there's no reason to believe either should be a long-term starter on the offensive line.
Stefen Wisniewski, Joseph Barksdale: Can you take it to the next level?
Barksdale showed promise in his first season in the league, and Wisniewski comes from an NFL pedigree. Look for these two to continue to blossom and help solidify the line.
Jared Veldheer: Can you anchor this line for years to come?
Veldheer was excellent last year for Oakland, developing into a very solid tackle. Can he build upon that to become a mainstay of this line for the next decade? It sure seems like he has the talent to do so.
Tony Bergstrom: You're a third-round pick, but do you have better than third-round talent?
Since the Raiders had no picks before round three, they were able to spend more time researching late round picks. They ultimately decided Bergstrom was the best player they could possibly select. That leads me to believe he must have better than third-round talent, but it will be up to Bergstrom to prove me right.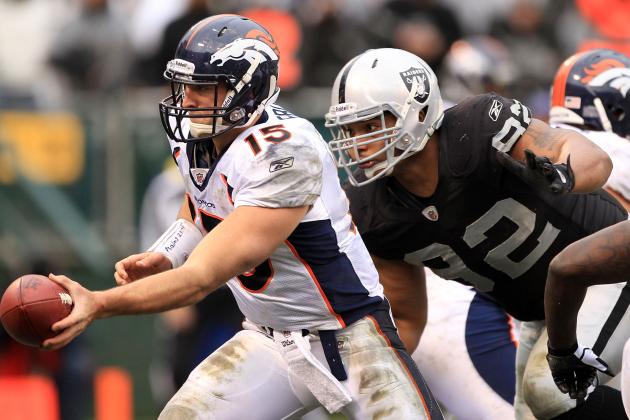 Ezra Shaw/Getty Images

Richard Seymour: Is there anything left in the tank?
Seymour had a few brilliant performances in 2011, but he often looked like the game had passed him by. He is the emotional center of the team and has the ability to inspire his teammates. But he's also going to have to be a force in the pass rush if the Raiders want better defensive performances this season.
Tommy Kelly, Lamarr Houston, Matt Shaughnessy: Are you the defensive line from the first half of the season or the second half?
The defensive line was supposed to be the strength of the Raiders, but it was piss poor in the embarrassing Week 17 loss to San Diego. Overall, the Raiders stopped pressuring the quarterback in the latter part of the season.
These guys need to step up to make sure that doesn't happen again in 2012. If you don't pressure the quarterback in the new pass-happy NFL, you're going to have a very bad time.
Christo Bilukidi: Should you have even been drafted?
In one of the most frustrating moments of the draft, the Raiders wasted a sixth-round pick on Bilukidi, who likely would have gone undrafted. Coming out of tiny Georgia State, there's doubts as to whether Bilukidi can compete with the big boys. I won't be surprised to see him out of the league in three years.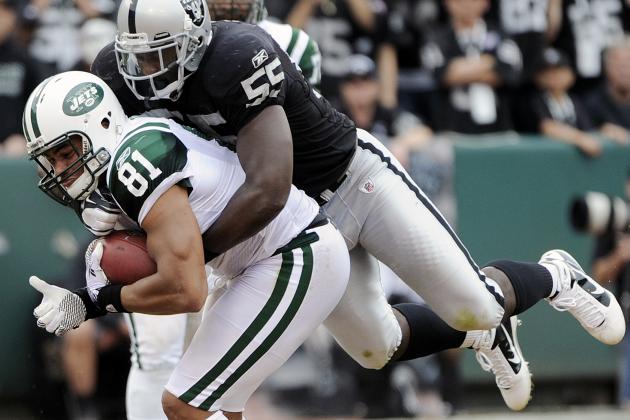 Thearon W. Henderson/Getty Images

Rolando McClain: Are you content with being a disappointment?
For all of the talent McClain has, there's no question he's been a disappointment. He was supposed to be the quarterback of the defense, but instead he's been a lackluster tackler who can't stay out of trouble. For an All-Pro player, that simply wouldn't be good enough.
Is it good enough for McClain? Will he be motivated to step his game up, or will he be content with mediocrity? The performance of the defense may well depend on it.
Aaron Curry: Can you make big plays week in and week out?
Curry was a breath of fresh air when he arrived in Oakland at last season's trade deadline, making big plays on a regular basis. But can he do it for 16 games? Ability was never Curry's problem in Seattle; consistency was.
Philip Wheeler, Travis Goethel: Are you more than roster filler?
More guys signed by Reggie McKenzie to one-year deals to replace cap casualties. There's no reason to believe they're anything special; can they prove us wrong?
Miles Burris, Nate Stupar: Will you justify your drafting?
It can be argued that both of these guys were overdrafted. Burris went to a small school, and Stupar was a late pick. They both have physical talent, but who doesn't in the NFL? Will either of these guys still be on the roster in September? I have my doubts.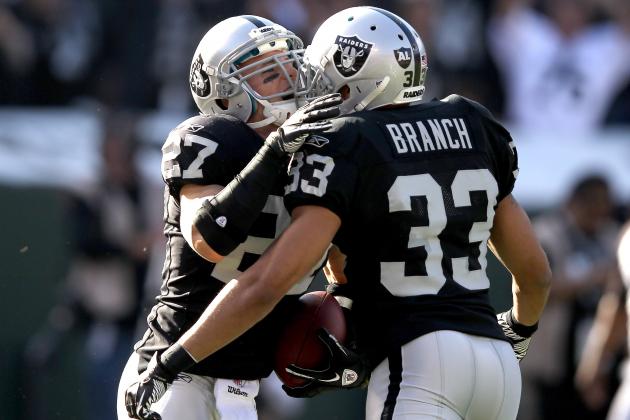 Ezra Shaw/Getty Images

Tyvon Branch: Are you ready to lead this defense to a better season?
Branch is the best player on the defense, now that Seymour has begun to show signs of aging. But aside from piling up gaudy tackling stats, can Branch help the rest of his defensive teammates play better as a unit? The stats mean nothing if they lead to losses.
Matt Giordano, Michael Huff, Mike Mitchell: Can you show up for 60 minutes?
Giordano, Huff and Mitchell have all made big plays in their careers, but they also tend to disappear for big chunks of time. There's going to be plenty of playing time to be had for all three, and the Raiders hope that at least one of them can step up and claim a starting safety job. But in order to do so, they'll need to begin playing complete games.
DeMarcus Van Dyke, Chimdi Chekwa: Are you guys any good?
We didn't see much from Van Dyke or Chekwa last season, as Stanford Routt and Chris Johnson took most of the defensive snaps at cornerback.
But now, the onus is on them to show they're starting material in the NFL. It's hard to predict because they've hardly seen the field. Will they be any good? Your guess is as good as mine, but we'll find out soon enough.
Pat Lee, Shawntae Spencer, Ron Bartell: Is this your last NFL stop?
All three of these cornerbacks have one-year deals, and for good reason: They're not quality NFL starters. If they don't make an impact this season, it's unlikely they'll ever be more than preseason roster filler for the rest of their careers. If any of these three want to prove they deserve to be in the league, the time is now.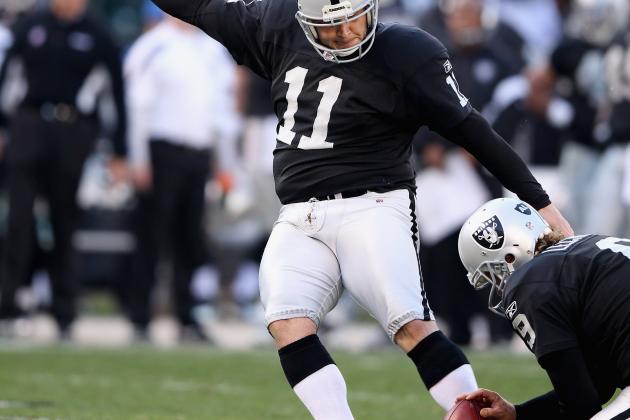 Ezra Shaw/Getty Images

Shane Lechler and Sebastian Janikowski: How much longer can you guys do this?
There's one part of the Raiders that was nearly infallible last season: special teams. There was little more that you could have asked Janikowski and Lechler to do, and they were rightfully rewarded with Pro Bowl appearances in 2011.
But Janikowski is 34 and Lechler is 36—how much longer can we keep expecting them to suit up? Kickers can last a long time in the NFL, but sooner or later, we're going to have to look for other options.
The Roster Filler
Everyone else: Will you be here in September?
Anyone that hasn't already been listed belongs here: These players aren't trying to be starters. Heck, they'll be happy to be the 53rd member of the roster.