Dallas Cowboys: Sleepers to Watch in Training Camp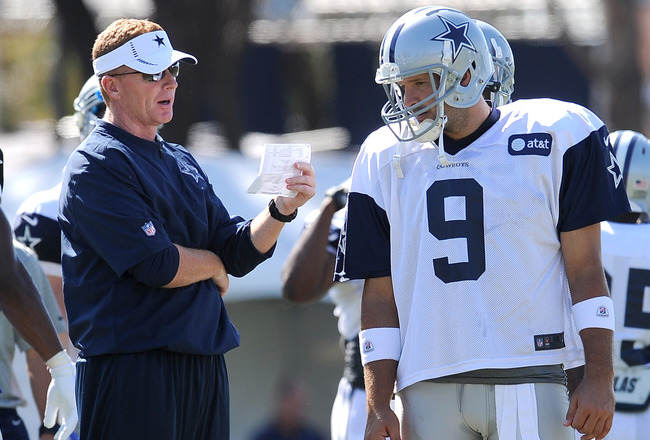 Jayne Kamin-Oncea-US PRESSWIRE
NFL training camps are such an interesting thing to watch. It's like Christmas time for football fans.
Everybody is hopeful and believes that this may be the year for their team to make it to the Super Bowl.
Cowboys fans participate in this form of hope trafficking as well. But it's not just the fans—it's players, too.
Each year there are a number of players who pop up in training camp that many of us have never heard of, and they make a measured impact.
For 2012, who are those players in Dallas?
Let's take a look at a few players that fans need to keep their eyes on.
Tim Benford, Wide Receiver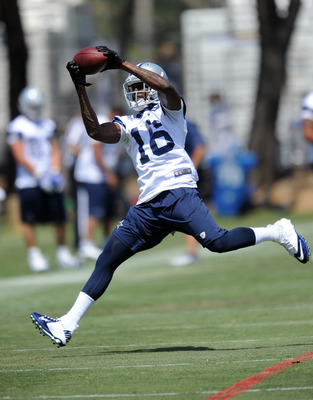 Jayne Kamin-Oncea-US PRESSWIRE
He's a player who has been making waves ever since he signed on as an undrafted free agent.
He seems to catch every ball thrown his way and works hard just like an undrafted player should.
If he continues to impress the coaching staff, catch balls and show that he has potential, I see no reason why he won't have a position on the special teams unit.
Benford isn't a big guy, weighing in at 205 and standing at 5'11." He has pretty good leverage and seems to gain a fair amount of yards after the catch.
Keep an eye on Mr. Benford as he continues to ascend.
Cole Beasley, Wide Receiver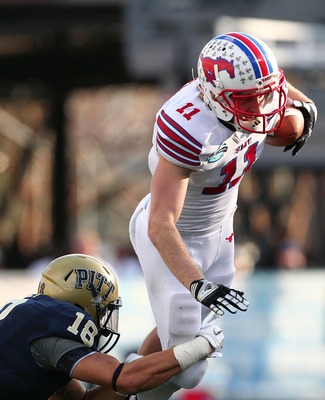 Marvin Gentry-US PRESSWIRE
The Cowboys have a number of receivers on the roster to compete for the slot position.
Beasley left camp about a week ago due to personal reasons but decided to come back a few days later.
He's a talent who, if molded properly and continues to work hard, may just turn out to be a pretty good slot guy for Dallas.
He's 5'8'', so playing the middle of the field will be ideal for him. Finding soft spots in the defense and adjusting to how linebackers and corners may play him will be important.
More than anything, Beasley has a real shot to make it as long as he keeps working hard.
C.J. Wilson, Cornerback
Matthew Emmons-US PRESSWIRE
Mike Jenkins is injured—again—and so is Morris Claiborne. So Wilson and the rest of the team's younger defensive backs have an opportunity to receive more attention.
Wilson is trying to take advantage of the added snaps and he seems to be doing a pretty good job of that.
A decent sized corner, Wilson has been in the league for five years with the Panthers and is now trying to catch on with the Cowboys.
He's never been a starter and has zero career interceptions, but he has an opportunity to make an impact this season. Dallas needs the depth and Wilson is the veteran who can provide leadership for some of Dallas' rookie corners.
Jamize Olawale, Hybrid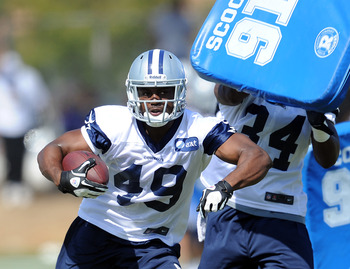 Jayne Kamin-Oncea-US PRESSWIRE
He's listed as a fullback but he played wide receiver in college and could help the Cowboys at tight end if they are in a tight spot.
He's 238 pounds and stands at 6'1''. With the recent rash of injuries on the team, Olawale has been used as an all-around guy. He's playing receiver and running back.
He seems to be a jack of all trades, master of none, but if the Cowboys can find a way to use his versatility, that could be of grand use for them down the road.
Orie Lemon, Linebacker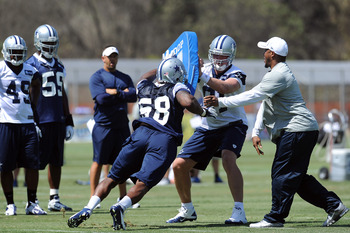 Jayne Kamin-Oncea-US PRESSWIRE
Lemon is having a pretty good camp. His pass coverage skills still need work, but that is why players train in training camp, no?
He's in his second year out of Oklahoma State and looking to make a name for himself this go round.
Lemon seems to be doing that, in a training camp sense at least, by playing hard on the field and gaining a few practice mentions on some Cowboys blog posts.
More than anything, Lemon has to show consistency and an ability to pick up on Rob Ryan's scheme.
He's learning and we will get a better look at him when the team opens the preseason against the Raiders. Until then...
Keep Reading

Dallas Cowboys: Like this team?