Steelers vs. Eagles: 6 Things We Learned from Philadelphia's Preseason Debut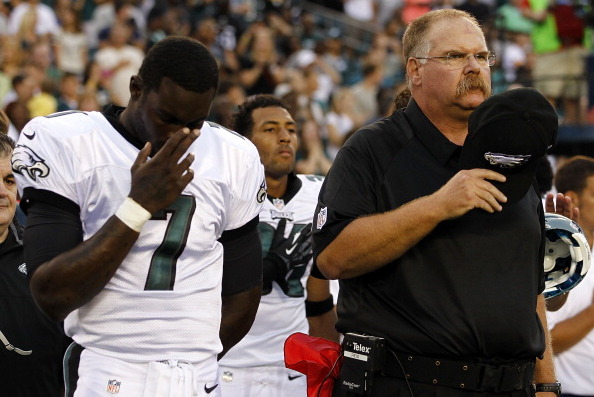 Jeff Zelevansky/Getty Images

Wins and losses very rarely matter in the preseason, but this one had a bit of a special feel to it.
Alex Henery nailed a 51-yard field goal with 12 seconds left to secure a 24-23 victory for the Philadelphia Eagles, and the team celebrated a little more enthusiastically than usual. That's because, for the first time since the tragic death of his son last weekend, Andy Reid could crack a small smile.
Reid's team hadn't exactly played well early, but it had to be encouraging that the second-stringers outplayed the starters. This team showed off its depth tonight.
Here's what else they showed.
Begin Slideshow

»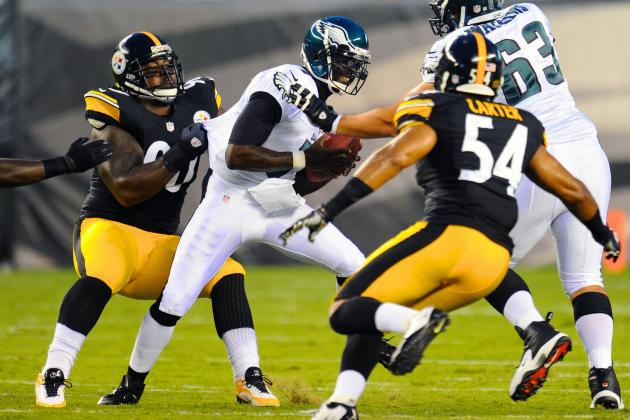 Dale Zanine-US PRESSWIRE

Everything Michael Vick did tonight was pretty much irrelevant. He completed his first three passes, which I suppose is nice. But the Eagles couldn't care less about his performance in a routine preseason game like this. The key is that Vick comes out of these things healthy.
It doesn't appear as though that was the case against Pittsburgh.
During the second quarter, Vick's hand smacked center Jason Kelce's helmet. NFL Network's Kim Jones reported on air that Vick had his left thumb in a cup of ice water on the sideline, but he also appeared to be smiling and wasn't rushed to the locker room for treatment.
Of course, he didn't return to the game, but he wouldn't have done so regardless.
As reported by ESPN, X-rays came back negative (that's a good thing); it looks as though the Eagles dodged a bullet. They're calling it a hand contusion.
Expect Vick to play even less for the remainder of the preseason.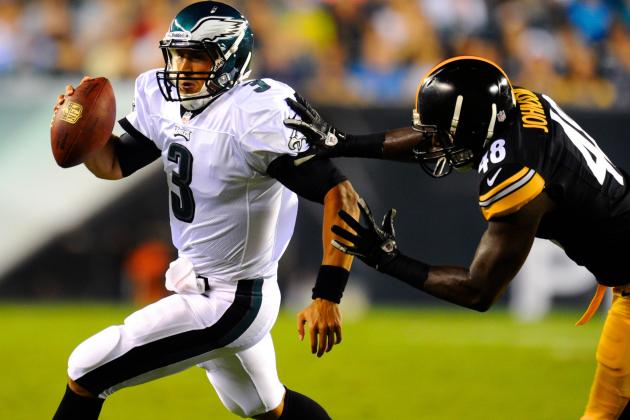 Dale Zanine-US PRESSWIRE

We figured we'd get a chance to find out this preseason what exactly the Eagles have behind Michael Vick. And while Mike Kafka probably relieved Vick at about the time when he would've under regular preseason circumstances, it felt different knowing that Vick was injured after whacking his hand on a follow-through.
And then Kafka threw a despicable interception on his first series of the year, and we all began to worry.
Kafka did not have a good night, completing 5-of-9 passes for only 31 yards. Making things even more interesting, rookie Nick Foles was lights out.
Foles was behind one of the biggest plays of the night, escaping pressure and keeping his cool before exploiting bad coverage on a 70-yard touchdown hookup with Damaris Johnson.
The very next time he touched the ball, Foles again went deep, displaying a nice combination of touch and strength on a 44-yard touchdown strike to Mardy Gilyard. He finished 6-of-10 for 144 yards and two touchdowns.
Based on a small sample size of real-game action, Foles had a clear edge tonight. There's another week of camp and three more preseason games to go, but the gap between Kafka and Foles could be shrinking.
Oh, and don't look now, but Trent Edwards looked pretty damn good against third- and fourth-string defenders late in the game. I still think the Eagles have to give Edwards a chance. It would be nice to have a veteran on the roster.
Jeff Zelevansky/Getty Images

A full offseason was supposed to help, as was the addition of DeMeco Ryans. But Philadelphia still struggled to make routine tackles too often in its preseason debut.
I can't find a replay of it yet, but Jaiquawn Jarrett had one particularly embarrassing attempt on a big Jonathan Dwyer run. Jarrett ended up making a great tackle...on teammate Vinny Curry. Jarrett had at least two blatant missed tackles, and was called out by Andy Reid after the game, which is quite troubling.
"[We have to] continue to tackle better," said Ryans (via the team's official website). "We had some missed tackles, so we have to tackle better."
Only the Buccaneers missed more tackles than Philadelphia last season.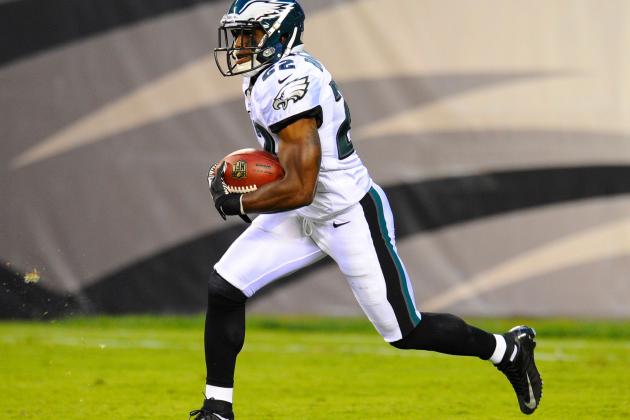 Dale Zanine-US PRESSWIRE

Rookies Brandon Boykin and Damaris Johnson handled the return duties tonight, and while neither hit a home run, they exceeded expectations and pleased their head coach.
Andy Reid noted in his postgame press conference that he was encouraged by both players' lack of hesitation, calling their performances "a positive" (h/t Eagles Insider).
Boykin took the first kickoff return of his career back 46 yards and averaged 29 yards on three returns on the night.
Johnson had at least four yards on each of his punt returns, while also coming up big on offense with four catches, 85 yards and a big touchdown grab. Oh, and he also had a 55-yard return that was called back due to an illegal block. It doesn't count on paper, but it does in his quest to earn a roster spot.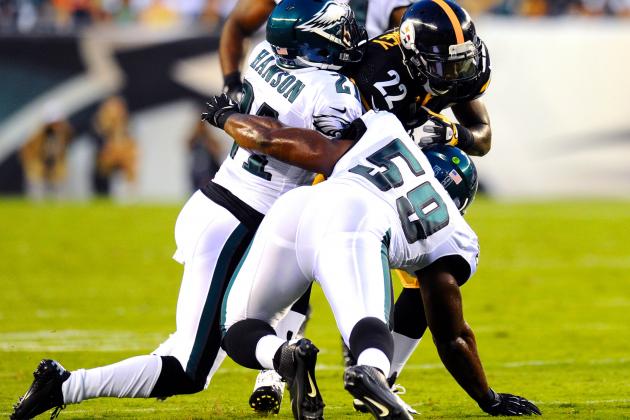 Dale Zanine-US PRESSWIRE

While the starters were in the game, both rookie Mychal Kendricks and new middle man DeMeco Ryans remained on the field in nickel situations. That hasn't always been the case during practices, so this is a sign that the coaching staff trusts both players in coverage.
So, yes, we learned that they're going to give both of those players constant reps. We knew at least one of them would regardless, but that's something to watch going forward now. Interestingly, though, it was Kendricks who had the better performance. Ryans was overpowered against the run and failed to make an impact, while Kendricks was displaying his range.
One more note: Kendricks wasn't the best rookie out there, either. That title goes to Vinny Curry.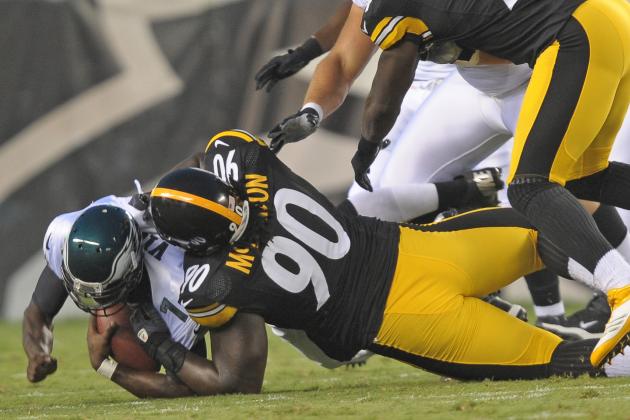 Eric Hartline-US PRESSWIRE

OK, we also knew this, but ProFootballFocus devotees will tell you that Demetress Bell was right there on the edges of Jason Peters' range in 2011.
But he struggled tonight, and the pass-protection wasn't very good right across the board. This line will have to be better than that, or Vick will continue to suffer injuries like the one that occurred as he dealt with a quickly collapsing pocket in the second quarter tonight.