The offseason gives coaches and players a time to step back and make the changes that need to be made. Some teams struggled last year and must focus on rebuilding, while other stronger teams must figure out how to remain contenders. There are certain teams that have a bit more to accomplish.
Here's five NBA teams that have much to prove in the upcoming season.
This offseason, the Knicks acquired Jason Kidd and got rid of Jeremy Lin. "Linsanity" was a standout factor in New York's' season last year, and it made some believe that the Knicks might have what it takes to win a championship. Unfortunately for New York Fans, their Knicks were eliminated in the first round of the playoffs to the eventual world champion Miami Heat.
With the Brooklyn Nets moving into town, the Knicks must prove that they are contenders that can move on past the first round of the playoffs.
With Lin gone, the Knicks will have to use the players that they have left to make great plays, hype up the crowd and make Madison Square Garden the place to be.
Brooklyn Nets
Which team do you think has more to prove this upcoming season?
To be honest, I don't think anyone knows what to expect from the Brooklyn Nets this upcoming NBA season. Deron Williams, MarShon Brooks, Gerald Wallace, Kris Humphries, and Brook Lopez make up an impressive roster that can dominate the court.
With new fans pouring into Barclay's Arena, the Nets will have to show how strong they truly are. New players will have to work well with the veterans if they want any chance of contending next season. The Brooklyn Nets have a new stadium, new players, new fans and a new franchise.
All eyes will be on Brooklyn during the NBA season to see what this fresh-faced team is truly capable of.
Miami Heat
Now I know that the reigning championships shouldn't be on a list of a team that has much to prove. I mean, isn't winning a championship proof enough? But for the most part, this Miami team will have to win consistently in order to still be considered the best team out there.
Many coaches in the NBA undeniably watched the NBA Finals, and they will be on the lookout for ways that they can defeat Lebron James and company.
Miami will face some key challenges early in the season. Five of the Heat's first seven opponents made the playoffs, and they will be taking on the Boston Celtics on opening day.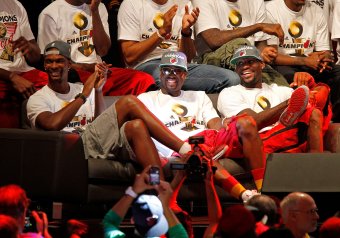 Mike Ehrmann/Getty Images
The players on the Miami Heat can continue to celebrate their championship victory, but by the time the 2012-2013 season rolls around, they better be ready to prove they can remain consistent.
The loss of Derrick Rose is devastating to the Chicago Bulls. It's reported that Rose could miss the majority of the 2012-2013 season, and Chicago must find a way to replace the All-Star as well as they can.
Shooting guards on the Bulls must step up for next season.
Chicago has Richard Hamilton and Jimmy Butler, but neither one of them can play on the level that Rose can. It will be a significant problem for Chicago to remain consistent while missing their best player on the floor.
If they can find a legitimate shooting guard that can perform on a daily basis, then Chicago might have a shot at making another run for a championship. However, if this position is not filled, the season will be a disappointment for Chicago fans who are just waiting for Rose to come back out onto the court.
The Orlando Magic have done a great deal so far in the offseason. They have signed a new head coach and a new general manager that are both looking to make big moves for the team. With new ownership comes a new decision making process, and the Magic just might come out looking like an entirely different team.
It's unknown as to whether or not All-Star Dwight Howard will stay with the Magic, but if he does, they will remain playoff contenders.
If Howard decides to take his talents elsewhere, Orlando will be stuck in the same position as the Bulls when it comes to the difficult decision of replacing an All-Star.