NHL Free Agency: Detroit Red Wings and Teams That Fell on Their Faces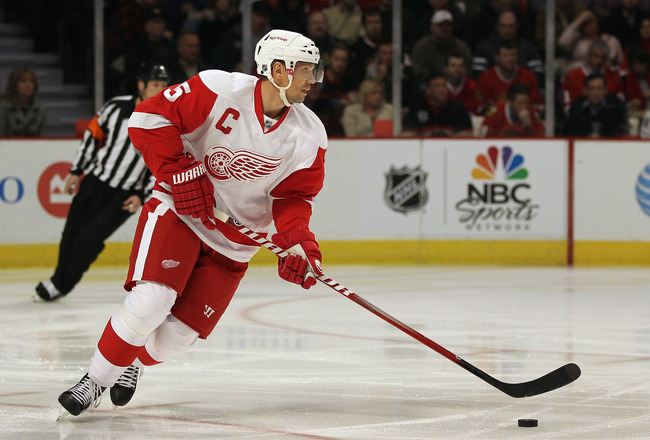 Jonathan Daniel/Getty Images
The rush period of NHL free agency has come and gone. Some teams have improved and some have fared for the worse. Others, on the other hand, have not been able to accomplish much either way.
Teams like the Minnesota Wild (obviously) and the Dallas Stars have improved. Whereas, the Nashville Predators and the New Jersey Devils were not able to restock the huge holes left by the departure of their star players.
For the Detroit Red Wings and a couple other teams, they knew that they needed to add pieces to the puzzle in order for next season to be a success based on their own team goals. However, these certain teams were not able to do so and fell on their faces.
So without any further ado, here are a couple of the teams that were not able to get it done during free agency, and throughout the offseason in general.
Toronto Maple Leafs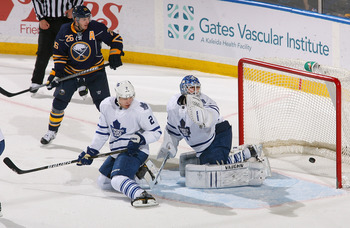 Rick Stewart/Getty Images
It seems like the Toronto Maple Leafs can never do anything right, and this year it may be true again. Although they were interested in numerous players during free agency, like Justin Schultz and Martin Brodeur, none of that interest ever amounted to anything significant.
They lacked a bona fide No. 1 goalie and a true first line center. Although their options were limited in that regard, they still have not been able to land any players to fit into those empty spaces on the roster.
GM Brian Burke was able to trade defenseman Luke Schenn to the Philadelphia Flyers for forward James Van Riemsdyk. This trade will improve the team, but does not address any of the team's concerns.
The Maple Leafs have missed out on the free agents this season and now Burke will have to resort to the trade front if he expects to make his team a true playoff contender. As of right now, it is tough to imagine the Leafs will finish anything higher than an eighth seed, and that is a generous prediction.
Mike Brophy of Sportsnet however, believes that Burke eventually will be able to pull the trigger and get something done.
So you are left wondering, will the deal come soon? Perhaps later in the summer? Or at all? Given his track record, I believe Burke will make a major move. It just may take a while.
Buffalo Sabres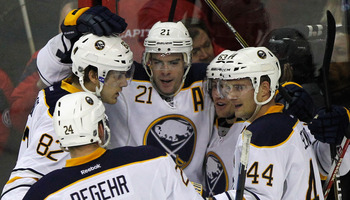 Rob Carr/Getty Images
After missing the playoffs last year, GM Darcy Regier made it known that he was going to be active during the off season, to acquire the necessary pieces to make the Buffalo Sabres a playoff team again. Although he desired the trade route, free agency came and went without the team making any improvements.
Regier told the Associated Press (Via NHL.com) how he planned to go about making any moves between the end of last season and the start of this year.
"I'm not talking about a one-year fix, or a one-year player that's going to be looking at becoming an unrestricted free agent," Regier said. "If you have an opportunity to add someone who's either under contract or is a high-profile player at a ... reasonable cost, then certainly that's something we'll pursue."
The only real deal the Sabres made was the trade for Steve Ott. The team dealt Derek Roy to the Stars in the transaction.
They are a club that really underperformed last year and should have no problem being in the thick of the playoff race come this season. However, they could have added a few extra pieces through the free-agent market to make sure next season's goals happen. Adding a veteran for leadership may have been ideal.
Although it does not seem like Shane Doan has the same type of interest towards Buffalo as the Sabres do with him, it would be a great signing. Landing the experienced veteran would make a huge impression for the team going forward.
Detroit Red Wings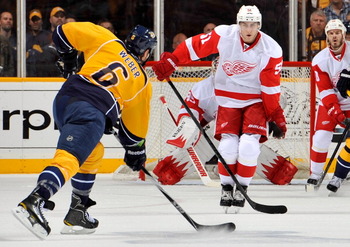 Frederick Breedon/Getty Images
With the retirement of Nicklas Lidstrom, the Detroit Red Wings were left with a pretty big hole on the back end. Although they are a team that seems to always find players inside the organization, it was expected that they would add a talented defenseman to replace him.
According to Helene St. James of The Detroit Free Press, the Red Wings tried to add to their blue line through free agency.
"The Wings are trying to add to their defense. They offered $90 million over 13 years to Suter, but he opted for more money and playing closer to home. They offered a contract to Sami Salo, but he opted for Tampa Bay."
She also mentions that the Red Wings were interested in Shea Weber before he eventually re-signed with the Nashville Predators.
Although they missed out on acquiring any talent through free agency, the Red Wings are still looking to add to the current six defensemen they have on the roster. According to Brendan Savage of M Live, the team has been in contact with the Calgary Flames regarding Jay Bouwmeester.
If the Red Wings are able to add either Bouwmeester or any of the remaining free agents left available, it would certainly create a deeper top six. Carlo Colaiacova could be a good fit in a Red Wings jersey next season, assuming he would be able to stay healthy.
Keep Reading

Detroit Red Wings: Like this team?