NHL Free Agency: Picking the Top 5 Available Players at Each Position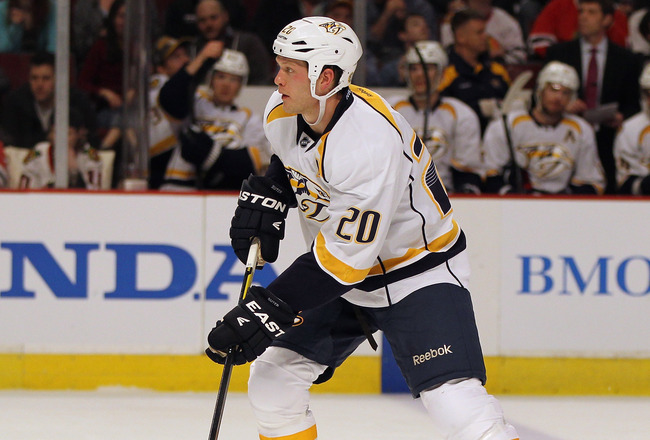 Jonathan Daniel/Getty Images
The NHL regular season has come to an end. The playoff matchups are set. The lineups for each team are pretty much locked in and the NHL's general managers can now take a deep breath. Sixteen of those GMs will watch their teams compete in the playoffs. The remaining GMs will wish their teams well after the players clean out their dressing room stalls.
Well, most of the above is true. The one thing that may be a stretch is the part where the GMs get to relax. The work of a general manager is never done and they need to start thinking about next year, how can they make their teams better.
One way to improve is through free agency. What follows are the five best potential free agents at each position. It should be noted that some players are not included in this list. Players such as Nicklas Lidstrom, Teemu Selanne and Martin Brodeur have been excluded. True, these players will be free agents, but the odds of them doing anything but retiring or re-signing with their current teams are very slim.
With that in mind, enjoy the top 15 players that may be available as free agents.
Goaltender: Tomas Vokoun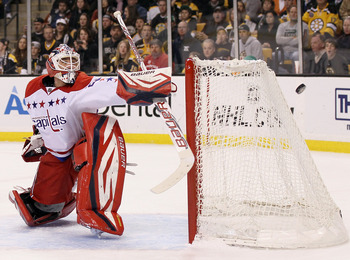 Elsa/Getty Images
Before he was injured in late March, Tomas Vokoun provided the Washington Capitals with the goaltending they expected from him, putting up numbers that were very close to the numbers he had put up during his four-year stint with the Florida Panthers.
The difference between Florida and Washington is that Vokoun's cap hit with Florida was $5.7 million, while he is making $1.5 in Washington. He'll be due a pretty hefty raise from that $1.5 million when he becomes a restricted free agent.
Goaltender: Josh Harding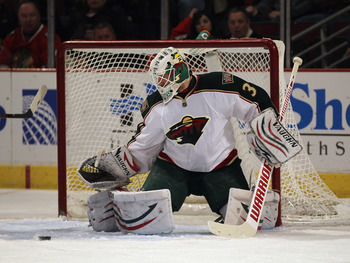 Jonathan Daniel/Getty Images
The Minnesota Wild's Josh Harding has never had an NHL contract worth more than $1.2 million per season. This year, his expiring deal will pay him $750,000.
Harding will become an unrestricted free agent on July 1 and he is in line for a significant raise. The problem with Harding is that he has never sniffed 40 games in an NHL season. In fact, the only season he exceeded 30 games was this season. With that in mind he is a risky signing; can he be relied on to be a starter and make a starter's wage?
It will be interesting to see where Harding lands, what he is paid and what role he will play.
Goaltender: Carey Price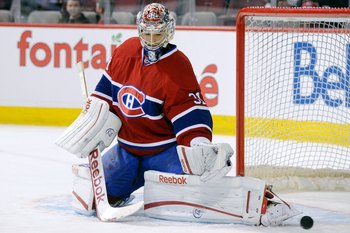 Richard Wolowicz/Getty Images
When the Montreal Canadiens name a new general manager, one of his first tasks will be to try and get Carey Price inked to a new deal. The 24-year-old played 65 games before being shutdown late in the season after suffering a concussion.
Price is coming off a two-year deal with a cap hit of $2.75 million. Price is a franchise-type player and will surely look to at least double that cap hit with his next deal and probably triple or more the length of the contract.
Two things could impact the negotiations for Price: first, the deal that Ilya Bryzgalov signed with the Flyers last year and secondly, concerns over his concussion.
Franchise goalies do not make it to the market often, so it would not be a surprise to see an offer sheet thrown Price's way.
Goaltender: Tuukka Rask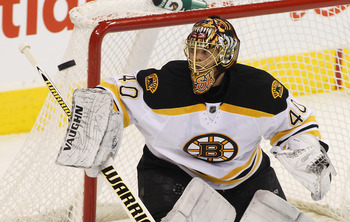 Marianne Helm/Getty Images
The Boston Bruins goaltender of the future is Tuukka Rask. His expiring contract comes with a cap hit of $1.25 million.
The question is will Rask be the starting goaltender for the Bruins next year? Current starter Tim Thomas will be in the final year of his deal in 2012-13. That deal will pay Thomas $3 million. There's a real chance that the Bruins, if they fail to win the Stanley Cup, will deal Thomas this summer.
With all that in mind, Rask, a potential restricted free agent will look to get a huge raise. Will that raise come from Boston or will an offer sheet roll in from another team that thinks it could use the 25-year-old as their franchise netminder?
Goaltender: Cory Schneider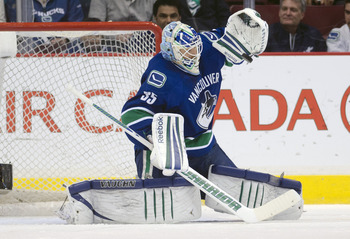 Rich Lam/Getty Images
Cory Schneider is in the most interesting situation of all the goaltenders listed. Many feel that Schneider has all the skills needed to be a starting goaltender, the problem is that he sits behind Roberto Luongo on the Vancouver Canucks depth chart.
Schneider is set to become a restricted free agent at the end of this season, with an expiring contract worth $900,000. Canucks GM Mike Gillis has a real dilemma in Schneider. Will he be able to pay him enough that Schneider will be happy on the Canucks bench? Will he trade him? Will another team extend an offer sheet?
Even more interesting would be a scenario where Luongo struggles in the playoffs and Schneider gets the call. If that happens could the Canucks unload Luongo and keep Schneider in net?
Defenseman: Ryan Suter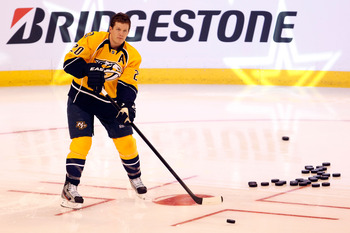 Gregory Shamus/Getty Images
The top prize in the unrestricted free-agent sweepstakes will be current Nashville Predators defenseman Ryan Suter. At the trade deadline Suter was coveted by many teams; however, with the Predators looking to make a serious run at the Stanley Cup they held onto the 27-year-old blueliner.
While the move was risky, it was made to show Suter that the team means business, which will hopefully convince Suter to sign with the Predators this offseason.Unfortunately, Suter would most likely have to give the Predators a home-town discount in order for the team to afford him.
Suter's expiring contract was worth $3.5 million a year, look for him to get paid somewhere near what his teammate Shea Weber is making this year, $7.5 million
Defenseman: Shea Weber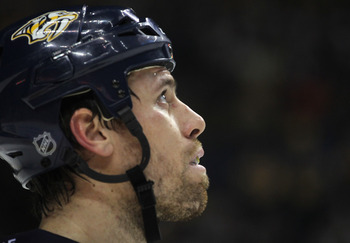 Bruce Bennett/Getty Images
Shea Weber will be a restricted free agent this summer, with an expiring contract worth $7.5 million.
Weber is in an interesting situation, the Predators almost have to sign him to a long-term deal or trade him. They cannot afford the distraction of a one-year deal and wondering if they will lose him to unrestricted free agency at the end of the 2013 season.
In short, with Suter and Weber to worry about it will be an interesting time in Nashville.
Defenseman: Mike Green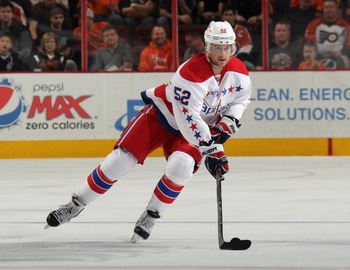 Bruce Bennett/Getty Images
When healthy, Mike Green is one of the finest offensive defensemen playing in the NHL. The problem is that Green has not been healthy over the last two seasons, playing less than 82 games over the course of those two seasons.
With his health concerns in mind, the restricted free agent may have a hard time getting a long-term contract or a raise over the $5 million he made over the past five years.
Defenseman: Erik Karlsson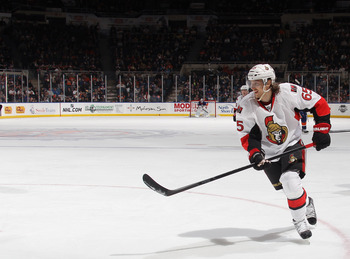 Bruce Bennett/Getty Images
Erik Karlsson is in the running for the Norris Trophy as the NHL's best defenseman, which is pretty good timing on his part, as he is set to become a restricted free agent at the end of this season.
Karlsson's expiring deal pays him a salary of $875,000 with a bonus of $425,000. Expect to see him receive a huge raise over the summer.
Karlsson, with his low average salary, may very well generate an offer sheet if he is not locked up before July 1.
Defenseman: Brad Stuart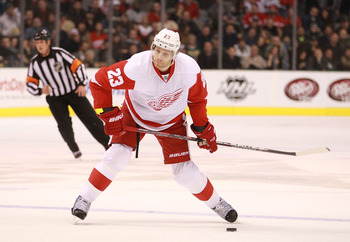 Ronald Martinez/Getty Images
The No. 3 pick in the 1998 NHL entry draft will become an unrestricted free agent this summer as his four-year, $15 million contract comes to an end.
A West Coast team may be able to grab Stuart at a discount as his family never moved with him to Detroit when the Red Wings signed him during the 2008-09 season.
Forward: Alexander Semin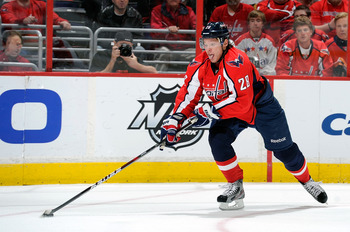 Greg Fiume/Getty Images
The Washington Capitals' Alexander Semin has signed two one-year deals for his last two contracts. His expiring contract paid him $6.7 million.
With Semin delivering 54 points in 77 games this season there are serious doubts if the Capitals have interest in signing him. Semin has often been looked at as a "me first" player and that fact along with his underwhelming production may drive down his worth.
It would not be a surprise to see Semin move on to a big payday in the KHL next season.
Forward: Zach Parise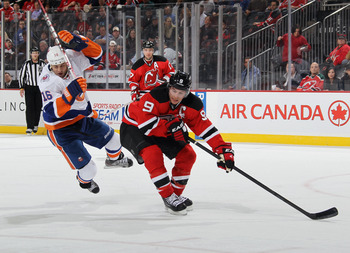 Bruce Bennett/Getty Images
Perhaps the most coveted unrestricted free agent forward this summer, Zach Parise will be in line for a substantial raise over the $6 million he made for the New Jersey Devils this season.
While Parise's points total was below the 94 and 82 he put up during the 2009 and 2010 seasons he still proved to be an offensive force on a team, finishing second in goals and third in overall points for the Devils.
The reality of the situation is that any team with the cap space to make a run at Parise is bound to do so.
Forward: Shane Doan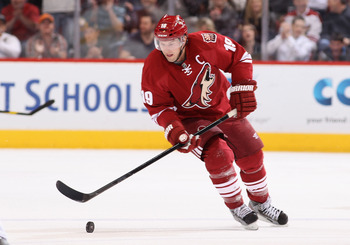 Christian Petersen/Getty Images
The definition of a team player, Shane Doan has toiled on one of the NHL's "forgotten" franchises, the Phoenix Coyotes, for his entire career.
Doan is set to become an unrestricted free agent this summer as his five-year, $22.75 million deal ends.
Doan will be a hot commodity for any team looking for veteran leadership. With that being said, it would be a huge surprise to see him leave the desert.
Forward: PA Parenteau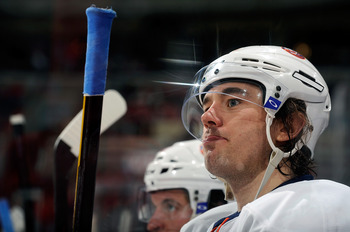 Greg Fiume/Getty Images
PA Parenteau is one third of the NY Islanders most potent line, teaming up with John Tavares and Matt Moulson. The trio finished one, two and three in scoring this season and were one of the only bright spots of the Islanders season.
Parenteau's one-year, $1.25 deal will expire this year, making him an unrestricted free agent. Will the Islanders opt to sign him to a long-term deal, keeping their best line intact or will another contending team look to lure Parenteau away with good money and a chance at a Stanley Cup?
Forward: Jaromir Jagr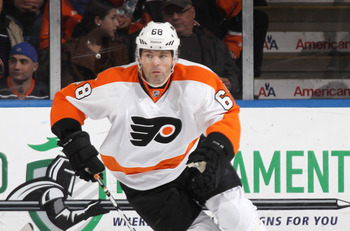 Bruce Bennett/Getty Images
When the Philadelphia Flyers signed Jaromir Jagr to a one-year deal worth $3.3 million, fans were split in whether the signing was smart or insane.
Now that the season has come to a close it sees that Flyers GM Paul Holmgren was correct in signing the 40-year-old player. The question now is will the Flyers be able to keep the potential unrestricted free agent on the club for next season and at what pay rate.
Keep Reading