Arsenal Transfer News: Why We Need to Lower the Hype on Santi Cazorla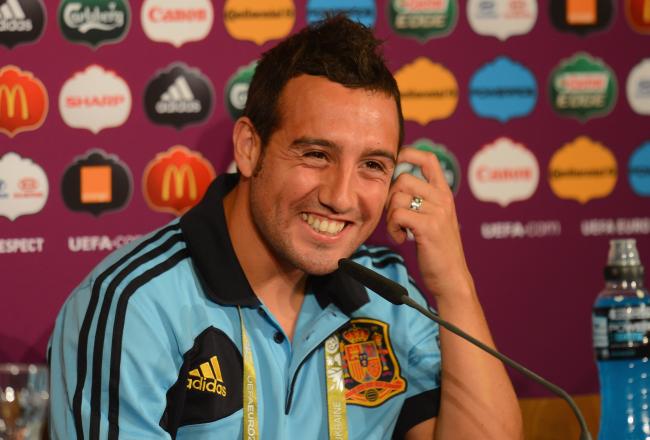 Handout/Getty Images
Arsenal midfielder Santi Cazorla is without doubt one of the greatest transfer signings that the club has ever made, and his arrival at the Emirates could not have come at a better time for Gunners fans.
In a summer dominated by discussions about whether or not Robin van Persie will leave the club and whether or not Arsene Wenger is still a top-class manager, Cazorla hopefully is an answer to both of those questions.
Hopefully, his arrival shows that Wenger is still one of the most shrewd and knowledgeable managers in world football. Furthermore, hopefully his addition shows Van Persie that the Gunners still have a real chance of being an English and European threat this year.
Ideally, his inclusion in the Arsenal squad helps the likes of Lukas Podolski, Oliver Giroud and Theo Walcott in addition and ideally, his passing and attacking skills breaks the trophy drought currently in existence at the Gunners.
Yet, in all of this, it is important that we don't place too much hype on Cazorla. It is important that we don't expect too much and we don't create too many expectations for the Spanish international.
Cazorla is not the Gunners' savior this season. He, by himself, cannot bring a title to the Emirates—he needs defenders, midfielders, strikers and club officials to join with him in leading a resurrected Arsenal back into Premier League contention.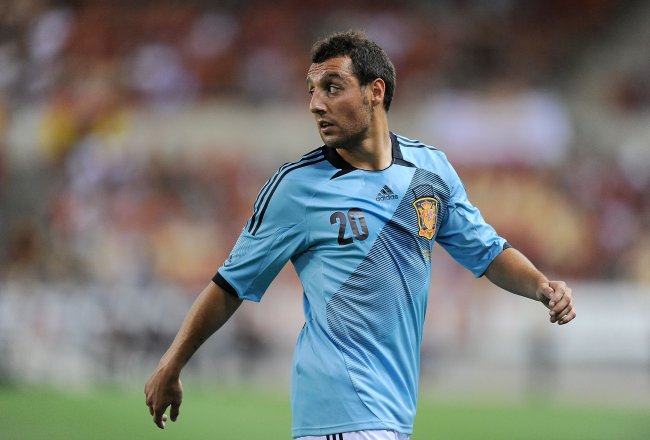 Denis Doyle/Getty Images
He will not win every game, and he may not win the Gunners a title this season. He may lose the ball in midfield and he may blow some opportunities in front of goal—costing Arsenal valuable competition points this season.
As good as he is, Santi Cazorla is still human and he will take time to find his role and rhythm within the Gunners roster this season. That will take time and as the viewers of his performances, we must be prepared to give him that time to adjust.
We must allow those "growing pains" that always take place when a new playmaker arrives, and the same must take place when the Spanish international first walks out at the Emirates.
Cazorla is not to Arsenal what the likes of Thierry Henry and Dennis Bergkamp were, and still are. He is not their greatest transfer signing ever—heck, he might not even be their best player this season—and unless we afford him the time to grow into the expectations and assumptions about him, he will never have a chance to succeed.
If we expect too much of Cazorla, we may only be left with disappointment. Not in the way that some Chelsea fans have been with their £50 million signing of Fernando Torres or Liverpool with their £35 million signing of Andy Carroll, but in the way that just wishes he could give a little more.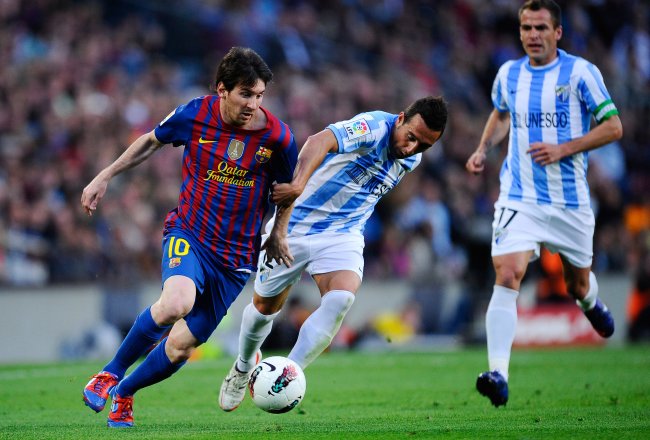 David Ramos/Getty Images
Drop the expectations, lower the bar a little and give the Spanish whizz-kid a chance to impress at the Emirates. Don't just assume he'll be brilliant and the Premier League's answer to Lionel Messi—let him dictate what you think of him based on his performances.
Santi Cazorla is, and will be, an excellent Arsenal player this year—please don't hear me saying that his arrival is not one of the utmost significance. Wenger has pulled off the signing of the summer transfer window in him, and he will grow to be a player that every Premier League club envies throughout this season.
But the key there is time. This will all take time.
If we don't lower the hype and expectations on Cazorla before the season begins, we're not affording him the time that every player needs to adjust. We're not afford him the luxury that he deserves for being the quality player that is.
We're setting the bar too high and unless we lower it, we could only be setting ourselves up for disappointment.
Do we need to lower the hype on Santi Cazorla?
Comment below or hit me up on Twitter: Follow @dantalintyre
This article is
What is the duplicate article?
Why is this article offensive?
Where is this article plagiarized from?
Why is this article poorly edited?

Arsenal: Like this team?