10 Fights to Book for the Next UFC New Year's Card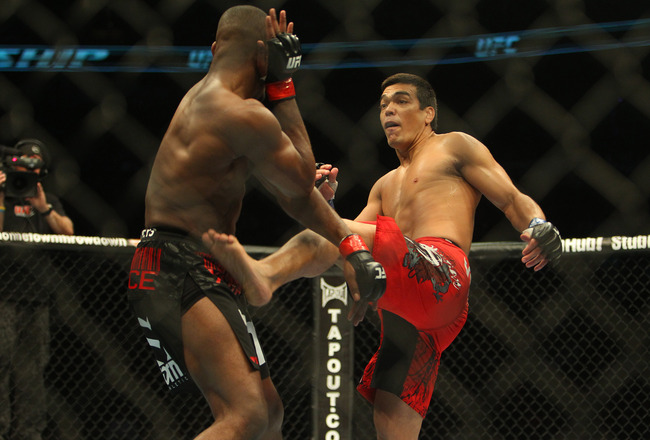 Tom Szczerbowski-US PRESSWIRE
The final show of the year for the UFC is typically a showcase for the best talent that the world of mixed martial arts has to offer. From title fights to grudge matches to marketable behemoths, the biggest stars in MMA history have been booked on a New Year's card or two over the years.
For example, let's take a look at some past events. UFC 66 was the home of Liddell vs Ortiz II, which was the biggest fight in UFC history at that point, and the event also booked top stars Forrest Griffin, Andrei Arlovski and Michael Bisping on the main card.
Considered to be one of the best cards in UFC history, UFC 92 took place at the end of 2008 with a pair of title fights. Not only did Ultimate Fighter winners collide in the main event, but Forrest Griffin and Rashad Evans were also battling for the UFC Light-Heavyweight championship. Frank Mir and Big Nog fought over the UFC Interim Heavyweight title, while Rampage Jackson and Wanderlei Silva ended their epic rivalry on the same card.
In history, only three UFC events have sold 1,000,000 or more events without the star power of Brock Lesnar. Both UFC 66 and UFC 92 are on that short list. What kind of fights could we make on this year's card to break that number?
Keeping in mind fighters' rankings within their division, as well as their marketability and timeline for return, I have put together a proposed fight card for the 2013 New Year's card. Similar to UFC 144, I have decided to book this event with a seven-fight main card.
FX Prelim: Chan Sung Jung vs Charles Oliveira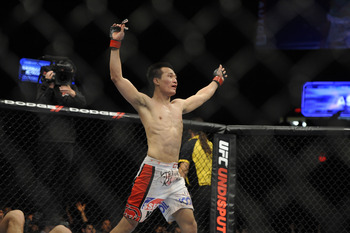 Rafael Suanes-US PRESSWIRE
Kicking off the UFC on FX prelims for this event would be a featherweight contest between two highly-regarded fighters with well-rounded skills.
Chan Sung Jung was considered to be in line for a crack at Jose Aldo's featherweight championship. For whatever reason, the UFC has elected to stick with Erik Koch as the next challenger for Brazil's smallest champion.
In the mean time, the Korean Zombie needs to stay busy, and up-and-coming submission stud Charles Oliveira can give him a real challenge, as his kick-heavy standup allows Do Bronx to keep the fight at whatever distance pleases him.
If this fight goes to the ground, it's a tossup, as both men have pulled off unique and rarely seen submissions in recent fights. Korean Zombie may be best known for his twister submission on Leonard Garcia last year, while Oliveira locked in a spectacular calf slicer against Eric Wisely in January.
FX Prelim: Anthony Pettis vs Guillard/Cerrone Winner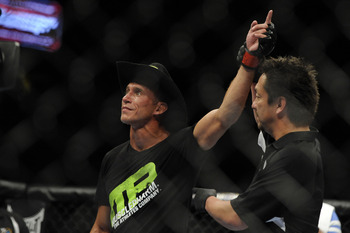 Rafael Suanes-US PRESSWIRE
Donald Cerrone called out Anthony Pettis shortly after his dominant victory over Jeremy Stephens back in May at UFC on Fuel TV. With "Showtime" going into surgery to repair his shoulder, Cerrone would take another fight in the meantime at UFC 150.
Cerrone's opponent is powerhouse puncher Melvin Guillard, who has delivered some devastating knockouts during his career. If he can avoid Cerrone's vicious submissions, he could pull off the upset.
Whoever wins this battle will be a great candidate to face Pettis in his return at the end of the year. The striking prowess of Showtime is both awe-inspiring and fear-inducing for many.
Guillard is willing to stand and bang with anyone willing to test their chin, and Cerrone is always ready to bring a show. We are looking at a fight of the year candidate regardless of who ends up in the cage.
FX Prelim: Urijah Faber vs Mike Easton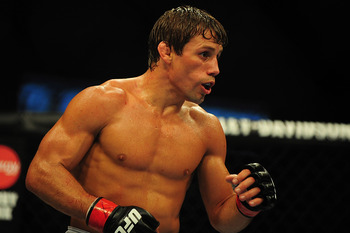 Anne-Marie Sorvin-US PRESSWIRE
"The California Kid" has lost half of his past ten fights, but has somehow been in title fights over and over again. Now that Faber has failed four times to recapture a belt, it's time to put him against a top prospect who is ready to prove his merit.
Mike "The Hulk" Easton has an overall record of 13-1, and has gone 3-0 since joining the UFC. As an Alliance MMA fighter, fans might know Easton best as an assistant coach to Dominick Cruz on The Ultimate Fighter: Live, with Faber heading up the opposing team.
Could the Faber vs Cruz rivalry be continued vicariously through The Hulk? How motivated will The California Kid be now that he knows that a future title shot is miles outside of his grasp? Will Easton be able to live up to his hype against a former champion?
There are a lot of questions going into this fight, and that's what makes it great.
Main Card: Shane Carwin vs Roy Nelson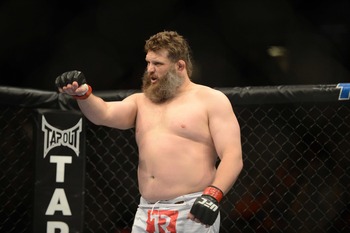 Ron Chenoy-US PRESSWIRE
Originally scheduled for the New Year's card at UFC 125, Shane Carwin vs Roy Nelson has been postponed greatly due to the series of injuries that have made Carwin appearances sparse ever since mid-2010.
Now that the heavyweight stars are set to coach the next season of The Ultimate Fighter, a December fight seems like a likely candidate to land on this event.
Carwin hasn't picked up a win since a 2010 victory over Frank Mir to win the UFC interim Heavyweight championship. Meanwhile, Big Country has teased a drop to light-heavyweight, but will stick around long enough to do battle with The Engineer.
Main Card: Diego Sanchez vs Clay Guida II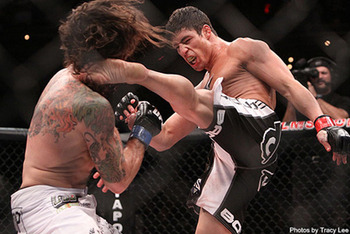 Photo by Tracy Lee
With the announcement that Diego Sanchez is moving back to the lightweight division later this year, one of the most exciting fighters in UFC history returns to a division that has a plethora of high-intensity opponents who can push the pace and go the full 15 minutes if needed.
The best opponent who is ranked similar to Sanchez would have to be one of his former opponents: Clay Guida.
In 2009, Guida and Sanchez took home Fight of the Year honors for their original battle, and many fans consider it to be the best fight that the sport has ever seen.
Guida's recent tendency to avoid a slugfest has been upsetting to many fans, but it's hard to see The Carpenter unwilling to exchange with a man who stole a razor-thin split decision from him in the best performance of his career.
Who else is ready for rounds four, five and six?
Main Card: Shogun Rua vs Alexander Gustafsson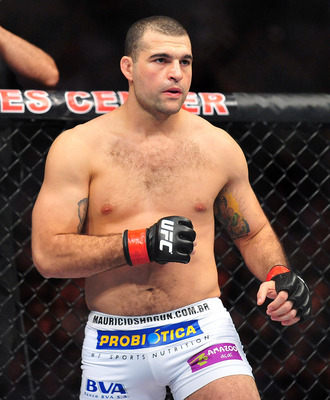 Gary A. Vasquez-US PRESSWIRE
This weekend, Shogun Rua engaged in a full-scale war with muay thai specialist Brandon Vera. Aware of his opponents hazardous striking skills, Shogun shot in for some rarely-utilized takedowns.
With Rua having trouble with a lower ranked opponent, many are questioning his place as a current member of the MMA elite. While some stocks drop, others continue to rise, and it looks as if Shogun and Alexander Gustafsson have met in the middle.
Gustafsson's ascension into the Top Five of the division is currently blocked by the former champion, and The Mauler is someone who refuses to be held down. While he didn't record any 10-8 rounds in his last bout with Thiago Silva, there was no question who the winner would be when the scores were read.
Additional wins over Vladimir Matyushenko and Matt Hamill support the notion that Gustafsson is ready for this fight, and his striking could put Shogun in some bad spots throughout the contest.
Main Card: Alistair Overeem vs Big Nog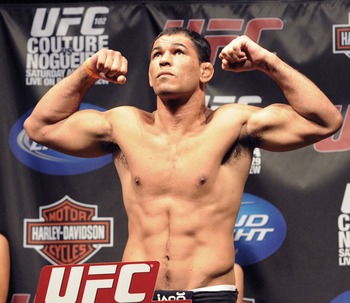 Jon Kopaloff/Getty Images
While Overeem has a pair of losses to Lil Nog during his time as a light-heavyweight, The Reem has yet to do battle with the larger of the twin black belts.
Alistair Overeem will be eligible to return from his suspension at this event, and it is unlikely that he will be denied his license. After all, Overeem has been submitting voluntary drug tests as a sign of good faith to the Nevada State Athletic Commission.
Overeem is one of the biggest names in MMA today, while Big Nog is one of the biggest stars that the sport has ever seen. A heavyweight bout between the two is a can't miss fight that allows Nogueira to show us that he's still got it, while offering Overeem a top level opponent on his quest to get a shot at Junior dos Santos.
If the Reem can get past JDS' mentor, Cigano will be knocking down Dana White's door in hopes of avenging his fallen friend.
Main Card: Chael Sonnen vs Rashad Evans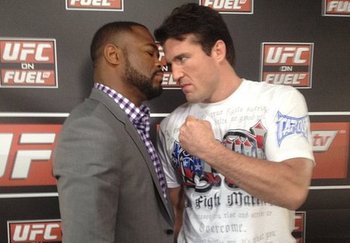 Courtesy of BJPenn.com
For nothing else but the pre-fight trash talk, a battle between middleweight bad boy Chael Sonnen and former light-heavyweight champion Rashad Evans could end up as the most anticipated fight on this card.
Both men are coming off of the biggest losses of their respective careers, and both men have teased a move into the other man's backyard. Sonnen has a history at light-heavyweight, while Rashad would be entering middleweight waters for the first time.
I would propose this as a 195-pound catchweight to help both men prepare for their new weight class.
MMA lead writer Jonathan Snowden has already offered his take on this fight. Do you think it will go the way that he predicted?
UFC Interim Bantamweight Championship: Renan Barao vs Michael McDonald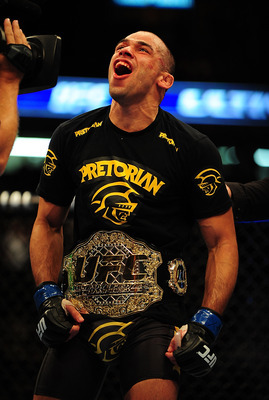 Anne-Marie Sorvin-US PRESSWIRE
With UFC bantamweight champion Dominick Cruz on the sidelines until at least mid-2013, Renan Barao will end up being the first man to defend his interim UFC championship since Big Nog at UFC 92.
The challenger who lies in front of him should be none other than the 21-year-old wunderkind, Michael McDonald.
McDonald is hot off of a first-round knockout of former champion Miguel Torres, and was considered as a possible opponent for Urijah Faber at UFC 149. "Mayday" has gone 5-0 since signing on with Zuffa, and in July of 2010, he knocked out former WEC champion Cole Escovedo to avenge the sole loss of his career.
Barao has been flawless since joining the WEC in 2010, having amassed a record of 6-0 and picked up wins over top contenders Scott Jorgensen and Urijah Faber.
With a spectacular record of 29-1, and finding an opponent likely to dethrone the new champion is easier said than done, although McDonald is certainly up for the challenge.
UFC Light Heavyweight Championship: Jones/Henderson Winner vs Lyoto Machida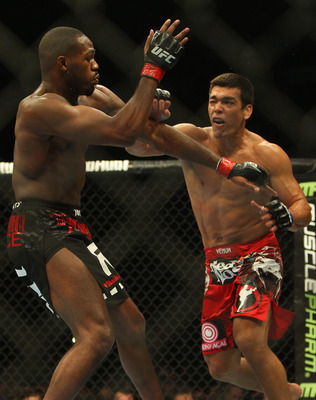 Tom Szczerbowski-US PRESSWIRE
Do you remember the Machida Era? Many forgot the period of time when light-heavyweight champion Lyoto Machida was a terrifying force who appeared to be an unbeatable force who didn't have a single weakness.
Saturday night fans around the world remember exactly why Machida was once one of the most feared fighters on the roster, as he picked apart Ryan Bader en route to a vicious knockout in the second round.
The victory earned Machida a title shot, and depending on how quickly the title bout between Jon Jones and Dan Henderson concludes, the victory could be ready for a year-end contest with The Dragon.
Either fight would be a thrilling engagement, as Machida is the only man to win a round against Jones in his career, and a fight with Henderson would be a fresh fight that is both compelling and difficult to predict.
In the event that the winner of Jones/Henderson isn't ready to compete four months later, this card could be headlined by the curiously postponed rematch between Junior dos Santos and Cain Velasquez.
Andrew Saunders is a syndicated writer and featured columnist on Bleacher Report. Follow him on Twitter for news bits, commentary and jokes that aren't nearly as funny as he thinks they are.
Keep Reading