Washington Redskins: Five Sleepers to Watch This Preseason
Rob Carr/Getty Images
The Washington Redskins open up their 2012 preseason schedule in Buffalo Thursday night, and about 96.4 percent of all eyes will be on rookie quarterback Robert Griffin III.
But for those looking for less-heralded players that might emerge this August, here are five under-the-radar guys to keep a close eye on throughout the preseason.
Adam Gettis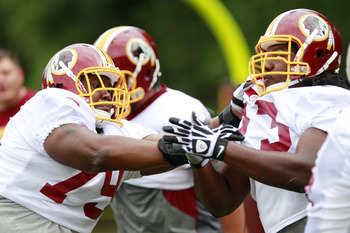 Geoff Burke-US PRESSWIRE
He's slightly undersized and maybe a bit raw, but rookie guard Adam Gettis has been extremely impressive thus far in training camp. His technique is superb for a 23-year-old fifth-round pick, which could mean that he'll gain more opportunities early than fellow rookie guard Josh LeRibeus, who was selected two rounds ahead of Gettis in April.
I don't necessarily think Gettis will play a major role early, but if left guard Kory Lichtensteiger is once again sunk by his balky right knee, and if Gettis can continue to turn heads this month, he'll likely gain some big opportunities going forward.
Niles Paul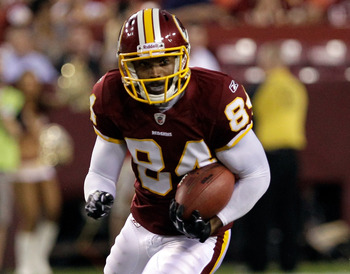 Rob Carr/Getty Images
Niles Paul is a project, but the Redskins must see something in him. Otherwise, why bother attempting to convert the 2011 fifth-round pick from wide receiver to tight end? Early on in the project, he's already being compared to Hall of Famer Shannon Sharpe.
There's quite the crowd at the receiver position in D.C., but tight end is a different story. Fred Davis is undoubtedly the top guy, but there are concerns about Davis' off-field antics, and he's just one flunked drug test removed from being suspended for a year. Chris Cooley is a fan favorite, but his best days are probably behind him.
The offensive line has struggled thus far in camp, and Robert Griffin III will likely face a lot of pressure this season. That means that if a guy like Paul can nail down the blocking aspect of the tight end game, he could earn some serious reps.
Aldrick Robinson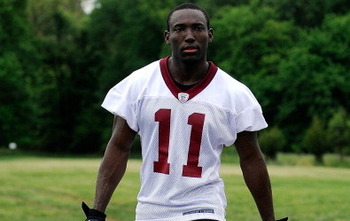 Patrick McDermott/Getty Images
After spending the majority of his rookie season on the practice squad, Aldrick Robinson was expected to have a chance to gain a more significant role with the Redskins this season.
And then the team went out and signed Pierre Garcon and Josh Morgan while retaining Santana Moss, and suddenly, it was looking as though Robinson would have to try to crack someone else's roster.
But Morgan's hurt, Moss is old and there's no telling yet what Leonard Hankerson will bring to the table, so the window remains at least slightly open for Robinson.
The 2011 sixth-round pick out of SMU has been making big plays thus far in camp, which might make him the early favorite to win the No. 5 receiver spot. Not glamorous, I know, but who knows what that could lead to.
He'll still have to work on getting more consistent, but Robinson took full advantage of an opportunity to develop a rapport with Robert Griffin III this spring, joining RG3 in Waco, Tex. for a series of practices.
He's also in the running to make the final 53 as a punt returner. It never hurts to be versatile.
Richard Crawford
Patrick McDermott/Getty Images
Yes, this slideshow is sponsored by Southern Methodist University.
Aldrick Robinson isn't the only former SMU stud to make the list. Watch out for Richard Crawford, who left school a year after Robinson did and was drafted in the seventh round by Washington in April. The rookie has stood out thus far in camp, and he could have a chance to compete for nickel or dime reps as part of a group of cornerbacks that lacks depth.
He has the size and strength to be a stellar nickel corner, so expect the 22-year-old to get plenty of work in the preseason.
Alfred Morris
The Redskins have three solid running backs, but you get the feeling the team is tempted to get creative in order to make room on the roster for rookie sixth-round pick Alfred Morris.
The Florida Atlantic product has been one of the most talked about players on the team this summer. He can be a tailback or fullback, which could be a big factor considering that Darrel Young is out with a strained hamstring.
Tim Hightower, Roy Helu and Evan Royster are already on the roster, but if Morris continues to make big plays and catch the eyes of coaches in training camp while also delivering in the preseason, the staff might want to consider releasing whichever one of those backs struggles the most in August in order to make room.
Keep Reading