Santi Cazorla to Arsenal: What It Means for All Parties Involved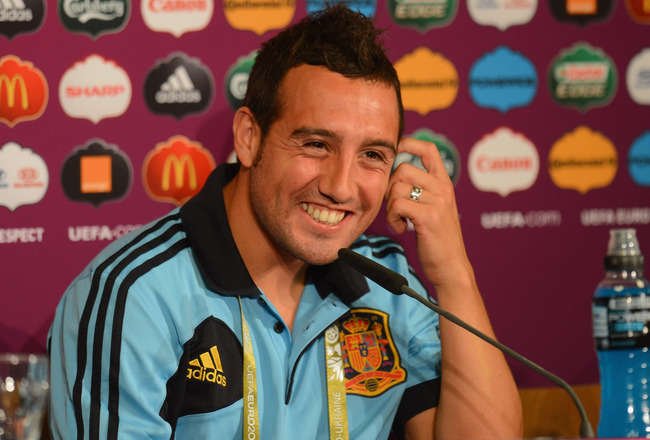 Handout/Getty Images
Santi Cazorla's widely rumored move to Arsenal looks imminent with a deal expected as early as tomorrow.
This would be Arsenal's biggest signing of the summer and potentially the most expensive transfer in team history.
It would send a message to Robin van Persie that the club is, in fact, serious about contending for a title. He would struggle to say that he is leaving due to the club's lack of vision.
Signing Cazorla would also let the rest of the league know that Arsenal is a force to be reckoned with. By signing one of Europe's best midfielders, the club would improve tremendously.
This article will look at the impact of Cazorla's transfer on all parties involved. After reading the article, please free to comment below.
Cazorla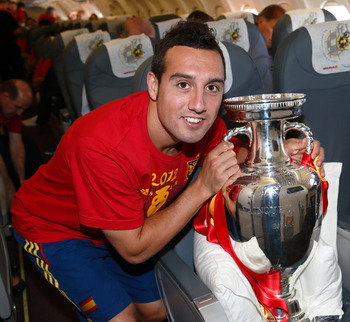 Handout/Getty Images
For Cazorla, this move does great things.
Most importantly, it gets him paid
No player should ever have to worry about whether or not they will receive a paycheck, least of all from a rich owner like Malaga's Sheik Abdullah.
Considering how much Cazorla could have made if he hadn't turned down the chance to play for Real Madrid, he is far too good to go without pay.
It improves his stature as a player
In my ranking of the Top 50 players in La Liga last season, Cazorla was at number 3. He has long been one of Spain's best players, but most fans who do not watch La Liga have been in the dark.
Not playing at Real Madrid—who he turned down the chance to play for—or Barcelona has caused many casual fans who only watch the Premier League to overlook and undervalue the star.
Cazorla has long been one of Europe's best midfielders, but he has not played on a team popular enough to earn him due respect. By playing for Arsenal he will earn the respect that he has long deserved.
Just like David Silva, Juan Mata and Sergio Aguero before him, Cazorla looks set to take the Premier League by storm.
Arsenal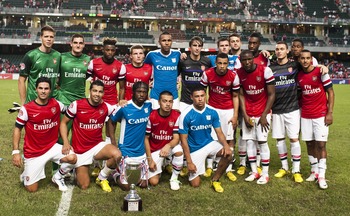 Victor Fraile/Getty Images
For the Gunners, Cazorla adds a new dynamic that makes Arsenal's midfield one of the best in Europe.
He will not solve the defensive issues—specifically on the flanks—that could prevent a title challenge, but he will be an instant upgrade wherever he plays.
The versatile player gives Arsene Wenger tons of options. He will be one of the most ambidextrous players on the team and can play on either wing, in central midfield or in a slightly deeper role.
He gives Arsenal a deep-scoring threat that they've often lacked from midfield. He is a superb free kick taker and has a lot of range.
Santi is pacy and very technically gifted. His vision and passing range will make the entire team better. His size and strength will make the transition to English football rather seamless.
Title Challenge?
While defense will still be a problem, the possession style of Arsenal will get even more disciplined and formidable with Cazorla in midfield and that will help cover the back four immensely.
If Arsenal really does get Cazorla for around €20 million, it would be a steal for a world class player with a €45 million release clause.
This could be the move that not only keeps Robin van Persie in London, but finally earns Arsenal some silverware.
The Premier League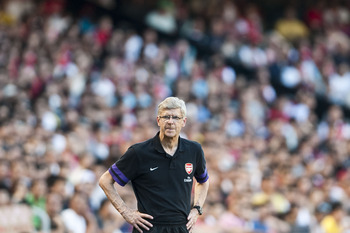 Victor Fraile/Getty Images
For the Premier League, this is a positive move in every way.
It reaffirms that the league aims to bring the best players in the world to England. It shows that the debt concerns, while serious, are not as back-breaking as they are in Spain.
By taking yet another world class talent away from La Liga, it puts a spotlight on the many issues crippling Spain's first division—issues which I will discuss later.
Since it is Arsenal and not one of the more freely-spending clubs, it also shows that there is still great competition in the Premier League.
This move may not make Arsenal contenders, but it will ensure that there are more than two teams in England who at least can fight for the title.
In short, this is just another transfer that shows the unrivaled drawing power of England's Premier League.
Malaga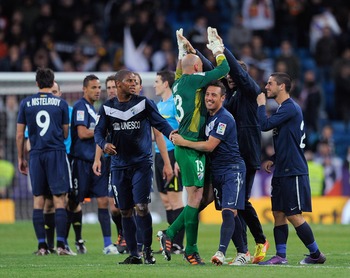 Denis Doyle/Getty Images
Quite simply, this move will be devastating to Malaga.
The club would lose their best player and the man Sheikh Abdullah was to build his team around. Cazorla was the poster boy and focal point of Malaga's project.
Now he looks to lead a mass exodus from a club that aimed to challenge Barcelona and Real Madrid within five years. While Cazorla's exit from Malaga is not yet official, it seems to be just the first of many exits from the club.
Rondon has already left while Isco, Jeremy Toulalan, Enzo, Joaquin and countless others could be right behind him.
Finances
Unlike Chelsea and Man City before them, Malaga were not given 5-10 years of wild, unmonitored spending without regulation. The new FFP rules have hindered the club just enough for their owner to lose interest.
Sheikh Abdullah had been rumored to be non-committal, often failing to make payments on time. Now Malaga is learning that the hard way. His "project" now appears to be a failed business venture.
Without Cazorla and the other players expected to leave, Malaga will not challenge for a Champions League spot, much less a title.
While Arsenal shows they are looking to win silverware, Malaga is showing a lack of vision, capital and management prowess.
The Andalusian club is losing its heart and it seems only a matter of time before they are back fighting for league survival.
La Liga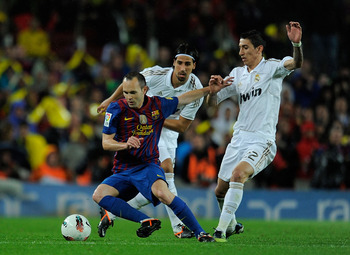 Denis Doyle/Getty Images
For Spain's Primera Division, this move does the exact opposite that it does for the Premier League.
On its own, losing Cazorla to England is just one small move with little effect. But seeing the larger picture, it further signals a huge shift away from La Liga's former glory.
The move is the beginning of the end for what seemed Spain's best hope of a third title challenger. The tiny hope that existed with the Malaga Project evaporates with Malaga's imminent decline.
Now it seems La Liga is doomed to be a two-horse race for a long time.
Shared Blame
Malaga's mismanagement and failure to pay players is clearly the party most responsible, but the league also takes a big hit to its credibility here.
In a 3-part series at Counter-Attacking Football, I covered the shameful state of La Liga's TV rights distribution. It is the biggest factor holding the league back.
Part of that series looked at how Malaga's owner recently criticized the league for its unwillingness to help clubs outside of the big two. He was not the first and will not be the last to have that view.
It seems the corruption and favoritism of La LIga was too much for even a billionaire oil sheik to overcome.
The loss of Cazorla—along with the loss of other big stars of recent seasons—shows the world that only playing for Barcelona or Real Madrid makes players safe from poaching in Spain.
Conclusion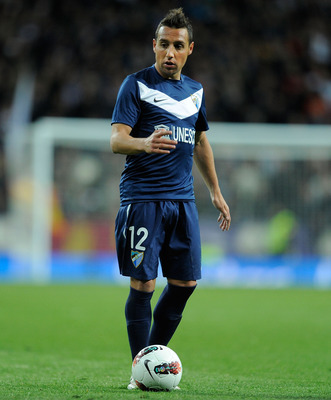 Denis Doyle/Getty Images
Keep Reading

Arsenal: Like this team?