B/R Official Rankings for August: The Top 10 Welterweights in MMA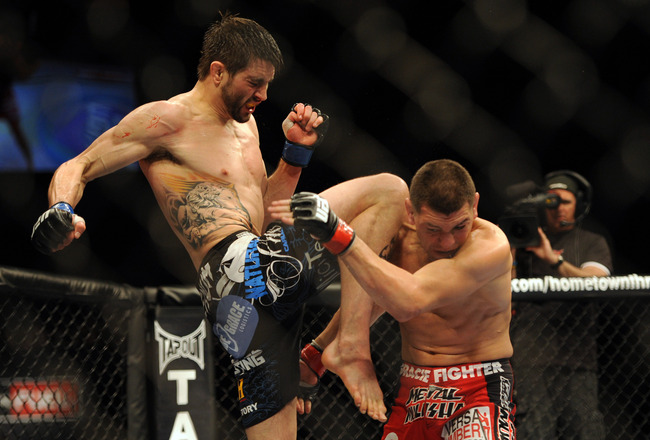 Kelvin Kuo-US PRESSWIRE
The UFC welterweight division didn't get a whole lot of action in July, but the rankings shook up anyway. With injuries to Rory MacDonald and Jon Fitch, matchups featuring contenders have fallen to the wayside.
The next big fight on the docket comes in less than one month when Josh Koscheck and Jake Ellenberger look to pop their heads into the title picture. Both men are powerhouse strikers who have an excellent background in wrestling, and that makes this fight difficult to predict.
Here is a look at the top 10 welterweights in all of mixed martial arts.
Despite announcing that he will not be retiring, Nick Diaz is still serving a suspension due to his failed drug test and remains ineligible to place on this list until the suspension has been served.
10. Ben Askren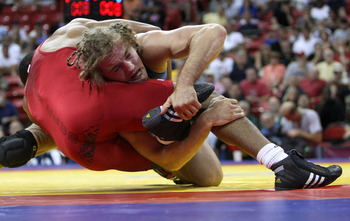 Jonathan Ferrey/Getty Images
Promotion: Bellator
Record: 10-0
Most recent fight: Unanimous decision win over Douglas Lima at Bellator 64
Next fight: Karl Amoussou at date TBA
Previous ranking: N/A
It looks like our writers have Olympic fever, as 2008 Olympian Ben Askren re-enters our countdown after being bumped last month by B.J. Penn.
Askren has gone 7-0 since joining the Bellator roster and has twice defended his welterweight championship. With a wrestling-centric attack that tends to be dull, people often overlook the undeniable skill that the Roufusport fighter possesses.
Based on the Bellator business model, it is safe to assume that Askren's next fight will be against Season 6 welterweight tournament winner Karl Amoussou. Amoussou recently submitted Bryan Baker in only 56 seconds to claim his shot at the belt.
9. Diego Sanchez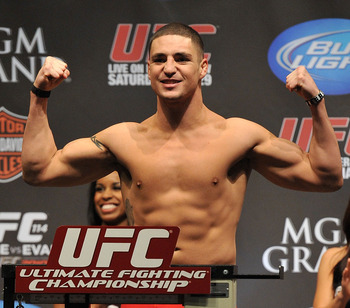 Jon Kopaloff/Getty Images
Promotion: UFC
Record: 23-5
Most Recent Fight: Unanimous decision loss to Jake Ellenberger at UFC on Fuel TV: Sanchez vs. Ellenberger.
Next Fight: N/A
Previous Ranking: No. 9
This is likely the last time that you will see Diego Sanchez on this list, as "The Dream" indicated back in April that a return to the lightweight division is in his future. However, based on B/R MMA guidelines, we rank fighters in their most recent weight class until a fight is booked at another weight.
Until running into Jake Ellenberger, Sanchez had rattled off a pair of wins against Paulo Thiago and Martin Kampmann. With a welterweight record of 9-4, this Ultimate Fighter winner has earned his spot on our countdown.
Think what you will of his eccentric behavior, but Sanchez remains one of the most exciting fighters to ever step into the Octagon. With five Fight of the Night bonuses as well as two Fight of the Year awards, the man formerly known as "Nightmare" provides fans with high intensity and entertainment at any cost.
8. Jon Fitch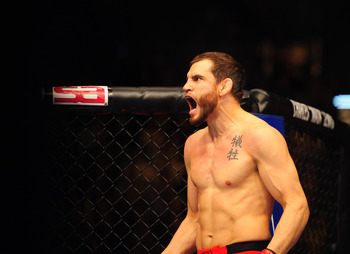 Mark J. Rebilas-US PRESSWIRE
Promotion: UFC
Record: 23-4
Most recent fight: TKO loss to Johny Hendricks at UFC 141
Next fight: versus Erick Silva at UFC 153
Previous ranking: No. 8
Can you believe that Jon Fitch has not won a fight in two years? The last victory that Fitch recorded came at UFC 117 when he ground away on an out-of-shape Thiago Alves en route to a unanimous decision victory.
Fitch has long been under fire by critics who find themselves put off by his grinding style, including Dana White. However, going 13-2-1 in the UFC is hardly a record that is easy to achieve, and perhaps we should give the guy some credit and overlook the methods to his success. After all, the ends justify the means. Don't they?
To quote Hunter Homistek, "A wet blanket he may be, but darn it if he isn't the best wet blanket in town."
7. Rory MacDonald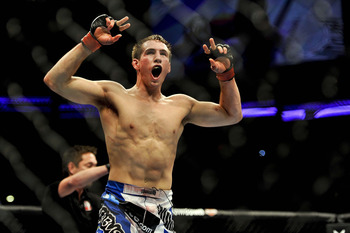 Paul Abell-US PRESSWIRE
Promotion: UFC
Record: 13-1
Most recent fight: TKO victory over Che Mills at UFC 145
Next fight: N/A
Previous ranking: No. 5
Looks as if the rankings team got ahead of ourselves a little bit when we placed Rory MacDonald at No. 5 last month. Perhaps the excitement surrounding his fight with B.J. Penn got us caught up in the moment.
Unfortunately, the Penn fight won't be happening after all. At least, not in September. Dana White announced at the UFC on Fox post-fight press conference that MacDonald received a nasty gash in training and would not be able to compete at UFC 152 as planned.
"We don't have to worry about that anyway. It won't happen. Rory's out. He got cut open today, wide open. 38-48 stitches. No contact for a month. It's off."
Rory Mac has gone 4-1 in the UFC's welterweight division, and his sole loss came in a battle with interim champion Carlos Condit. Maybe the two will meet again next year.
6. Josh Koscheck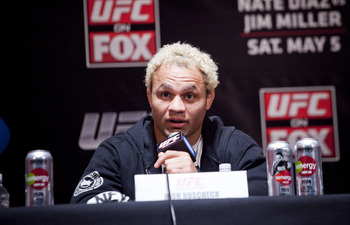 Michael Nagle/Getty Images
Promotion: UFC
Record: 17-6
Most recent fight: Split decision loss to Johny Hendricks at UFC on FOX 3
Next fight: vs Jake Ellenberger at UFC 151
Previous ranking: No. 6
Once a contender for the UFC welterweight championship, Josh Koscheck may have seen those dreams forever dashed when he came up short against rising star Johny Hendricks at UFC on Fox 3. Add that to a pair of career losses at the hands of reigning champion Georges St-Pierre, and you'll see why the bleach-blonde badass has contemplated a move back to middleweight.
Kos knows that he is losing his place at the top of the division. In what may have been a publicity stunt to garner more interest in his next fight, Koscheck released a video with Jon Fitch in which he stated that he hopes AKA would burn to the ground.
That next fight comes at UFC 151, when Koscheck meets Jake Ellenberger in the likely co-main event.
5. Jake Ellenberger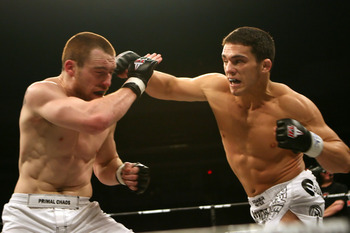 Ethan Miller/Getty Images
Promotion: UFC
Record: 27-6
Most recent fight: TKO loss to Martin Kampmann at TUF 15 finale
Next fight: versus Josh Koscheck at UFC 151
Previous ranking: No. 7
In a title eliminator against Martin Kampmann, Jake Ellenberger may have fallen victim to a quick stoppage. Whether or not you believe that to be the case, the loss shut down the momentum of a six-fight winning streak that had moved "The Juggernaut" into the No. 3 spot on this list at one point in time.
The only other loss in Ellenberger's UFC career came against interim champion Carlos Condit in his 2009 promotional debut. That fight is considered to be a shining example of the judging issues in MMA, as Ellenberger's dominant first round was scored 10-9, and he would lose a controversial split decision.
Impressive victories over Jake Shields and Diego Sanchez helped the IFL and Bellator veteran to become a top contender in a crowded division. He will attempt to climb back into contention when he meets Josh Koscheck at UFC 151.
4. Martin Kampmann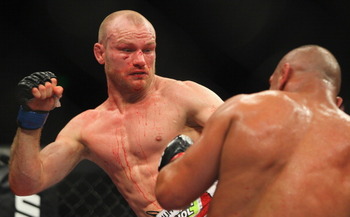 Mark Kolbe/Getty Images
Promotion: UFC
Record: 20-5
Most recent fight: TKO victory over Jake Ellenberger at TUF 15 finale
Next fight: versus Johny Hendricks at UFC 154
Previous ranking: No. 4
Commonly overlooked by fans as a serious threat in the welterweight division, Martin Kampmann has looked stellar since dropping down from 185 pounds. With a record of 7-3 since the move, Kampmann's record is highlighted by wins over Carlos Condit and Jake Ellenberger.
As if that isn't impressive enough, many feel that "The Hitman" has twice been on the wrong side of poor decisions in bouts against Jake Shields and Diego Sanchez.
Kampmann will get the opportunity to make up for lost time when he fights Johny Hendricks in a title eliminator at UFC 154.
3. Johny Hendricks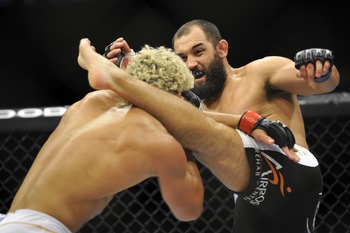 Joe Camporeale-US PRESSWIRE
Promotion: UFC
Record: 13-1
Most recent fight: Split decision victory over Josh Koscheck at UFC on FOX 3
Next fight: versus Martin Kampmann at UFC 154
Previous ranking: No. 3
Hendricks skyrocketed up the contenders ladder when he knocked out perennial No. 2 welterweight Jon Fitch in only 12 seconds. Following that up with a decision win over Josh Koscheck only cemented his status as a title contender.
Hendricks now finds himself only one fight away from a championship opportunity. At UFC 154, he meets Martin Kampmann in a title eliminator.
Maybe.
Dana White confirmed rumors that they will hold off on booking Anderson Silva again in hopes of securing a Silva vs. GSP showdown after St-Pierre's title defense against Carlos Condit.
"Absolutely, that's what we're making. But anything can happen. He could end up fighting. We'll have to see what happens. But it's like you said, it's all theoretical right now. People have to win first. GSP has to come out and beat Condit."
2. Carlos Condit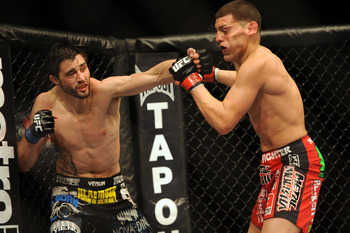 Kelvin Kuo-US PRESSWIRE
Promotion: UFC
Record: 28-5
Most recent fight: Unanimous decision victory over Nick Diaz at UFC 143
Next fight: versus Georges St-Pierre at UFC 154
Previous ranking: No. 2
Carlos Condit may have drawn the ire of fans by refusing to defend his UFC interim welterweight championship, however we are finally on the cusp of the title unification bout that "The Natural Born Killer" wanted all along.
After wins over Nick Diaz, Jake Ellenberger, Rory MacDonald and Dan Hardy, it's hard to argue that Condit isn't the best challenger for the man who has sat atop the division for years.
Condit and GSP will square off in the main event of UFC 154 on November 17.
1. Georges St-Pierre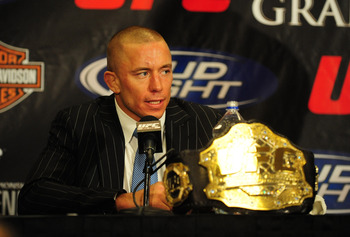 Mark J. Rebilas-US PRESSWIRE
Promotion: UFC
Record: 22-2
Most recent fight: Unanimous decision victory over Jake Shields at UFC 129
Next fight: versus interim champion Carlos Condit at UFC 154
Previous ranking: No. 1
Who else could it be?
Georges St-Pierre's championship reign over the UFC's welterweight division has gone uninterrupted since recapturing the belt from Matt Serra in 2008. With six consecutive title defenses to his credit, he is the most successful champion in the division's history.
It is surprising to many that GSP has not been stripped of his belt. After all, the total time between his last title defense and his expected return at UFC 154 is a whopping 21 months.
Fans have eagerly awaited the homecoming of their champion, and what better venue for "Rush" to return than Canada's Belle Center on November 17.
With Condit, Kampmann, Hendricks and Ellenberger all eagerly awaiting the opportunity to snatch the belt from his hands, GSP needs to come back in top form if he is to extend his reign any further.
These rankings are the combined efforts of some of Bleacher Report MMA's best writers, as we continue to try and provide you with the best content on the web.
Keep Reading