The Biggest, Baddest Players in New England Patriots History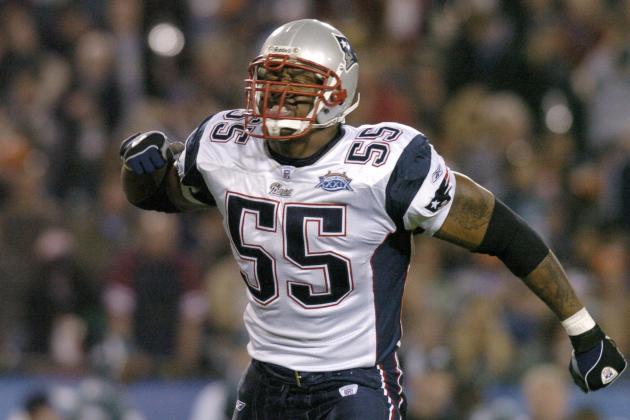 A. Messerschmidt/Getty Images

The New England Patriots franchise has had many up and downs throughout their storied history. Throughout their history though, regardless of how it has been, they have had their share of tough guys, big hitters, and ironmen.
Here are some of the biggest and baddest men ever to dawn the minuteman or the flying Elvis.
Begin Slideshow

»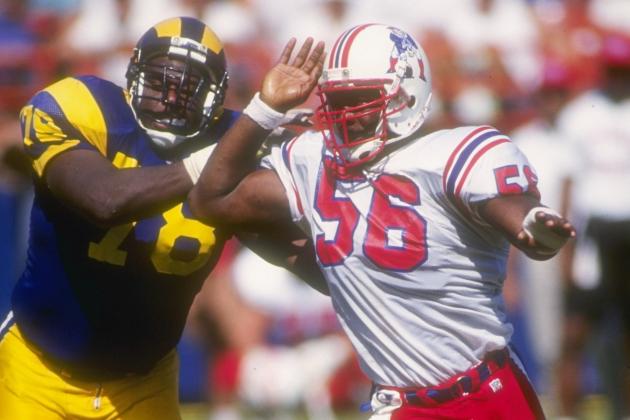 Ken Levine/Getty Images

When creating a list of big and bad Patriots in history it is appropriate to begin with Andre Tippett, the man who struck more fear into the eyes of the opposing quarterback than any other player in franchise history.
His greatest stretch came in the 1984 and '85 seasons where he recorded 18.5 and 16.5 sacks, respectively. He capped off that 1985 helping the Patriots conquer an AFC Championship and being named to the AP All-Pro First-Team alongside Giants' outside linebacker Lawrence Taylor.
Without a doubt the greatest OLB ever to put on the Patriot uniform, Tippett may have been viewed as the best linebacker in the NFL in the 1980's if Taylor was out of the picture.
The only unfortunate aspect of his career is that he was forced to wait 10 years before being voted into the Pro Football Hall of Fame in 2008.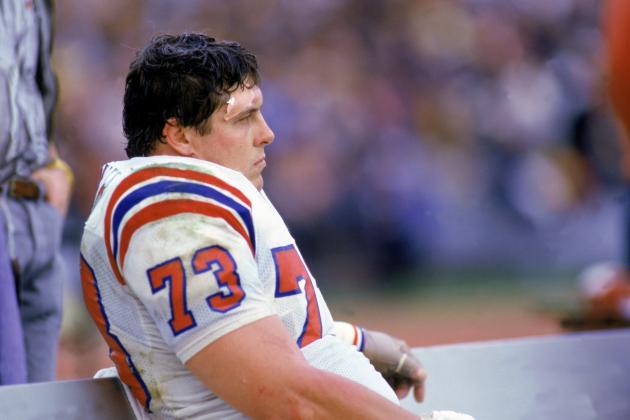 Rick Stewart/Getty Images

One of Tippett's fellow Hall of Famers, offensive guard John Hannah was once touted on the cover of Sports Illustrated's August 3, 1981 issue as "The Best Offensive Lineman of All Time."
John Hannah was an absolute road grader for the Patriots, taking out whatever was in his path during his prime. His toughness and will lead him to 10 consecutive All-Pro selections from 1976 to 1985.
His career ended along with his All-Pro streak in 1985, when he walked away after the Patriots devastating loss to the Chicago Bears in Super Bowl XX.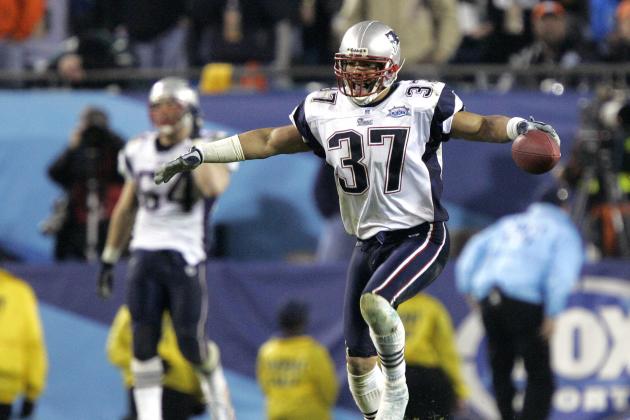 Brian Bahr/Getty Images

Rodney Harrison's inclusion on this list took thought as he was fined as much as any player in league history for his slurry of late hits and questionable behavior on the field.
Elizabeth Merrill of ESPN reported in a story in 2008 that Harrison would actually set aside $40,000 every season knowing he would probably have fines that racked up at least that much.
Harrison may have taken it a little too far though in 2007, when he was suspended the first four games of the Patriots undefeated season for using human growth hormone (HGH), which he claimed was to expedite his healing process from injuries he incurred over his previous seasons as ESPN reported.
Harrison was the type of player that you love if he is on the team you are rooting for, but otherwise you will hate him. There is no denying though that he brought a presence to the secondary in New England that has been missing ever since his retirement after the 2008 season.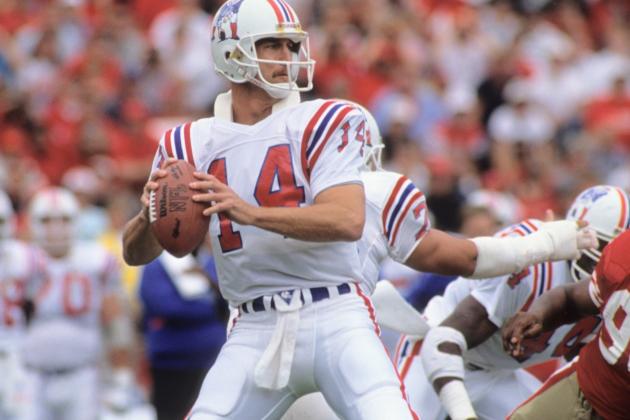 George Rose/Getty Images

The only quarterback on this list, Steve Grogan rightfully earned his place on here. As Patriots.com describes him,
"Despite playing quarterback, he was still revered as one of the hardest hitters and toughest players in Patriots history."
Grogan took plenty of big hits in his day and never let up. He was the kind of guy that would elect to get wrecked by someone running full speed while scrambling to pick up the extra yard instead of settling and trotting out of bounds.
He may not have been as gifted as the man wearing #12 in the Patriot huddle now-a-days, but Grogan will always have a place in the heart of New England faithful from his no-quit, keep-fighting attitude.
A player a lot of fans may not know today, and with a lot less flash, center Jon Morris was a man not to be messed with back in his day.
Morris was the type of player you would want lining up next to you when you go to war on Sundays. A tough, physical player that was going to give his all to the man across from him from the first snap to the last snap every game.
Patriot fans were lucky to have his services as he actually spurned Vince Lombardi and the NFL's Green Bay Packers who drafted him, instead joining the American Football League's Boston Patriots.
He is now remembered for his gritty service of 11 seasons along the offensive line in the Patriots Hall of Fame.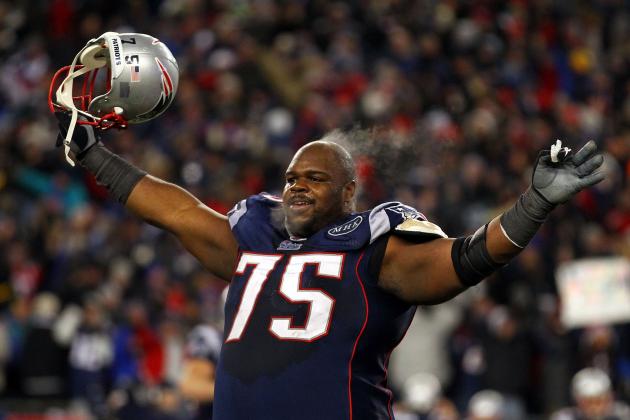 Al Bello/Getty Images

Both big and bad in the purest sense of the words, Vince Wilfork is an immovable force on the Patriots' defensive line and has been for the most part ever since being selected by them in the first-round of the 2004 NFL Draft out of the University of Miami.
An imposing figure generously listed at 6' 2", 325 pounds, Wilfork is widely regarded as one of the top defensive lineman in all of football. When the Patriots elect to run their 3-4 defense, Wilfork faces double teams and does the dirty work to make others around him free to run, a job not many would be excited to have.
His frustration of facing two men play-after-play could be one reason he has been involved in some trouble on the field on more than one occasion. Wilfork has been punished by the league for incidents from poking Brandon Jacobs in the eye to elbowing Jay Cutler in the head.
Whether they find his play dirty of not, the team and its fans should be glad his presence is on their side and not one they need to go up against on Sundays.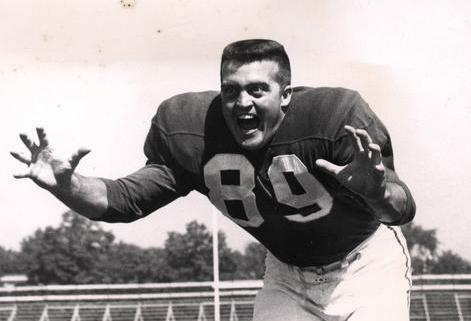 A 5-time American Football League All-Star, Bob Dee made his name known quickly in the newly founded league, scoring the first points in their history diving on a loose fumble in the end zone for a touchdown.
Dee is perhaps the greatest ironman in team history, starting 112 of 112 games over his 8 seasons with the team, even playing with the same helmet for nearly all 112 due to superstition according to RememberTheAFL.com.
Dee's physicality and refusal to stay out of the lineup make him one of the ultimate tough guys to ever put on the uniform.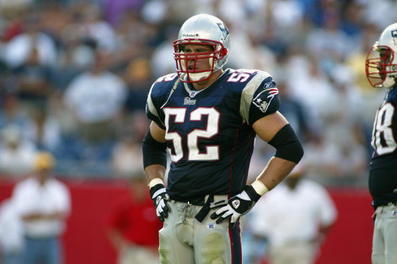 Rick Stewart/Getty Images

Ted Johnson was a punishing run-stopping force in the middle of the Patriot defense that any team would love to have at their disposal.
An imposing presence standing in at 6'4", Johnson laid down some big hits in his days. Never afraid to stick his head in and smash someone, he was one of the more physical players Bill Belichick has had under his watch in New England. Unfortunately his toughness is now causing him problems due to Post-Concussion Syndrome.
In the end, Johnson sacrificed his health to be the ultimate soldier for a team that he went to four Super Bowls with and is absolutely one of the big and bad that strapped up for New England.
If the NFL were a rock band, Rob Gronkowski would maybe be its biggest star. In just two seasons Gronkowski has become one of the top players in the NFL and in Patriots' history.
His ferocious play on the field and his seemingly never-ending headlines he makes off the field make the 6'6" Gronk one of the most fun figures in the league to watch on a week-to-week basis.
Whether fans love him for all the broken tackles he seems to manage every weekend or for his goofball attitude, along with his brothers and their Gronk Nation website, no one can deny that the Gronkowski's persona has created one of the most interesting figures to keep an eye on moving forward.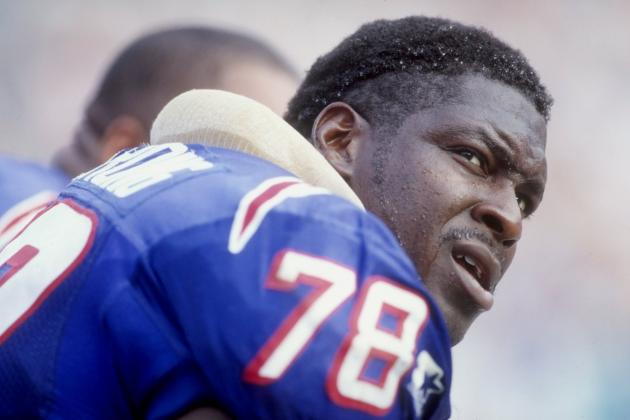 Andy Lyons/Getty Images

Tackle Bruce Armstrong was a powerful force on the offensive line of the New England Patriots for his entire career spanning from 1987 to Bill Belichick's first season in 2000. During that stretch he became the franchise's all-time leader in games played with 212, a mark that still stands today.
Armstrong's grit and determination made him a stand out player in New England, earning him six trips to the Pro Bowl. His stature at 6'4", 295 lbs may not be huge for today's NFL, but Armstrong was a big guy on the field in his playing days.
If new Patriots left tackle Nate Solder wants to become a standout left tackle in the National Football League, trying to follow Bruce Armstrong's lead of toughness and durability would be a great start.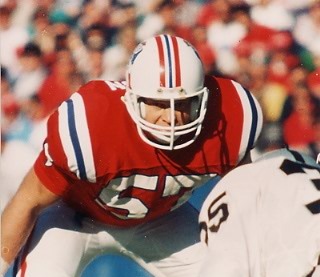 Steve Nelson is perhaps the greatest inside linebacker ever to grace the Patriots with his presence. He was a player that could lay down some thunderous hits and was the glue that held together the Patriot defense during his 14 seasons in New England that saw him invited to three Pro Bowls.
During his time with team, he and fellow 'backer Andre Tippett formed a solid 1-2 punch in the middle of the defense for opposing teams to deal with every Sunday.
Willie McGinest is a player that some were underwhelmed with when he first took the field in the NFL after his stellar career at USC. Those people can agree though that when Bill Belichick showed up and utilized him properly, he really shined.
McGinest became a bad man on the Patriot defense who could get after the passer, line up all over the place and be an absolute difference maker.
Thanks in large part to the Patriots three long championship runs, McGinest is NFL's all-time leader in Playoff sacks with 16.0. He is also the single game leader with 4.5 vs. Jacksonville in the 2005 Playoffs.
Houston Antwine was the kind of versatile, tough and talented players the Patriots or any other team would love to have on their team.
Antwine was one of the greatest interior pass rushers the team has had in its history, recording 39 sacks over his 11 seasons in New England, which ranks him 10th in team history. His excellent play on the inside was recognized in 2009, when he was named to the Patriots 50th Anniversary team.
He is a player not a lot of current fans know about since his career ended in 1972, but Antwine certainly made his mark on Boston Patriot history during his tenure.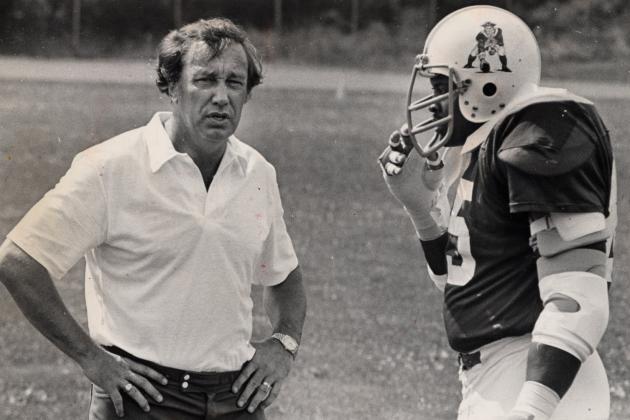 Julius Adams, like Antwine, was voted to the 50th Anniversary team's defensive line in 2009.
Adams did a lot of punishing of opposing quarterbacks in his day, His 79.5 sacks over his career rank second in team history only behind Pro Football Hall of Famer Andre Tippett.
Adams' smash-mouth style of play over his career garnered him only one Pro Bowl appearance over his 17 seasons. He flew under the radar somewhat, but he made himself known pretty quickly to passers when he hit the field on Sundays.
The Patriots have been missing a defensive end that can consistently give out punishment like him for a long time.
If Vince Wilfork is the biggest and baddest the Patriots defense has to offer, guard Logan Mankins is certainly his offensive counterpart. Mankins is an All-Pro player, but it is not just his ability that makes him a nice guy to have around.
Mankins' teammates know if a fight is ever to break out, or if the game gets chippy, he is a guy you want fighting for your side. He has done some dirty things on the field in his day, yes, but generally he balances on the line between tough and cheap.
Mankins is as tough a player there is in the National Football League today and he has made New England faithful forgive Bill Belichick for using a first-round selection on a position that is generally an afterthought to your average fan.
Mankins is a hard-nosed player the Patriots are glad joins them in Foxboro for work every week after he picks up his lunch pail. As Tom Brady once put it in an interview with WEEI Radio in Boston,
"He's a John Hannah-type player. He's just mean, he's tough, he sets the tone for that group."