South Korea 2002 FIFA World Cup Retrospective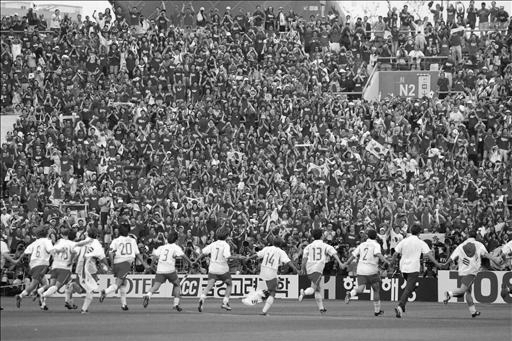 AFP PHOTO/Jimin LAI
As the surprising South Koreans dumped Great Britain out of the Olympic quarterfinals, one couldn't help but think of Guus Hiddink's South Korea that reached the 2002 FIFA World Cup semifinals against all odds.
It's been 10 years since Hiddink's South Koreans tearfully waved an nyoung to the world.
Here's a retrospective look at South Korea's 2002 World Cup.
Begin Slideshow

»
When South Korea faced Poland, Guus Hiddink's Taeguk Warriors were aware that their predecessors had never won a FIFA World Cup game.
Stuart Roach at BBC Sport compared the atmosphere in Busan to an "FA Cup final, Beatles at Shea Stadium and Last Night of the Proms all rolled into one—with the volume turned up."
Most South Koreans remember the beloved Hwang Sun-Hong scoring the first goal, but that goal wouldn't have happened without Lee Eul-Yong's accurate through ball.
Twenty-seven minutes later, Tomasz Hajto was dispossessed by Yoo Sang-Chul, who fired a hopeful shot that Jerzy Dudek parried into his own net. Talking about Dudek, he had an awful tournament as he conceded soft goals left, right and centre.
The game could have been so different if Jacek Krzynówek, who was known for his rocket shots, had scored instead of slicing his shot into the side netting.
On paper, the dynamic duo of Paweł Kryszałowicz and Emmanuel Olisadebe should have ensured at least one point for Jerzy Engel. However, the engine room of Radosław Kałużny and Piotr Świerczewski failed to take advantage of such a potent strike force.
In the case of Olisadebe, he was one of the most hyped forwards going into the tournament, having scored eight goals during the World Cup qualifiers.
After South Korea's win, CJ39 Home TV Shopping's sales rose 22.5 percent.
Early in the game, Tony Sanneh went walkabout, but Seol Ki-Hyeon blazed his shot over. Kim Nam-Il almost chipped Brad Friedel, who later saved Lee Eul-Yong's penalty.
The South Koreans played rabidly attacking football, yet it was Clint Mathis' well-taken goal that put the Americans in front.
With 12 minutes remaining, Ahn Jung-Hwan's equalising goal took a backseat to his ice-skating celebration, which paid homage to Kim Dong-Sung, whose controversial disqualification allowed American Apolo Anton Ohno to win gold at the Winter Olympics that year.
Somewhere in America, Roy Jones, Jr. was like: "Ya'll must have forgot when they stole my gold medal in Seoul, Korea."
It was a physical affair as 40 fouls were committed throughout the game. The Portuguese had two men sent off, which was ironic because the South Koreans gave away more free kicks.
João Pinto was rightly red-carded for assaulting Park Ji-Sung. The fiery Portuguese midfielder ensured he left a lasting memory as a villain by punching referee Ángel Sánchez in the stomach.
Meanwhile, Park became a hero by showing composure as he slotted home what turned out to be the winning goal.
Besides being down two men, the Portuguese failed to beat the South Koreans because Pauleta missed a one-on-one situation and Luís Figo was mediocre.
In fairness to Figo, he gritted through an ankle injury, and his limited mobility played straight into the hands of the athletic and fit South Koreans.
Giovanni Trapattoni must have chuckled when his team were greeted with "AGAIN 1966"—a reference to North Korea's shocking 1-0 win over FIFA World Cup favourites Italy.
Even without Alessandro Nesta and Fabio Cannavaro, the Italians should have won the game.
From the get-go, referee Byron Moreno allowed the South Koreans more leeway to be physical, whereas he was unusually harsh in his remonstrations towards the Italians. Mind you, Trapattoni's men didn't help their own cause by showing dissent towards Moreno.
Was the fourth-minute penalty valid? Yes, because Christian Panucci wrestled Seol Ki-Hyeon to the floor. Even if the penalty wasn't valid, it would have been a moot point because of Gianluigi Buffon's save.
Christian Vieri somehow scored a header even though he was surrounded by South Korean defenders.
Moreno's comical red card to Francesco Totti and just general refereeing ineptitude glossed over various Italian mistakes: Panucci's missed clearance, which led to Seol Ki-Hyeon's dramatic equaliser. Vieri missing a gilt-edged opportunity to win the game late.
The biggest mistake made by an Italian was Paolo Maldini, who allowed Ahn Jung-Hwan to score the golden goal. He later said (via acmilan-online.com):
If I could play one game again..I'd love to replay the 2002 game against South Korea. I can still see Ahn Jung-Hwan's Golden Goal, my last moment in the Nazionale.
Ahn had his Serie A contract with Perugia torn up because of his heroics against Italy.
Four years later, the Italians lifted the World Cup.
In 2010, Moreno was caught smuggling heroin, to which Buffon reacted: "Six kilos of drugs? I believe Moreno had this already in 2002, but not in his underwear, in his body."
Rubén Baraja and Fernando Morientes scored legitimate goals that were ruled out. Morientes hit the post, and Joaquín, who was one of the best players on the field, had his spot kick saved by Lee Woon-Jae.
In a special to ESPN.com, Roger Bennett wrote:
The Spanish newspapers belittled the Italian claims, but when Spain lost to Korea in the next round, the Spanish newspapers changed their tune, with Marca's headline screaming "Italy was right!"

Referee Gamal Ghandour disallowed two legal Spanish goals and his linesmen—one Ugandan, the other Trinidadian—judged one Spanish attack after another to be offside. Ghandour retired shortly after Spanish newspapers accused him of accepting a Hyundai car as a "gift" on behalf of the Korean Football Association.
Imagine if Lee Chun-Soo converted his chance in the eighth minute. However, it wasn't meant to be as Oliver Kahn's acrobatics denied Lee a chance at immortality.
There were shades of Paul Gascoigne when Michael Ballack foolishly took down Lee and received a yellow card which ruled him out of the final.
Five minutes later, he scored the one and only goal of the game—he had ended the South Korean fairytale.
Eleven seconds into the game, the great Hakan Şükür, who struggled during the tournament, scored the fastest FIFA World Cup goal ever after Hong Myung-Bo was caught in possession.
Lee Eul-Yong scored a wonderful free kick, which once again raised some eyebrows amongst the goalkeeping fraternity regarding the Adidas Fevernova.
Hong, who was world-class during the World Cup, was mentally and physically drained. Why else was he consistently caught out of position? İlhan Mansız, who was such a precocious talent, took Hong to school and had a brace by half-time.
Guus Hiddink's men showed courage, mental fortitude and team camaraderie throughout the tournament. However, they were also very lucky, and Song Chong-Gug's deflected consolation goal summed up how things fell into place for the Taeguk Warriors.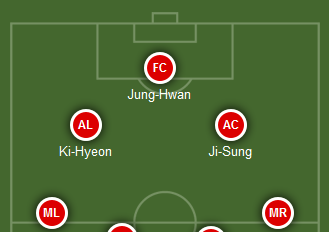 Photo via lineupbuilder.com
Lee Woon-Jae: One of Asia's greatest ever goalkeepers. He announced his international retirement in 2010.
Choi Jin-Cheul: Later won the Asian Champions League with Jeonbuk Hyundai Motors; retired in 2007.
Hong Myung-Bo: The third best player at the tournament behind Oliver Kahn and Ronaldo. Hong had a stint with Los Angeles Galaxy before hanging up his boots to enter the coaching world. He's experiencing another fairy tale, this time as manager of the South Korean Olympic team.
Kim Tae-Young: One club man at Chunnam Dragons; retired in 2005.
Song Chong-Gug: The classic water carrier during his time at Feyenoord because he did all the donkey work. Recently retired after unsuccessful spells in Saudi Arabia and China.
Yoo Sang-Chul: Strong in the tackle, smart in possession, had the heart of a champion and was a great midfield commando; retired in 2006.
Kim Nam-Il: His career never kicked on after showing the world his ball-winning prowess.
Lee Young-Pyo: In his heyday, he'd run up and down that left flank till the final whistle. He bordered on world-class during his tenure at PSV Eindhoven. Was less dominant during his time at Tottenham Hotspur and Borussia Dortmund. He's currently playing for the Vancouver Whitecaps.
Park Ji-Sung: He's the most successful player of the squad. Even though his last season for Manchester United was below-par, he was a consistent contributor who had a knack for scoring vital goals in big occasions. It will be interesting to see how he performs at Queens Park Rangers.
Ahn Jung-Hwan: Infamously had his contract with Perugia torn up because of his winning goal against Italy. Talking about Italians, his career mirrors that of Totò Schillaci because Ahn's only credible achievement was the 2002 FIFA World Cup. Schillaci was out of the world special during the 1990 World Cup and that was it.
Seol Ki-Hyeon: In the Premier League, he'd used to get into so many advantageous positions only to fluff his shot. He's in the twilight of his career with father time catching up.
Lee Chun-Soo: A prodigy and the youngest member of the squad. He never lived up to his potential and seemed trepid during his time in Europe.
Cha Du-Ri: Speed, speed and more speed. He used to be a forward who couldn't score. He'd blitz past opposing defenders but he didn't have the finishing ability of his father, Cha Bum-Kun. As a right-back, Du-Ri's defending is hit-and-miss. Somehow he's managed to accumulate 65 games for South Korea.
Hwang Sun-Hong: He was a great forward who at one time rivalled Bum-Kun's legacy. Hwang had his thunder stolen by Ahn Jung-Hwan because the world remembers Ahn but they don't remember Hwang.
Guus Hiddink: Was a prolific winner at PSV Eindhoven. He turned Australia into a credible footballing nation. Led Russia to the Euro 2008 semi-finals, which allowed star player Andrey Arshavin to secure a move to Arsenal. Tom Henning Øvrebø was karma to Hiddink during his time at Chelsea. The Dutch manager failed as Turkish national team manager and is now making easy cash at Anzhi Makhachkala.
Please read What You Must Know About Cazorla
Follow @allanjiangLIVE

Connect with +allanjiang