Arsenal Transfer: What You Must Know About Arsenal Transfer Target Santi Cazorla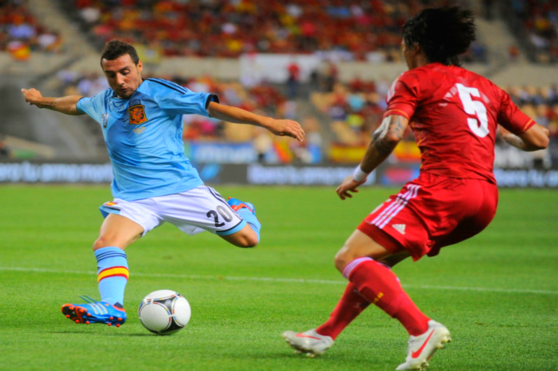 Denis Doyle/Getty Images Europe
Arsenal manager Arsène Wenger is close to signing Málaga's Santi Cazorla for £16 million, according to espn.co.uk.
David Hytner at guardian.co.uk believes Málaga are delaying the inevitable:
The Spanish club has problems with debt, and their Qatari owners have been seeking to sell up. Wenger and the club's chief executive, Ivan Gazidis, are monitoring the situation but do not believe it will undermine their move for Cazorla, the Spain attacking midfielder.
Here's what you must know about Cazorla.
Begin Slideshow

»
Málaga, Spanish Attacking Midfielder, 5'6" (1.68 m), 146 lbs (66 kg)
Santi Cazorla has been an elite midfielder for the past six seasons.
During a spell with Recreativo, he took home the Don Balón Award for the best Spanish player in the league. His Man of the Match heroics in a 5-2 win over Deportivo de La Coruña still brings back good memories for the Recre faithful.
The next season, he was instrumental in Villarreal, claiming second place ahead of Barcelona.
There's one word to sum up Cazorla's time at Villarreal: consistent.
His ability to adapt as a false winger in a 4-2-2-2 demonstrated a sophisticated understanding of the game and versatility of the highest order.
Last season for Málaga, Sid Lowe rated Cazorla as the La Liga signing of the season and included the Spaniard in the Team of the Season.
Arsenal will be signing a reliable and proven international-standard player in Cazorla—you don't play 45 games for Spain without having world-class ability.
It's hard to pin down an exact position for Santi Cazorla when he's played in as many positions as Javier Zanetti.
Cazorla is at his best as a false winger, a position also known as a central winger or a false 11. Here's an explanation from Michael Cox at Zonal Marking:
A clear contradiction in terms [central winger], but it's not as ludicrous as it might seem. The result is that these players interpret the playmaker position differently. Rather than staying central and trying to find space in between the lines, they drift to the flanks and pick the ball up there.

The role has emerged more by chance than by design and therefore it's difficult to draw too many conclusions about the intention of coaches using such players. Then again, the same could be said of Francesco Totti pioneering the "false nine" at Roma, and that role has dominated tactical debate for the last couple of years.
I.J. Yarison at Bleacher Report offered his take on the position:
The False 11 position is often occupied by a second playmaker who starts wide but drifts inside to add another body to the midfield. This often causes a scissor movement with the main striker.

So, then, the False 11 is a disguised midfield role, whereas the 11 proper is a flank player who drifts wide to try to get behind the opposition's defense. The idea of the False 11 isn't to get behind the defense per se, but to cause disorganization in the defense via confusing (to the opponent, that is) movement.
To provide an example of him playing as a false winger, let's use Spain's 4-1 win over South Korea. Look at Cazorla's starting position and his average position.
He's a team-orientated player who can tackle, dribble and create. He can do a variety of jobs: track the full-back, orchestrate play as an auxiliary playmaker and whip in crosses from a wide position.
With the exception of not being French, Cazorla is the prototypical Arsène Wenger player.
Santi Cazorla and three teammates reported Málaga to the Spain's Footballers' Association for unpaid wages.
Owner Sheikh Abdullah Bin Nasser Al-Thani seems to want out. In January, Málaga were banned from registering new players after failing to fully pay Nacho Monreal's transfer fee to Osasuna.
José Carlos Pérez, who ran the daily operations, passed away and Fernando Hierro quit his role as the general manager.
Eight days ago, Sid Lowe and David Hytner at The Guardian reported that Cazorla had agreed terms with Arsenal.
Lowe and Hytner added: "If Málaga do not settle those debts by 31 July they face relegation to Second Division B and the loss of their Uefa licence and Champions League participation."
So, what's the latest?
Here's a few tweets from Lowe:
Some final points. It's not Cazorla or Sahin. Arsenal want both. They're confident on both too. Cazorla agreed terms w/ Arsenal already. (1)

Malag[a] looking for solutions, got stay of execution but situation still urgent. Cazorla sale best way out. Still major confusion, though (2)

Oh, and the other thing.... Cazorla is a brilliant player (3)

And of course in all this, Cazorla is trying to push deal through. And given situation there are ways of doing that.
On the field, Cazorla inspired an under-performing Málaga side to fourth place. Throughout the season, Manuel Pellegrini did not have an extra pivot to compliment Jérémy Toulalan in the "2" of the 4-2-3-1—Duda was average. Enzo Maresca didn't look assertive at all. Ignacio Camacho could tackle but he couldn't orchestrate play.
So guess who had a stint as one of the two pivots? Cazorla, who was terrific in a 1-0 win over Sporting Gijón. He won back possession six times, completed 90 percent of his passes and created the game-winning goal.
To those doubting Arsène Wenger's interest in Cazorla: if it looks like a duck, swims like a duck and quacks like a duck, then it probably is a duck.
There are two scenarios that will prevent Cazorla from becoming a Gunner:
Al-Thani doing a 180 (highly unlikely)
Another club outbidding Arsenal for the Spaniard—cue the €30 million bid from Chelsea.
Here's a statistical comparison of Santi Cazorla to Aaron Ramsey, Gervinho, Theo Walcott and Tomás Rosický.
| | | | | | |
| --- | --- | --- | --- | --- | --- |
| League Only | Cazorla | Gervinho | Ramsey | Rosický | Walcott |
| Goals | 9 | 4 | 2 | 1 | 8 |
| Shots Per Goal | 9.9 | 10 | 31 | 38 | 9.5 |
| Assists | 5 | 6 | 4 | 4 | 8 |
| Shots Created Per Game | 2.2 | 1.3 | 1.6 | 1.5 | 1.2 |
| Dribbles Per Game | 1.3 | 1.4 | 1 | 1.2 | 1 |
| Possession Won Back Per Game | 4.8 | 1.6 | 2.5 | 2.3 | 1 |
| Tackles Per Foul | 4.1 | 2.5 | 1.8 | 1.7 | 1.4 |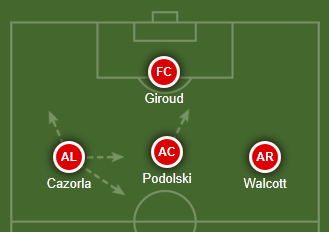 Photo via lineupbuilder.com
Wojciech Szczęsny: Has the potential to be an elite keeper, but prone to Jens Lehmann-esq mistakes—i.e. 3-3 draw against Norwich City, 2-1 loss to Wigan Athletic and Fulham.
Francis Coquelin: Will be a world-class defensive midfielder in years to come. However he'll have to do his time at full-back if Nuri Şahin is signed on loan. Bacary Sagna shouldn't be rushed back because his career could be over if he suffers another leg break. What about Carl Jenkinson? He's a squad player at best.
Laurent Koscielny: On the brink of becoming a world-class centre-back.
Thomas Vermaelen: Last season, he defended like Sébastien Squillaci and attempted to score goals like Andreas Granqvist.
Kieran Gibbs: He's the left-back by default because André Santos' positional awareness is shockingly abysmal.
Şahin: Bizarre that Tottenham Hotspur would be willing to let Luka Modrić go yet not request Şahin plus £25+ million. The Turk knows the 4-2-3-1 inside-out, having pulled the strings during his time at Borussia Dortmund. He's a world-class, deep-lying playmaker.
Alex Song: Exquisite passing ability and would be a No. 10 on most teams. As a defensive midfielder, his positional discipline is a concern.
Theo Walcott: Yearns to play centrally. Something has got to give.
Lukas Podolski: Throughout his career, he's played his best football as a deep-lying forward. Last season, he carried Köln on his back as a centre forward, after Milivoje Novakovič forgot how to score. Podolski does not like playing out wide and his recent performances for Germany show how disgruntled he is in that position.
Santi Cazorla: The reason why he's such a good false winger is because he is a complete footballer. For extended periods in the game, he'll be the quasi-No. 10 as Podolski moves forward. The Spaniard can also drop into midfield to dictate play. Given Olivier Giroud's aerial prowess, Cazorla will whip in accurate crosses if there is space out wide. He's a game-changing signing.
| | |
| --- | --- |
| League Only | Crossing % |
| Cazorla | 29.4 |
| Nani | 21.6 |
| Antonio Valencia | 25.3 |
| Samir Nasri | 26.1 |
| Stewart Downing | 22.6 |
Olivier Giroud: Strong and mobile forward with a knack of scoring goals in pivotal situations.
Follow @allanjiangLIVE

Connect with +allanjiang

Statistics courtesy of WhoScored.com
Please read What the Gunners Need to Know About Olivier Giroud