Usain Bolt Schedule: Preview and Prediction for Each of the Superstar's Races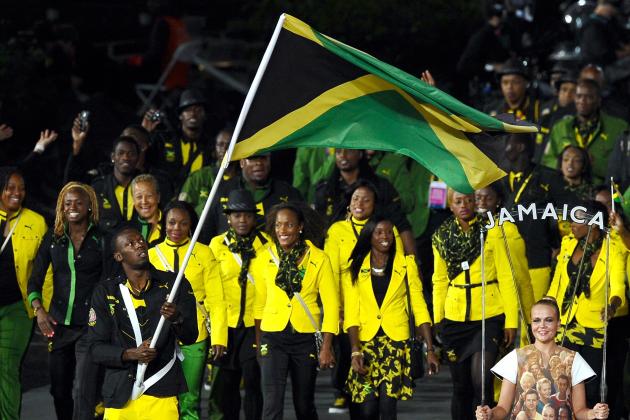 Laurence Griffiths/Getty Images

The greatest sprinter that this world has ever seen will be in action for the first time in London come August 4th, as Usain Bolt looks to become the two-time defending champion in the 100-meter dash, 200-meter dash and 4x100-meter relay. If he accomplishes this feat, he will be the first in history to repeat as champion in all three events.
Bolt will have his fair share of challengers, most notably the up-and-comer Yohan Blake, who has proven on more than one occasion that he is capable of beating the fastest man in the world.
When the competition begins, Bolt will once again be out for history and for dominance. He is the favorite going into his two individual events, and his home country of Jamaica is also the clear favorite in the relay.
Here is a preview of Bolt's three races, as well as the medal predictions for each.
Begin Slideshow

»
Mark Dadswell/Getty Images

Men's 100-meter Preliminaries: August 4, 5 a.m. ET
Men's 100-meter Round 1: August 4, 7:30 a.m. ET
Men's 100-meter Semifinals: August 5, 2:45 p.m. ET
Men's 100-meter Final: August 5, 4:50 p.m. ET
In the competition to ultimately determine who is the fastest man in all of sports, Usain Bolt will be out to do more than just defend his Olympic gold. He will also be looking to regain his world title, which was taken from him last year by fellow Jamaican, teen sensation Yohan Blake.
Blake has emerged as real threat to Bolt's quest to repeat in one of the fastest and most exciting 10 seconds—or, in Bolt's case, the fastest 9.58 seconds in all of sports. Blake's best time is not really all that close to Bolt's record-breaking performance, but it is fair to note that Bolt himself has not run close to 9.58 since the 2009 World Championships.
Coming into London, however, Bolt is poised to defend his title. This would make him the first man to do so since Carl Lewis did it in 1984 and 1988.
In addition to defending his title, Bolt is out to prove something even more phenomenal, something that has crossed several people's minds ever since, in Beijing, he showboated the final 20 meters of the race, arms out and chest pumped to the crowd.
How fast could he have run?
The figure of 9.4 seconds, something that has been tossed around after extensive scientific and mathematical research has proven it to be possible, is something that Bolt has been asked about. If he were to run the 100 meters in 9.4 seconds, then it would possibly be the best and most earth-shattering performance in all of athletics history.
When the race begins, Bolt, unlike some athletes, will likely have this record-breaking number on the mind. Not only does he want the gold to prove that neither Blake nor Tyson Gay nor Justin Gatlin nor Asafa Powell nor anyone else in the world can beat him, but he will also be out to record a time that is not likely to be touched anytime in the next century.
Prediction
1. Usain Bolt: 9.7 seconds
2. Yohan Blake: 9.75 seconds
3. Tyson Gay: 9.85 seconds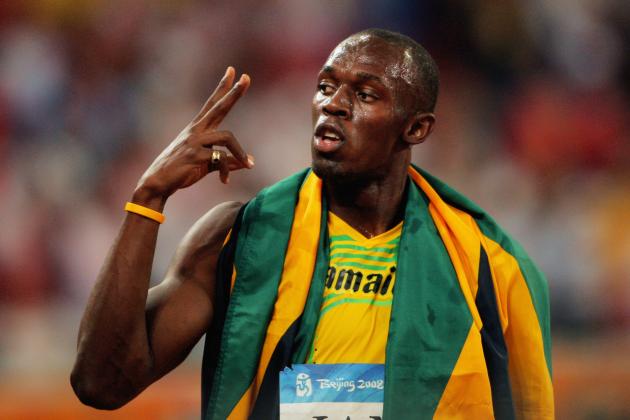 Stu Forster/Getty Images

Men's 200-meter Round 1: August 7, 3:50 p.m. ET
Men's 200-meter Semifinals: August 8, 3:10 p.m. ET
Men's 200-meter Final: August 9, 3:55 p.m. ET
Bolt shattered the previous record in the 200-meter sprint, as he once again proved that he was the fastest man in the world during the 2008 Beijing Games.
Just like the 100, however, Bolt was stripped of his title by none other than Yohan Blake, who beat him by just .03 seconds in the 200-meter final at the Jamaican National Championships.
For Bolt, this was the more shocking defeat, as ever since setting the new world record at the Beijing Olympic Games, he had not lost this race once in international competition. Taking defeat at the hands of his training partner was certainly not what he (or the rest of the world) expected.
After that race, talk of just giving Bolt the gold ceased to exist. Almost like the Michael Phelps-Ryan Lochte rivalry, Bolt had finally encountered someone who could beat him—potentially even more than once.
There is no time barrier that Bolt will be looking to break in the 200. Sure, he will want to set a new world record, but ultimately this race comes down to getting his title back.
Over the longer-distance race, Bolt should no doubt be the favorite, but as Blake has shown, he is in fact capable of setting a blistering time. Last year he ran it in 19.26 seconds, the second fastest of all time. Bolt's 19.19 seconds from the 2009 World Championships still stands as the best.
The head-to-head rematch is the most anticipated final of these track and field events. One thing is certain: A Jamaican will be crowned champion.
Predictions
1. Usain Bolt: 19.40
2. Yohan Blake: 19.53
3. Wallace Spearmon: 19.80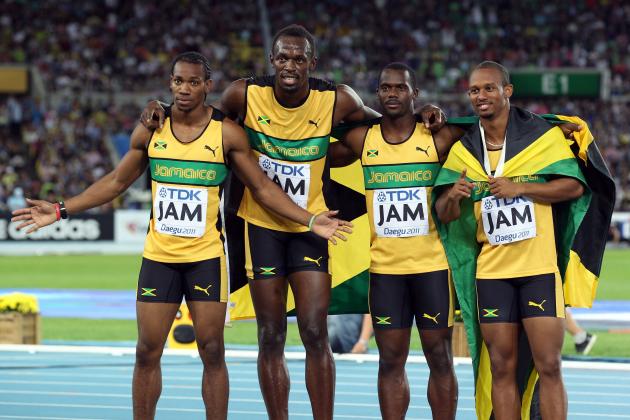 Ian Walton/Getty Images

Men's 4x100-meter Relay Round 1: August 10, 2:45 p.m. ET
Men's 4x100-meter Relay Final: August 11, 4 p.m. ET
Bolt and his Jamaican teammates are undoubtedly the favorites in the men's 4x100 relay, and barring some act of nature or an uncharacteristic drop of the baton, they WILL walk away from the London track with gold medals around their necks.
Making up the power and punch of the team is of course Bolt and Blake, who alone will give the Jamaicans an almost insurmountable lead. Rounding out the team is Asafa Powell, a former world-record holder and world champion in the 100, and Nesta Carter, who was a member of the 2008 gold-medal-winning relay team and is also capable of running the 100-meter in under 9.8 seconds.
They currently have the world record in this event, set at the 2011 World Championships when they demolished their competition with a time of 37.04 seconds. In London, it is expected that this team could become the first relay team in history to break 37, perhaps even 36 seconds.
It is a dream team if there ever was one, and no team should even come close to catching them in the final.
Predictions:
1. Jamaica: 36.80
2. United States: 37.50
3. Trinidad and Tobago: 37.75