3 Players the Marlins Might Actually Build Around and Not Trade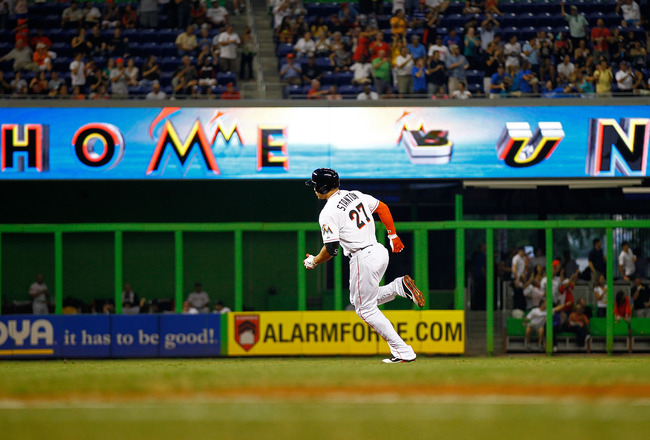 Mike Ehrmann/Getty Images
Now that the trade deadline has passed and the dust has settled, the Miami Marlins have shown their true intentions.
They went into this season with intentions of winning early. The team's early blunders led to the dismantling of several key players, including 3B Hanley Ramirez, SP Anibal Sanchez, 2B Omar Infante and 1B Gaby Sanchez.
While many called this a fire sale, the Marlins' brass will tell you they simply made smart baseball moves that suited the team better in the future.
Even after receiving funding for a brand new state-of-the-art ballpark in downtown Miami and revamping the franchise, the team felt it was necessary to start over. Only time will tell if unloading their former stars for prospects will prove to be a smart move.
The Marlins will surely be looking to trade other assets this offseason. Look for the team to weigh offers for starting pitchers Josh Johnson, Carlos Zambrano and whoever will be foolish enough to take Heath Bell off their hands.
Justin Ruggiano has been one of baseball's "feel good" stories of the year in leading the team with a .355 average since being called up from the minors and actually given a fair chance. But Ruggiano's future also looks bleak, as many would be surprised if the Marlins offered the 30-year-old a multi-year contract extension.
While the Marlins' fanbase has every right not to put their trust in the current management and ownership group, there is a light at the end of the tunnel.
Here are three players the Marlins might want to build around and not trade this offseason.
Giancarlo Stanton
Mike Ehrmann/Getty Images
Of all the head-scratching moves the Marlins pulled in recent weeks, Marlins fans had to be pleased that Giancarlo Stanton's name was left off the trading block.
At just 22 years of age, Stanton proved how special of a player he is and why the team should absolutely build around him in the coming years. He is a true face of the franchise, taking over the reins from Hanley Ramirez, who could never quite bounce back from being one of the top players in the game a few years back.
Stanton has the power, size and overall charisma to become an All-Star for many years in this league. He can easily be a guy the Marlins can rely on for 30-plus home runs, 100 RBI and around a .300 average for the next 10 or so years as long as he can stay healthy.
Health has been his greatest concern so far into his young career. Stanton is currently going through a rehab assignment while on the 15-Day DL. Let's hope he can return to form after having right knee surgery.
If Stanton can return to the same form we saw him play in May, which included 12 home runs, 30 RBI, a .343 average and being awarded NL Player of the Month, the Miami Marlins have unquestionably found their franchise player.
Jose Reyes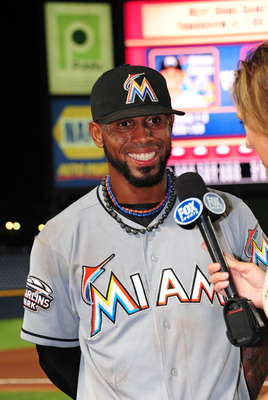 Scott Cunningham/Getty Images
Jose Reyes has dealt with an awful lot of change over the past year. He left his former team in the New York Mets to accept a $100 million-plus free-agent deal with the Miami Marlins.
Reyes came down to Miami with the understanding that the Marlins wanted to win now, and he joined forces with his good friend, Hanley Ramirez, to try and help turn the team into a contender.
Now, Reyes looks at a clubhouse that has to be very defeating to him. Of course the huge free-agent contract helps a bit, but everything that the Marlins sold him on is turning out to be not true.
Just 100 games into his new six-year deal, Reyes finds himself on a team that is building for the future.
The main reason the Marlins should keep him around and not trade him is because he's a proven clubhouse leader, five-tool player and currently has a 20-game hitting streak. You also can't overlook that Reyes' heavy new contract will be awfully hard to move, so the team might as well give him a chance to help make a difference down in Miami.
Jacob Turner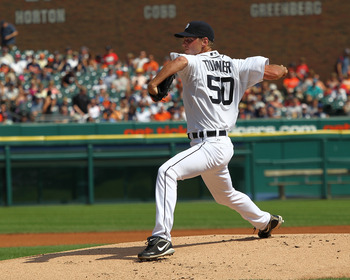 Dave Reginek/Getty Images
Marlins fans need something to look forward to, right?
The Marlins gave up a lot to get Jacob Turner from the Detroit Tigers. He's noted as one of the top-ranked prospects in the game and is currently located in the Marlins' Triple-A club.
There is so much up in the air with Turner.
In an article by Kevin Goldstein of Baseball Prospectus, Goldstein said of Turner:
21-year-old with big frame and the potential for three average-to-plus pitches in 91-95 mph fastball and advanced curve/changeup combination for age. Good delivery but occasional control issues. Ceiling as good No. 3 starter, but that might also be floor.
Jim Bowden of ESPN had a different approach to the value of Jacob Turner:
The Marlins made a great long-term deal when they acquired Turner, a future top-of-the-rotation starter.
If Jacob can turn into the Marlins' ace for the future, I can see that trade making sense. If the scouts are right, Turner is someone the organization should absolutely build around and hope he can fill in the roll as the starter at the top of the rotation.
With the loss of Josh Johnson becoming inevitable, it's only a matter of time before the Marlins shift their focus on another prospect. That prospect seems to be Jacob Turner.
Keep Reading

Miami Marlins: Like this team?