New York Knicks: 4 Players Who'll Surprise People in 2012-13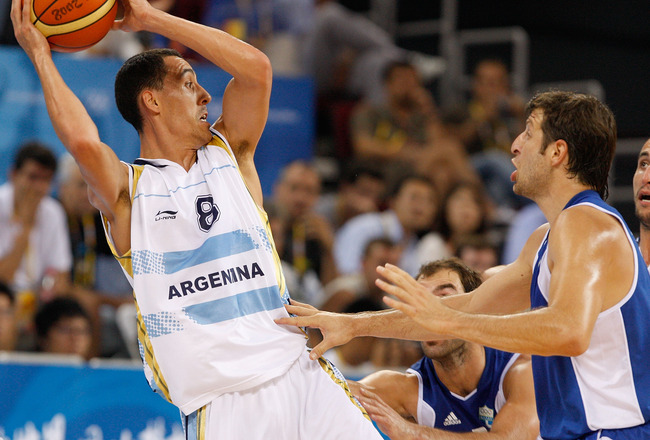 Streeter Lecka/Getty Images
It seems like every season in the NBA, there are players who shock the league and end up being much better than previously thought.
Whether for reasons surrounding their age, inexperience, injury history and more, certain players just always seem to have their doubters.
Just last year, the likes of Isaiah Thomas and Jeremy Lin really surprised people with their level of play, after little was thought of them beforehand.
Heading into the 2012-13 season, the Knicks have their fair share of players who could surprise people with their play, and I'm going to take you through the four players who'll shock Knicks fans and basketball fans alike next season.
Pablo Prigioni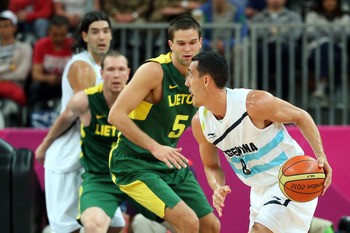 Christian Petersen/Getty Images
Though he's coming over way too late in his career to have a lasting imprint on the NBA, Pablo Prigioni of Argentina could still play a big role for the Knicks next season.
On a roster that already has both Raymond Felton and Jason Kidd at the position, Prigioni may actually be the Knicks' best passing point guard right now.
Kidd has evidently slowed down over the years due to age, and though Prigioni is 35, his play in the Olympics so far shows that he's still very much on top of his game.
Starting over Raymond Felton may be a bit of a stretch, but Prigioni's presence could very well push Kidd over to shooting guard, allowing Prigioni to get some important minutes at the point.
As a little-known player on the rookie's minimum, a lot of fans may not be expecting too much from this guy, but it shouldn't be too long before he proves that he belongs and earns himself a big role in the Knicks' rotation.
Amar'e Stoudemire
Jeff Zelevansky/Getty Images
The general consensus right now appears to be that Amar'e Stoudemire is no longer the player he once was, and that he's, simply put, done.
Considering his awful play last season, that's a fair conclusion to make, but that doesn't mean it's the right one.
Last season's struggles stemmed primarily from the lockout; Stoudemire was unable to speak with the Knicks' trainers during the labour discussions, which forced him to come into camp out of shape.
Following his injury in the 2011 playoffs, Stoudemire was unable to play much actual basketball in the offseason, and instead focused on weights, which led him to come into camp overweight with muscle at 260 pounds.
This added weight clearly impacted the flow of his jump shot, and was at the core of his early struggles.
As soon as Stoudemire returned to shape, though, he was hit with the news of his brother's death, which likely lingered over him all season and made it very tough for him to play.
Stoudemire goes into this offseason without any overhanging injuries, which will allow him to come into camp in basketball shape.
STAT is also working on his post game with Hakeem Olajuwon, which has worked wonders in the past for LeBron James and Kobe Bryant.
At the end of the day, Stoudemire is only a season removed from the very best year of his career, so it's hard to believe that he's really as bad a player as he looked last season.
The 2012-13 season should be a comeback year for the forward, as he'll silence his critics and even challenge for a spot in the All-Star game.
Chris Copeland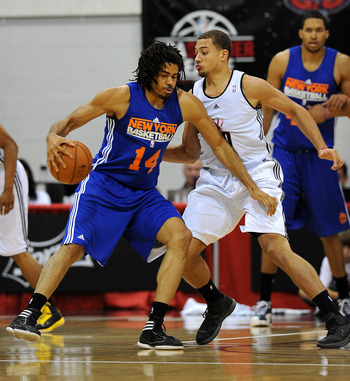 Jayne Kamin-Oncea-US PRESSWIRE
Chris Copeland is obviously not going to come out and be a star in the NBA, but he may surprise people simply by emerging as a rotation-quality player next season.
As the only natural power forward the Knicks have right now other than Amar'e Stoudemire, there's a huge chance that he'll make the roster following training camp and even back Stoudemire up.
The only other player currently on the roster who could play the four off the bench is Kurt Thomas, and as solid as he's been for his career, you aren't going to get anything special out of him at this point.
Copeland, on the other hand, has a nicely developed offensive game for a player on the minimum salary, which could help out when the inevitable comes and Stoudemire misses games with injury.
The forward is not a great defender by any means, but under Mike Woodson, it's hard to see that he'll be a liability.
After standing out on what was a frankly terrible summer league team, Copeland has a huge chance to make the final cut, and if he does, he may just crack the rotation.
Marcus Camby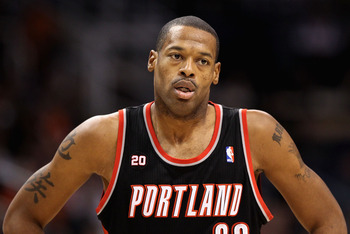 Christian Petersen/Getty Images
At the start of the offseason, Marcus Camby was one of the premier centers available on the free agent market.
Almost as a result of signing with the Knicks, though, people appear to have a more negative view of Camby now, citing his age as a reason why he wasn't worth trading for.
What we forget is that Camby actually would have been a starter had he gone anywhere else, yet in New York, he's simply going to back up the reigning Defensive Player of the Year.
Despite his age, Camby is still very much a useful player in the NBA, as shown by the fact he led the league in rebounding rate as recently as last season.
There's no real reason to believe that Camby can't keep up the same level of defense and rebounding in New York, and he'll prove everyone who questioned the move wrong in no time.
Keep Reading

New York Knicks: Like this team?