5 Reasons to Draft Jacob Tamme in Your Fantasy Football League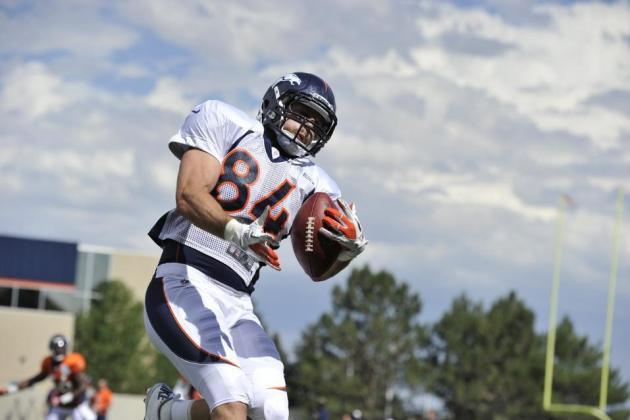 Photo: Broncos.com
Soon after the Denver Broncos won the Peyton Manning lottery, the front office began its search of players to surround its new quarterback with.
High on that list? Former Colts tight end Jacob Tamme.
An afterthought in the Colts offense in 2011, Tamme now represents a serious fantasy option at the tight end position in 2012.
In the following five slides, we give you reasons why drafting Tamme in your fantasy draft is a good idea.
Begin Slideshow

»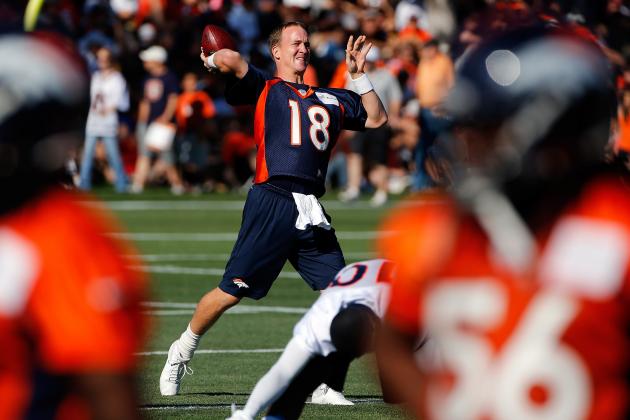 Doug Pensinger/Getty Images

A season ago, Tamme toiled away in Indianapolis, totaling more than 50 yards in a game just once with scrub quarterbacks Kerry Collins and Curtis Painter leading the way.
In 2012, the quarterback position shouldn't be an issue for Tamme.
He'll be teamed with Peyton Manning in Denver, the same guy who made him a fantasy breakout player back in 2010 (we'll touch on that later). Manning is also a quarterback who loves using the tight end position, as evidenced by Tamme's season two years ago and the ridiculous numbers of catches Dallas Clark had in Indianapolis.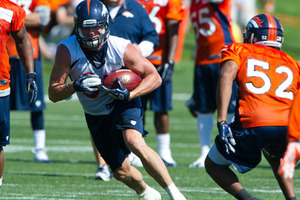 Photo: Broncos.com
It took just three days for Tamme to sign in Denver after Manning decided the Broncos was his team of choice. Maybe it was purely coincidental, but we're doubting it. Manning likely lobbied Denver into bringing in his former tight end in Indianapolis, and he got his wish.
And here's another plus for Tamme: Manning and the Broncos didn't sign Dallas Clark, who was also available in free agency. Instead, they went with Tamme.
Obviously, Manning wanted Tamme there, and the team avoided another one of Manning's long-time targets to get it done. Those realities have to bode well for his fantasy prospects in 2012.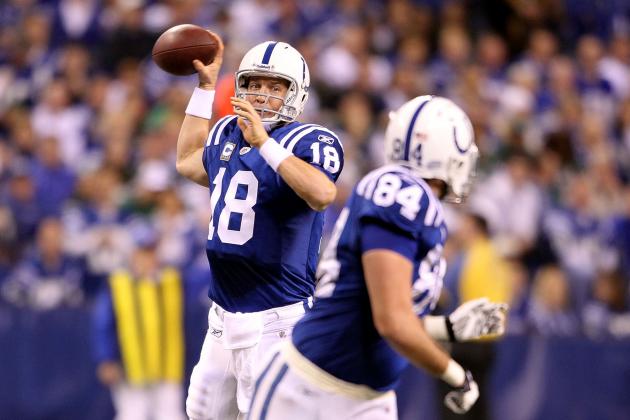 Andy Lyons/Getty Images

Look back two years to the Colts' 2010 season, and you can see why Manning might have lobbied the Broncos into bringing in Tamme.
After Clark went down with a season-ending injury, Tamme stepped into a more central role in the Colts offense and shined.
While Tamme went into Week 7 of that season without a catch, he caught 67 passes for 631 yards and four touchdowns the rest of the way. Over the course of 16 games, those numbers would translate into starting-tight-end fantasy points.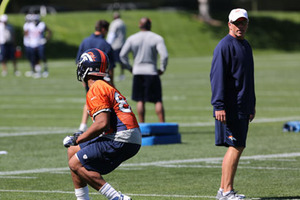 There are options other than Tamme at the tight end position in Denver—namely Joel Dreessen, whom the Broncos also signed this offseason—but it's clear Tamme will have the opportunities in the passing game to make him fantasy-worthy.
According to the Broncos' team website, both Tamme and Dreessen have been Manning's most-targeted receivers in the early goings of camp.
From safety Mike Adams:
They're going to pose a real problem (for defenses). I expect those guys, when you mention the Gronkowskis and the Grahams (New England Patriots tight end Rob Gronkowski and New Orleans Saints tight end Jimmy Graham), I expect those guys' names to be mentioned also. Especially Jacob, a fast guy, looks like a receiver type.
I wouldn't go as far as Adams, who mentions Tamme in the same light as Jimmy Graham and Rob Gronkowski, but Tamme has upside in this Broncos offense, even with Dreessen around.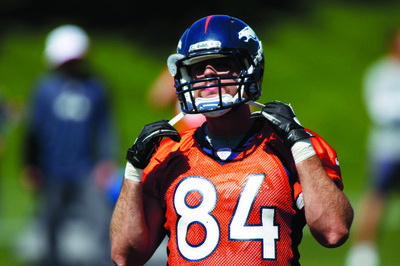 Photo: AP
Depending on the health of Manning for 16 games, Tamme should be able to post career highs in every receiving category.
ESPN projects Tamme to finish 2012 with 779 yards receiving and five touchdowns, but I think even those numbers could be a touch low. Tamme certainly has 80-catch potential—even with more emphasis on the running game and two above-average receivers—and Clark even cracked the 100-catch mark at his peak.
I'd be willing to bet Tamme goes over five touchdowns too. If he's in the 70-catch, seven-touchdown range, Tamme is going to be plenty worth using a pick on.