Fantasy Football 2012: Is Adrian Peterson Right About His Fantasy Value?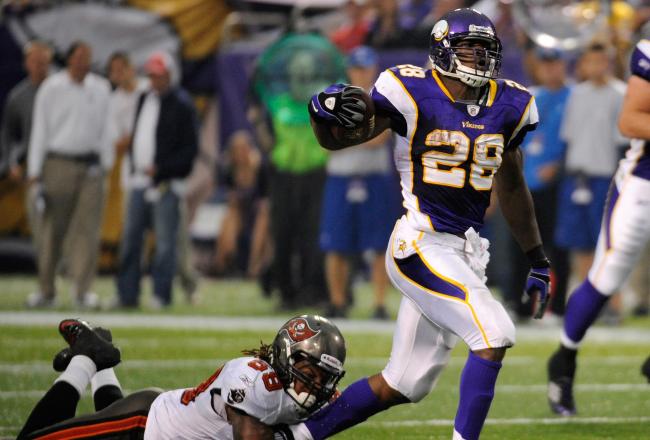 Hannah Foslien/Getty Images
Minnesota Vikings running back Adrian Peterson has been a star in both the National Football League and fantasy football since entering the league in 2007, and if the 27-year-old running back is to be believed, not even the devastating knee injury he suffered last December will stop Peterson from being one again this season.
Peterson, who failed to top 1,000 rushing yards for the first time in his five-year NFL career in 2011 after tearing both his ACL and MCL, recently told KFAN Radio in Minneapolis via Pro Football Talk that regardless of both the severity of his injury and how recently it occurred, fantasy owners who pass on him in the first round of drafts this summer will live to regret that decision.
"I would think so," Peterson said. "The way I look at it, to each his own. . . . This whole offseason, I've been hearing that. 'Adrian, should we take you? Will you be ready?' Hey, I've got faith that I'm gonna be out there. Do you have the faith? That's how you're gonna get your reward."
Peterson began training camp on the active/physically unable to perform list, which only added fuel to the fire for those that have doubted that "All Day" will be nearly the fantasy force this year that he has been in the past, especially early in the season.
Those doubts are reflected in Peterson's current average draft position according to MyFantasyLeague.com, where Peterson is presently the 10th running back being selected in drafts late in the second round of 12-team leagues, behind the likes of Maurice Jones-Drew of the Jacksonville Jaguars, Darren McFadden of the Oakland Raiders and Trent Richardson of the Cleveland Browns.
This argument may be moot for fantasy teams picking at the back end of round one who have decided to pass on the running back position with their first pick, instead going after a stud wide receiver, quarterback or tight end.
However, if you're sitting on the turn and have decided on a running back as your first pick, what exactly makes any of those three backs a safer bet than Peterson?
Jones-Drew is embroiled in a nasty contract dispute with the Jaguars with no end in sight. Ask Chris Johnson owners how that worked out for them last year.
Darren McFadden has yet to make it through 16 games in his NFL career, missed 10 games with a foot injury last year and has all the durability of an origami hummingbird.
Trent Richardson has taken all of zero carries in the NFL and plays for the Cleveland Browns. I repeat, he plays for the Cleveland Browns.
Explain to me again how those picks are safer?
Granted, it's only been nine months since Peterson was injured, and he will likely be eased into things to begin the year by the Vikings. However, Peterson is also a notoriously fast healer whose rehab has progressed ahead of schedule since day one, and the whole "easing in" thing will probably stop just as soon as AD rips off a 75-yard touchdown run.
Call me crazy, say I've drank the purple Kool-Aid, whatever, but I have Peterson ranked ahead of all three backs I mentioned in my updated fantasy football player rankings here at Bleacher Report. I'd seriously consider him in the late first or early second round. He has no less risk than any of the other backs available at that point and top-five upside.
But hey, don't listen to me, or to Peterson himself, and keep letting him drop into the laps of teams that already have a Ray Rice or Arian Foster.
That should work out great.
This article is
What is the duplicate article?
Why is this article offensive?
Where is this article plagiarized from?
Why is this article poorly edited?