Arizona Cardinals Rookie Stock Report, Camp Edition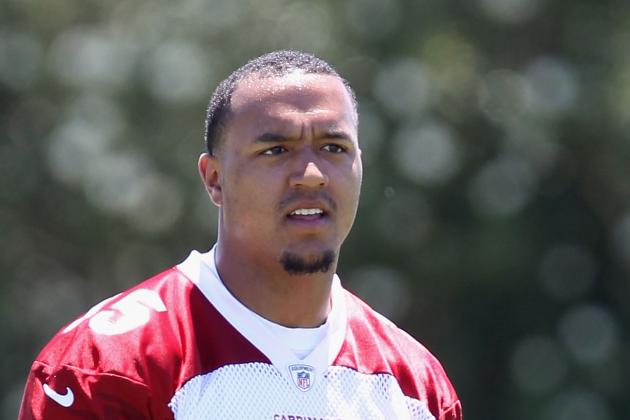 Christian Petersen/Getty Images
Former Notre Dame receiver Michael Floyd was Arizona's first-round pick.
Every year in the NFL, there is a new class of rookies trying to find their way onto a roster. Some are locked into a roster spot as high draft picks. Those same players are trying to live up to their draft status and hopefully earn a starting job.
The Arizona Cardinals have 23 rookies, including seven drafted players. The Cardinals hope to use last season's strong finish as momentum to build on their 8-8 record.
Rookies like wide receiver Michael Floyd and offensive tackle Bobby Massie could have an immediate impact. Who knows, maybe the Cardinals don't go with Kevin Kolb or John Skelton as their starting quarterback and turn the keys over to sixth-round pick Ryan Lindley. That'd sure get people talking in the desert.
Begin Slideshow

»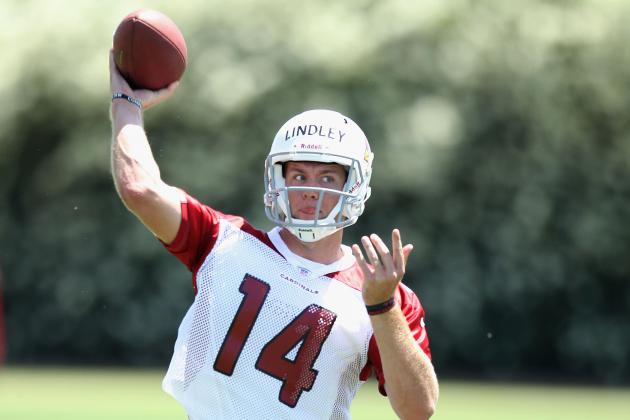 Christian Petersen/Getty Images
Ryan Lindley has a real shot at winning a roster spot.
Lindley was a sixth-round pick out of San Diego State, where he put up some incredible numbers. The 6'3", 229-pound California native threw for over 12,000 yards and 90 touchdowns in his career. That included a 3,800-yard season as a junior, when he threw for 28 touchdowns. He threw for 3,153 yards and 23 scores while limiting his interceptions to eight.
Lindley is a big kid with a big arm, but needs to become more accurate to play in the NFL. He completed only 55 percent of his passes at SDSU, but did lead the Aztecs to 17 wins and two bowl appearances in his final two seasons.
The Cardinals have four quarterbacks on the training camp roster with Lindley, Kevin Kolb, John Skelton and Richard Bartel. There's no reason not to believe that Lindley can win a roster spot.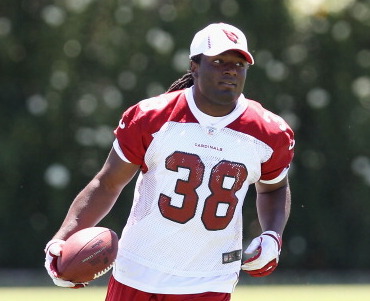 Christian Petersen/Getty Images
Can Jared Crank beat out "The Shermanator" in Arizona?
Crank looks like an NFL fullback. The former Purdue bulldozer is 6'2", 238 pounds and is a technically sound blocker. He ran for 106 yards last year, but helped the Boilermakers rack up more than 2,300 rushing yards and 22 touchdowns. He can contribute right away on special teams, and maybe even push starting fullback Anthony Sherman for a roster spot.
That is unlikely because coach Ken Whisenhunt really likes Sherman, who could get some carries this preseason because of lingering injuries to Beanie Wells and Ryan Williams. Crank will also be in the mix, but will probably have to stand out on special teams to convince the team to keep two fullbacks.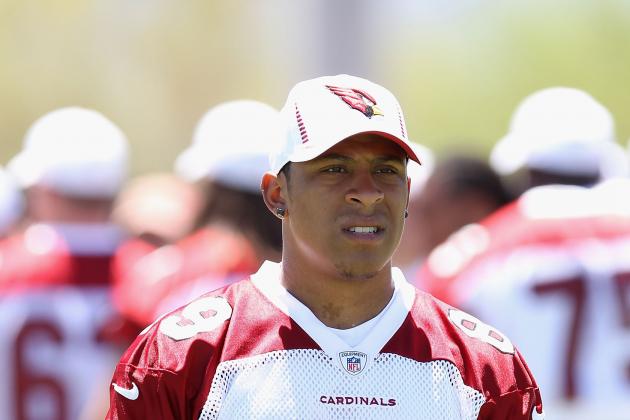 Christian Petersen/Getty Images
Gino Crump is hoping to stay with the Cardinals beyond training camp.
Floyd was one of the top three receivers in this year's draft, and the Cardinals were ecstatic when he fell to them with the 13th pick. Floyd (6'3", 225) caught 100 passes for 1,147 yards and nine touchdowns for Notre Dame last year. The only concerns about him were his multiple alcohol-related incidents while at South Bend.
Floyd says he has matured and learned from those mistakes. He's hoping to earn a starting job opposite Larry Fitzgerald, and Floyd's stock continues to rise.
Arukwe is a speedster from Troy who has experience returning kicks. That could mean relief for cornerback Patrick Peterson and running back LaRod Stephens-Howling.
Arukwe is a raw football talent. The former track star had just 12 receptions in one season of college football and appears destined for either the chopping block or the practice squad.
Byrd is a big (6'4", 220) undrafted, yet polished receiver from Miami. His excellent off-the-field persona is matched by good production for the Hurricanes. He had 106 career receptions for 1,254 yards and seven scores. Byrd's hands, athleticism and speed have stood out thus far in camp.
Gray set several school records at the University of Richmond, but is only 5'10" and 175 pounds. He's not overly fast for an NFL-caliber receiver and has not yet done enough to stand out in a group that includes four locks to make the team: Fitzgerald, Floyd, Early Doucet and Andre Roberts. That likely leaves just one spot remaining, and Gray probably won't fill that spot.
It's unlikely that Crump will either. Crump played just two seasons of Division I football at Arizona and could be a practice squad player because of his raw talent and upside. Crump did stand out in mini-camps and organized team activities, but his stock may have plateaued.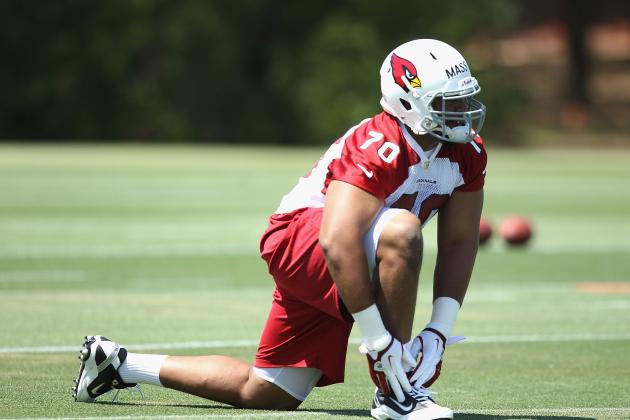 Christian Petersen/Getty Images
Bobby Massie could be the team's starting right tackle on opening day.
Massie was a fourth-round pick from Ole Miss, and many believe he can win a starting job at right tackle. Massie was projected to go higher in the draft, so he entered training camp humbled, yet with a chip on his shoulder.
Jeremy Bridges was listed as the starter at right tackle in the team's first depth chart of the season, but look for that to change before the season opener. Massie's stock continues to rise, even as the 6'6", 316-pound rookie receives tips from Bridges.
Potter was drafted in the seventh round from Boise State. Potter is technically sound with good feet, but needs to bulk up to be a regular-down NFL player. He does have good size (6'6", 300), but the practice squad would probably best suit Potter as a sort of red-shirt season.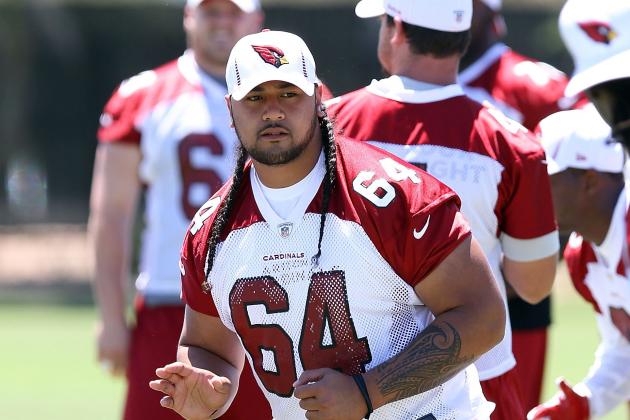 Christian Petersen/Getty Images
Where will guard Senio Kelemete fit into Arizona's plans?
Kelemete was the team's fifth-round pick from Washington. With three of their seven draft picks used on the offensive line, the Cardinals were clearly trying to address a need.
Kelemete (6'4", 307) was the only guard drafted and capped a good college career with a trip to the Senior Bowl. He's versatile enough to play both guard positions, but is currently listed as Daryn Colledge's backup at left guard. Kelemeter likely won't start a game this season, but will probably make the final 53-man roster and be that swing guard backup while being used on special teams.
Clayson went undrafted from Idaho State. He doesn't have much of a shot to make the squad, but could get on the practice squad.
The Cardinals had Blake DeChristopher, an undrafted rookie from Virginia Tech, but waived him last week because of a back injury.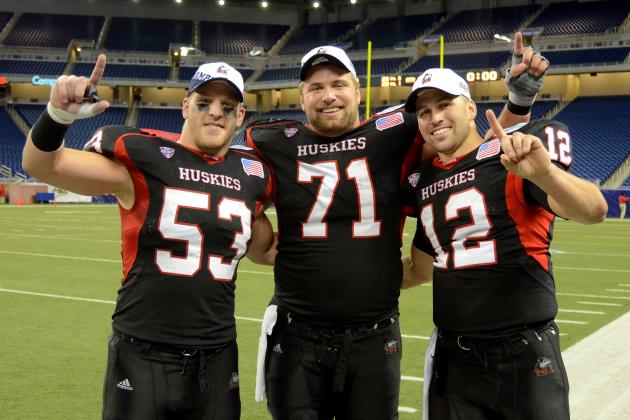 Mark A. Cunningham/Getty Images
Center Scott Wedige (71) helped lead Northern Illinois to a MAC title.
Wedige, an undrafted 6'4", 310-pound rookie from Northern Illinois, has been getting a heavy dose of reps with the second unit.
Aside from some problems sleeping, Wedige has had a very good camp. He won't beat out Lyle Sendlein for the starting job, but his stock is rising, and he could beat out Ryan Bartholomew for the backup job.
Christian Petersen/Getty Images
Paul Vassallo (41) may have a hard time finding a spot on the Cardinals roster.
Nash's camp has gotten off to a bad start with a sprained right ankle. As the old saying goes, "You can't make the club in the tub."
If Nash, an undrafted rookie from Sacramento State with some good pass-rush skills, wants to make the team, his ankle needs to heal fast. He had been doing well during the camp's first few days, building on strong mini-camps and organized team activities.
McGraw, Parker and Vassallo are longshots to make the team. McGraw (6'0", 228) is the only one of the three not to play his college ball in Arizona. The Houston product was on the Nagurski and Lombardi watch lists, but went undrafted.
Parker played right in Tempe for Arizona State. Parker (6'1", 223) had 75 tackles last season for the Sun Devils and could make the squad as a special teams player or even on the practice squad.
Vassallo (6'2", 240) had two very productive seasons for the Arizona Wildcats. He tallied 172 tackles, including 102 in 2010. He's not that fast, though, and may have a tough time keeping up with NFL running backs and tight ends.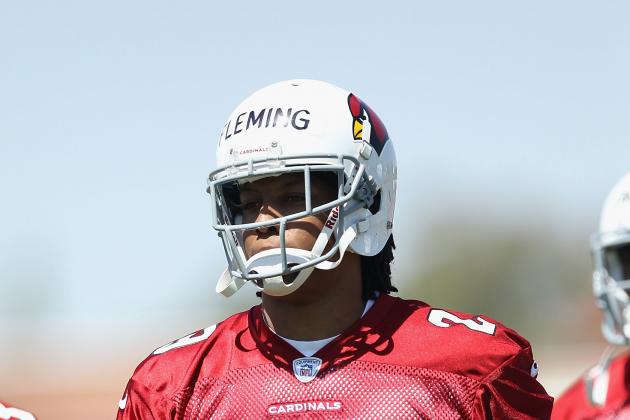 Christian Petersen/Getty Images
Jamell Fleming is competing for a starting job.
Fleming was a third-round pick from Oklahoma, where he garnered 168 total tackles with seven interceptions, two touchdowns and a sack over his four-year career. He was the defensive MVP of the Fiesta Bowl to cap his junior year.
Fleming is a promising rookie with a real shot of winning a starting job opposite Patrick Peterson. Fleming has said he's not going to worry about his role and just let things come naturally.
Arizona coach Ken Whisenhunt was impressed with Fleming at Oklahoma and continues to be impressed by the rookie.
Nixon (6'1", 190), an undrafted rookie from California, Pa., has done little to distinguish himself among the crowded group. Parker, a two-year starter at San Diego State, was also undrafted. Parker turned some eyeballs when he picked off quarterback Kevin Kolb in the team's annual scrimmage.
While both Nixon and Parker are longshots to make the team, Parker has done more to stand out thus far.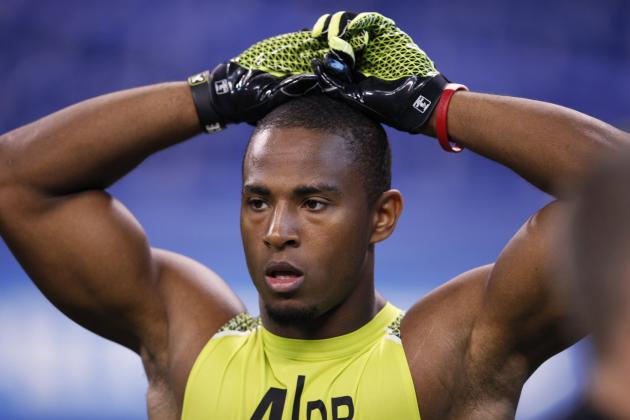 Joe Robbins/Getty Images
Justin Bethel has freakish athleticism.
All three of these rookies are good players. None will win a starting job, as the Cardinals have one of the league's best safety tandems in Adrian Wilson and Kerry Rhodes.
Bethel, a sixth-round draft pick from Presbyterian, may have the most athletic ability among the trio. His versatility and size (6'0", 200) may allow him to play cornerback as well. He might have the best shot of the three to make the team.
Gideon started 52 games at the University of Texas, the most ever for a defensive player. He finished his productive career with 276 tackles and 10 interceptions.
Elder has tried to mold himself after former Arizona State and Cardinals great Pat Tillman. Elder, also an ASU grad, has been given Tillman's old number, 42.
Although Tillman was an excellent and productive player before leaving the NFL for the Army, it will be tough for Elder to make the squad, especially as a 5'10", 185-pound safety.