5 Olympians Playing Overseas Who Are Better Than the Miami Heat's 12th Man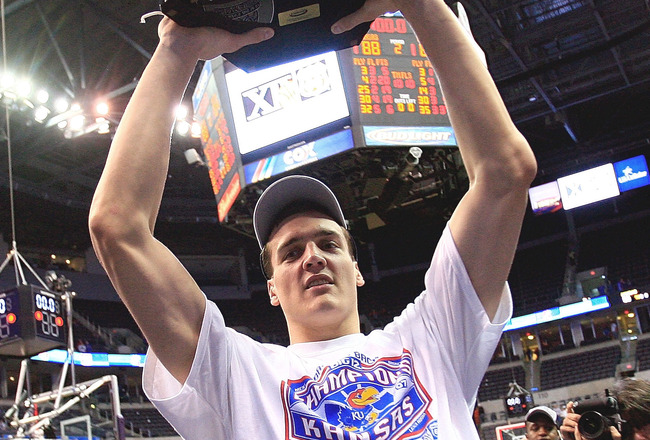 Sasha Kaun won an NCAA title at Kansas in 2008
Jamie Squire/Getty Images
I'm approaching this with a bit of a different spin. First off, there will likely be a general discord between my readers as to who is the actual 12th man of the Heat. Most will probably agree it is Dexter Pittman.
But how could I compare Pittman to a foreign guard? It's apples and oranges, essentially, so I've pulled the weakest Heat players at the position of the player I am making the comparison with. In other words, the Heat are essentially given four or five "12th men."
While ostensibly these are ranked 5 through 1, it is a bit difficult to say that it is a concrete order. These players fill different needs and roles on the Heat.
Try not to get too hung up on rankings, because these aren't truly ranked.
5) David Andersen (AUSTRALIA) : 6'11" Center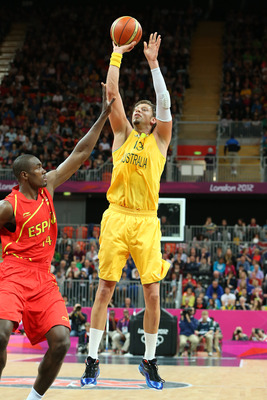 David Andersen's three point touch is typical of foreign bigs
Christian Petersen/Getty Images
Andersen got a late start in the NBA after spending 9 seasons in Euroleague as a member of Virtus Bolgna and CSKA Moscow.
He is not the greatest defender or rebounder, but would offer some offense that the likes of Juwan Howard did not last year. He also would be a change of pace off the bench, putting a shooting big on the floor who can space the lanes a little for James and Wade.
He didn't see a lot of time in his 103 career NBA games, but he did shoot 34 percent from three and averaged 14.3 points per-36 minutes.
He clearly has the potential to replace Pittman, Howard or Anthony.
4) Juan Carlos Navarro (SPAIN): 6'3" Point Guard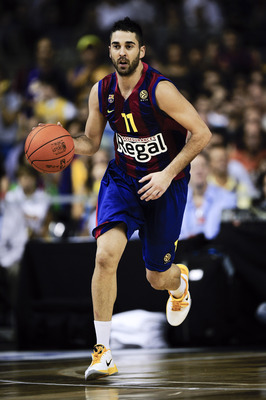 Navarro had a great rookie season as a member of the Grizzlies
David Ramos/Getty Images
Juan Carlos Navarro played one season at age 27 with the Memphis Grizzlies, and by all accounts, it was a very good one.
He scored 10.9 points per game in 25.8 minutes of play, while also shooting 36 percent from three and 85 percent from the line.
He's not quite a starter-caliber point guard, but he is also better than Norris Cole. Navarro would offer play making abilities comparable to Chalmers.
3) Viktor Khryapa (RUSSIA) : 6'9" Forward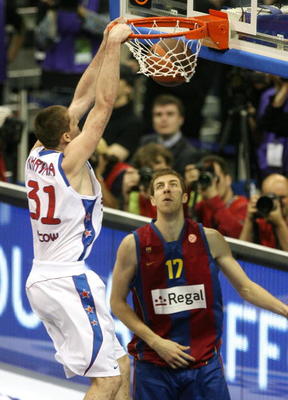 Khryapa is a good athlete and very good defender
Matthias Kern/Getty Images
Khryapa, like his countryman Andrei Kirilenko, is a player mainly employed as a defensive stopper.
Could the Heat use such a player?
You bet. While Shane Battier filled that role, Khryapa is younger at 29 years of age, and was a first round pick (22nd overall) in the 2004 NBA Draft.
In his sophomore campaign as a member of the Portland Trailblazers, Khryapa scored 5.8 points per game, 4.4 rebounds per game—hardly impressive—but he put the clamps on defenders and shot the three at a decent clip (33 percent).
He certainly didn't see 21.6 minutes per game because of his scoring, and Khryapa would be a great long term answer for Battier's role on the team.
2) Sarunas Jasikevicius (LITHUANIA): 6'4" G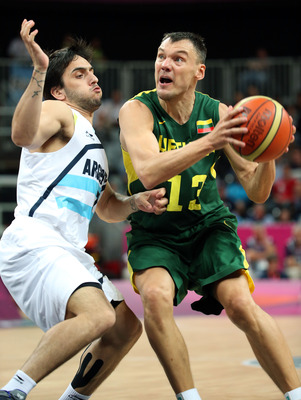 If Jasikevicius was quicker afoot, he would be a starter in the NBA
Christian Petersen/Getty Images
Jasikevicius has already played in the NBA with the Indiana Pacers. He has a few inefficiencies as a player but could still see time on the Heat, because he is a better shooter and floor spacer than Norris Cole (and arguably Mario Chalmers for that matter).
His ball handling is solid and he can run a team. It's just that it would be a lot like when Mike Bibby was with the Heat, LeBron James and Dwyane Wade would be forced to cover his blunders.
Jasikevicius played almost two full seasons with the Indiana Pacers and 26 games with the Golden State Warriors. His rookie season with the Pacers, he put up 7.3 points per game, 3.0 assists per game, while hitting 36.4 percent from three and 91 percent from the foul line. His per-36 numbers were even better (he only saw 20.8 minutes a game): 12.6 points per game, 5.2 assists, 3.5 rebounds, and 0.9 steals.
I realize Norris Cole had some heroics, but Jasikevicius scored in double figures in 23 games as a rookie, while Cole did such a feat only 21 times during the regular season.
Cole also posted 0.5 points less (6.8 ppg) and shot significantly worse from behind the arc (only 27.6 percent).
1) Alexander Kaun (RUSSIA): 6'11" Center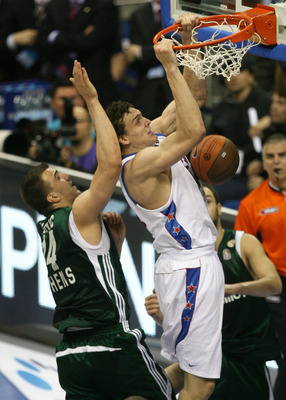 Kaun took his talents to Russia, instead of South Beach
Matthias Kern/Getty Images
Kaun could replace both Dexter Pittman and Joel Anthony. While he may not be quite what Anthony is defensively, he is close, and his offensive skill set is superior to both.
He played at Florida Air high school, which is near where I live in Central Florida, and he led Florida Air high school to a 23-0 record and a Florida State Championship. The hype surrounding Kaun prior to his signing with Kansas was immense.
He thrived at the NCAA level, as well, where he took Kansas to a 2006 Big 12 Conference title and then later in 2008, he won an NCAA title with Kansas.
Kaun was drafted with the 56th pick in the 2008 draft by the Seattle SuperSonics and was then traded to the Cavaliers, but he never played in the NBA. He signed a three year contract with Russian Superleague A and CSKA Moscow.
Now it's his time to shine in the Olympics and show how badly he outclasses the Heat's big men.
Conclusion & Honorable Mentions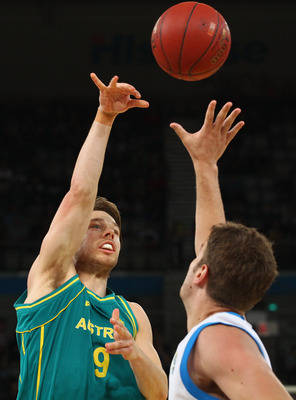 Dellavedova Could Make an Impact on Many NBA Squads
Robert Cianflone/Getty Images
It goes without saying there are a myriad of European players and players in other smaller leagues throughout the world that could compete with the world's best if given a chance.
The top five is hardly set in stone, so I offer the following honorable mentions, as many of these guys either have played in the NBA at one point and still could, or the others could if they desired to.
Honorable Mention: Sergio Rodriguez (SPA), Pops Mensah-Bonsu (GB), Mickael Gelabale (FRA), Ike Diogu (NIG), Matthew Dellavedova (AUS), Sergio Llull (SPA), Wang ZhiZhi (CHINA), Sun Yue (CHINA), Olumide Oyedeji (NIG), Marcelinho Huertas (BRA), Florent Pietrus (FRA)
Keep Reading