5 Reasons to Draft Andrew Luck in Your Fantasy Football League
Joe Robbins/Getty Images

When the Indianapolis Colts decided on one March morning to cut long-time starting quarterback Peyton Manning, the seal of approval was stamped for Andrew Luck to become the next face of the Colts franchise.
Now, just as Manning was tasked with back in 1998, Luck will be asked to turn around a Colts team that was woefully bad last season.
While Luck has everything you want at the quarterback position—the arm, size, brains—he's falling into a rebuilding situation in Indianapolis.
The question is, should you consider drafting him in your 2012 fantasy draft?
We say you should, under the right circumstances.
In the following five slides, we'll give you the reasons why.
Begin Slideshow

»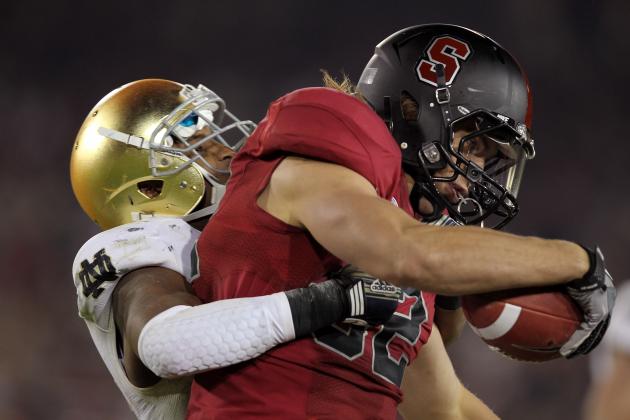 Ezra Shaw/Getty Images

After taking Luck with the first pick last April, the Colts selected a familiar face for the team's new starting quarterback in the second round in tight end Coby Fleener.
That is, Luck's battery mate at Stanford.
The move should benefit Luck two-fold.
Not only will he have the opportunity of playing with a guy he's so familiar with, but the Colts are also pushing their offense more towards the tight end position, which Luck utilized often at Stanford.
By also taking Dwayne Allen in the draft, Indianapolis should have two tight ends that are plenty capable of proving Luck with the security blankets every rookie quarterback needs.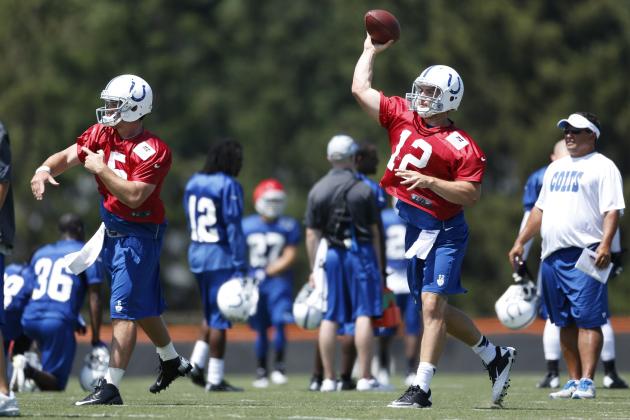 Joe Robbins/Getty Images

This piece isn't a pitch for taking Luck as your No. 1 fantasy quarterback. Overall, that's not a risk you want to take at such an important position.
However, as your No. 2 quarterback, Luck is a high-upside backup that makes a lot of sense.
Cam Newton was able to grasp the NFL game fairly quickly. He threw for over 400 yards in each of his first two starts, despite the lack of a real offseason. Therefore, there's no reason to think Luck can't eventually do the same in Indy.
Luck may even put it all together quickly and have as much early success as Newton did.
If that's the case, he's eventually going to be a candidate to be your No. 1 fantasy quarterback.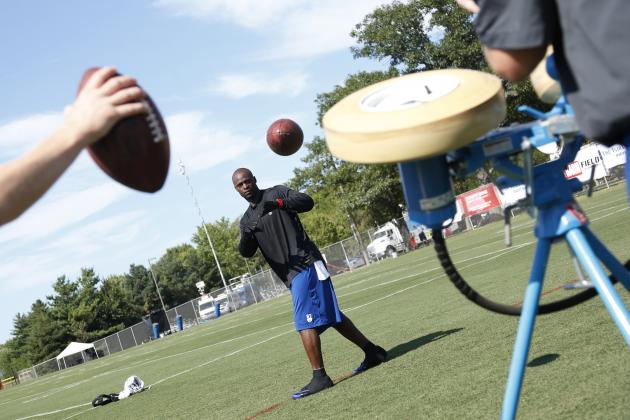 Joe Robbins/Getty Images

Most will say that Colts receiver Reggie Wayne is washed up, but I don't see it that way.
Wayne is still a guy who caught 75 passes for almost 1,000 yards last season, and that was with Kerry Collins and Curtis Painter throwing him the football.
He's also just two years removed from a 111-catch, 1,355-yard season in 2010. That was with Manning, of course, but there's still plenty left in Wayne's tank for Luck to maximize.
If—or maybe "when"—Luck and Wayne get on the same page, I expect numbers to follow. Wayne's still a pro's pro when it comes to receivers.
Joe Robbins/Getty Images

Say what you want about the Colts' rebuilding efforts thus far, few will argue that this team is not going to struggle in 2012.
The simple fact is, Luck's Colts are likely to be playing catchup in most games next season.
And what does catchup mode usually ensure?
Passing, and a lot of it.
It's certainly not a fool-proof fantasy plan—quite the contrary, actually—but Luck should have chances in the second half of games to put up numbers.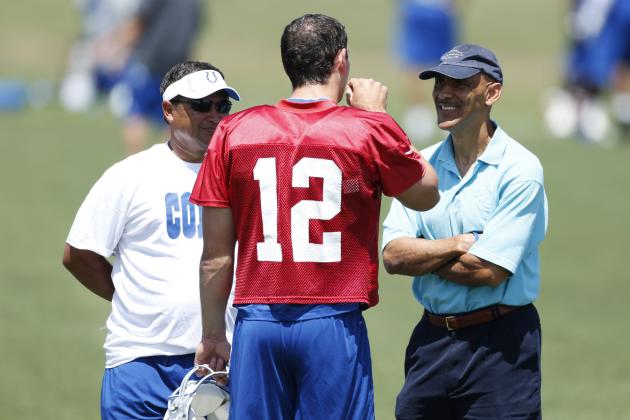 Joe Robbins/Getty Images

In fantasy football, drafting has a lot to do with risk assessment at each pick location.
When you look at Luck's average draft position (ADP) of 126.8, according to ESPN, you can understand how little risk there is in taking him near or below that spot.
Luck's ADP is comparable to guys like Sam Bradford and Carson Palmer, who I'm sure Luck can outperform even as a rookie.
When push comes to shove, there simply isn't enough risk in Luck's ADP to not consider drafting him. There's upside, but with little risk.