Where Yoenis Cespedes Ranks on List of A's All-Time Rookie Power Hitters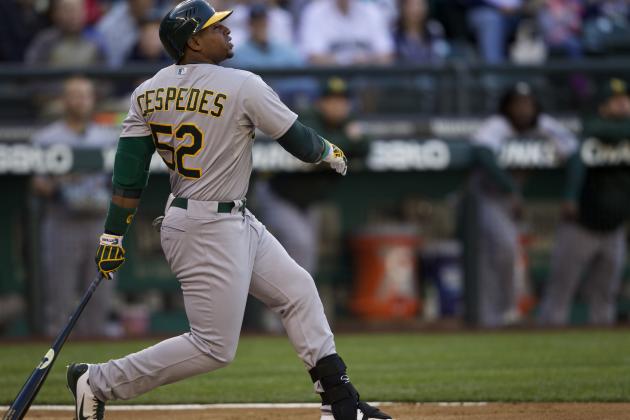 Stephen Brashear/Getty Images

The A's and the rest of the league are finally seeing why Yoenis Cespedes was such a hot commodity over the winter. Over his last 10 games, Cespedes has only gone hitless once, while hitting .439 with five home runs and 17 RBI since the All-Star Break.
Finally healthy and starting to pick things up offensively, Cespedes has been a major reason why the A's currently find themselves sitting atop of the wild-card standings. His presence in the middle of the lineup has been beneficial not only to himself, but others around him. Without him there manning the fourth spot, Josh Reddick may not be the breakout sensation that he is and Chris Carter may have never found his groove in the majors.
However, for all that he's accomplished thus far, he is still only a footnote when it comes to Oakland rookie power hitters. The franchise is known for introducing the masses to remarkable power hitters, even if they ultimately take their talents elsewhere. Cespedes may one day become one of the best power hitters the A's have ever had, but as of now he is still being overshadowed by those who have gone on to become legends.
Here is how Yoenis Cespedes stacks up in regards to the all-time great A's power hitters.
Begin Slideshow

»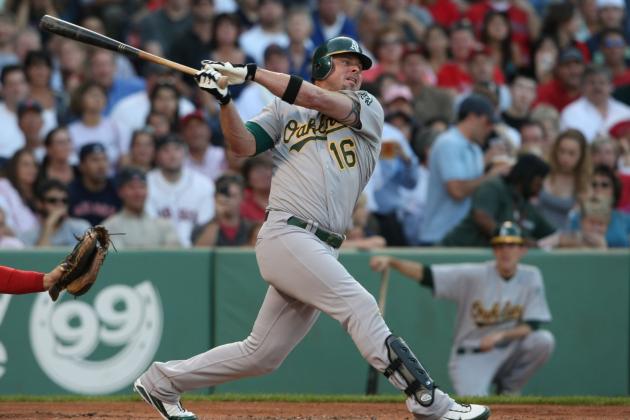 Elsa/Getty Images

Though Giambi's start in Oakland wasn't as sensational as other names on this list, his 1996 rookie campaign was still loud enough to get A's fans excited.
Hitting 20 home runs and driving in 79 his first year, Giambi would later go on to become one of the best power hitters in the game. Anchoring an A's team in the late '90s and early 2000s, Giambi and the likes of Eric Chavez and Miguel Tejada would form one of the league's scariest lineups.
Though his leave for the Yankees would dampen his image in Oakland, he did try to have a homecoming in 2009, though he wasn't nearly as successful as he was in the beginning of his career. Hitting only .193 that year, he was subsequently released midseason, but at least it made his leave a little less painful than his original one.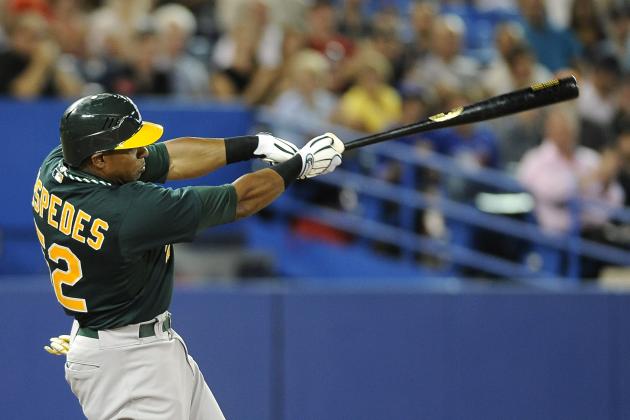 Brad White/Getty Images

Cespedes has had quite an impressive season, but unfortunately for him, injuries have robbed him of perhaps a sensational season. On pace for only 22 home runs, that number could've easily been much higher had he remained healthy for the entire year.
He could've also used that time to become more acclimated with the majors, instead of having to push back his progression a little bit. Though his power numbers aren't as high as one might hope right now, he has certainly shown at times that his power lived up to the hype coming out of Cuba, and his average suggests that making contact isn't a problem for him either.
If he goes on a real hot streak to close out the season, it's not unfathomable to see Cespedes flirt with 30 home runs when all is said and done.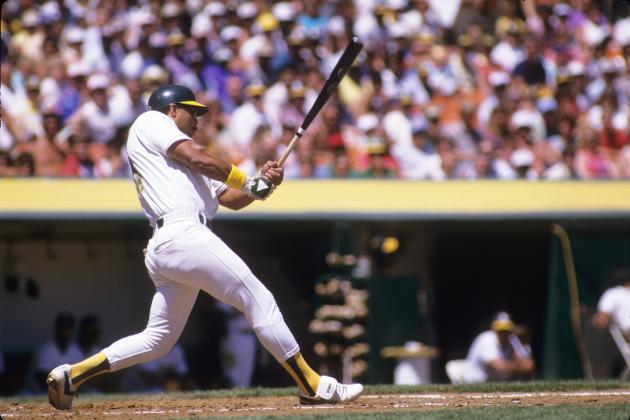 Otto Greule Jr/Getty Images

In what's going to be a recurring theme on this list, had Jackson's stay in Oakland not ended prematurely, his status as an Athletic may be much higher in terms of the all-time greats. Hitting an impressive 29 home runs in his rookie 1968 season, his overall time in Oakland would come to be overshadowed by his tumultuous time in New York.
Being the precursor to the now legendary mustache gang, Jackson's play was probably a bit flamboyant, but still incredibly exciting. Leading the A's to three consecutive AL pennants and two consecutive World Series championships, Jackson would have his number retired by the A's in 2004 despite his current ties and affiliation with the Yankees.
Otto Greule Jr/Getty Images

A name that is now famous for all the wrong reasons, Canseco was at one time a hell of a ballplayer, believe it or not. Establishing himself during the 1986 season, Canseco would go on to win AL Rookie of the Year after smashing 33 home runs and 117 RBI.
Now we all know to take Canseco's numbers with a grain of salt, but this list isn't about ethics or right and wrong, it's about performance, and while he was in Oakland he was great. He was a terrific all-around player who could hit and run, and quite frankly he was a very rare kind of player coming up. A former "Bash Brother," he would go on to form one of the most feared tandems in baseball, which brings us to...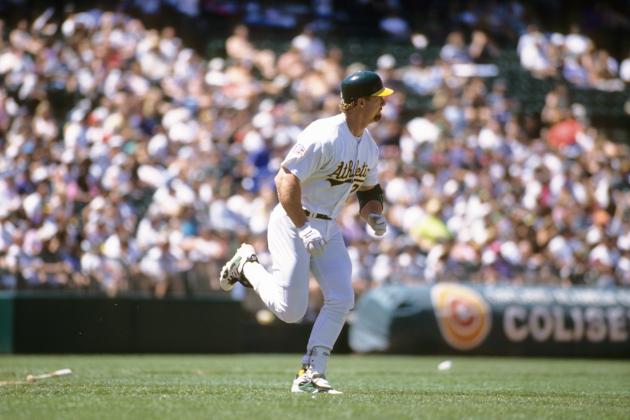 Otto Greule Jr/Getty Images

This one is a no-brainer. The ultimate what if scenario, had McGwire not been traded to St. Louis and stayed in Oakland long-term, he could've easily gone down as the best Athletic to ever wear the green and gold.
Dropping an incredible 49 bombs in his first major league season in 1987, McGwire quickly put his game on notice to the rest of the league. Destroying the previous record of 38 held by Frank Robinson and Wally Berger, McGwire would be a unanimous choice for AL Rookie of the Year, also putting up 118 RBI that season.
It's unfortunate that McGwire's career turned out the way it did, but his numbers during the 1987 season are still phenomenal nonetheless.