FC Barcelona: 5 Things That Could Bring Them Down This Season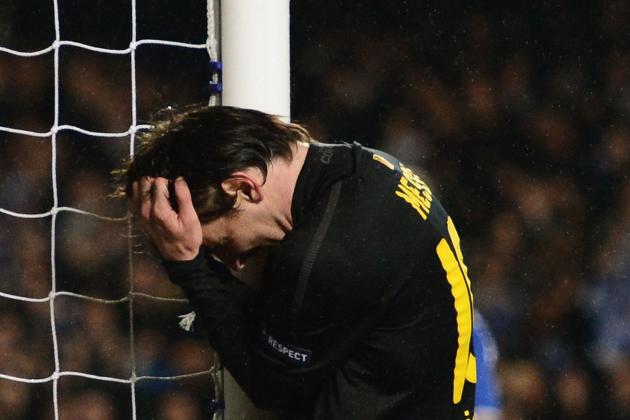 Jasper Juinen/Getty Images

FC Barcelona will look to regain the Liga title in 2012-13. Tito Vilanova will look to emulate the success of his predecessor, Pep Guardiola, and win the league title in his first season as manager.
While Barça fans are excited to see their team go for a 22nd league title in history, as we all saw last season, things go don't always go as we expect.
As much as I have confidence in Lionel Messi, Xavi and the rest of the team, I'm not going to be unrealistic and say that it's not possible that FC Barcelona can miss out on winning La Liga this season.
Anything can happen. That's football.
Let's be fair and look at some of the things that could slow or stop Barcelona from winning the Liga title this upcoming season.
There are always issues that come up in a league season with all football teams, and FC Barcelona is no different. Health, preparedness, strengthening your defense and your rival all play parts in what can bring a team down.
So what are the things that could bring El Blaugrana down in 2012-13?
Here are five things that could make FC Barcelona's pursuit of the title difficult.
Begin Slideshow

»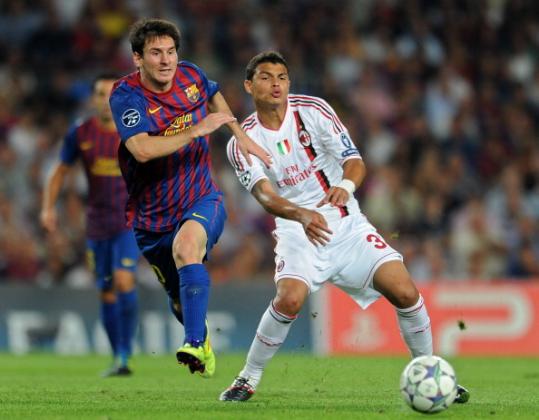 Jasper Juinen/Getty Images
Messi vs T. Silva
As I mentioned in my previous article, "Why (Tito) Vilanova Should've Pushed to Sign Mats Hummels This Summer," FC Barcelona spent too much time trying to court Thiago Silva from AC Milan. Barça officials also spent too much time trying to convince Milan officials to sell the 27-year-old Brazilian.
By doing so, they let the opportunity of trying to sign Mats Hummels, Vincent Kompany or any other top defender go by.
Barcelona is now looking to somehow bring Athletic Bilbao CB/CDM Javi Martinez to the Camp Nou. While I do believe Javi is an excellent player and is essentially what Barça needs—someone that can play both CB and CDM—Javi's cost is too high. Martinez has a buyout clause of €40 million, and Bilbao is not going to budge on that number nor will they accept players in return as they have a Basque-player only rule at Athletic Club.
Another name that has recently come up is Liverpool's Daniel Agger.
Now with Barça's young CB Marc Muniesa out for six months, according to ESPN.com, Vilanova will have to turn to Marc Bartra. As I mentioned in a previous article of mine, Bartra is seen by many Barcelona pundits as being more first team ready than any other young defenders that the squad has.
While I do believe Bartra will be OK, I'm not going to say he's going to be a star right off the bat. He's still young and needs more experience playing in Liga games.
Jordi Alba was Barcelona's No. 1 priority this summer. It was a great signing.
But the fact that Sandro Rosell and the rest of the club officials did not sign a top center-back this summer could cost El Blaugrana dearly this season.
Let's hope not.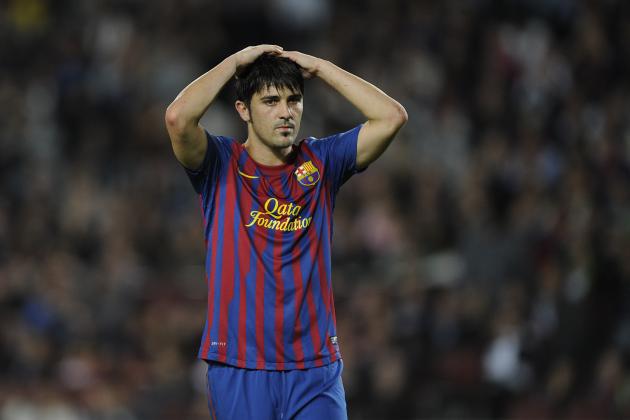 David Ramos/Getty Images
Villa
One of the biggest reasons FC Barcelona was not able to retain La Liga last season was the team's ability to score more goals.
Many times it felt it was Lionel Messi who was the only one that was scoring goals.
But now Messi will have help in the form of David Villa back.
El Guaje has been out since last December's FIFA Club World Cup. Villa has been rehabbing all summer long and is expected to be 100 percent ready to go for the 2012-13 Liga season.
David Villa's health may be 100 percent, but what if his game isn't?
It is very possible.
If David Villa is not back to the Villa of old, Barcelona may be in trouble as the left-wing position would be weakened. Messi and Alexis Sanchez would have to carry the goal-scoring duties for the team. It's not that Messi and Alexis couldn't handle it, but both of them need Villa to be solid in order for this team to win La Liga.
If Villa struggles, Tito Vilanova will certainly look to bring in Cristian Tello or Pedro into the lineup. Young striker Gerard Deulofeu may be called up to help with the goal scoring.
Villa doesn't have to score 20 goals, but his playmaking ability is needed. It'll probably take him a few games to get back to game speed. But if October rolls around and he's not back to his old ways, I wouldn't rule out Tito benching Villa and bringing him on as a substitute until he finally shows his old form.
If Barcelona get desperate, the name Neymar will certainly increase in chatter.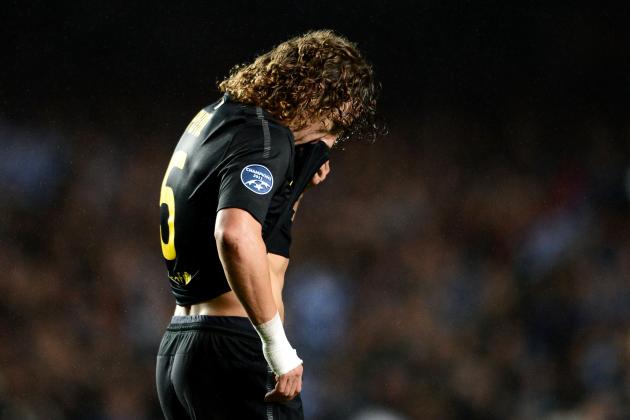 Jasper Juinen/Getty Images
Puyol
Easily one the things that could bring FC Barcelona down in 2012-13 is the heath of Carles Puyol.
Last season we saw "el capita" struggle with injuries all season long. Puyol underwent knee surgery in May.
Recently, Carles was given the medical green light to begin full training and play.
If Puyol does not return to good form, this defense will struggle and it will cost the team points in La Liga.
I'm not saying Puyol needs to be spectacular. Let's remember that we're talking about a 34-year-old defender who has plenty of miles on those legs of his.
Carles knows this issue himself.
He told Marca (Spain) via FoxSports.com, "I have the will and desire to continue playing if the club wants me. What I don't want though is for me to become a drag, I am very clear on this."
Let's not expect speed; but Puyol's strength and physical stamina is needed in the back line.
Will he be back to the Puyol we all love? I hope so. Because if he is not close to what he always brought to the defense, it will be a long season for Gerard Pique, Javier Mascherano, and the rest of the Barcelona back line.
It's best that Xavi takes over as captain of the squad, as Xavi is very reliable to stay healthy and the full-time leader he's always been. As far as Puyol, he's always been a leader, but his health has held him back in recent years. We'll just have to wait and see if Puyol's is able to stay healthy.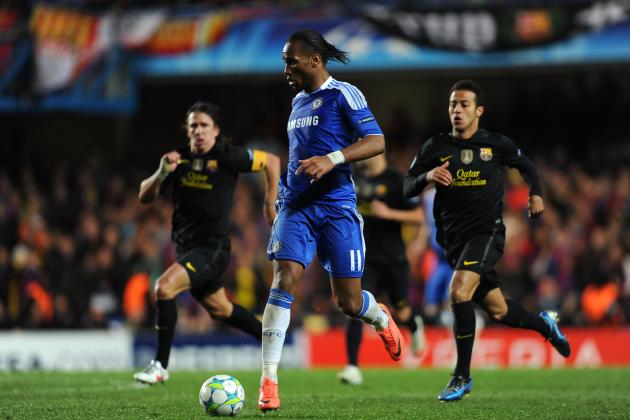 Michael Regan/Getty Images
Drogba on the counterattack.
Last season, FC Barcelona were defeated via the counterattack.
The counterattack cost Barcelona in La Liga and in the UEFA Champions League semifinal against Chelsea.
Can it happen again?
Um, yes.
Barcelona did improve the back line with the signing of Jordi Alba. But as we know, Alba loves to play offense and that could expose the back line on a counterattack—especially with Dani Alves on the other side who love to play offense himself.
Defensive midfielders Javier Mascherano and Sergio Busquets will have to help out Gerard Pique and Carles Puyol defending the counterattack. Mascherano will play center-back many times this season. Marc Bartra is looking like he will get a few starts as well.
The Barcelona defense will certainly be tested this upcoming season as opposing teams will look to the counterattack to defeat FC Barcelona.
The defense will certainly bend; it just doesn't have to break.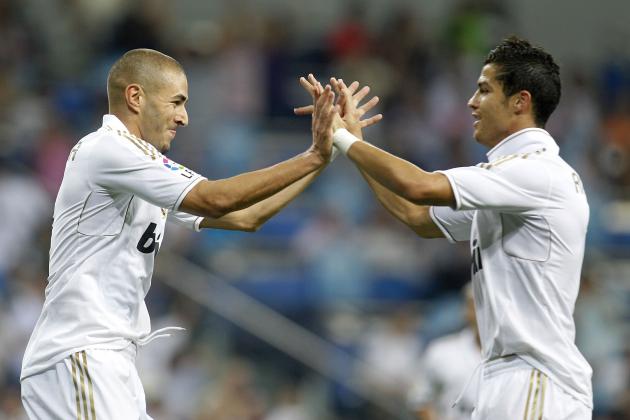 Angel Martinez/Getty Images
Benzema and Ronaldo
Who is able to break down FC Barcelona this season?
Of course, but let's be more specific.
It wouldn't be the Real defense.
It certainly wouldn't be the Real midfield.
It's the Real Madrid forwards.
We all know the greatness that is Cristiano Ronaldo and what he can do to any team let alone FC Barcelona. CR7 came up big and score the game-winning goal in the game against Barça at the Camp Nou last season. Ronaldo had a phenomenal 2011-12 as well as a solid Euro 2012. I don't expect him to stop causing problems for the Barça defense any time soon.
Perhaps the player that stepped up the most for Los Blancos last season was Karim Benzema. The Frenchman had 21 goals in La Liga and seven assists. Benzema scored the tying goal in the Copa Del Rey second leg quarterfinal against Barcelona last season.
Although Benzema had a terrible Euro 2012, don't expect him to play like that for too long. At 24, Benzema is entering the prime of his career and will continue to cause problems for Gerard Pique and Carles Puyol in the Barcelona back line.
Let's also not forget about Gonzalo Higuain who had 22 goals and seven assists himself. Angel Di Maria will be back to 100 percent health.
Although he's not a forward, Mesut Ozil plays essentially like a FW and he's only getting better.
With a questionable Carles Puyol coming back and struggling to defend the counterattack, Real Madrid will look to continue to press hard and attack in Clásicos.
Real Madrid's forwards—in particular Ronaldo and Benzema—could single-handedly bring down Barcelona's chances of a title.
Time to step up and regain the crown, Blaugrana.
I have faith in my team.
Let's just hope all right things fall into place for Futbol Club Barcelona in 2012-13.
Visca el Barça!
Xoel, The Voice of FC Barcelona on Bleacher Report.
Don't forget to check out my other columns: