Michigan State Football: 10 Burning Questions Heading into the Spartans Season
Kim Klement-US PRESSWIRE

Well what do you know Spartan fans, its almost time to dust off the grill, pack the car and head to East Lansing to tailgate for the first game of the season. Did this offseason go faster than Zeke the Wonderdog or what?
Now that we are almost back in the swing of the season there is just one big batch of somethings floating around the air that we need to take care of: preseason questions. That's right, we are here to dissect and answer some of the biggest questions heading into the Spartans football season.
As we all know, Sparty will be seeing changes on the field, but just exactly how big are these changes and how will they impact the season? Can the Spartans fight for the roses again, or will they be written off before you even know it? All these are huge questions that will decide the season, and that is why we are here to answer them.
So go on, click through, find the answers, and then we will see you in the friendly confines of Spartan Stadium this fall.
Begin Slideshow

»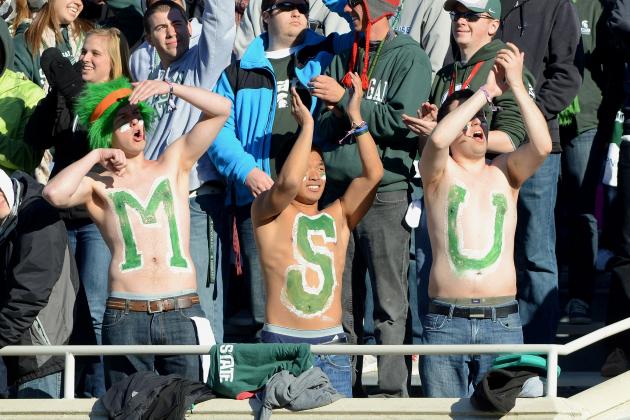 Mark A. Cunningham/Getty Images

Fun fact: In the last two years Spartan Stadium has seen more U2 concerts than Michigan State losses.
That's right, thanks to "Little Giants," a Hail Mary and a dominating win over Michigan last season, the Spartans have strung together a 14 home-game winning streak over the past two seasons. It took some help from the 75,000 Spartan family members that pack the stadium every Saturday and even more help from the team, but all in all they have the Big Ten's second-longest home streak behind Wisconsin.
Just like last season, the Spartans will look to thrive off of the home crowd to take home some big time wins. This season, the big foes walking into East Lansing will be Boise State, Notre Dame, Ohio State and Nebraska—four opponents that the Spartans will be glad to see on their home turf.
If the Spartans can blow through the teams that step on their home field, they will put themselves in a prime position to win the Legends Division for the second straight year.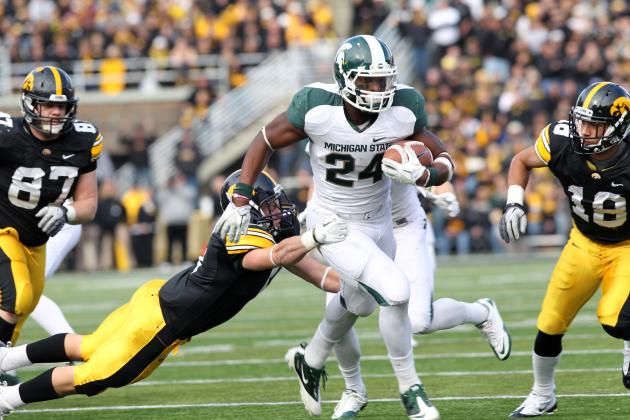 Reese Strickland/Getty Images

In 2011, Michigan State tried their best to give fans a heart attack when they played Minnesota, as they came within a touchdown of being upset at home. Luckily, the Green and White slid away with a 31-24 victory, but a loss would have changed their season for the worst.
But hey, that's college football. Some teams are going to trip you up, and others will come out of nowhere and annihilate your entire season. It can be hard sometimes to stay focused on a weak opponent, but it's quite easy to come out flat against them if the team gets too cocky (i.e. first half of the Youngstown State game last season).
The Spartans have the ability to rock the world of every team on their schedule, but the team that might trip them up this year is Iowa. Now Iowa is no slouch, but on paper it will still be an underdog when the Hawkeyes come to East Lansing, making them the team that will put Michigan State on upset alert.
The Hawkeyes return 12 starters total, and even though they will miss stud running back Marcus Coker, they still have quarterback James Vandenberg and go-to receiver Keenan Davis. The skill players on Iowa will have much experience behind them, something that Michigan State lacks in certain positions.
When you look at the schedule, don't run over Iowa because it will give the Spartans a run for their money on October 13.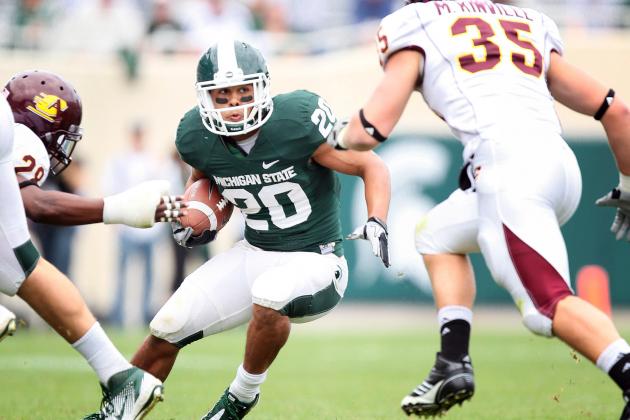 Mike Carter-US PRESSWIRE

Walking into last season, the depth chart at running back was plain and simple:
1. Edwin Baker, the junior running back who would start every game and become the workhorse for the offense.
2. Le'Veon Bell, the sophomore who would come in and help Baker with the dirty work.
3. Nick Hill, Larry Caper and anyone else who was a decent third down running back would come in once every blue moon and carry the ball.
Well things certainly changed throughout the year as Baker's numbers went downhill, and Bell established himself as the best running back in town. In fact, Bell did so good that he practically forced Baker into the NFL draft to avoid further damage to his draft stock.
This season, Bell will be the top dog for the Spartans, and some even have him as a Heisman dark horse. The only problem is that he needs a sidekick that can take over when he is catching his breath on the sidelines. Look no further for an answer, because Nick Hill will be poised to give Michigan State another weapon in the offensive artillery.
The combo will be brilliant for the offense, a nightmare for the defense and incredibly reminiscent to the Javon Ringer and Jehuu Caulcrick days. Bell will be the power back that can plow through a forest and use his buttery-smooth spin moves, and Nick Hill will be the guy ten yards down the field before you can even see him.
Larry Caper will come in and put in some solid work, but Hill will be the perfect compliment to Bell's game this fall.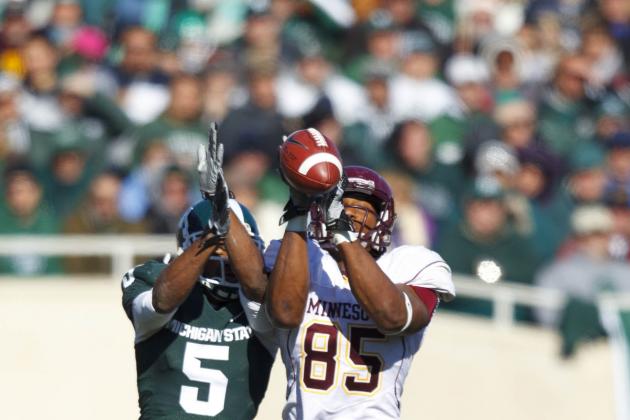 Rick Osentoski-US PRESSWIRE

Every team needs a pack of leaders, and typically the guys with seniority get looked at to be the rocks of the team. This season, the Spartans will start no more than five seniors, a low number compared to other Big Ten teams.
Even though the number is low, there is no question that the seniors who do start will have an impact, and nobody's impact will be bigger than cornerback Johnny Adams'.
The best way to describe Adams' game is by calling it "wet shirt defense," meaning that he sticks on his man like a sopping wet t-shirt. Not only does he give the receivers no room to work with, but he can climb the ladder and snag a jump ball as well as any 6'3" receiver can. The impressive thing is that he is only 5'10".
Without a doubt, you can bet your cold, hard cash that the Spartans will have a top 10 defense in the nation, and Adams will be there to anchor the secondary. The talent of juniors Isaiah Lewis and Darqueze Dennard combined with the skill and leadership of Adams will be enough to have quarterbacks balding by the end of every game against Michigan State.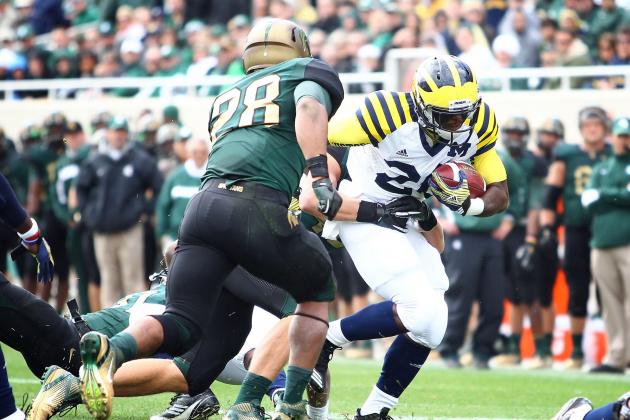 Mike Carter-US PRESSWIRE

This question is like looking at a junkyard and being asked, "so which car is in the worst shape?" When you look at it, you look at things you don't want to see, but you have to choose something out of the lot to answer the question.
With this year's schedule, you can look at it and say, "these will be fun games to watch," or you can look at it and say, "this is going to be a tough season."
In case you haven't memorized the schedule, this is what the Spartans are looking at this year:
Boise State at home, and even though Kellen Moore is gone, Chris Peterson will have his Broncos ready to go.
Notre Dame at home, and this game will be just as close as the last 3,000 games against the Irish.
Ohio State at home, and just like Urban Meyer's health status, you never know what you are going to get.
The trifecta of Michigan and Wisconsin in back-to-back games, both away, and then home to Nebraska the following week. The Spartans can take all three, but it won't be a walk in Disneyland.
So what game is the biggest one? I would have to say the Michigan game, per usual. While the Boise State and Notre Dame games will decide the tempo of the season, they are not as important as the Big Ten games. Claiming a fifth straight victory and hopping in the drivers seat of the Legends Division will be the storyline for the game, thus making it the most important game on the Spartans schedule.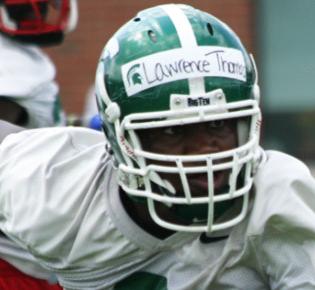 When the next big recruit in the program steps on campus, people are ready to see him in action as soon as possible. Unfortunately that big recruit, Lawrence Thomas, was hampered with a shoulder injury and was forced to redshirt his first year on campus.
The new season is making its arrival in under a month, and so will Thomas, but not in the same position he was expected to be. Thomas came out as a 5-star linebacker from Detroit Renaissance, and it was just released this week that he will get reps at defensive end this season.
Seeing a highly touted player make the switch from linebacker to defensive end isn't something as foreign to Spartan Nation, as William Gholston went through the same transition as a Spartan. If Thomas is close to what Gholston is, its safe to say he will have a great career.
But the main question is, how he will help this season. Even though it is his first season on the field, Thomas has been around the system for a full season. Thomas will have to swap time with William Gholston and Marcus Rush, and together they will be the scariest trio of defensive ends north of the Mason Dixon Line.
It will be a notable change, but his speed, grit and natural football IQ will probably enable him to not miss a single beat in his transition this upcoming fall. The only other thing to say is: get ready for some incredible play from the front four this year.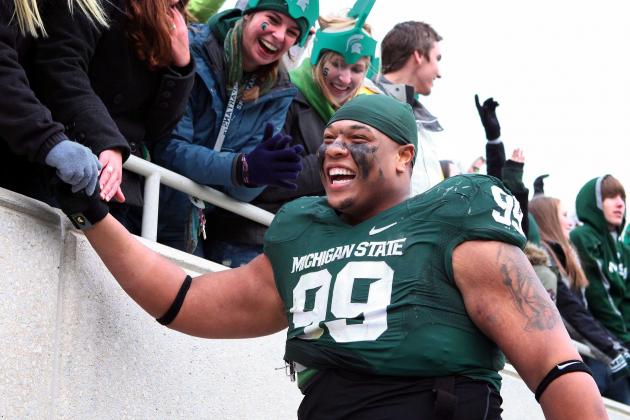 Mike Carter-US PRESSWIRE

As we all know, star defensive tackle Jerel Worthy decided to forgo his senior season and head to the NFL draft. What we don't know is how much the Spartans will miss him this year.
Without a doubt, Worthy was one of the main reasons that the Spartans had a top-five defense in the nation. What some people don't know, however, is that losing Worthy will not break this tough defense.
The front four returns three starters, defensive ends Marcus Rush and William Gholston and tackle Anthony Rashad White. Gholston and Rush both combined for 128 tackles last season, and both will look to carry the load again in 2012.
Not to take anything away from White, but missing Worthy's talent will hurt the production of the front four but not to the point where they will be trying to drag him back out of Green Bay. In a nutshell, the front four and the rest of the defense won't suffer a devastating blow, despite the great talent that Worthy was at Michigan State.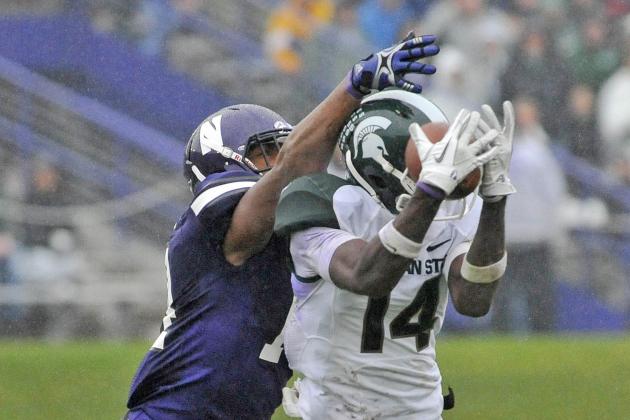 Mike DiNovo-US PRESSWIRE

Speaking of missing great players, let's shift the attention over to the wide receivers.
Last year the Spartans used Keshawn Martin and B.J. Cunningham as their go-to guys for quarterback Kirk Cousins. Now that both are gone, along with Keith Nichol, the receiving core practically has to start from square one.
This, however, isn't necessarily bad news for anyone in Spartan Nation as they are bringing in a mob of talent to the position. Next year we will see junior Bennie Fowler and sophomores Tony Lippett, Keith Mumphery and DeAnthony Arnett getting most of the action from Andrew Maxwell's passes, but that's not all.
The Spartans also have incoming freshmen Aaron Burbridge, Monty Madaris, and Macgarret Kings Jr. looking to get some playing time, but odds are at least one of them will be redshirted. Even though it is early to tell, it looks like Madaris and Burbridge can become the next Cunningham and Martin in the next few years.
It will be hard to replace Martin and Cunningham, but it looks like Dantonio has enough talented receivers to test out before the season gets rolling.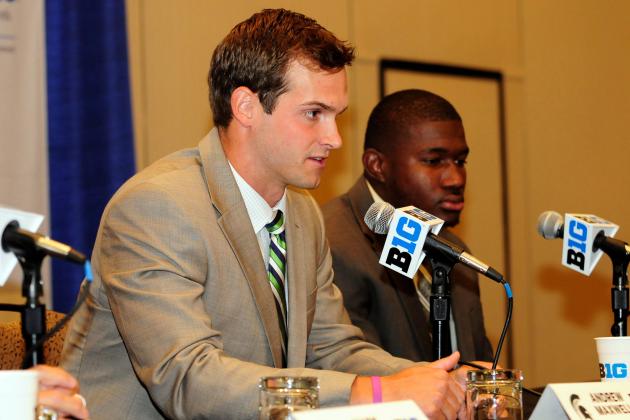 Reid Compton-US PRESSWIRE

Let's get this out of the way quickly: The answer is yes, redshirt junior quarterback Andrew Maxwell can certainly pick up where former quarterback Kirk Cousins left off.
Cousins left Michigan State with a few of their football records, including touchdown throws (66), passing yards (9,131) and 200-yard passing games (26). Since Maxwell will only have two years of starting compared to Cousin's three, he probably won't break any records, but he can deliver double-digit win seasons like Cousins did.
His playing time in the past two seasons has been limited to half of the Alabama beatdown of 2011 and clean-up work against weaker teams like Florida Atlantic, so it is hard for anyone to get a true read on him. All that we know is that he is a 6'3" pocket passer who came out of high school as a 4-star recruit, so that alone shows some light for the Green and White.
Another possible bright spot is the crew of receivers that he will be working with. Last year Maxwell got a few reps in with Lippett, Mumphery and Fowler, so they have at least one year of timing and chemistry behind them.
So will Michigan State miss Kirk Cousins? Of course, who couldn't miss that guy, but will Michigan State be okay with Maxwell at quarterback? I say more than okay. I think the Spartans will be running for the roses come November.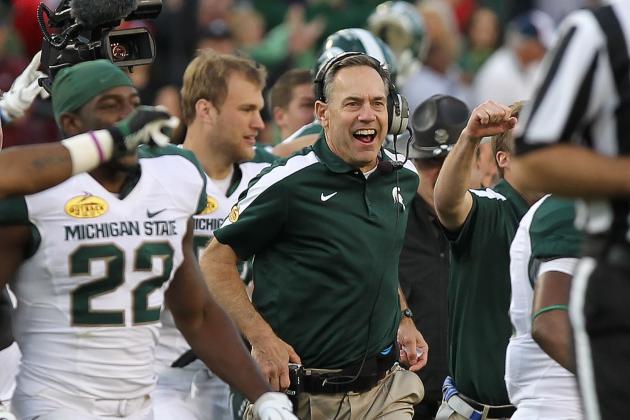 Kim Klement-US PRESSWIRE

Ah yes, the most important part of the preseason, the expectations. For Michigan State, it is hard to know what to expect since they lost key players from last season, but that's why we are here to help.
If you are asking me or any player on Michigan State, they would tell you that the BCS National Championship is the expectation. Of course that is my totally biased opinion, but the players have been reported to throw that word around like, well, a football during spring practice.
But let's be more reasonable here with a non-biased opinion. The Spartans schedule is tougher than Gruff Sparty's facial hair, but don't forget that Michigan State is one tough team.
Just like last season, I think that the Spartans will battle their way through Big Ten play and land themselves in the Big Ten Championship game for their second straight season. The only loss in the Big Ten that I see from the Spartans is against Wisconsin, but they are in the Leaders Division, so that will help in case Michigan or Nebraska shares the same record as them.
So what about you? What do you think the Spartans will do this season? Do you have another big question that needs to be answered before the season kicks off under the lights on August 31?
Feel free to leave your thoughts and questions below, and enjoy watching the Michigan State Spartans this fall.