What Jeff Green Must Do to Earn His Contract with the Boston Celtics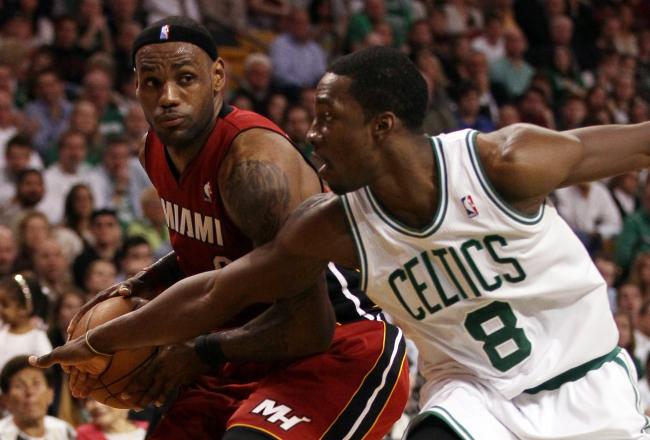 Jeff Green is not as far off from LeBron James' level as many might think.
Elsa/Getty Images
Quick quiz: How many around 6'9" small forwards are there in the NBA that can run like a guard, finish like a big man, score in the post, hit threes and drive the lane? Answer: three—LeBron James, Kevin Durant and Jeff Green.
Next question: How many small forwards perennially compete for MVP? Answer: two—LeBron James and Kevin Durant. So, that begs the question, why is Jeff Green on the first list and not the second? If he has all the traits of Durant and LeBron, why isn't he close to being in their class?
There are several reasons for this, but one stands above the rest—Green, unlike Durant and LeBron, doesn't have great discretion or decisiveness. At this point in his basketball career, he still hasn't even decided if he's a 3 or a 4 (he's a 3).
This translates into his game. He doesn't know when he should try to score and when he shouldn't. And once he does figure out that it's his time to score, he has a hard time figuring out the best way to do it.
He can do mostly everything on the court, which in a way is not only a blessing but also a curse for Green as a lot of the time, he has a hard time choosing exactly what to do. Whereas, if he could only score in one or two ways, he wouldn't have such a hard choice.
Two seasons ago, these deficiencies were on full display when he didn't even really have a role on the Celtics. At times, he thought he was a three-point specialist, camping out there waiting for a pass.This led to him becoming uninvolved in the Celtics offense as he stood out there with his talents wasted.
Other times, he tried to be the main post presence. While this did sometimes open up his offense, it also sometimes hurt the Celtics team offense as he would eat up the shot clock for a sub-par shot.
Jeff Green will be a(n).....?
And at other points still, he would turn into a slasher. Relinquishing his shooting and post skills, he would simply cut to the hoop and hope that Rondo found him or get the ball from mid-range, face up and drive to the hoop. This role perhaps brought him the most success, but also turned out to be a waste of some of his finer talents.
Thus, the Celtics ended up with three versions of Jeff Green: three-point specialist Green, post-up Green and slasher Green. What they really need, though, is a fusion of all three versions.
They need Jeff Green to be able to do all of these things at the right times. With some Celtics experience under his belt, Green will certainly be better-equipped to find a role on this Celtics team.
He should be the go-to guy of the Celtics bench. Jason Terry and Courtney Lee are often better at feeding off of someone else and Jeff Green could be that guy. The more touches he gets, the more comfortable he will be.
By next season, hopefully he will know when to spot-up, when to post-up, when to drive, when to camp out, when to pass and when to crash the boards. If he can figure all of this out, then he could be an All-Star in the coming years and earn every penny of his $9 million contract.
Remember, physically, he is in a class shared only with the two best players in the league: Kevin Durant and LeBron James. If he can get there mentally, then the rest of the NBA better watch out.
This article is
What is the duplicate article?
Why is this article offensive?
Where is this article plagiarized from?
Why is this article poorly edited?

Boston Celtics: Like this team?