NBA Rumors: Magic General Manager in over His Head in Dwight Howard Trade Talks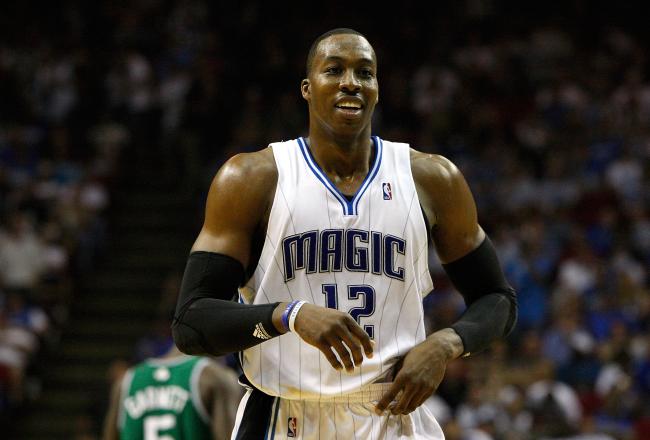 Doug Benc/Getty Images
In a little over a month since taking the reins as Orlando Magic general manager, 30-year-old Rob Hennigan has done nothing but prove that he wasn't fit for the team's tenuous situation.
Before Hennigan took the job, most assumed that a Dwight Howard trade was in the immediate future. When asked about Howard at his introductory press conference, Hennigan said that he would need to meet with the disgruntled to decide on a course of action.
Via ESPN:
Personally I look forward to sitting down with Dwight and sharing with him the vision and the direction we're going to go. And I look forward to listening to what his thought process is and where his head's at. At the end of the day, we'll take it from there.
And meet they did. On multiple occasions. They met when the Nets still had cap space (via ESPN). They met after the Nets spent their cap space on on Joe Johnson and Brook Lopez (via ESPN). And they met last week because...Rob Hennigan loves meetings, I guess (via Real GM).
Out of every morning came the same story: Dwight Howard wants out of Orlando via a trade this offseason or he will leave in free agency after next season.
No longer is Howard the unsure star whose waffling led to an indiscriminate amount of "Indecision" jokes. He's beyond comfortable in his request and will allow the situation to play itself out.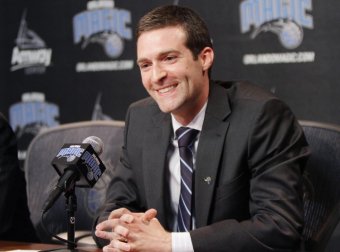 Photo Credit: Orlando Sentinel
But where Howard was once the unsure party in the relationship comes Hennigan's never-ending pendulum of flip-flopping and incompetence.
The latest report of the Howard saga comes from Fox Sports' Sam Amico, who says that Hennigan is once again ramping up his effort to trade the disenchanted center.
With Dwight Howard reiterating his wish to be traded, multiple league sources predict the Orlando Magic will again step up efforts to find their All-Star center a new team.

Several of those sources told FOX Sports Ohio on Saturday they believe Howard could be traded by the end of next week.
That report came just days after Hennigan's latest meeting with Howard, and less than a week after sources told ESPN's Chris Broussard that the team was willing to hold onto their All-Star center into the season.
So let's recap: Hennigan isn't going to trade Howard. Hennigan meets with Howard, who reiterates his trade demand for the four billionth time (conservatively). And now the Magic have done a sudden 180-degree turn and want to trade D12?
Of course not. Hennigan has been trying to trade Howard this entire time.
Amico's report simply revealed the latest misstep by the young general manager: a terribly ill-fated bluff attempt.
How would you grade Rob Hennigan so far as a general manager?
I'm speculating here, but it seems obvious that Hennigan thought opening up the possibility of Howard starting the season in Orlando would make the center expand his list of teams and give Orlando some leverage in trade talks.
If that was the case, it didn't work. In fact, Howard made the whole situation even more difficult by threatening to bolt for Dallas in free agency if Orlando doesn't trade him to Brooklyn or Los Angeles (via Yahoo! Sports' Adrian Wojnarowski).
Once again, Hennigan thought he built a modicum of leverage, only for Howard and agent Dan Fegan to be steps ahead.
That's been the story of this whole saga. It's a story of a player under contract having control of his destination. Of a broken franchise too afraid to start picking up the pieces. And, most importantly, a story of the wide-eyed executive getting taken to the woodshed by the veteran agent and a player hellbent on leaving his franchise.
This article is
What is the duplicate article?
Why is this article offensive?
Where is this article plagiarized from?
Why is this article poorly edited?

Orlando Magic: Like this team?