Debunking the Biggest Myths About the Baltimore Ravens in 2012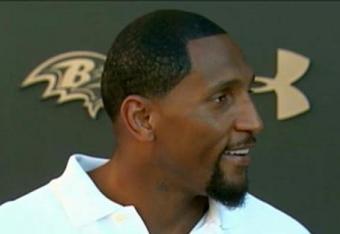 courtesy: csnwashington.com

How good are the Baltimore Ravens? Seriously, how good are they?
It seems to me like people hold onto qualities of past Ravens teams for years, not realizing this version of the Ravens is different even from a year ago.
Whether it's age, Joe Flacco's completion percentage or Baltimore's ability to beat the tough teams, it's as if many fans and media members have revisionist history.
Here's what you should know about the 2012 Ravens.
Are the Baltimore Ravens too old?
The biggest misconception about the Ravens is that they are old. By usual NFL standards, when a player is 30 or younger, they are in their prime. If they are 31 or older, they are headed toward retirement.
Obviously that doesn't apply to every player. You can't just look at a players' age and say they won't produce or they're not worth keeping.
When Ed Reed was 32, he only played in 10 games but still led the league in interceptions (8). Since Ray Lewis turned 31, he's recorded over 100 tackles each season except last season (95 tackles in 12 games).
If Lewis is so old and over the hill, why did the Ravens finish second in rush defense (92.6 ypg), fourth in pass defense (196.2 ypg) and third in overall defense (288.9 ypg) in 2011 (when he was 35 years old)?
Especially considering Lewis reported to training camp at the lightest weight he's played at since his rookie year, you've got to admit he's not your average 37-year-old football player. He's still elite.
How many years will Lewis continue to play at a high level?
Of the 24 starters currently on the Ravens' roster (including their kicker and punter), 17 of them are 30 or younger.
Furthermore, the 10 best players on the roster (Flacco, Ngata, Rice, Reed, Suggs, Lewis, Webb, Yanda, Boldin and Koch) have an average age of 29.2 years.
Sure, Lewis and Reed are old in an NFL sense. But even if they didn't perform at a high level, which they're still doing, the Ravens as a whole are still a young team.
Is Joe Flacco's completion percentage too low?
The all-time record for career completion percentage is held by Chad Pennington (66.0 percent). Other legendary quarterbacks (Steve Young, 64.3; Joe Montana, 63.2; Troy Aikman, 61.5; Jim Kelly, 60.1) have career completion percentages between 60 and 65 percent.
Dan Marino (59.4) and John Elway (56.9) have a career career completion percentage under 60 percent.
These quarterbacks (except for Pennington) have all won a Super Bowl or have been elected to the Pro Football Hall of Fame.
What does this all mean? It means that many great quarterbacks (whether a pocket passer or a scrambling quarterback) have had a career completion percentage around 60 percent.
On a scale of 1 to 5, how important is Joe Flacco's completion percentage to the success of the Ravens?
Where does Joe Flacco fit into this equation?
Many have criticized Flacco for his low completion percentage last year (57.6). That also takes into account when Flacco has to spike the ball to stop the clock, throw the ball out of bounds because of poor pass protection, and receivers dropping a well-thrown pass.
On Saturday, Ravens Offensive Coordinator Cam Cameron addressed this issue:
"I think completion percentage is an offensive stat. Obviously, the quarterback is saddled with it, and there are some areas that we need to improve on as an offense and every man executing his job, protection getting better, receivers getting better, Joe getting better, everybody getting better. His accuracy throughout the course of the year was really outstanding. We didn't, as a unit, execute the way we needed to, and we have addressed that this whole offseason, and I think our guys are committed to making sure our offensive completion percentage is where we want it to be."
For his career, Flacco has completed an average of 60.8 percent of his passes. He wins big games more often than not (5-4 career playoff record) and is gaining more experience and offensive weapons each year.
If the winning games argument doesn't suit you, keep in mind that Tim Tebow's career completion percentage is 47.3.
Are the Ravens good enough to beat the best teams they face?
Of course the Ravens will play a tough schedule this season in the toughest division in the NFL. But recently, how have they fared against their upcoming opponents?
Of the 13 different teams the Ravens will face this season, they are 10-3 in the last game they played against each of those teams. Two of the three teams the Ravens have lost to the last time they played (New England, New York Giants) have to come to Baltimore this year (the other loss being at San Diego last year).
The Ravens have won eight of their last 10 divisional games and are undefeated in their last 14 home games (playoffs included), dating back to 2010.
Baltimore started from scratch four years ago with a brand new head coach and quarterback, and are now firmly established among the NFL's elite.
This article is
What is the duplicate article?
Why is this article offensive?
Where is this article plagiarized from?
Why is this article poorly edited?

Baltimore Ravens: Like this team?