July Grades for All 25 Philadelphia Phillies' Players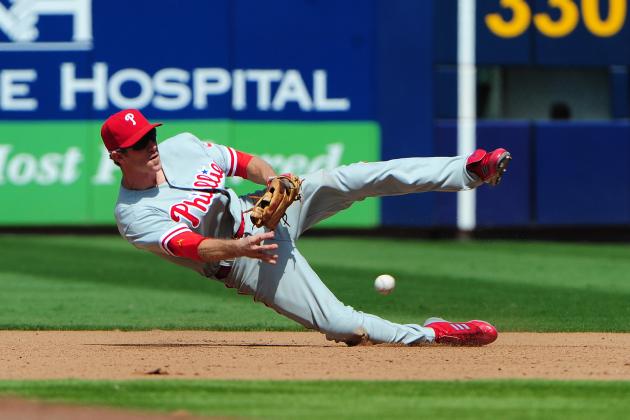 Scott Cunningham/Getty Images

Any month that ends in a wholesale free-for-all for a team that had World Series aspirations before the season started probably wasn't a good one. It definitely wasn't a good month for the Philadelphia Phillies.
It has been a long time since the Phillies were out of the postseason race this early in the season. Sure, they had their reasons: Chase Utley, Ryan Howard and Roy Halladay missed a good portion of the first half of the season.
You try and win a division as tough as the National League East without the middle of your order and one of the best pitchers in baseball. That's not a simple task.
But the Phillies aren't the type of club to make excuses. Instead, they'll have to stand before the executioner (I think he goes by Ruben Amaro Jr. nowadays) and take their lumps. Necks are on the chopping block, and it is no one's fault but their own.
For Phillies fans, this could be a depressing month. This is the end of the road. The team that won the World Series in 2008 is going to be effectively eulogized through a mass sell-off.
Here's where each player went wrong (and the very few who went right.)
*All statistics are through Monday, July 30.
Begin Slideshow

»
Drew Hallowell/Getty Images

Grade: F
Antonio Bastardo has been bad in the month of July. Very bad.
In fact, the 2012 season as a whole has been a struggle for Bastardo, who showed up to spring training with a lack of velocity behind his fastball and a general lack of edge.
The lefty has surrendered three home runs in July and nine earned runs. He's struck out 11 and walked five.
Bastardo's inconsistency has to have left the Phillies' re-evaluating their set-up options for 2013.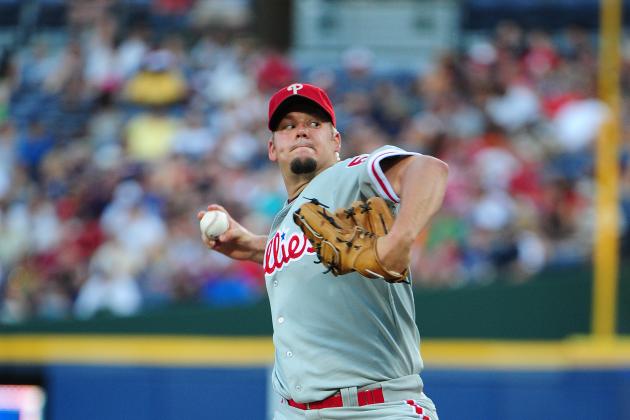 Scott Cunningham/Getty Images

Grade: B
Almost seems kind of silly to say when you look at some of the names on this roster, but Joe Blanton has been one of the club's best starting pitchers through the month of July.
Blanton has helped the opposition to an OPS below .700, and the 1-3 record he has this month certainly doesn't reflect the way he has pitched.
Blanton posted an ERA of 3.82 while striking out 33 batters and walking just five. It shouldn't come as much of a surprise that contending teams truly believe he can help them out down the stretch.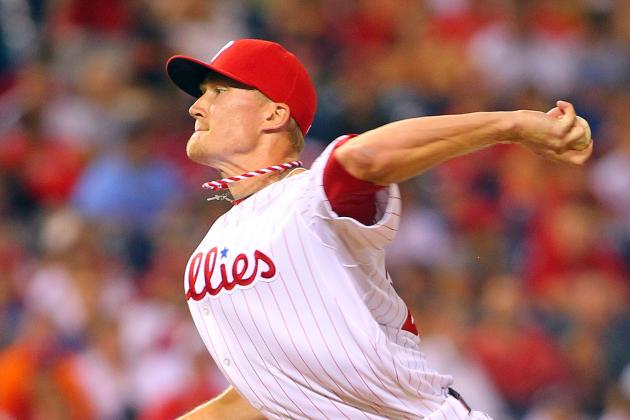 Rich Schultz/Getty Images

Grade: F
The Phillies are really hoping that Jake Diekman can develop into their next left-handed setup man given the uncertainty surrounding Antonio Bastardo right now, but he hasn't shown that he'll be able to do that in the month of July.
Diekman struggled with his control big time this month. He walked five batters while striking out just six. He also allowed nine runs to cross the plate, though only five were earned.
The Phillies need him to be better than that. It really looks like the lefty could use some more time in Triple-A. Granted, the Phillies won't be playing for anything in the second half, so there is that.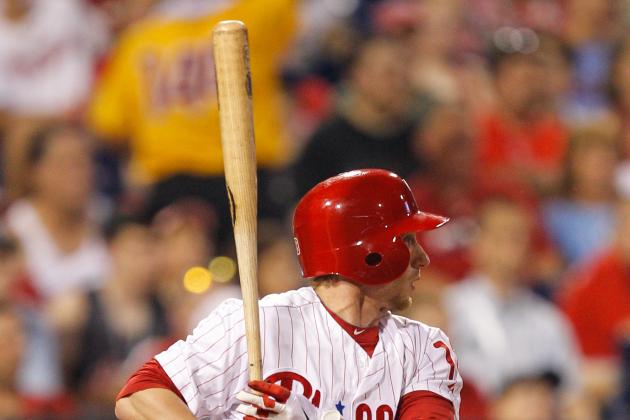 Brian Garfinkel/Getty Images

Grade: F
After joining the club during the month of May, Mike Fontenot turned out to be a pretty solid bench player for the Phillies, especially after the likely season-ending injury to Freddy Galvis. Fontenot was providing solid at-bats against right-handed pitching and a spot start or two to give Chase Utley a breather.
Then the month of July happened.
Whatever the reason may be, Fontenot has been putrid this month, posting an OPS of just .540. Do you think the Phillies envisioned themselves in this scenario when they sent Wilson Valdez to the Cincinnati Reds over the offseason?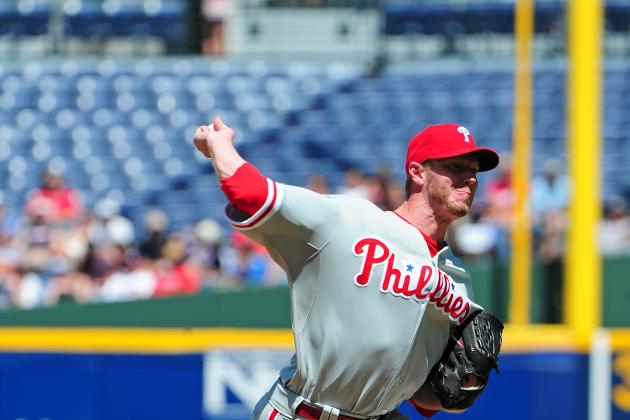 Scott Cunningham/Getty Images

Grade: D
The 2012 season has been one that Roy Halladay would like to forget.
After coming out of spring training looking mortal for the first time during his Phillies tenure, Halladay eventually hit the disabled list with a bad strain of his right latissimus dorsi. He returned in July, and the results haven't been great.
Halladay has made three starts this month totaling 17 innings. He's allowed 19 hits and 11 earned runs. In usual fashion, his walks (just two) are blown away by his strikeouts (16).
Things have been looking up for Halladay, who seemingly turned a corner in his last start against the Atlanta Braves, but it's too late for him to save the season now.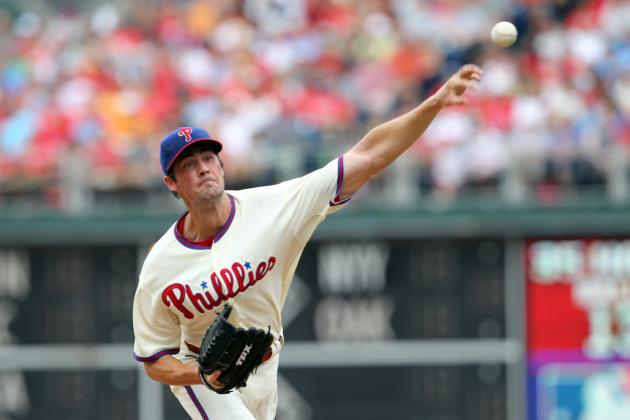 Hunter Martin/Getty Images

Grade: D
Cole Hamels just signed the most lucrative contract in the history of the Phillies franchise, but he hasn't pitched like he deserves that money in the month of July.
After signing a new six-year deal to remain with the Phillies, Hamels is in a position to put his worst month of the season behind him.
The lefty is 1-1 with a 4.23 ERA in the month of July. Hamels has also walked 11 and struck out 27, allowing 13 earned runs and six home runs.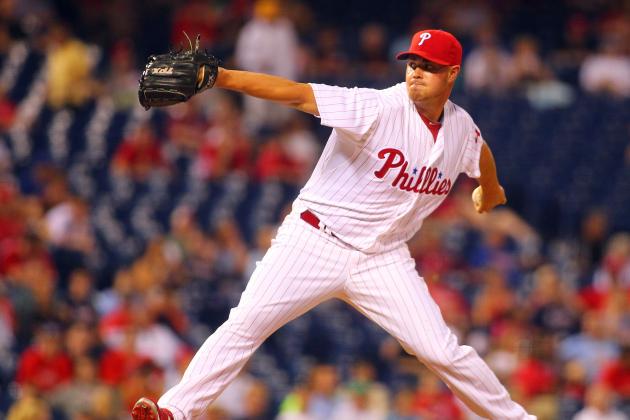 Rich Schultz/Getty Images

Grade: A
Jeremy Horst has been a pleasant surprise for the Phillies.
Acquired from the Cincinnati Reds over the offseason in exchange for utility man Wilson Valdez, the Phillies called Horst to the MLB hoping to find a diamond in the rough, and they may have done just that.
Horst has thrown 8.1 innings this month, allowing just one earned run and one walk while punching out nine batters. He hasn't allowed a home run on the season, and the opposition is batting just .226 against him this month.
While Given Antonio Bastardo's struggles, Horst has been the Phillies' best left-handed reliever.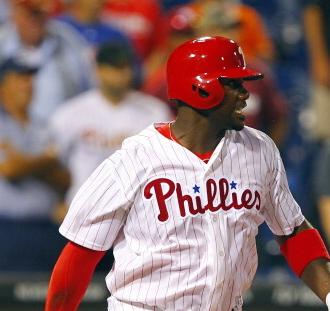 Rich Schultz/Getty Images

Grade: C+
Ryan Howard's July numbers aren't necessarily what you'd expect from a player of his caliber (and contract), but no one knew just what Howard would be capable of in his return from a partially torn Achilles tendon.
The Phillies hoped that he would return in enough time to surge some power back into their lineup, and while four home runs does not seem like many, one could argue that it would be unfair to expect any more out of the first baseman given the circumstances.
I'm willing to give Howard the benefit of the doubt. Now he can shake off the rust in the second half without the pressure of having to fight and claw back into a postseason race.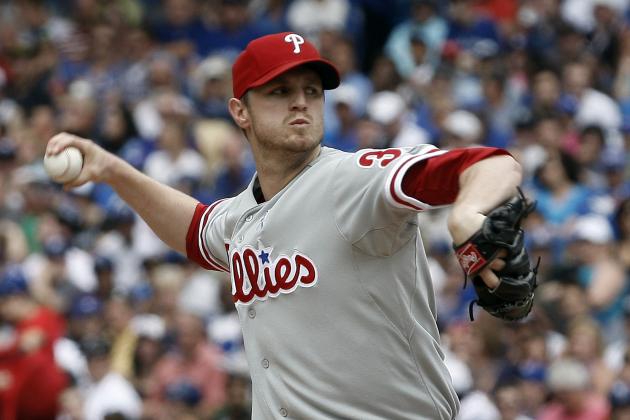 Abelimages/Getty Images

Grade: A
No, I am not sleepwalking. I am entirely awake writing this slide, and that may be a surprise. This could very well be the first time I've ever given Kyle Kendrick an "A" for, well, anything.
But he's deserves it.
At a glance, you would assume that Kendrick's demotion to the bullpen upon Roy Halladay's return to the starting rotation was just that—a demotion. But the move has seemed to breathe new life into Kendrick, who is having one of, if not the best month of his MLB career.
Kendrick has logged 14.2 innings this month and has been nearly bullet-proof. The opposition is hitting .157 against him, and he's struck out 12 while walking six, allowing zero earned runs.
This may be jumping the gun a bit, but at least for the remainder of the season, could the Phillies have found their right-handed setup man?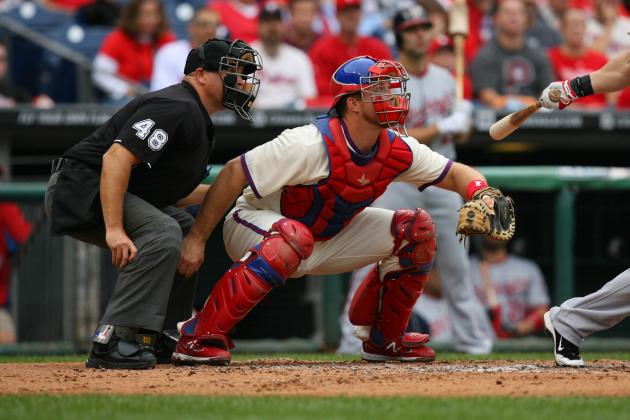 Hunter Martin/Getty Images

Grade: A
Erik Kratz hasn't gotten an abundance of playing time in the MLB this season, but he seems to make the most of his opportunities whenever he gets them.
The right-handed, back-up catcher was promoted to the MLB when Brian Schneider went down with an ankle injury.
He's gotten 12 at-bats this month and has collected five hits and struck out just twice. He hit a home run and has also driven in three runs.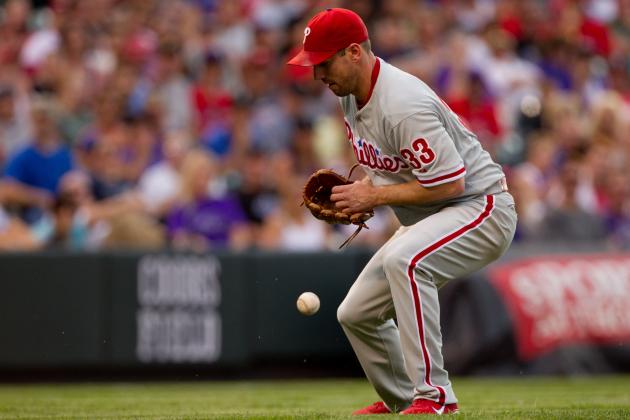 Justin Edmonds/Getty Images

Grade: C
It's been a struggle for Cliff Lee this season, but there's hope on the horizon insofar as that the month of July is the left-handed starter's best since April.
Lee made four starts this month totaling 29 innings pitched. He allowed 11 earned runs in those innings, striking out 23 and walking just four. One of his biggest downfalls, however, continues to be the home run. Lee allowed six more of them this month.
One thing he'll need to improve upon is working outside of the strike zone. The opposition hit .268 against him in July.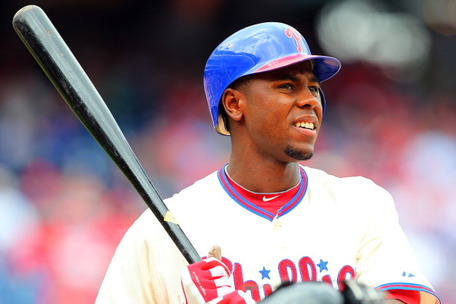 Rich Schultz/Getty Images

Grade: D
John Mayberry Jr. has had worse months, that's for sure.
The return of Ryan Howard and the continued above-average play of Juan Pierre has forced Mayberry into much more of a limited role this month.
The outfielder and first baseman saw 47 plate appearances, posting a line of .250 / .298 / .409, with two home runs. He also struck out 11 times.
I think it is safe to surmise that the Phillies are nearing the end of their rope with Mayberry.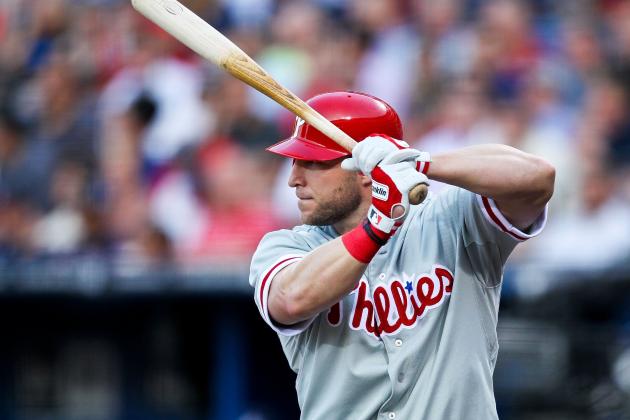 Daniel Shirey/Getty Images

Grade: N/A
Laynce Nix was one of the hottest hitters in the Phillies' lineup during the month of May before he suffered a serious calf strain that led him to miss more than 50 games.
Nix returned from that injury only recently and has only accrued seven plate appearances, not quite enough for me to give him a grade.
Over the second half, however, Nix should see an abundance of playing time, both in left field and at first base.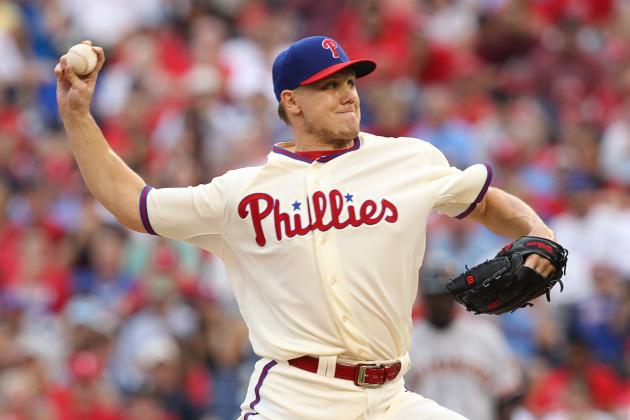 Hunter Martin/Getty Images

Grade: B-
For most of the season, Jonathan Papelbon has been the only reliever the Phillies could count on, which led to manager Charlie Manuel and pitching coach Rich Dubee using him in increasingly awkward situations.
Papelbon finally caved this month. He pitched 12.1 innings, allowing five earned runs. He struck out 16 and walked three, and the opposition hit .265 against him.
Those aren't terrible numbers by any means, but not what the Phillies are paying him to do.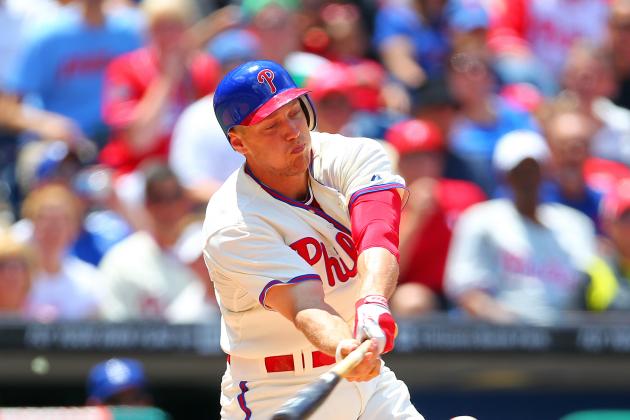 Rich Schultz/Getty Images

Grade: F
Hunter Pence has been bad this month.
July has a tendency to be rough on players who could find themselves on the chopping block later in the month, but if that was the case for Pence, he was taking the rumors way too hard.
Pence hit .217 / .278 / .253 for the month, resulting in an OPS of just .531. He hit just one home run and struck out 23 times.
It's no wonder the Phillies are having a tough time dealing him at the deadline.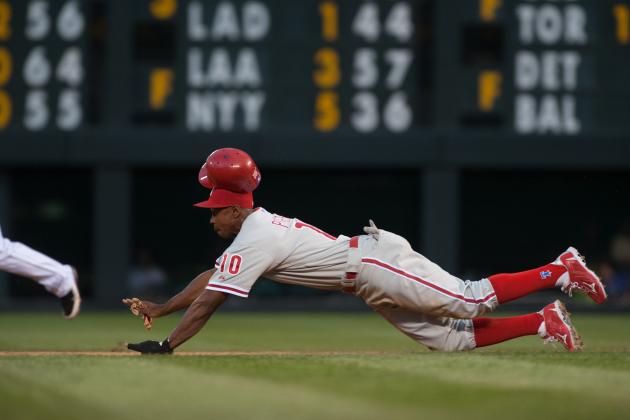 Dustin Bradford/Getty Images

Grade: B-
At what point do we consider that maybe Juan Pierre isn't just playing above his head right now and may have figured something out to lengthen his career? We've seen guys do that before, right?
Well, July is a good start.
This month has been Pierre's worst as a Phillie, as his batting average has dropped to .275 on the month and his OPS has dropped below the .700 threshold.
Pierre has swiped four bases and walked as many times as he has struck out (three), so there is still value there for any team looking to bolster their bench / top of the order.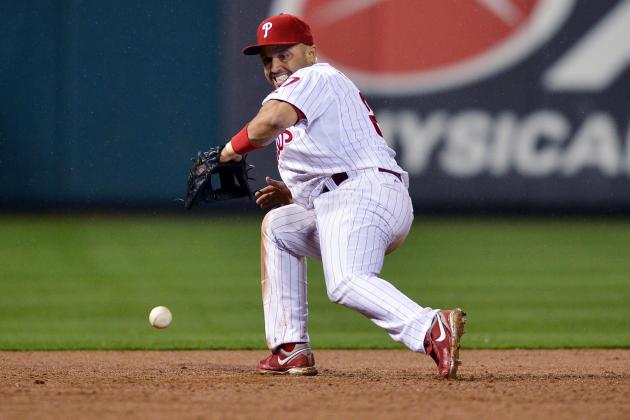 Drew Hallowell/Getty Images

Grade: F
A trip to the disabled list last week was the end to an absolutely abysmal month for Phillies third baseman Placido Polanco.
The Phillies have always said that they were happy with Polanco so long as he was playing elite defense, but they never expected that he could be this bad offensively.
In 45 July at-bats, Polanco posted a slash line of .133 / .184 / .156. That's an OPS of .339.
The Phillies just can't live with that kind of production out of their "everyday" third baseman any longer.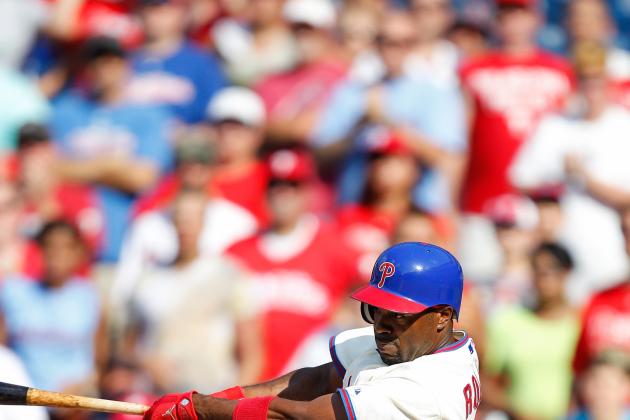 Brian Garfinkel/Getty Images

Grade: F
After convincing some people that he had turned a corner in June, the month of July has been miserable for the Phillies' longtime lead-off man. They need him to get on base and create runs, but Rollins hasn't been able to do either.
Instead, he really struggled in 100 July plate appearances. Rollins posted a slash line of .209 / .280 / .352 with one home run and just three stolen bases.
The Phillies now find themselves in desperate need of a lead-off man for the future. Rollins just isn't going to cut it.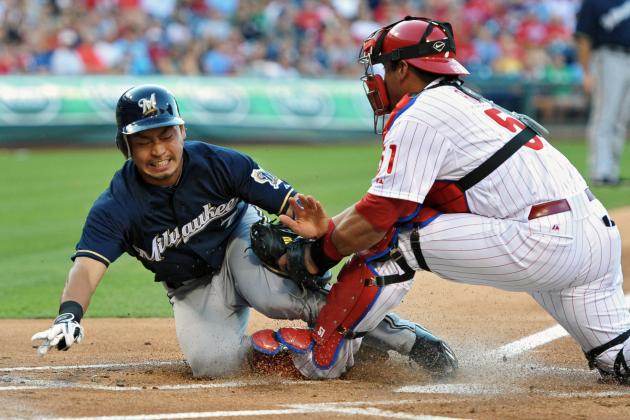 Drew Hallowell/Getty Images

Grade: A
Even the mighty "Chooch" has proven mortal this month, but he still gets an "A."
And that's been the story of Carlos Ruiz's 2012 season in just a sentence. Even when he's bad this year, he's good.
Ruiz didn't mash the cover off of the baseball in July like he had been doing for most of the season, but he still posted a great slash line of .293 / .357 / .520 with three home runs in 84 plate appearances. I think the Phillies will take an .877 OPS out of their catcher any day of the week.
But now that the Phillies are out of the race, the question becomes this: Can he sustain this offensive aptitude moving forward?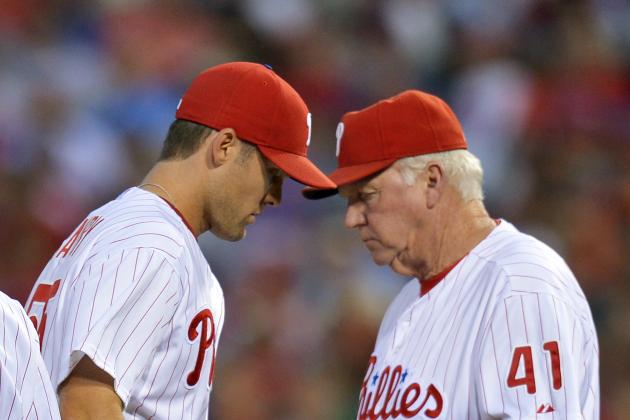 Drew Hallowell/Getty Images

Grade: N/A
Joe Savery hasn't done much pitching for the Phillies this month.
If you're into small sample sizes, Savery has faced seven batters this month and hasn't allowed a hit, walking and striking out one.
I guess you can give him an "A for effort," but he's only thrown two innings.
Brian Garfinkel/Getty Images

Grade: B
Mike Schwimer has made real progress for the Phillies since his nail-biting performances early in the season.
One of the biggest concerns has easily been the lack of control, but there's no denying that Schwimer is improving. One of the few right-handed relievers that has been able to retire batters for the Phillies this season, Schwimer tossed 7.1 more innings in July.
He allowed three earned runs, walking five while striking out eight.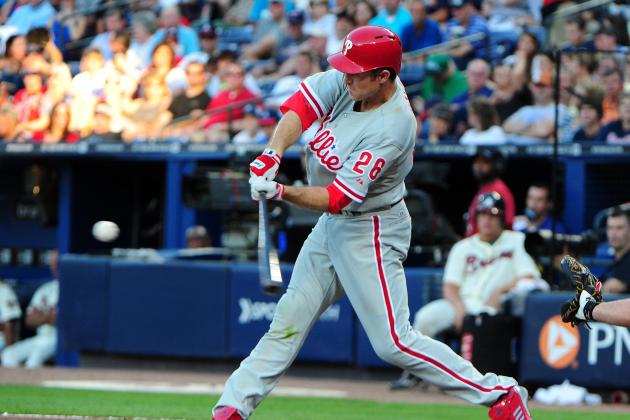 Scott Cunningham/Getty Images

Grade: B
I don't think anyone really expected Chase Utley to come off of the disabled list and light the world on fire, but he's been one of the better hitters in the Phillies' lineup this month, and that's a little disturbing when you get a look at his slash line.
Utley has made 84 plate appearances this month, posting a line of .208 / .310 / .431 with four home runs and just 12 strikeouts compared to nine walks. The batting average and on-base percentage aren't pretty, but I'm willing to give him the benefit of the doubt. Why?
The power is there.
One of the missing links of Utley's 2011 game—the power—is coming back. Let's not forget, Utley didn't have a spring training. He pretty much jumped right into the fire against MLB pitching, outside of about two weeks of minor league at-bats.
I'm willing to take a gamble on the batting average and on-base percentage improving. The power is a great sign.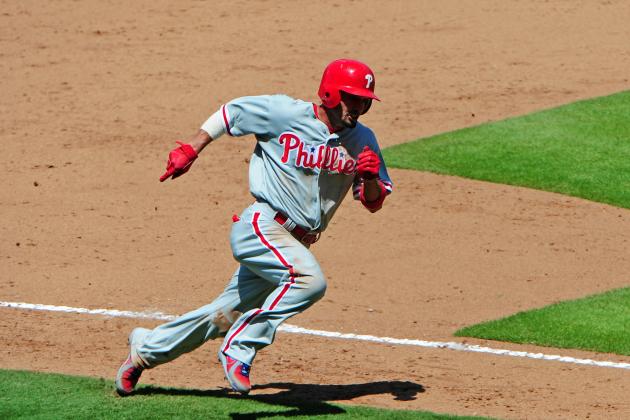 Scott Cunningham/Getty Images

Grade: B
Shane Victorino started the month of July as a member of the Phillies, but he finished it as a member of the Los Angeles Dodgers.
Prior to the trade, however, Victorino really picked up his offense for the Phillies. He posted a slash line of .288 / .329 / .450 with a home run in 87 plate appearances.
His Phillies' career didn't necessarily end with a bang, but Victorino is the type of player that can really help out a contending team, and it will be interesting to see what he can do for the Dodgers, who also added Hanley Ramirez to play with Matt Kemp and Andre Eithier, down the stretch.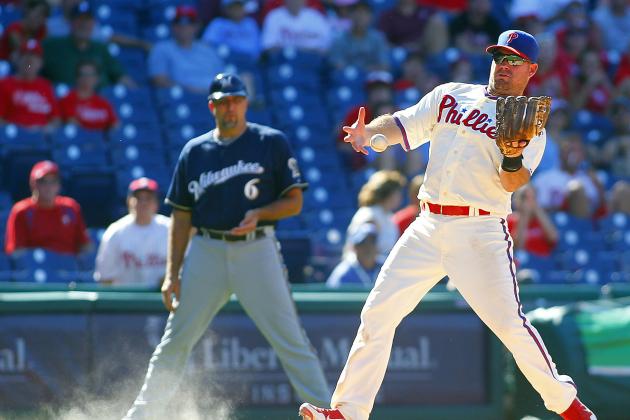 Rich Schultz/Getty Images

Grade: F
Ty Wigginton has been bad in all areas of the game this month.
When the Phillies picked him up from the Colorado Rockies last winter, they didn't care much about defense. They took the outfield out of the equation, eventually eliminated second base and asked him to play only the corner infield spots. He hasn't even been able to do that with any kind of consistency.
But they would be happy with that as long as he was providing quality at-bats off of the bench against left-handed pitching, something else he has been unable to do.
In 44 July plate appearances, Wigginton has posted a slash line of .128 / .205 / .205. An OPS just north of .400 just isn't going to cut it.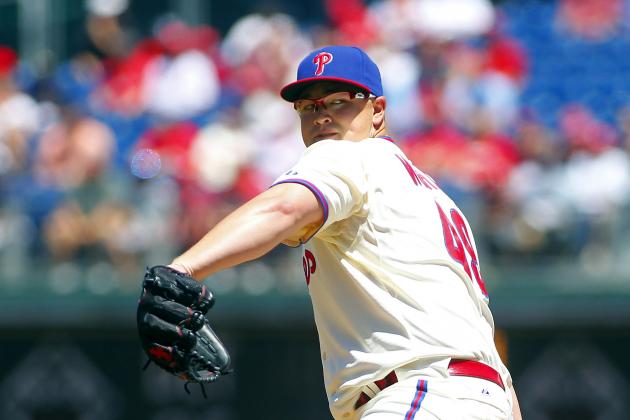 Rich Schultz/Getty Images

Grade: F
For whatever the reason may be, the Phillies' starting rotation has not had much success this month, culminating in its youngest member, Vance Worley, who is getting absolutely torched in July.
Worley has made five starts this month and collected just one win. He posted an ERA of 6.43 and the oppositions is hitting .353 against him.
This has to be a major concern for the Phillies, who spent most of their time leading up to the trade deadline throwing a ton of eggs into Cole Hamels' basket and trying to unload Cliff Lee.
They need Worley to be better than this, even with bone chips in his right elbow.