London 2012: 8 World Records Most Likely to Fall at the 2012 Olympics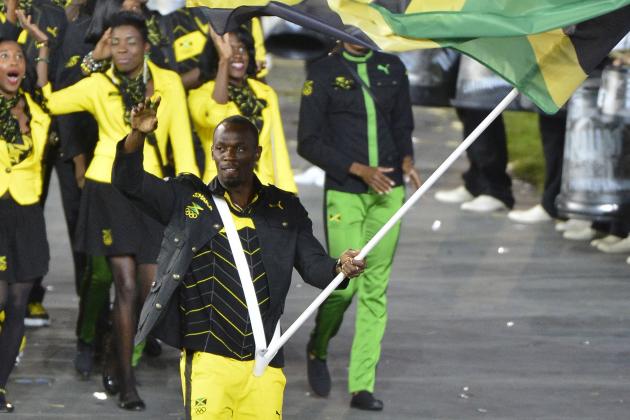 Pool/Getty Images

They say that records are made to be broken, and the 2012 London Summer Olympics provides the grandest stage of all for record-breaking performances to occur.
The 2012 London Games will provide the latest opportunity for the world's greatest athletes to deliver results unlike any we've ever seen. When world records fall—as a few already have on just the first day of events—it will be in front of the largest audiences that most of these athletes have ever seen.
With a handful of events already in the books, here are eight other world records that are likely to fall during the 2012 London Olympics.
Begin Slideshow

»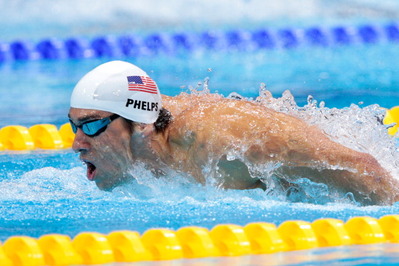 Adam Pretty/Getty Images

Michael Phelps is all but certain to retire from competitive swimming following the 2012 London Olympics as the most accomplished Olympian ever. With 16 total medals to date—including an astounding 14 gold—he trails Soviet gymnast Larisa Latynina's record of 18 by just two.
Phelps will be competing in seven total events this summer. He narrowly missed earning a bronze medal in today's 400-meter individual medley, finishing fourth in the event that fellow American Ryan Lochte won going away. But he has a great shot at reaching the podium in each of his six remaining events.
While this is obviously not a world record in an individual event—although Phelps has set 39 of those—Phelps' 22 medals would put him on the short list of athletes that can be discussed as the most dominant ever, regardless of sport, era or professional or amateur status.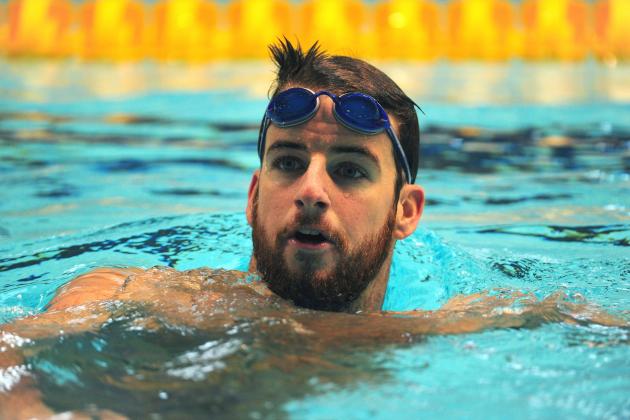 Stu Forster/Getty Images

Australian James Magnussen, 21, burst onto the international swimming scene when he unexpectedly won the 100-meter freestyle event at the 2011 World Championships.
Magnussen doesn't lack for confidence, as he's already predicted that the record will fall in London. With current world-record holder Cesar Cielo of Brazil also in the field, Magnussen may need to back up his bold claim in order to win gold.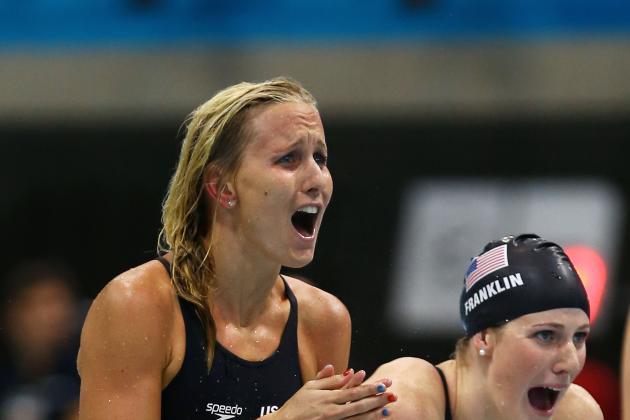 Al Bello/Getty Images

The U.S. women's 4x100-meter medley relay team consists of three individuals—Missy Franklin (100-meter backstroke), Rebecca Soni (100-meter breaststroke) and Dana Vollmer (100-meter butterfly)—who could all win gold medals in their individual, 100-meter events.
Allison Schmitt, the fourth member of the relay team, is the gold medal favorite in the 200-meter freestyle.
That collection of talent gives the Americans a great shot at breaking China's world record of 3:52.19 in this event. They missed the mark by two-tenths of a second at the 2011 World Championships, so it only seems natural that they would eclipse the mark in London.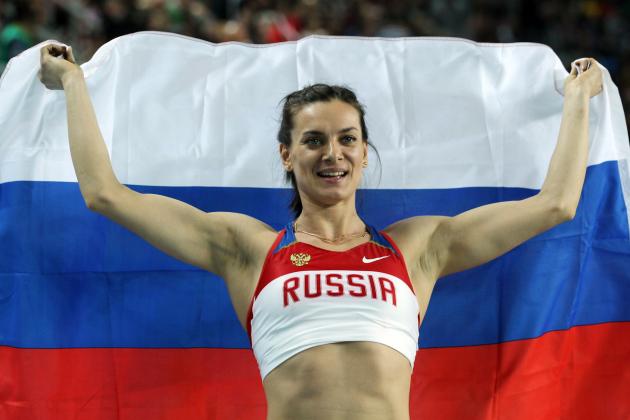 Ian Walton/Getty Images

The women's pole vaulting record is perhaps the most likely record to be broken other than the 18 overall Olympic medals that will surely be eclipsed by Michael Phelps in the coming days.
Current world-record holder Yelena Isinbayeva of Russia has already broken the record 27 times since 2003, and is once again the favorite to win gold at the London Games.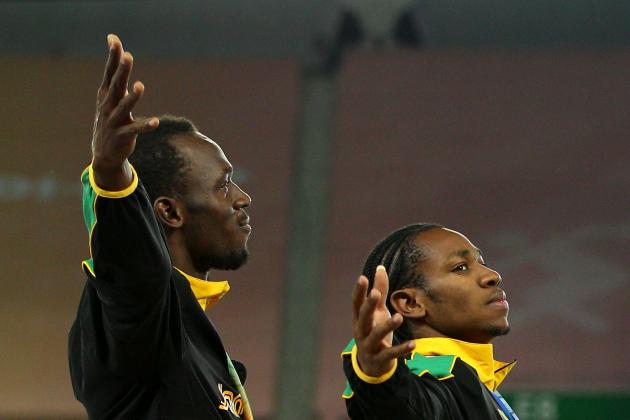 Mark Dadswell/Getty Images

Usain Bolt made the 2008 Summer Olympics his personal playground when he broke the world records in the 100-meter dash, 200-meter dash and 4x100-meter relay in Beijing.
After being upset by countryman Yohan Blake in the 100-meter at the 2011 World Championships, and false-starting in the event during the Jamaica's Olympic Trials, Bolt will be highly motivated to reclaim his title as the king of the track and field world—and he'll definitely want to do it with all eyes on him.
The friendly rivalry between the two could lead to the current record of 9.58 seconds falling hard.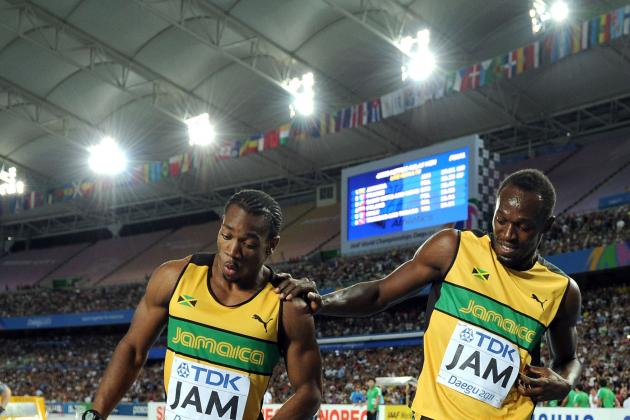 Stu Forster/Getty Images

Usain Bolt is still the current world champion in the 200-meter dash. But fellow Jamaican Yohan Blake does own the second-best time ever at 19.26 seconds.
Blake proved that he could beat Bolt at 100 meters in the 2011 World Championships, and he'll be anxious to prove that he can beat his elder statesman at 200 meters as well.
Regardless of which sprinter comes out on top, the race will make for fantastic theater for Olympic observers, and may well result in another world record being set.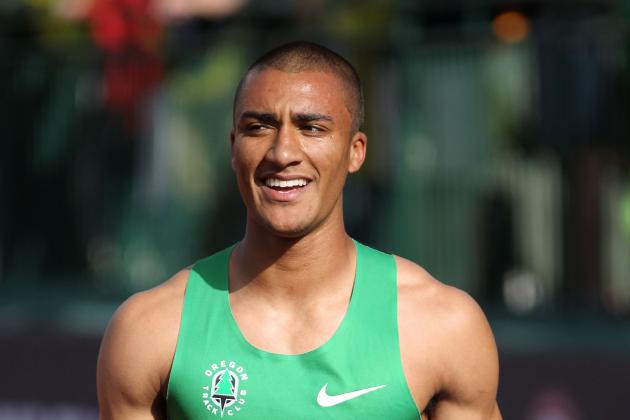 Michael Heiman/Getty Images

U.S. decathlete Ashton Eaton broke his previous world record of 9,026 points by amassing 9,039 during the Olympic Trials in June.
With that type of performance occurring less than six weeks ago, there's no reason to believe that Eaton can't exceed that effort in London, as long as the conditions are favorable.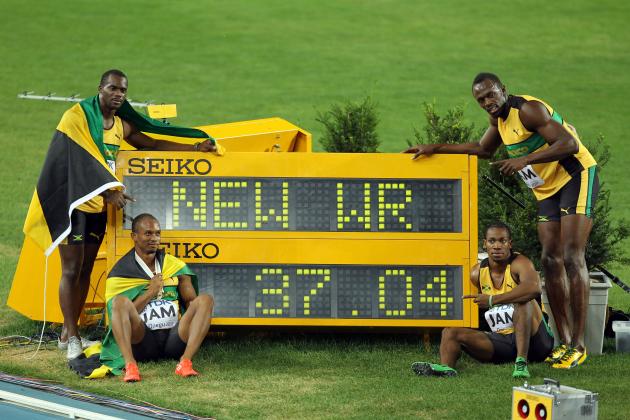 Andy Lyons/Getty Images

This track and field record has been broken seven times since 1983, including five times by the U.S. men's team led by Carl Lewis between 1983 and 1992.
The current world record of 37.04 seconds was set by the Jamaican team at the 2011 World Championships. That same team—featuring Asafa Powell, Usain Bolt and Yohan Blake—looks poised to break their own record, this time on the Olympic stage.