NASCAR: The Top 7 Moments in Brickyard 400 History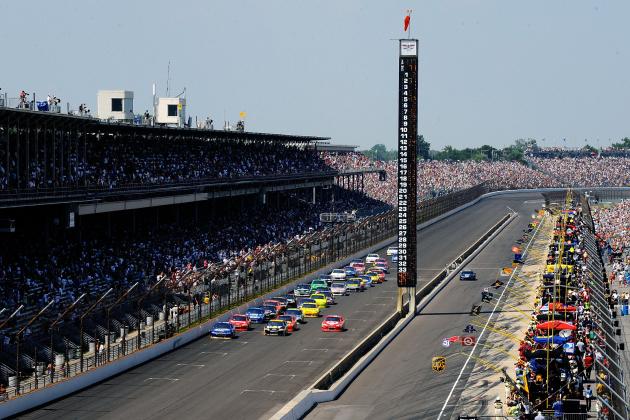 Jason Smith/Getty Images

While it doesn't have the storied history of the Indianapolis 500, NASCAR has provided some equally thrilling moments in its annual visit to the legendary rectangle.
In the 17 previous races at the Brickyard, the course has been conquered by rising stars and wily veterans. Some of its great moments include a remarkable triumph for an underdog team and a win that returned one of the sport's most popular drivers to elite status.
So, with that in mind, let's take a look back at seven of the best moments in the history of the Brickyard 400.
Begin Slideshow

»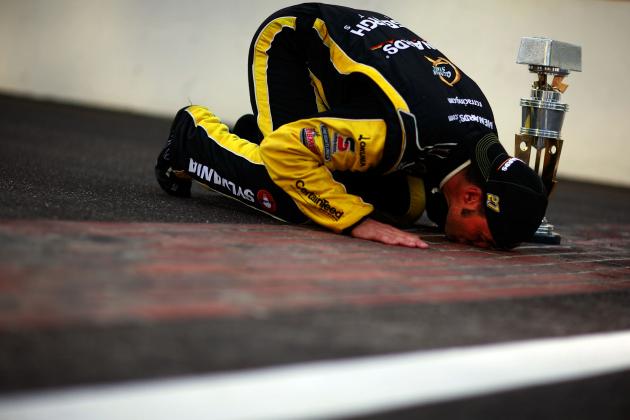 Tom Pennington/Getty Images

Entering the 2011 Brickyard 400, Paul Menard was winless in a 166-race career that had seen him bounce from Dale Earnhardt Incorporated to Yates Racing, and finally to Richard Childress Racing, where he found himself in the best equipment he had ever been in.
Menard's family has been involved with Indianapolis for decades. His father, John, had come close on numerous occasions to winning the Indy 500 as a sponsor and partner with several race teams, but had never had the opportunity to go to Victory Lane.
In 2011, it was his son, Paul, leading the field late in the Brickyard 400. Menard, short on fuel, chose to move over and ride behind 2010 winner Jamie McMurray in an attempt to save fuel.
With less than four laps remaining, Menard made his move, passing McMurray and holding off a furious charge from Jeff Gordon to capture an emotional first career win for himself and the third Brickyard victory for team owner Richard Childress.
On this day, though, it was all about family, as Paul was able to deliver a long-awaited Indianapolis victory to his father.
"I've been coming here since I was a little kid, my dad tried to win this race for 35 years, so this is for my dad," Menard told the Associated Press (h/t ESPN). "A lot of emotions right now. I went to every Indy 500 from 1989 to 2003, I was here for the inaugural Brickyard 400 in '94, for my family and for myself, Indianapolis is a very special place."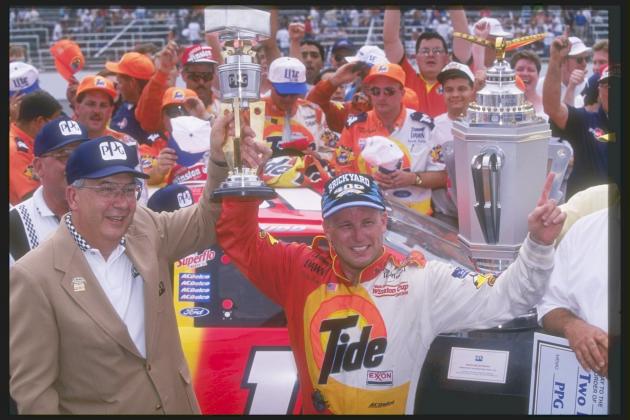 David Taylor/Getty Images

1997 marked the fourth year that Ricky Rudd drove for his own team, Rudd Performance Motorsports.
His foray into the world of a driver/owner had produced mixed results in its first three seasons. He had earned one win apiece in 1994, 1995, and 1996, but entered the month of August 1997 still winless.
Late in the running, leaders Dale Jarrett, Mark Martin, and Jeff Gordon were all forced to pit for fuel. Rudd took over the lead, gambling that he would have enough fuel to make it to the checkered flag.
After a late caution bought Rudd some time to save fuel, he held off a determined challenge from Bobby Labonte to earn a heartwarming victory for his scrappy, underfunded race team.
Rudd's team would only last two more seasons, and he would win four more races (one more with RPM, three with Robert Yates racing) before retiring in 2007.
But, even 14 years later, Rudd, who had a much-respected but fairly-ordinary career, looks back and knows that his Brickyard victory is the one that made his career.
"When you look at the measuring stick, there is no doubt about it that was the biggest of my career," Rudd said in a 2011 interview with Indianapolis Motor Speedway's website. "As a driver, winning my first race at Riverside, Calif., was a huge event. Winning at Richmond after getting tore all to pieces the week before at Daytona in 1984, that was a big race for me. But when you list the races, that was my big race.
"I won 23 races in my career, but it's what comes with that race. It's like you are welcome into a club."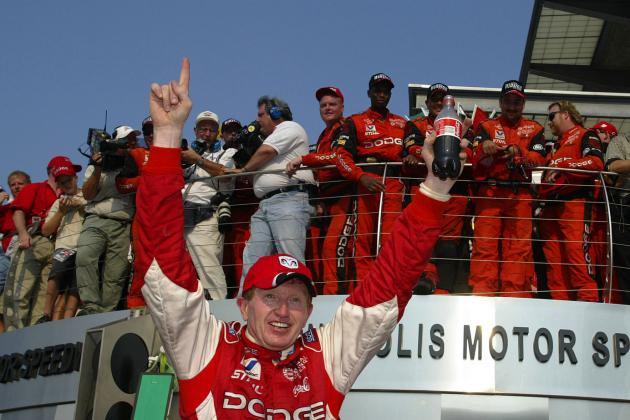 Jonathan Ferrey/Getty Images

Just as Rudd did for much of the late 1990s, Bill Elliott also drove for his own team for a stretch of time.
Unlike Rudd, though, the 1988 Sprint Cup champion found little success as an owner/driver, and never reached Victory Lane once.
In 2001, Elliott shuttered his own team and joined Ray Evernham in his quest to bring Dodge back to NASCAR with Evernham Motorsports.
When NASCAR went to Indy in 2002, Elliott had collected two wins for Evernham Motorsports — one at Homestead in 2001 and one the week before Indy at Pocono — and looked to have his career back on track after nearly a decade of mediocrity.
Elliott led 93 of the 160 laps at Indy, but had to chase down and pass Rusty Wallace late to secure the victory, which showed that Elliott's career revival had graduated from a fleeting possibility to a full-blown reality.
The normally reserved Elliott was elated in Victory Lane, and made a simple statement that signified the gravity of winning at the Brickyard.
"This is the greatest, the greatest win of my career," he said afterwards. (via CNNSI)
That's big talk from a man who has two Daytona 500 victories and a Sprint Cup title on his resume.
After a triumphant coming out party in 1994, NASCAR returned for its second go-round at Indy on August 5, 1995.
But while the finish of this race ranks as one of the best moments in Brickyard 400 history, it stands as just a small sidenote to the fact that no one outside of Indianapolis Motor Speedway's grandstands got to see it.
A rain delay pushed the start of the '95 Brickyard 400 back until well into the afternoon. Due to the delay, ABC Sports decided to end its live coverage, tape the race, and air it on tape delay the next afternoon.
In doing so, they denied a national television audience of seeing Dale Earnhardt, one of NASCAR's most popular (and simultaneously most hated) drivers, take the lead on a late pit stop and outduel Rusty Wallace to take the checkered flag at the storied speedway.
If the inaugural race was all about the coming out party of young gun Jeff Gordon, the '95 running was about the wily veteran Earnhardt putting his stamp on the legend of Indianapolis—albeit with a plentiful dose of perspective.
"I'm glad I'm the second man to have won, if (I'm) not the first," he said with a smile in his postrace interview (see the attached video). "I still haven't won the Daytona 500, but this is next to it, so we'll take it."
Chris Graythen/Getty Images

If there is one thing that fans at Indianapolis enjoy more than seeing racing at the Brickyard, it's seeing one of their hometown heroes take the checkered flag.
For Tony Stewart, Indianapolis Motor Speedway is a mere 50 miles from his hometown of Columbus, IN, which made winning at Indy all the more important.
Stewart, who has three top-10 Indy 500 finishes to his credit, finished seventh in his first Brickyard 400 start in 1999, then followed it up with a fifth a year later. He dominated the 2003 running of the Brickyard 400—leading 60 of 160 laps—only to be mired with a 12th-place finish by bum pit strategy.
By 2005, Stewart was desperate to add an Indy victory to his name. He led 44 laps that year, and made a late pass on Ryan Newman with 12 laps remaining to seal his first hometown win.
The elation of finally winning at Indy possessed Stewart to do something that he eventually became known for: he exited his car and scaled the fence along the front straightaway, soaking in the moment with his fellow Indiana natives.
"I wish I could put it in words," Stewart said. "Today has been my entire life. This is one of those days I don't want to end; I don't want to see the sun set. This is definitely the greatest day of my life, professionally, personally. I couldn't ask for more." (via Indianapolismotorspeedway.com)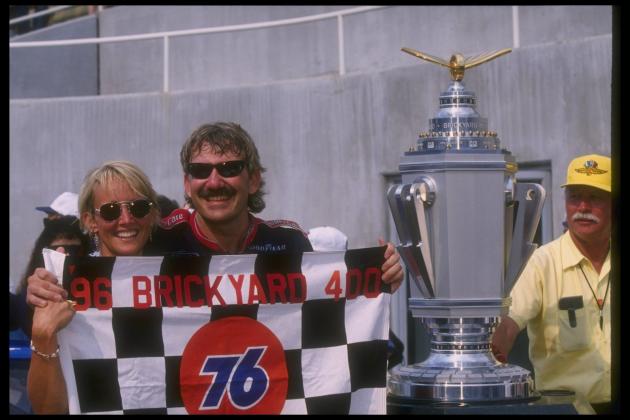 Brian Bahr/Getty Images

Dale Jarrett earned his shot at Robert Yates Racing in 1994 when Yates' driver, Ernie Irvan, was nearly killed in a vicious practice crash at Michigan International Speedway.
Two years later, Irvan had recovered and Jarrett drove a second car for RYR. In the third installment of the Brickyard 400, the two staged a classic duel that is still one of the most exciting battles in the 18-year history of the event.
Jarrett and Irvan waged a spirited contest over the last 25 laps. Irvan passed Jarrett with 22 laps remaining and appeared to have victory in his grasp.
But Jarrett never backed down. He stalked Irvan relentlessly until, with seven laps to go, Irvan slipped on the short straightaway between Turns 1 and 2. Jarrett pounced, blowing by Irvan on the inside and driving off to his first win at Indianapolis.
"Just to have the opportunity to race here was incredible," Jarrett said in a 2011 interview with ESPN.com. "But to go to a Victory Lane where I knew so many of the best drivers in the world had been to in the Indy cars … it stands out for me. The history of the place and the challenge of the racetrack with stock cars … it is such a hard track to drive in stock cars. All of that together certainly puts it right toward the top."
Meanwhile, Irvan was left dejected, claiming in his postrace interview with ABC that, "The first time I was here, it was heartbreaking; this time it was worse than that." (via ESPN.com)
That's pretty hard to imagine given what happened that first time, which leads us to....
NASCAR's inaugural visit to Indianapolis in 1994 was the most hyped event in motorsports in years.
It produced a finish that didn't disappoint.
In an eerily-similar scenario to what would transpire two years later, Ernie Irvan was locked in a battle for the victory as the laps dwindled down. This time, his adversary was second-year Cup driver Jeff Gordon.
Irvan held a narrow lead over Gordon as they crossed the start/finish line with five laps to go. Entering Turn 1, Irvan's car drifted high. Just as Jarrett would do two years later, Gordon dropped to the bottom and made the pass to take the lead.
As the two cars headed down the backstretch, Irvan's Texaco Havoline Ford began to weave back and forth. Irvan had apparently run over a piece of debris, which cut down his right front tire and left him to watch helplessly as Gordon drove off with the lead while he made for pit lane.
Gordon went on to take the victory in a stunning finish that marked NASCAR's arrival at the Brickyard with a bang.
The win was the second of Gordon's career and stamped his ticket to superstardom. Irvan finished 17th and was doomed to relive the heartbreak two years later.
The finish has gone on to become one of the most memorable moments in the history of not only the Brickyard 400, but NASCAR in general.