What Could Be a Bigger Detriment to the Lions, Maturity Issues or Injuries?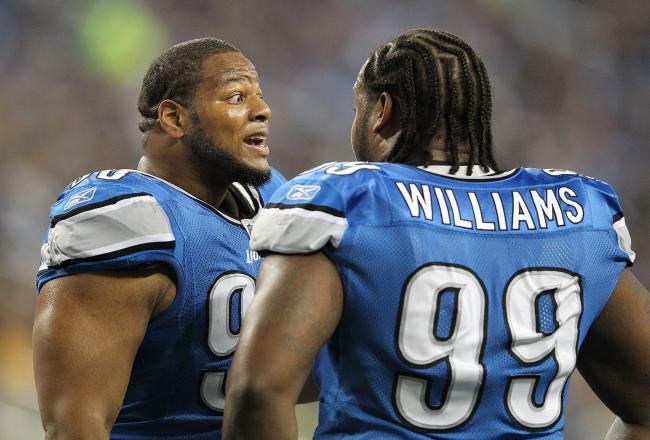 From a football standpoint, would it be better to have Ndamukong Suh arrested/suspended, or injured? It's a crass question to ask, but it's core to this discussion.
Leon Halip/Getty Images
In 2011, the Detroit Lions went 10-6 and made the playoffs for the first time this century.
In 2012, analysts just about everywhere project a step backward for the young team. The general consensus in the national media (for whatever that's worth) is that the Lions remain a good team, but backslide to something like a 9-7 record as Chicago leapfrogs them in the NFC North.
The biggest question I have is, "Why?" The biggest piece the Lions lost in the offseason is Eric Wright (and Aaron Berry, if you count that), but it's not like the secondary needed to be a powerhouse unit last year.
In large part, this Lions team is the exact same team that won 10 games and made the playoffs last year, and between the draft and players returning from injury, they're adding a lot more pieces than they're losing.
So why are the Lions one of the hottest teams to predict going cold?
I'm guessing a lot of it has to with the combination of the Lions being one of the most-penalized teams in 2011 and them accounting for seven arrests in the offseason.
Some of it also has to do with the fact that the NFC North is very good, and the Chicago Bears made a particularly large splash in bringing in Brandon Marshall as part of their usual flashy offseason acquisition period.
Maturity is something that tends to be relatively invisible when making season predictions. Mostly, it's about three things: "How good were you last year, who did you lose, who did you add?"
The idea that a young team could get better simply because individual players have grown with experience doesn't often factor into those predictions.
But maybe that's because young teams typically get worse for a year before they get better, or because the word "maturity" doesn't seem to belong anywhere near the Lions at present.
But really, the issue of "maturity" is a two-way street. A linebacker who has a better handle on reading the flow of a play in his third year or remains more disciplined in his gap assignment is showing signs of his level of "maturity." So is a lineman who takes a post-play personal foul in the middle of a two-minute drill.
Which are you more worried about for the Lions in 2012?
The real question about maturity, then, is whether the Lions will be a plus or a minus in that area. After leading the league in personal fouls last season and in arrests in the offseason, is the on-field personal improvement going to offset all that other stuff?
Only if they keep themselves in check.
Now, the Lions are not as bad as their reputation makes them out to be. I know that seems laughable to some, but it's true. The Lions' seven offseason arrests were, in total, the result of the indiscretions of four players. Two of them are no longer with the team.
Personal fouls (especially the needless post-play variety) are an issue, but were quietly resolved after the embarrassing stretch against Green Bay and New Orleans, the former in which Ndamukong Suh got ejected on national television, the latter in which the Lions took a combined 45 yards' worth of post-play personal fouls.
Arguably, the Lions are trending in the right direction in both on- and off-field discipline (depending on how much weight you give the Aaron Berry cut as an effective disciplinary message).
But none of that means anything if it isn't a trend that continues. No matter how much better the players on the team get, it won't matter if they insist on giving away yards and games via penalty.
And yet none of what I've discussed thus far means a single thing if the Lions suffer the right set of injuries. Penalties? Guys finding off-field trouble? Those things are inevitable. You certainly want to limit them as much as possible, but they're generally not season-derailing things.
Losing Matthew Stafford for an extended period of time would derail the season. Losing Calvin Johnson would have close to the same impact. Losing Chris Houston or Stephen Tulloch would cripple the defense.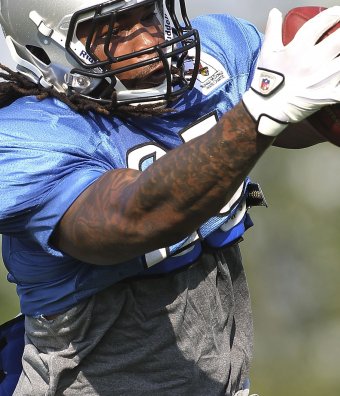 Leon Halip/Getty Images
Injuries are always a team's worst nightmare because they're the only problem a team can't solve with anything other than time. You can't sit a guy down in a midweek practice and say, "Listen, I know you were really fired up last Sunday, but I can't have you doing stuff like that again. Get that ACL together by next week, because if you tear it again, I'm sitting you down."
No. Injuries are injuries. There is no fix. Players go down and don't come back until after days, weeks or months of intensive treatment. And if they do come back in the middle of the season, they often play at a less-than-optimal level.
And worst of all, the Lions, as well as every other team in football, absolutely know they are going to have injuries to deal with. All the team can do to stop them is pay attention to conditioning and cross its collective fingers. And all it can do after the fact is get a timetable and rehab schedule.
The Lions have recourse in the face of negative maturity issues. They've shown their willingness to cut people who don't comply. They benched players who took stupid, costly penalties last year. And by the end of the season, they got their act together.
What they didn't get was Mikel Leshoure or Jahvid Best.
It's that difference, the difference between decisive action and total helplessness, that makes injuries a bigger potential pitfall for the Lions, and Leshoure is a perfect case study to prove it.
Last season, Leshoure was injured mere days into training camp, and that was it for him. The result was that he took not a single snap for his entire rookie season, not even in preseason.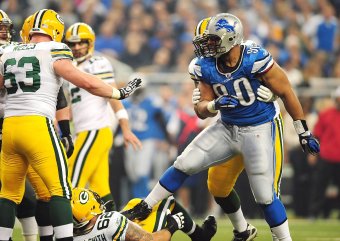 Andrew Weber-US PRESSWIRE
His maturity issues arose this offseason, in which he was arrested twice for marijuana possession. The result of that is that he will miss the first two games of the season and then return, rested and (presumably) fully healthy.
Now you tell me which scenario you'd rather see for any Lions player: A two-game suspension and a hit on the team's reputation, or a player's season lost completely with a chance of long-term physical damage? While the "maturity issues" being discussed are things marijuana possession, and not shootings in nightclubs, that's an easy decision.
And as we saw with Berry, once these indiscretions go from a "stupid kid needs to know better than that" level to "what was he doing with that gun, what's wrong with that guy" level, the Lions can simply cut ties with the problem child.
The Lions can't cut an injury from the team, because players don't get injured by their own free will. They're uncontrollable, and that's what makes them dangerous.
Berry wasn't injured, but he was, apparently, dangerous enough to be brandishing a firearm and using it in public for intimidation, and that was something he did consciously, on purpose, by his own free will.
The Lions aren't better off as a football team without Berry, but they are better as an organization. And it's worth noting that the true team leaders—Stafford, Johnson, Burleson, Tulloch, Vanden Bosch—are practically paragons of class and discipline. The guys the Lions would be worst off without won't be getting suspended for arrests or drug abuse or personal fouls.
But they can get injured, and do. Impact players like Stafford, Vanden Bosch, Jahvid Best and Louis Delmas have all spent considerable time injured. Anybody can get injured. And when anybody does get injured, it can bring the most talented teams in football to its knees practically overnight.
The New England Patriots went from an 18-1 season to missing the playoffs without Tom Brady.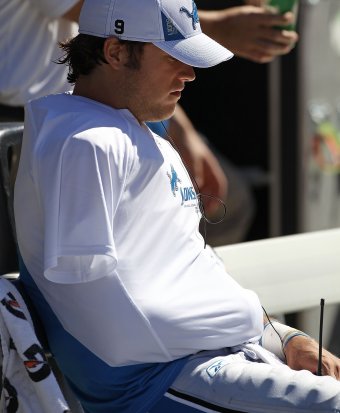 Jonathan Daniel/Getty Images
The Indianapolis Colts went from nine straight playoff appearances to narrowly escaping 0-16 without Peyton Manning (not exactly the most talented team, but it was a steep dropoff regardless).
The Steelers have an ordinary defense without Troy Polamalu, as do the Bears without Brian Urlacher.
The Vikings lose the majority of their offense without Adrian Peterson.
In many cases, it only takes one, and the Lions know what it's like, having seen the difference between a season Stafford mostly missed (6-10) and a season he fully played (10-6, playoffs).
I know it's upsetting that the Lions finally fielded a decent football team and are now being dragged through the mud for completely different reasons. But if we're putting pot possession and personal fouls up against serious injuries, it's very simple.
Poor discipline is a problem, but in terms of football impact, the worst thing it does to the team is soil its reputation and maybe earn a player suspension in severe cases. Maybe, if it's the right penalty at the right time, a penalty will turn the tide of a single game.
Injuries, in football terms, can take a team from a 3-0 start to playing for next year in a matter of minutes.
All anyone can do to stop it is hope it doesn't happen. And all anyone can do to fix it is hope they're alright.
This article is
What is the duplicate article?
Why is this article offensive?
Where is this article plagiarized from?
Why is this article poorly edited?

Detroit Lions: Like this team?