Denver Broncos' Fantasy Sleepers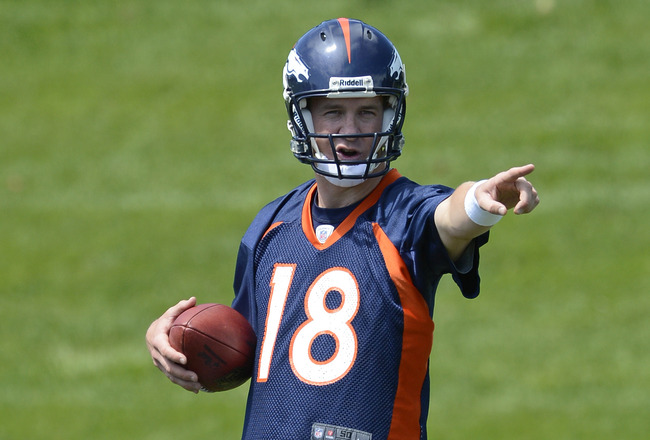 Peyton Manning is the key to finding fantasy value in Denver.
Ron Chenoy-US PRESSWIRE
Training camp gets started this week, and news will be pouring in over the next several weeks that will impact the fantasy values of several key Denver Broncos. Position battles and chemistry with Peyton Manning are among several things fantasy experts will be monitoring.
Several fantasy rankings could shift drastically depending on training camp performance and Manning's health, particularly at tight end and receiver.
Unknown is never something fantasy experts like, and that's deflating the value of several key contributors in Denver and providing plenty of fantasy-sleeper potential.
Jacob Tamme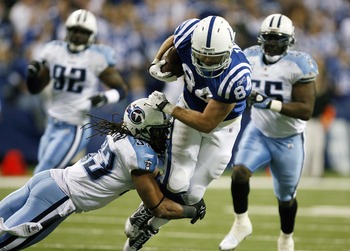 Brian Spurlock-US PRESSWIRE
Peyton Manning likes to throw to his tight end and has made a habit of turning tight ends into fantasy studs. The 85 experts at FantasyPros.com have Jacob Tamme as the 12th-ranked tight end, but his ranking should rise if Manning is healthy and Tamme becomes the unquestioned starter.
In 2010 with Manning, Tamme had 67 receptions, 631 yards and 4 touchdowns in 10 games after Dallas Clark was hurt. Clark and Tamme both averaged 9.4 yards per reception that year and combined for 104 receptions, 978 yards and 7 touchdowns. Tamme's 2010 projected over an entire season would have resulted in 107 receptions for 1009 yards and 6 touchdowns.
| | | | | | | | |
| --- | --- | --- | --- | --- | --- | --- | --- |
| Year | Player | G | GS | REC | YARDS | YPR | TD |
| 2010 | Jacob Tamme | 16 | 8 | 67 | 631 | 9.4 | 4 |
| 2010 | Dallas Clark | 6 | 6 | 37 | 347 | 9.4 | 3 |
| 2010 | Total | 20 | 14 | 104 | 978 | 9.4 | 7 |
Only a healthy Manning and the potential of losing snaps to Joel Dreessen stand in the way of Tamme becoming a top fantasy tight end. Pass on the big names early in the draft and snag Tamme; he'll provide good value.
Provided Tamme is the starter and doesn't loss snaps to Joel Dreessen, these could be a realistic stat projection for Tamme. To put that in perspective, no tight end caught 100 balls in 2011, only two had more than 1000 yards, and only three tight ends had more than 7 touchdowns.
Joel Dreessen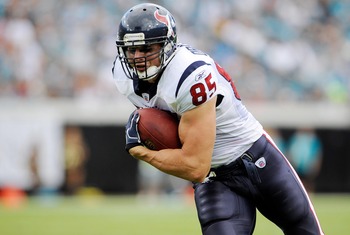 Jerome Miron-US PRESSWIRE
There is another possibility and one you must consider if you want to capitalize on Manning's presence in Denver: Dreessen winning the starting job. A committee approach has only happened once in Manning's career, so a clear-cut winner is likely.
Dreessen received $1 million more of a signing bonus than Tamme according to Spotrac.com, if that's any indication of how the team feels about the players. Dreessen has produced when given the opportunity behind Owen Daniels in Houston and has a chance to win the starting job in Denver.
Even if Dreessen doesn't win the starting job, he might be a candidate for red-zone targets and would definitely be a player to watch on the waiver wire or a good Tamme handcuff if you have the roster space. While Tamme is currently the favorite, Dreessen could certainly emerge during training camp. Dreessen is two years older than Tamme and will have to develop chemistry and the trust of Manning to win the job.
Dreessen a huge sleeper candidate because most people think Tamme will win the starting job or it will be a tight end by committee approach, but both assumptions have a very good chance of being incorrect, making Dreessen a super sleeper candidate with big touchdown potential.
Ronnie Hillman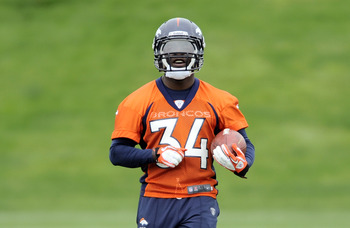 Ron Chenoy-US PRESSWIRE
Knowshon Moreno is coming off as ACL injury, and Willis McGahee is 30 and will be 31 in October. There's a good chance Moreno will take another year to regain form, and McGahee's production could drop off as typically running backs start to hit a wall around the age of 30.
There's a lot to like about Hillman as a fantasy sleeper candidate, and he's a must have as a handcuff to McGahee. According to FantasyPros.com, Hillman's average draft position is 120, and he's the 45th ranked running back overall.
For a running back that could become a starter by mid-season in an offense with Peyton Manning, Hillman has monster upside for a player that can be had late in fantasy drafts.
There's a lot to like about Hillman's situation as he should be the first player off the bench behind McGahee, and few running backs manage to stay healthy for 16 games. Yahoo's Brad Evans has Hillman ahead of McGahee in his rankings, so there's certainly a wide range of buyers and sellers, but you can safely consider Hillman at the end of the eighth round in a 12-team league.
Andre Caldwell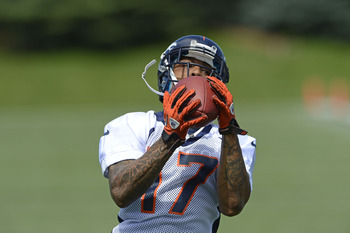 Ron Chenoy-US PRESSWIRE
Manning raises the level of play of every receiver on the team, including the slot receiver. Receivers such as Austin Collie, Brandon Stokley and Anthony Gonzalez have proven that the slot receiver is very valuable in a Manning-run offense. In Denver, the candidates to man the slot are Andre Caldwell, Matt Willis, Brandon Stokley and Jason Hill, among others.
Stokley's familiarity with Manning might make him a good option, but at his age, it's unlikely he can win the job over the younger players. Andre Caldwell is the most accomplished of the remaining options, and he's just 27. Caldwell has also been a slot receiver for almost his entire career.
Year
Player
REC
YARDS
YPR
TD
2010
Collie
58
649
11.2
8
2009
Collie
60
676
11.3
7
2008
Gonzalez
57
664
11.6
4
2007
Gonzalez
37
576
15.6
3
2005
Stokley
41
543
13.2
1
2004
Stokley
68
1077
15.8
10
16-Game Average
60
788
13.0
6
If Caldwell wins the starting job in the slot, he has a chance to produce nice enough numbers to be a match-up play. Using the production from Collie, Stokley and Gonzalez since 2004, the average 16-game projection for this position would be 60 receptions, 788 yards and 6 touchdowns. That's 115 standard fantasy points and 175 in points-per-reception leagues.
Manning's health will be a major determining factor in the fantasy value of the Broncos' slot receiver, but if Manning is similar to what he was in 2010, there should be plenty of fantasy value to be found in Caldwell.
Eric Decker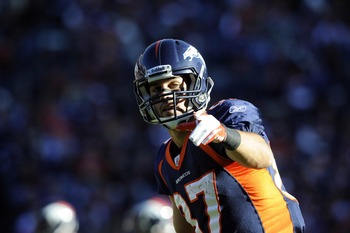 Ron Chenoy-US PRESSWIRE
There's been a lot of hype surrounding Demaryius Thomas, but not nearly enough for the receiver on the opposite side. Eric Decker can already run the entire route tree and that will make him an early favorite of Manning. Don't be surprised if Decker is Manning's Reggie Wayne in 2012 and Thomas is his Pierre Garcon.
Decker quickly developed and has a nice feel for the position while Thomas remains raw after missing a lot of time with injury over the past two years. Decker is considered a flex receiver in fantasy with WR2 upside, but he should probably be considered a WR2 with WR1 upside making him an excellent value pick.
At worst, Decker is a flex play while his counterpart Thomas has more injury risk and only slightly more upside. They are much closer than many of the fantasy experts would have you believe and should be under drafted in many fantasy drafts.
Keep Reading