Projecting Boston Celtics' Starting Lineup Post-Free Agency and Summer League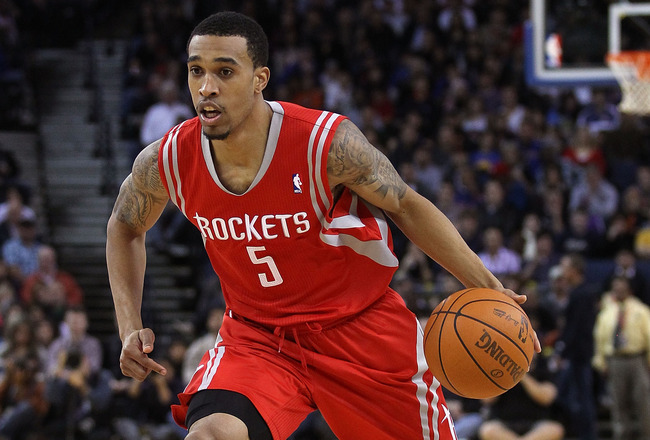 Ezra Shaw/Getty Images
With Summer League games and the peak of free agency now over, we can take a more accurate look at how each team's rotation will take shape.
For the Boston Celtics, the offseason has given fans plenty of reasons for excitement for the 2012-2013 season, as they've added a number of young players to help continue their recent success.
With the additions of rookies Jared Sullinger, Fab Melo, Kris Joseph and the free-agent acquisitions of Courtney Lee and Jason Terry, the Celtics should have more than made up for the loss of Ray Allen.
So with the recent additions, what changes in the Celtics' starting lineup? Who takes over for Ray Allen at shooting guard?
Here is a look at the Boston Celtics' 2012-2013 projected starting lineup.
Point Guard
Mike Ehrmann/Getty Images
Projected Starter: Rajon Rondo

Other Candidates: Jason Terry, Keyon Dooling
Rondo is arguably the best point guard in the game, leading the NBA in assists per game last year with 11.7.
It's safe to say Rondo is locked into the starting job for the next three years he's under contract, but who's the next floor general off the bench?
This year, Jason Terry looks to take that role, signing a three-year, $15 million deal with Boston after spending much of the last decade in Dallas.
Getting Terry should be great for Rondo, as he played a staggering 42.6 minutes in the playoffs last season due to the Celtics' lack of depth at the position.
Shooting Guard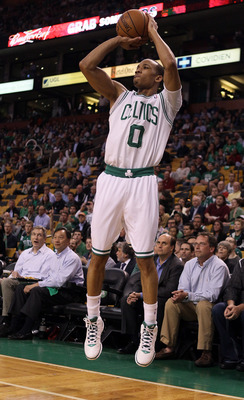 Elsa/Getty Images
Projected Starter: Avery Bradley

Other Candidates: Courtney Lee, Jason Terry
Shooting guard is the position that is up for grabs on the Celtics thanks to Ray Allen's departure to the Miami Heat.
Avery Bradley started 28 games for Boston last season at both guard positions, and should be the favorite for the shooting guard position heading into training camp.
Courtney Lee could certainly make a play for the job as well, as the former Houston Rocket is the superior offensive player, an excellent three-point shooter and could easily provide many of the same skills that Allen brought to the table.
For now, assume Bradley has the job, but he may have to fight to keep it over Lee.
Small Forward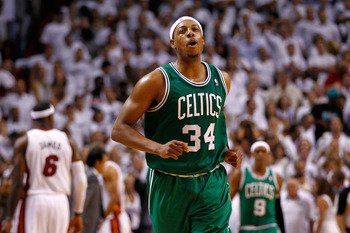 Mike Ehrmann/Getty Images
Projected Starter: Paul Pierce

Other Candidates: Jeff Green, Kris Joseph
Pierce will undoubtedly be the starter at small forward and returning captain for the Celtics. Entering his 15th pro season, Pierce put up impressive averages of 19.4 points, 5.4 rebounds and 4.5 assists with a PER of 19.69 in 2011-2012.
This year, he'll get a lot of added help with the addition of rookie Kris Joseph of Syracuse and Jeff Green's return from heart surgery.
Unlike Bradley, Pierce should have no concerns about losing his starting job anytime soon.
Power Forward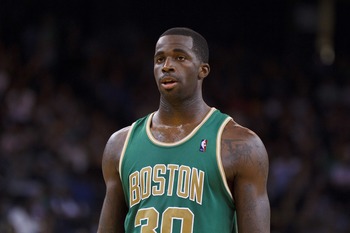 Jason O. Watson-US PRESSWIRE
Projected Starter: Brandon Bass

Other Candidates: Jared Sullinger, Chris Wilcox, Jeff Green
Bass took over the starting power forward job after Kevin Garnett was moved to center last season and performed very admirably.
Putting in averages of 12.5 points and 6.2 rebounds per game, Bass re-signed with the Celtics to the tune of three years and $20 million.
While Bass is a nice player, keep an eye out for Sullinger. The former Ohio State star had a nice Summer League and could very well make a push for the starting job at some point this season, especially if Bass struggles.
Center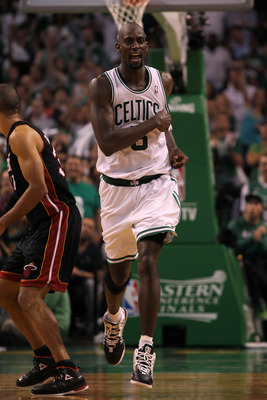 Jim Rogash/Getty Images
Projected Starter: Kevin Garnett
Other Candidates: Fab Melo, Chris Wilcox
Garnett made a seamless transition to center last season after the team lost Jermaine O'Neal to a wrist injury.
Predominantly a power forward throughout his career, Garnett had a strong season at the 5, averaging 15.8 points and 8.2 rebounds with a PER of 20.47
Since signing a new three-year deal with Boston, expect Garnett to resume his spot at center, as Jermaine O'Neal was not re-signed and rookie Fab Melo is very much a project offensively.
If Melo develops into a strong defensive force with even an average offensive game, KG could be moved back to the 4, but it's unlikely to happen anytime soon.
Keep Reading

Boston Celtics: Like this team?