UFC Middleweight Contenders: The Hopefuls and the Hopeless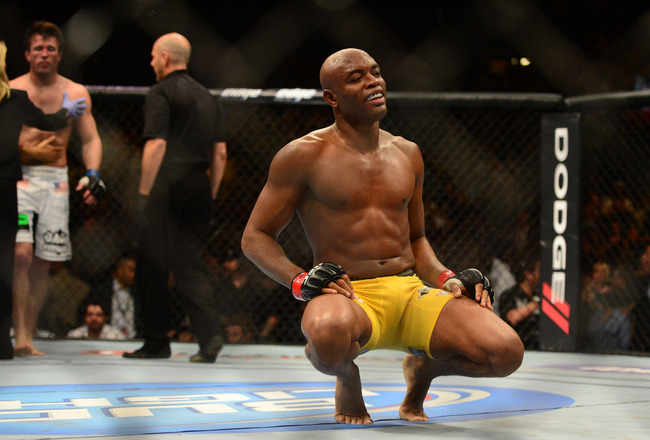 Mark J. Rebilas-US PRESSWIRE
Who is next for Anderson Silva? It's a question that we seem to ask ourselves every time he massacres the unfortunate sap who was put in front of him.
Now that Silva has seemingly thwarted all challengers that stood in his way, there is no clear-cut contender who is worthy of stepping into the Octagon with the best fighter who ever lived.
This article is designed to take a close look at every member of the UFC's top 15 middleweights and determine if they have a date with The Spider in their future.
This article is separated into four distinct groups:
1. The Fresh Contenders
2. The Fallen Challengers
3. Contenders Without Momentum
4. The Wild Cards
For rankings purposes, I chose FightMatrix as my source for data, as they have a mathematical way of determining divisional rankings, and it eliminates any bias.
Here is a look at the hopefuls and the hopeless in the UFC's middleweight division.
The Fresh Contenders: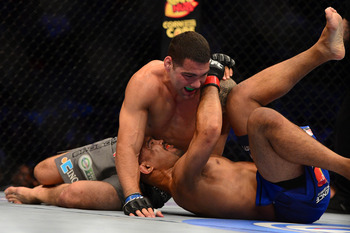 Kyle Terada-US PRESSWIRE
Of the Top 15 fighters in the UFC's middleweight division, only Chris Weidman, Alan Belcher, Brian Stann, Tim Boetsch and Costa Philippou are currently carrying positive momentum and have yet to be bested by the reigning champion. For the sake of analysis, let's look at them first.
Here is a look at what I'll refer to as The Fresh Contenders.
Costa Philippou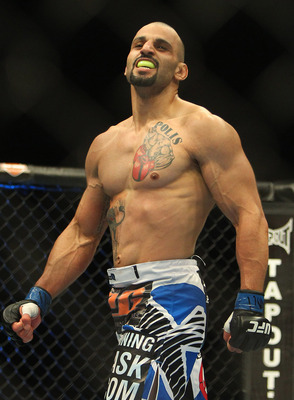 Tom Szczerbowski-US PRESSWIRE
FightMatrix Ranking: 14
UFC Record: 4-1
Divisional Record: 4-0
Biggest UFC Wins: Court McGee, Riki Fukuda, Jorge Rivera
Costa Philippou is the less talked-about student out of the Serra-Longo camp, and has been making waves in the middleweight division.
Taking his first fight on less than two weeks notice, Philippou's only loss in the organization came in a catch-weight contest against Nick Catone at UFC 128.
Philippou has some weighty momentum on his side at this point, but he has yet to face anyone who resembles the level of talent at the top of the division. However, with a solid record, it's likely that the Greek fighter will see a big step up in competition in his next contest.
Brian Stann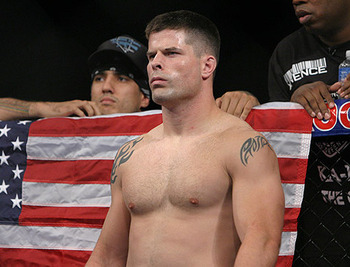 Courtesy of MMAweekly.com
FightMatrix Ranking: 10
UFC Record: 6-3
Divisional Record: 4-1
Biggest UFC Wins: Chris Leben, Alessio Sakara, Jorge Santiago
Brian Stann is a fighter who has solid boxing and made his name by knocking out Chris Leben when he reportedly had the flu. Does that mean Stann wouldn't have earned the knockout anyway? Not at all. However, I think judgment should still be reserved.
Being dominated by Chael Sonnen certainly shoved Stann down the ladder, as it showed us just how large the margin is between No. 2 and No 10 in the division. If Stann gets past Michael Bisping in September, it will do a great job of evolving him into a legitimate contender.
In contrast, a loss to Bisping will firmly establish Stann as a rankings gatekeeper.
Alan Belcher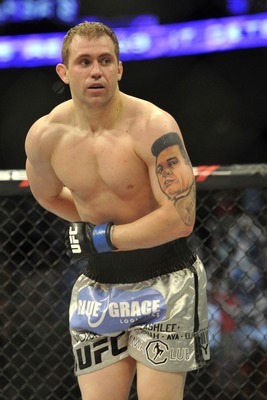 Joe Camporeale-US PRESSWIRE
FightMatrix Ranking: 6
UFC Record: 9-4
Divisional Record: 7-4
Biggest UFC Wins: Rousimar Palhares, Denis Kang, Jorge Santiago
Aside from a bad decision at UFC 100 where judges erroneously awarded Yoshihiro Akiyama a victory, Alan Belcher has not lost any of his last seven contests. This streak dates back to an April 2008 fight where he was stopped by Jason Day.
Belcher has been with the UFC for six years, and ran into some trouble in his early days. Losses to Yushin Okami and Kendall Grove would slow his progress, but Belcher has looked excellent ever since a UFC 93 contest with PRIDE vet Denis Kang.
Comfortable fighting anywhere that the bout goes, Belcher is one of few to escape the devastating ground game of leglock specialist Rousimar Palhares. Able to work his way to a TKO victory, Belcher refuses to be denied in his quest to earn a title shot.
Tim Boetsch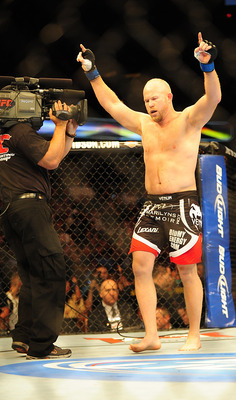 Anne-Marie Sorvin-US PRESSWIRE
FightMatrix Ranking: 5
UFC Record: 7-3
Divisional Record: 4-0
Biggest UFC Wins: Hector Lombard, Yushin Okami, Kendall Grove
Tim Boetsch has once again defied the odds to defeat a Top 10 fighter. Unfortunately, he still didn't look good in the process.
In his contest with Hector Lombard at UFC 149, Boetsch was on the receiving end of counterstrikes all night, and was shut out in all nine of his takedown attempts through the contest. Immediately after the fight concluded, Bleacher Report put up a poll asking viewers if they agreed with the decision that Boetsch was the victor, and 52% of you said no.
However, the record books will reflect that Boetsch is now 4-0 in the division with some big names under his best, and his ranking with FightMatrix reflects it. That being said, Boetsch does not seem to excel in any area, and is unlikely to ever be a champion.
Chris Weidman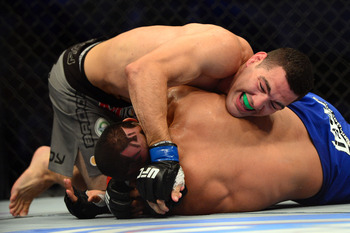 Kyle Terada-US PRESSWIRE
FightMatrix Ranking: 3
UFC Record: 5-0
Divisional Record: 5-0
Biggest UFC Wins: Demian Maia, Mark Munoz, Alessio Sakara
Many believe that Weidman is the man to inevitably stand across from the reigning champion, and with a flawless record of 5-0, it's hard to suggest that it's not the best choice.
The Serra-Longo student has been excellent since joining the UFC roster, and unbelievably, has scored victories over fighters with a wide range of skills.
Incredibly, fights with boxer Alessio Sakara and jiu-jitsu stud Demian Maia were taken on short notice.
The Fallen Challengers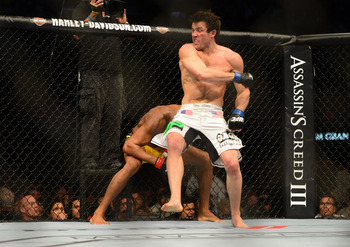 Mark J. Rebilas-US PRESSWIRE
Several men have already fallen at the hands of Anderson Silva. Including former world champions and world-ranked fighters alike, it's actually a rather elite club to be in.
Here is a look at five fighters who have already lost their battle with The Spider, but are still members of the Top 15 in their division.
Chris Leben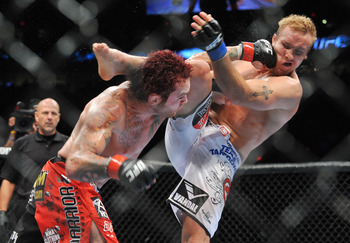 Jon Kopaloff/Getty Images
FightMatrix Ranking: 13
UFC Record: 12-7
Divisional Record: 12-7
Biggest UFC Wins: Wanderlei Silva, Yoshihiro Akiyama, Jorge Santiago
Chris Leben had the unfortunate job of welcoming Anderson Silva into the UFC. Due to Leben's 5-0 record inside the Octagon, many felt that he would inevitably challenge for a title, but The Spider put a screeching halt to that idea.
Since that time, the Crippler has compiled a record of 7-6. Despite picking up big wins along the way, Leben finds a way to stuff his own momentum with key losses and drug suspensions.
Leben is part of this article only due to his placement in the rankings. There is little question regarding the future of the red-haired warrior who stole our hearts on The Ultimate Fighter. Once he returns, Leben will likely be put in interesting matches, but he will not scrape the surface of a title shot.
Yushin Okami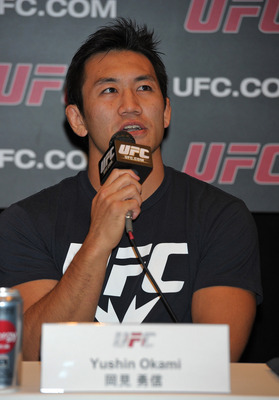 Koki Nagahama/Getty Images
FightMatrix Ranking: 12
UFC Record: 10-4
Divisional Record: 10-4
Biggest UFC Wins: Nate Marquardt, Mark Munoz, Alan Belcher
Yushin Okami once found himself victorious against Anderson Silva based on a disqualification. It will likely be the biggest achievement of his career.
Since that time, Okami has been picked apart most of the men who have been put in his way.
At this point, Okami is nearly two years out of his last win. His title shot against Silva saw him finished in the second round, and a UFC 144 bout with Tim Boetsch left "Thunder" unconscious in front of his hometown crowd.
Rich Franklin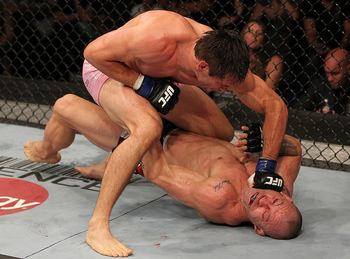 Courtesy of Josh Hedges - US PRESSWIRE
FightMatrix Ranking: 8
UFC Record: 14-5
Divisional Record: 7-2
Biggest UFC Wins: Wanderlei Silva (x2), Chuck Liddell, Yushin Okami, Ken Shamrock
The only man to ever defeat Rich Franklin at middleweight is Anderson Silva, and The Spider did it twice in dominating fashion.
Joe Rogan has stated that "Ace" could be the second-best middleweight of all time, but he is overlooked because of the losses to Silva.
Looking for one more crack at the belt before calling it a day, Franklin could earn a title fight if he puts together some wins over the likes of Chael Sonnen or the winner of Bisping/Stann or Belcher/Belfort.
Vitor Belfort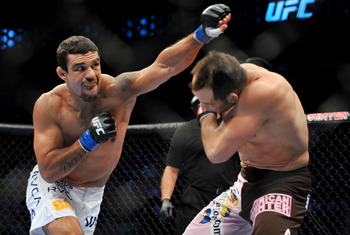 Jon Kopaloff/Getty Images
FightMatrix Ranking: 4
UFC Record: 10-5
Divisional Record: 1-1
Biggest UFC Wins: Rich Franklin, Wanderlei Silva, Randy Couture
Believe it or not, Vitor Belfort's first fight in the middleweight division came in the form of a title fight with Anderson Silva. Beating Rich Franklin at 195 pounds to earn his crack at the belt, the UFC needed a quality contender for The Spider, and Belfort's reign as heavyweight champion says a lot.
Belfort has won back-to-back contests against Yoshihiro Akiyama and Anthony Johnson since that time, but the battle with Rumble was contested as a catchweight after the former-UFC fighter failed to make weight.
The Phenom thinks that he is in line for a title shot, but with his loss to Silva and the rise of new contenders, it appears to be little more than a pipe dream. However, an impressive win over Alan Belcher at UFC 153 could sway things in his favor.
Chael Sonnen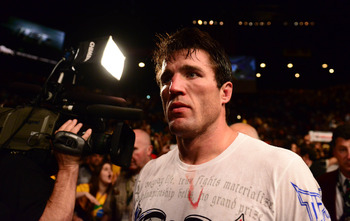 Mark J. Rebilas-US PRESSWIRE
FightMatrix Ranking: 2
UFC Record: 6-5
Divisional Record: 6-4
Biggest UFC Wins: Nate Marquardt, Yushin Okami, Michael Bisping
Chael Sonnen isn't better than Anderson Silva, as he would have you believe. But he did a good job of making you believe it, didn't he?
Bested twice by The Spider, Sonnen appears to have an Achilles heel in the form of submission defense. Submitted eight times in his professional career, the wrestler from Oregon has been able to find success in recent years by utilizing a grinding style of wrestling that is heavy on ground and pound.
Sonnen has fought the best in the world, but the fact remains that the American Gangsta has lost three of his last eight and four of his last eleven. Although he would like to see the word champion next to his name, close only counts in horseshoes and hand grenades.
Contenders Without Momentum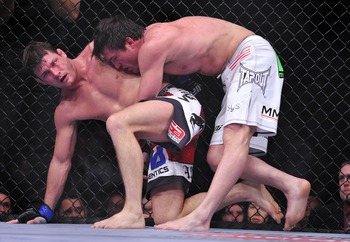 Mike Dinovo-US PRESSWIRE
Just because a fighter is coming off a loss, doesn't mean that they do not have the skills to compete with the best. Some losses are razor-thin decisions. Some losses are flukes. Some losses just happen to occur on a bad night in a fighter's career.
Here is a look at four fighters who are coming off losses, but still find themselves as members of the Top 15 in the UFC middleweight division.
Rousimar Palhares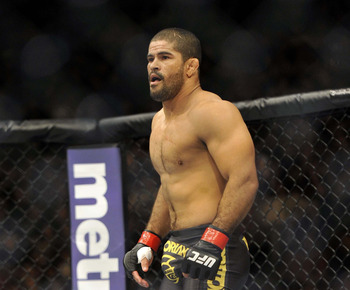 Joe Camporeale-US PRESSWIRE
FightMatrix Ranking: 15
UFC Record: 7-3
Divisional Record: 7-3
Biggest UFC Wins: Jeremy Horn, Dan Miller, Ivan Salaverry
Rounding out the final slot in the UFC's Top 15, Rousimar Palhares is a deadly leglock specialist who has been seen as a bit of a kook. Some peculiar moments include stopping mid-fight to (falsely) accuse his opponent of greasing and celebrating a win for a fight that had yet to be stopped.
Palhares is a tough guy, but is far from the title picture.
Michael Bisping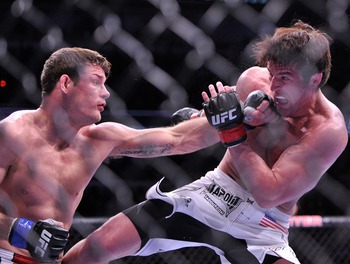 Mike Dinovo-US PRESSWIRE
FightMatrix Ranking: 11
UFC Record: 12-4
Divisional Record: 8-3
Biggest UFC Wins: Jason Miller, Chris Leben, Denis Kang
Michael Bisping is a sure-fire title contender. Right? Clearly nobody would ever continually talk about a title shot without having major wins. That would just be silly.
Think fast! Name any Top 10 fighter who Bisping has defeated.
The contender-ship of Michael Bisping is a popular myth in the MMA world. Despite his high placement in divisional rankings (on most lists), Bisping's biggest wins come against fighters who have name value, but lack relevance in the title scene.
People suggest that Bisping should get a title shot if he defeats No. 10 ranked Brian Stann. Why? Because Stann is so highly regarded that a win over him negates the fact that The Count is coming off a loss?
Mark Munoz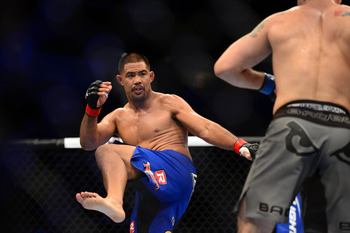 Kyle Terada-US PRESSWIRE
FightMatrix Ranking: 9
UFC Record: 7-3
Divisional Record: 7-2
Biggest UFC Wins: Chris Leben, Demian Maia, Kendall Grove
The Filipino Wrecking Machine has done well since dropping down from the light-heavyweight division. Kicking off his middleweight career with an impressive record of 7-1, Mark Munoz recently found out just how good Chris Weidman really is.
Munoz will try to recover from this loss, but it was one-sided from start to finish, and erasing the memory of it will be quite difficult.
Hector Lombard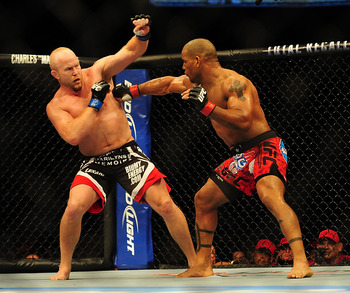 Anne-Marie Sorvin-US PRESSWIRE
FightMatrix Ranking: 7
UFC Record: 0-1
Divisional Record: 0-1
Biggest UFC Wins: none
Bellator's last middleweight champion Hector Lombard was on a 25-fight winning streak when he entered the UFC earlier this month. In a battle with Tim Boetsch, the Cuban judo star came up on the wrong end of a split decision after 15 minutes of tentative action.
Although Lombard looked flat-footed in his promotional debut, more than half of you who voted in a B/R MMA poll feel that Lombard should have been awarded the decision victory. Perhaps it is because Boetsch looked weak in the fight and Lombard's counter-striking did considerably more damage.
Wild Cards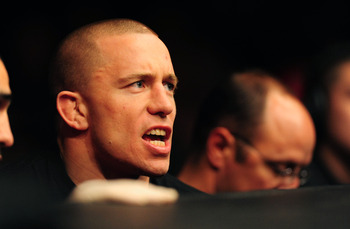 Mark J. Rebilas-US PRESSWIRE
Not every option is an obvious one. Sometimes a contender comes seemingly out of nowhere. Just ask Erik Koch about that one.
Here is a look at five unlikely candidates who could challenge The Spider if the stars align just properly.
Luke Rockhold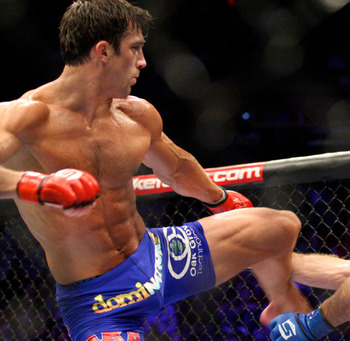 Scott Olmos-US PRESSWIRE
Champion versus champion matchups are often the fantasy of fans who think that the grass is always greener on the other side. The challengers in the UFC are elite fighters, but you're looking for someone who contractually is unavailable to fight.
In this case, Rockhold and Silva are both contracted to fight under the Zuffa banner, and Silva is interested in doing battle with the Strikeforce middleweight champion.
Now that Frank Mir is heading over to Strikeforce for a single fight, anything seems possible. Could Silva battle Rockhold on Showtime in a multi-promotional event the likes of which have never been seen? It's doubtful, but there is a reason that this is the wild card section.
Georges St. Pierre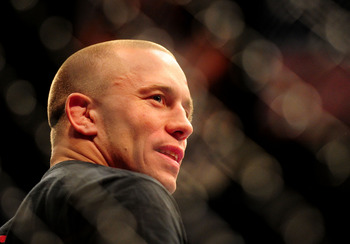 Mark J. Rebilas-US PRESSWIRE
The super-fight that we have all been waiting for is reportedly on the mind of Anderson Silva these days. Silva's manager Jorge Guimaraes told Tatame his thoughts on The Spider's next move.
They (the UFC) didn't offer the fight, but he's the only one that could do a super fight. Anderson has the biggest paycheck in the UFC, and you can't promote an event with these amateur kids that are coming up now.
This fight is unlikely to happen for the UFC middleweight championship, as GSP does not seem interested in fighting at 185 pounds. Were this fight to occur, a catchweight would be necessary.
Dan Henderson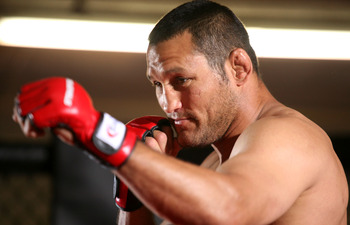 Valerie Macon/Getty Images
This is another fight that isn't likely to happen at middleweight. Additionally, for this contest to see the light of day, Henderson would have to defeat Jon Jones at UFC 151 in September.
If Henderson can dethrone Jones, he will have something to bring to the table to entice Anderson Silva into finally taking the rematch that Hendo has wanted for more than four years.
Silva has dabbled at light-heavyweight before, and the few times when his dance card is empty, the reigning champion has either been a training partner (Lyoto Machida) or someone who Silva isn't interested in fighting (Jones).
A win for Hendo in this hypothetical world would mean that he just beat Jon Jones and Anderson Silva in consecutive fights, while the win for Silva allows him to capture gold simultaneously in two divisions. Hendo vs. Silva would undoubtedly identify the greatest fighter of all-time.
Rashad Evans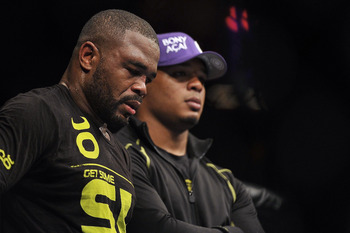 Paul Abell-US PRESSWIRE
After seeing his hopes of winning gold at 205 dashed by Jon Jones, Rashad Evans decided that he wanted a piece of Anderson Silva.
Dropping to 185 pounds is something that Evans teased in the past when then-friend Jones won the light-heavyweight championship. Now that he is pursuing the idea and there is no clear-cut contender, this fight is the biggest title fight the division can book right now.
Jake Shields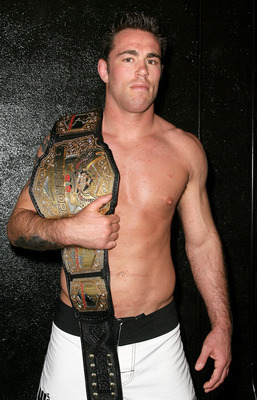 Valerie Macon/Getty Images
When a fighter does battle in the wrong weight class for his body, it is unrealistic to think that he can give 100 percent. Jake Shields has been fighting in the welterweight division since joining the UFC, even though his frame is best suited for middleweight action.
Shields was the Strikeforce middleweight champion when signing on with the UFC, and has wins over notable middleweights Dan Henderson, Yushin Okami and Jason Miller.
If the Cesar Gracie student can get back on track at 185 pounds, he could throw together a trio of wins by this time next year and challenge Silva.
Keep Reading