Michigan Football: Cowboy Classic Alternate Uniforms Are Decidedly "Meh"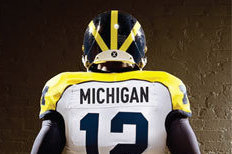 When Michigan takes the field at Cowboy Stadium this September, it won't look like any Michigan football team ever before. That's because the Wolverines announced that they're rolling out yet another one-time new uniform, made especially for the Alabama game.
Since it's only for the Alabama game, there's no blue home version of this, just the road whites for the trip to Dallas. With that in mind, pictures of the uniforms, courtesy of the official University of Michigan athletic website, are below.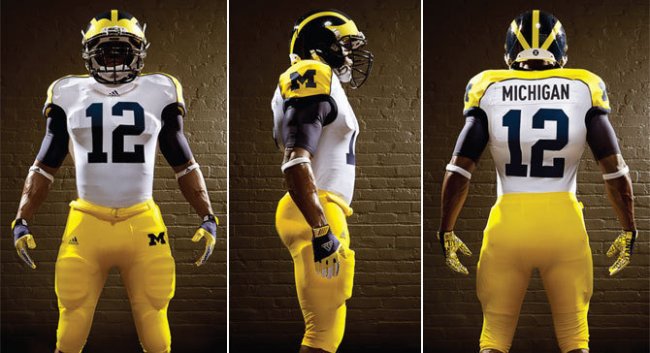 So the Wolverines have a guy whose last name is Michigan? How serendipitous!
Now, as with all other special uniforms from the past few years in Ann Arbor, this design is distinctly Michigan's even before you see any logos; Adidas does a great job of staying true to Michigan's colors and not getting outlandish with its designs (see: just about every other alternate uniform in college football). So we'll give them that.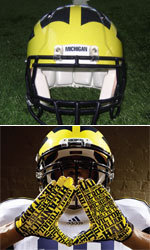 But it's hard to figure out what the purpose is behind these uniforms. They look like normal uniforms, which is to say there's no hook to them, no gimmick requirement being satisfied. Yes, the Alabama game is special, so if a tradition-heavy program like Michigan's going to mix things up sartorially for the game, shouldn't it do better than something that just looks like an Adidas proposal for a new every-week design?
That all said, there is one oddity that can't go unnoticed. What in the name of Will Shortz is going on with Michigan's crossword-barf gloves, seen at right? They're like essays that you can catch footballs with. Words, words, words. If Michigan's trying to distract Alabama's secondary, this is the wrong way to do it; nobody in the SEC knows how to read.*
One odd note about these uniforms: Unlike what's pictured here, Michigan's going to have numbers on the helmets for the Alabama game, like with last season. It will also be the last game Michigan has those numbers; they're switching back to the "regular" winged helmet afterwards. Pity, the numbers added a cool touch.
And last, as Mgoblog notes, the uniforms have a helpful hint as to what country we're in:
BONUS: They're adding an American flag to the back of the helmet just to clear up any confusion about Michigan football's patriotism.
Are we really that insecure as Americans that we need to reaffirm our patriotism at every opportunity, regardless of whether we're asked? Wait, don't answer that. I don't think I want the answer after all.
Anyway. What do you think about these uniforms? Pass? Fail? Meh? We say meh. Comment section's open.
*I'm definitely going to hear from Barrett for that one.
This article is
What is the duplicate article?
Why is this article offensive?
Where is this article plagiarized from?
Why is this article poorly edited?