Penn State Penalties: Did NCAA Give University the 'Death Penalty' in Disguise?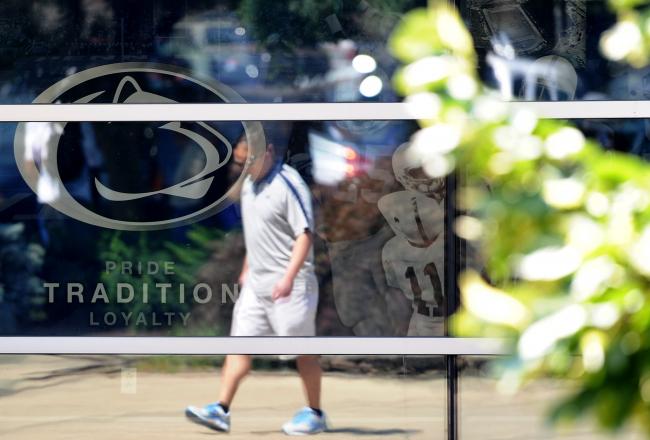 Patrick Smith/Getty Images
When the Southern Methodist University Mustangs received the NCAA "death penalty," effectively shutting down their football program for the 1987 season, it was believed that, despite the repeated recruiting violations and booster payments being made to players, that the penalty was too harsh.
There was no doubting the results. After nearly 20 years of futility including just three winning seasons and one bowl appearance, the "death penalty" was true to its name. It killed the SMU program, one that had tasted great success in the 1980's.
As SMU is only now beginning to overcome the "death penalty" it is clear just how effective this punishment is. It also seems clear that the NCAA does not want to give it out again, seeing just how much it cost an entire school and program.
That being said, and without using the words "death penalty" on the face of it, it appears that this is exactly the punishment the NCAA handed down on Penn State for the child sex-abuse scandal (from NCAA.com). Taking effect from before the 2012 season even starts, the repercussions of this scandal look like they will haunt and destroy the Penn State football program for years to come.
The sanctions are as such: a $60 million fine (money will be taken and put into a child sex-abuse protection endowment), a four-year postseason ban, including all potential bowl games and Big Ten Championship games, a loss of 20 scholarships for four years totaling a loss of 80 scholarships, five years of probation, the vacation of wins from 1998-2011 (taking with it Joe Paterno's NCAA and FBS all-time wins record), the ability for student athletes to transfer without penalty and an implementation of an Athletics Integrity Program that includes mandatory yearly training for all players and coaches on issues of ethics and a full disclosure program to prevent events such as the ones PSU is being penalized for.
NCAA announces Penn State sanctions
When you look at these penalties, there is no doubt they will cripple this football program. The four-year postseason ban and no penalties on transfers are likely going to mean that a handful, if not a majority, of the players are going to go elsewhere where they have a chance to win postseason games and national titles.
Lacking a true QB was the one thing that really kept Penn State from success in the past few seasons. They had finally gotten that, as ESPN 150 top quarterback in the nation Christian Hackenberg made a verbal commitment to the university. This recruitment was a huge step forward for Penn State, as it boosted its chance to get other offensive top recruits, including Adam Breneman, No. 1 tight end in the country, who was keeping an eye on Penn State getting a top QB.
Although Breneman didn't choose Penn State, Hackenberg did, and the keyword there is did. Although a few days ago before the penalties were handed down Hackenberg's resolve to stay with the team was unwavering, all of that could and likely will change. When asked by Mitch Sherman of ESPN what he was hoping to avoid, Hackenberg answered, "a dramatic bowl ban."
Even if Hackenberg does stay, how many of his teammates will? Top 150 players in DT Greg Webb and CB Ross Douglas had already decommitted prior to the announcement, and now it looks like there will be more of this on the horizon.
In addition to the 2012 recruiting class which will have to make decisions and the players on the team that could very well transfer, PSU is also going to be hampered by these penalties for the foreseeable future. The loss of scholarships, while it may not seem like much, is devastating to the program. Not only will it be hard enough to sign top recruits because of the postseason ban, the loss of scholarships means the school will have a financially difficult time, as it can only give out a certain amount of awards to these recruits.
Do you feel that Penn State was punished fairly?
So even though there will be football in Happy Valley, it will be shrouded with this cloud of the child sex-abuse scandal and its repercussions. They will play their season, unlike SMU, that was forced to cancel one season and then made the choice to cancel a second season of play after they were going to be limited to just road games.
Why didn't the NCAA give Penn State the "death penalty"? It could be that the NCAA did not want to punish the rest of the Big Ten by creating a logistical nightmare in rescheduling had Penn State been forced to shut down the season. It could also be that there was no precedent for this and the school committed no recruiting violations, were not repeat offenders and did not receive any competitive advantage.
By name the NCAA did not punish Penn State with its worst punishment imaginable, but by their actions, everything points to the "death penalty." The only difference between PSU and SMU is that Penn State will have to play its seasons, serving as the doormat for the powerful Big Ten.
Sure, they didn't get the "death penalty." It should be something to be happy about. The problem is however, what they got handed down was worse.
This article is
What is the duplicate article?
Why is this article offensive?
Where is this article plagiarized from?
Why is this article poorly edited?

Penn State Football: Like this team?