Who Will Be the Reigning Champ in Each UFC Division in January 2013?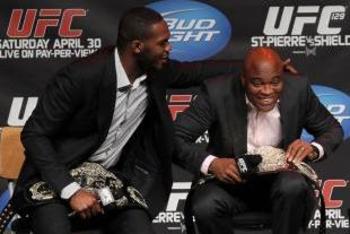 Photo Courtesy of dspnovo.lecom.com.br
Over half of the 2012 MMA year has come and gone. We've crowned a new Lightweight Champion, two Interim Champions, seen our share of upsets, and the rise of new contenders.
Five months of UFC events still remain and we're guaranteed to crown at least one new champion later this year.
On Jan. 1, 2013, when the clock strikes midnight, who will be the eight UFC champions?
Flyweight: Joseph Benavidez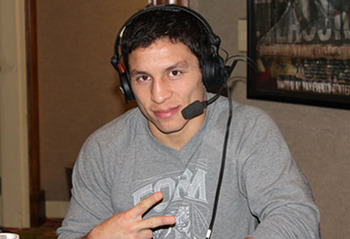 mmajunkie.com
The first ever UFC Flyweight Champion will be named at UFC 152 when Joseph Benavidez faces Demetrious Johnson in the main event.
While Johnson might be the quickest fighter in the UFC, Benavidez is an animal and his speed, along with his powerful punching and wrestling, makes him appear like he could be atop the flyweight division for a long time.
Bantamweight: Dominick Cruz and Renan Barao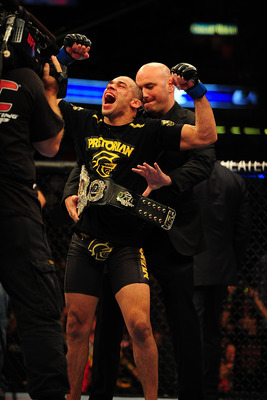 Anne-Marie Sorvin-US PRESSWIRE
The two names might be a little confusing, but at UFC 149, Renan Barao defeated Urijah Faber to become the Interim Bantamweight Champion.
All indications appear that Cruz will not be back until at least mid-2013, therefore there will be no title unification bout until then.
In the meantime, we could see Barao defend his Interim Championship sometime later in 2012, but no bantamweight jumps out at me to present a threat to taking Barao's title.
Featherweight: Jose Aldo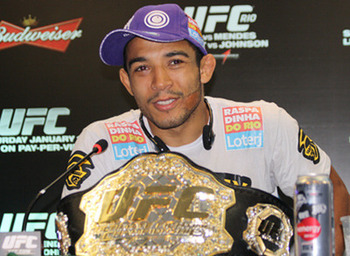 mmajunkie.com
At UFC 153, Aldo will fight once again in his home country of Brazil against the young Erik Koch.
Koch was in no way looked at as a threat while fighting on American soil, so now having to face Aldo in Brazil does him no favors.
With UFC 153 going down in October, it will more than likely be Aldo's final fight in 2012, so the talked about match-up with Chan-Sung Jung will have to wait until at least 2013.
Lightweight: Frankie Edgar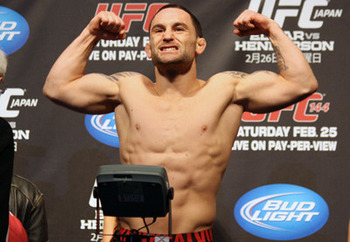 mmajunkie.com
In a little over three weeks, UFC 150 will feature the Lightweight Champion rematch between Ben Henderson and Frankie Edgar.
The two fought in Japan in February and saw Henderson defeat Edgar by a close decision.
Now, Edgar will be granted an immediate rematch, and I believe he will come out better in this fight and defeat Henderson.
There is a good chance we could see the championship defended once more in 2012, likely for November or December, and the match-up would likely be Edgar (or Henderson) against Nate Diaz.
Nate Diaz has looked terrific in his last few fights, but I think the combination of wrestling and skilled striking by Edgar would be too much for Diaz.
Welterweight: Georges St-Pierre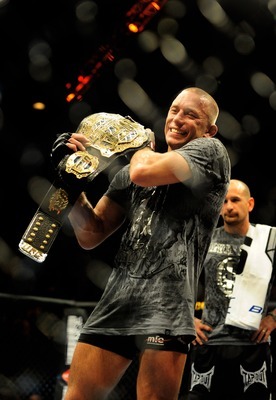 Mark J. Rebilas-US PRESSWIRE
Georges St-Pierre hasn't fought since April of last year, but he is expected to make his return this November against Interim Champion Carlos Condit.
Condit defeated Nick Diaz in February, but the fight wasn't all that impressive.
GSP will likely not be as sharp as usual when he steps in to unify the Welterweight Championships, but I can't see any way Condit will be able to dethrone the champion.
Middleweight: Anderson Silva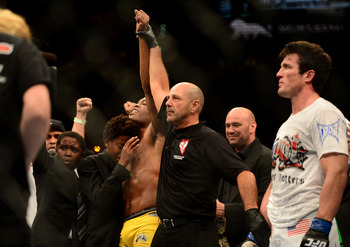 Mark J. Rebilas-US PRESSWIRE
No surprises here.
Honestly, I'll be fairly surprised if Silva even fights again in 2012 seeing that there are a lot of top contenders, but not a true No. 1.
If Hector Lombard would have finished Tim Boetsch, maybe Silva and Lombard would've hooked up in December, but that didn't happen.
With Dana White wanting all the top middleweights to fight one more time before any of them get a shot at the Middleweight Championship, as well as a fight against the best fighter in the world today, Silva will likely be on the sidelines until early 2013.
Light Heavyweight: Jon Jones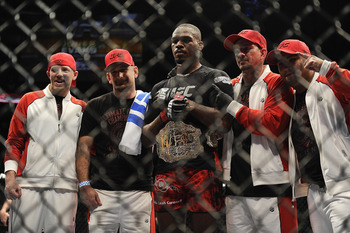 Paul Abell-US PRESSWIRE
I'm not going to lie; I'm totally sipping on the Dan Henderson Kool-Aid right now, but not enough to say outright that I believe he's going to dethrone Jones at UFC 151.
Henderson's scary power and Jones' untested chin makes it tempting to pull the trigger on an upset prediction, but Jones is just a freak athlete with lack of a better description.
I see Jones putting away Henderson either by decision or late submission and likely going through a lengthy waiting period until another contender emerges.
Heavyweight: Junior Dos Santos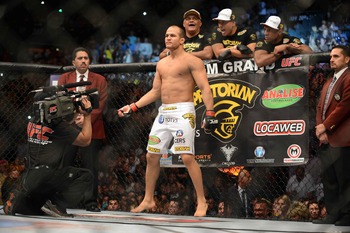 Ron Chenoy-US PRESSWIRE
Cain Velasquez looked very impressive in his bout against Antonio Silva, as did dos Santos against Frank Mir at UFC 146.
Though it's hard to truly learn anything from a fight that lasts 1:04, I do believe Junior dos Santos is a better fighter than Velasquez.
These two are likely to have their rematch sometime between October and December, and who will be the next heavyweight title challenger after that will have to wait to be seen.
Keep Reading