WWE News: Updates on Several Upcoming Ring Returns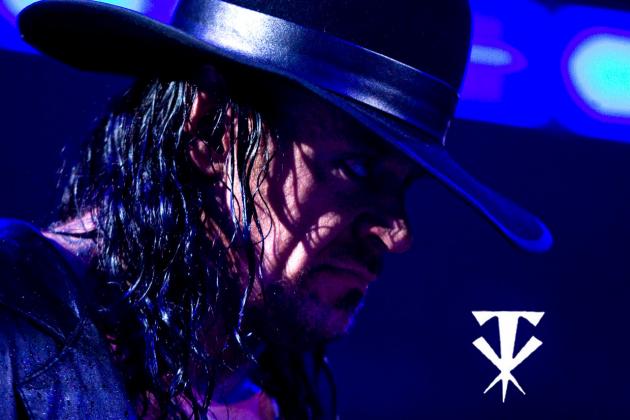 Source: http://imageevent.com/afap/sports/wrestling/theundertaker;jsessionid=8ra1ojxea4.frog_s?p=3&n=1&m=-1&c=4&l=0&w=2&s=0&z=9
Welcome to the latest article in my series chronicling the WWE roster's return to full strength.
Some months back, things were pretty bad, with a lot of WWE's main talents out of action.
Now, several are back, and others are returning imminently, some as soon as tomorrow.
Please note this article is about in-ring returns, i.e. wrestlers competing in a formally sanctioned match.
The focus is obviously on full-time wrestlers, but I will also comment on when I think various other guys who are also on WWE contracts will next jump in the ring.
Begin Slideshow

»
Quick run-down of who has come back since the last article got published: The Miz and Rey Mysterio are back!
The Miz made a pretty surprising return on Money in the Bank, while Mysterio returned sooner than expected. He had been predicted by most fans to return tomorrow night, at Raw 1000.
Welcome back, guys.
Yup, another Raw 1000 return.
Kelly Kelly is back on the road.
Not got much to say here, really. Even when she was "on hiatus" she was still showing up on WWE's YouTube shows (see video).
With Raw tomorrow being so packed, and judging by how WWE normally treats its Divas, I would not be shocked if she did not have a match tomorrow.
Update: So apparently tonight is a one time thing. Kelly Kelly is not back full-time yet. But her recent appearance on WWE Superstars Toyz, the fact she is still advertised on WWE shows up until December and her appearance at Raw 1000 tonight mean she is clearly still a major part of the company.
I expect her full-time return to be within a few months.
On 4th June it was reported that DiBiase was looking at "another month out" and that he was "85% recovered".
I can only assume the reason DiBiase is not back yet is because WWE is saving him for tomorrow's special Raw.
I did notice that yesterday DiBiase tweeted about a flight. If he was due to return to TV tomorrow, he probably would have flown out yesterday, to arrive today, so he can meet with the WWE team whenever it is they rock up in to town.
I could be reading too much into things there, though.
UPDATE: OK, so people in the comments section have told me DiBiase was wrestling a house show for SmackDown last night. Guess that confirms he'll almost certainly be back for Raw 1000.
Henry is due back at Raw 1000. This has been known for some time now.
He has also lost a ton of weight.
I do not recall Henry ever looking that slim.
The same article also notes Henry has not been lifting weights as often as he would like, so he has lost some of his muscle strength.
Could this possibly mean he will work a lighter schedule by mostly just appearing on SmackDown until he has returned to full strength?
I anticipate him working through the problem, but we shall see.
John Laurinaitis is due to make his in-ring return tomorrow, actually.
His full-time return to television is due to be just before SummerSlam or just after.
I know he is not a full-time wrestler, but I have said this before: he trained for a few months to get in shape for his match so he took it seriously. At this point he qualifies as a more active wrestler than Triple H, The Undertaker, Brock Lesnar and The Rock.
February to June 2012, he wrestled in three matches, and has a fourth one due tomorrow.
This report states Barrett is due to return "imminently" but that "one source" says he will not be back until after SummerSlam. That is not very imminent to me.
I guess it gives us a time frame though, sometime between tomorrow and 19th August.
We know what is happening here. As soon as Orton's wellness policy violation is up, he'll be back on TV.
It is confirmed he will be back on time, too.
David Otunga is currently off filming The Hive, a movie starring Halle Berry.
I imagine him returning when his boss, Johnny Ace does, in mid to late August.
He is advertised for an event on the WWE website in September. It is a non-WWE event, but this tells us his filming schedule will be over by then, so he'll be back by then at the latest, I would suspect.
Lesnar is due to be on TV tomorrow, and several times in the future. With his limited time with WWE and limited schedule though, he will only be wrestling on pay-per-view.
He isn't officially announced for SummerSlam yet, but his face is on the official poster...
Triple H will be on Raw tomorrow as part of a special "DX Reunion". Given DX includes retired superstar Shawn Michaels, I am assuming this means he will not be competing in a match.
I do ponder if an untelevised tune-up match for Triple H might happen at a house show, though.
It has been a good, long while since Triple H last wrestled anyone, having last done so at WrestleMania 28. In the last few years, his matches have tended to be against men with whom he had a fair amount of experience with in the ring.
This is not the case with Brock Lesnar. The two were involved in a triple threat match with The Rock once, but that is it, and that was a long time ago.
I can see Triple H wanting a warm-up match for himself so he is at his best, to reduce the chance of any mistakes.
On July 17, Evan Bourne tweeted that he has another month of physiotherapy before recovery. Presumably after that, Bourne will be ready to return to the ring.
This is sooner than previously reported, when Bourne had been hoping to be back in time for the November Survivor Series.
Its good to see things going well for him. He seems genuinely to be very keen to get back in the ring.
A month out means Bourne will probably miss SummerSlam, most likely returning the Raw after the pay-perview.
Rumours report that The Rock is seriously considering wrestling a few matches before his WrestleMania 29 match.
For some time I have been saying Rocky will show up at the 2013 Royal Rumble and win it to get a world title shot at WrestleMania. I still think this is true.
But with news he may wrestle a few matches before WrestleMania, I think he will also compete at either Survivor Series or SummerSlam. I am unsure which, but am currently leaning towards Survivor Series.
The current rumour is that John Cena vs. CM Punk for the WWE Championship (a match due to occur at the 1000th episode of Raw) will see a rematch at SummerSlam. The Rock, gunning for the title, could easily insert himself in this feud on tomorrow's Raw, making the SummerSlam match a triple threat.
WWE tends not to do triple threat matches very often, and tends not to put returning legends like The Rock in complicated matches like that, as their return is enough to get an audience worked up, let alone adding anything else to the mix. If Cena beats Punk tomorrow, Punk using his rematch clause at SummerSlam is very logical, with no space for The Rock in the mix.
The other option is Survivor Series. Anything could happen there, really. The Rock has a long history there—he made his début there in 1996, won the "Deadly Game" tournament in 1998, helped defeat Team Alliance in 2001 and made his return to the ring after over seven years at Survivor Series 2011.
It would be the logical place for him to have the first battle in his quest to become WWE Champion once more.
The Undertaker will be at Raw tomorrow.
It will likely not be in a match though, as he has no feud built up and does not wrestle lightly. WWE is not going to let fans watch him wrestle without charging money to see it.
However his appearance at Survivor Series is something to get speculating about.
It is not impossible that it will be purely to spark a WrestleMania feud, but it seems a bit early does it not?
I think it more likely that The Undertaker will be competing in a match at Survivor Series.
He did not look nearly as beat up after WrestleMania 28 as he did after the previous year's match.
Yeah, I'm still sticking with this.
Mick Foley got a solid pop at the last Royal Rumble, he's under WWE contract, he said he enjoyed it and says he thinks he will get in the ring at least once more for a full match.
I am sure he will be among the legends to return to the ring at the Royal Rumble, as a possible lead in to a final WrestleMania match.
Mason Ryan's been taken off TV lately, though he has been wrestling at house shows (you can find videos of them online if you look for them).
To my knowledge, this match against Dolph Ziggler on WWE Superstars was the last time we saw Mason Ryan.
His ring work is horrible generally and WWE Creative seemed out of ideas for him, so I think a combination of the two is the reason he is off TV right now.
All that will probably change once WWE gets desperate for ways to fill its new three hour schedule, but if he still is not good enough to be put on TV, I question if he ever will be.
I previously asked for commenters to inform me if they knew what was going on with Trent. I got nothing in response.
The fact that he keeps appearing on Zack Ryder's YouTube show (which is now run by WWE, remember) means he is probably not in WWE's bad books. I assume this means this is not a punishment of any kind, then.
A recent tweet of Baretta's confirms my previous theory though—WWE Creative has nothing in mind for him just now.
What is going on with Kharma?
This article sums it up by stating Kharma has given off mixed signals about her return.
I wrote one possible explanation that it is all a work and that tomorrow Kharma will injure one of the legendary Divas that I assume will show up for the special Raw episode's festivities.
At this point, I am not so sure. I think she's done with WWE, but it is really hard to tell.
Be my guest and leave comments, I will endeavour to respond to all of them.
I tried to use lots of videos of past WWE returns in this article, what did you think of some of them?