Transfer News: Cahill Move Highlights Growing Lack of Parity in MLS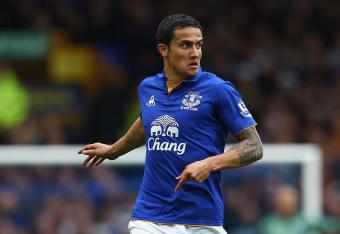 Clive Brunskill/Getty Images
The New York Red Bulls have managed to add another top name to their MLS roster this summer as Everton's Tim Cahill gets set to join their ranks alongside Thierry Henry and Rafa Marques.
But would a franchise like the Columbus Crew or the San Jose Earthquakes have been able to lure in a player of Cahill's caliber?
The MLS is built on the idea of parity. It's what sells the game to prospective franchise investors and to the fans themselves.
Anyone can win the MLS Cup
But is there really parity in the league?
The designated player rule is one that I've always had a little trouble with.
It's great that it allows MLS to attract some of the biggest stars in the game to America's shores, but it is also beginning to take away that edge of fair play that the league is so proud of.
Where have all the top designated players (DPs) in MLS gone to?
Los Angeles and New York are two sides that spring to mind when looking at DPs in MLS.
Thierry Henry, David Beckham, Rafa Marques, Robbie Keane, Landon Donovan and now Cahill, have all made their way to two of the biggest and most fashionable cities in the country.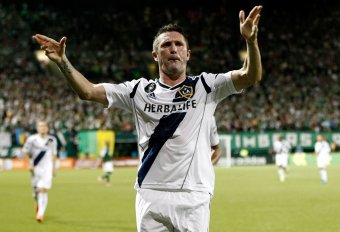 Jonathan Ferrey/Getty Images
Not only that, but we've seen the rules of the league change to allow these sides to bring the players into the league.
The designated player rule initially came into MLS to allow the LA Galaxy to buy Beckham from Real Madrid, and it has been extended to allow two, and then three of these "special" players to be on a squad without having to conform to the wage cap criteria of the league.
It's no coincidence, in my mind, that the designated player rule was expanded just when Donovan wanted to join the the Galaxy and Henry and Marques joined New York.
Having three players of such quality on a side can pull a team out of any trouble, just as the Galaxy are showing this season, and it can cement a side at the top level of the league for a number of years, much like the New York Red Bulls look poised to do now.
It may be too early to say, but there is an air of formality being given off by what was an unpredictable league.
New York and Los Angeles are joined by Toronto as being the only sides to have two or more $1 million a year salary players on their rosters, while Portland and FC Dallas sport the other $1 million-plus a year salary players currently in the league, although we wait to find out how much Marco DiVaio and Alessandro Nesta are being paid by the Montreal Impact.
The Impact, though, have still invested in very old players, while LA and New York have managed to bring in players around the age of 30-32; players who still have a few good years left in them.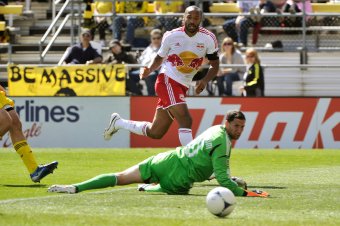 Jamie Sabau/Getty Images
The likes of Columbus, Real Salt Lake, San Jose and Colorado still struggle to attract similar players and could end up losing out in the long run if the "hip" cities continue to attract the more dominant overseas players.
The league isn't dominated by a couple of sides right now, but if the process continues as it has, it could become that way.
The Crew, Chivas USA and others may need to start spending money to make money, rather than holding back on the purse strings, otherwise the competitive edge of MLS could end up fading away.
Let's hope this doesn't happen and MLS continues to be what it was meant to be. One of the tightest leagues in the world.
This article is
What is the duplicate article?
Why is this article offensive?
Where is this article plagiarized from?
Why is this article poorly edited?