Why FC Barcelona Will Have Real Madrid's Number in La Liga Next Season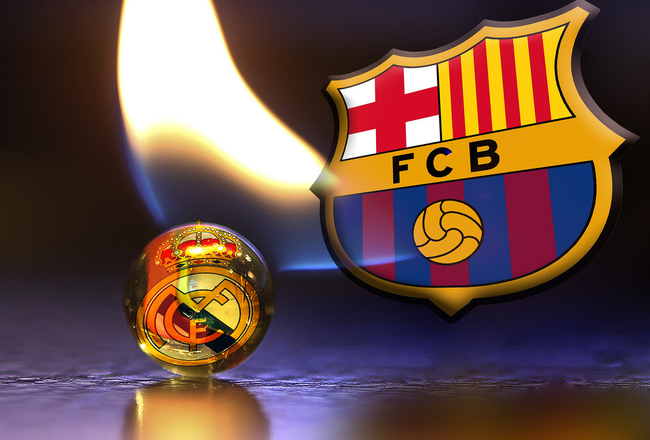 Photo courtesy of http://diendan.game.go.vn

La Liga is coming back soon.
And for FC Barcelona and their fans, it can't come soon enough.
El Blaugrana will look to win its fourth Liga title in five years and their 22nd Liga title in their proud history in 2012-13.
This season will be one of the most competitive seasons in recent Liga history. Teams like Espanyol, Levante, Atletico Madrid, Athletic Bilbao, Málaga, and Valencia will all be near the top of the table.
But the team to beat this upcoming Liga season is the defending champions and Barcelona's biggest rival: Real Madrid.
Last season saw Real take the crown away from Barça as a historic season was displayed by Los Blancos. Real broke various Liga records including points-wise and goal-wise.
Barcelona was able to win four trophies in 2011-12, but La Liga was Real's.
We won't have to wait too long to see a Clásico as Real Madrid—defending Liga champions—will take on FC Barcelona—defending Copa Del Rey champions—in the Spanish Super Cup next month. The first leg will be on Thursday, Aug. 23 at the Camp Nou with the return leg at the Santiago Bernabéu on Wednesday, August 29.
The first Liga-season Clásico will not be in November or December as in years past.
The first league match between Barça and Madrid will be the weekend of Matchday 7: Oct. 7 at the Camp Nou.
The second Liga Clásico will be on Matchday 26: March 3rd at the Bernabéu.
As defending Liga champions, Real Madrid will more than likely come into the season as the favorite to win La Liga. But there are factors/reasons to believe that FC Barcelona will have Real Madrid's number this Liga season.
Here are just some of the reasons.
The Return of David Villa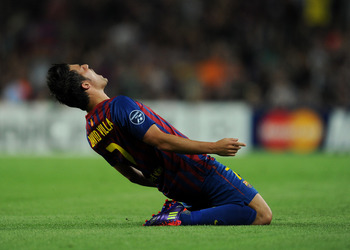 El Guaje is back!
Jasper Juinen/Getty Images
The 2012-13 season will see David Villa return to FC Barcelona.
And he is much needed.
As you may remember, Barcelona struggled last season with injuries—including Villa who was lost with a broken tibia at the FIFA Club World Cup last December—and with an insufficient attacking game (other than Leo Messi) at times.
During the UEFA Champions League semifinal against Chelsea, it was obvious Barça needed a true striker to support Messi in the attack.
With "El Guaje" back in the lineup, the offense will have the left-wing threat the team was lacking most of the season.
No more getting beat by "parking the bus" as it's safe to say that teams—especially in the Champions League—will use the strategy of "Antifootball" against Tito Vilanova's men.
Can David Villa come out and struggle at the beginning? Sure. I expect Villa to take a few weeks to get his rhythm back.
But David has worked very hard to get back to playing, he's trained for months now, and I expect him to have a solid 2012-13.
As a member of FC Barcelona, Villa has always played well against Real Madrid, including scoring three goals in eight games.
He may not score 20 goals, but the threat of David Villa on the pitch along with his contributions to the offense will be two of the reasons Barcelona will have enough to overthrow Real Madrid as Liga champions.
It Took a Historic Real Season to Beat FCB, a Season Real Won't Replicate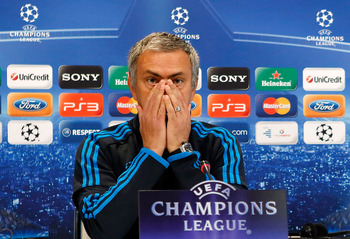 Mou sees Tito coming!
Angel Martinez/Getty Images
Real Madrid's 2011-12 campaign was clearly one for the ages.
100 points.
121 goals.
A goal differential of +89 points.
Three teammates scoring 20 goals or more each (Ronaldo, 46; Higuain, 22; Benzema, 21).
A fantastic Iker Casillas all season long.
Even Culés must admit what we saw out of Jose Mourinho's men last season was unbelievable. After the 3-1 loss to FC Barcelona at the Santiago Bernabéu last December, Real Madrid steamrolled the rest of La Liga, defeated Barcelona at the Camp Nou and won their 32nd Liga title in their storied history.
With all that being said, does anyone think Real Madrid can repeat that kind of performance again?
I don't think so.
But let's be clear, Real Madrid doesn't have to get 100 points to win La Liga again. This is a solid squad that Mourinho has.
But FC Barcelona has improved by bringing in Jordi Alba, having a healthy David Villa and Ibrahim Afellay (if he's not sold), and will be motivated to knock off the team that took their title away from them last season.
Barcelona had—for their recent historical standards—a bad season last year, yet they were able to win four trophies and had 91 points in La Liga standings.
It took a historic Real Madrid season to knock off FC Barcelona last season, a season Real will not be able to replicate in 2012-13.
Jordi Alba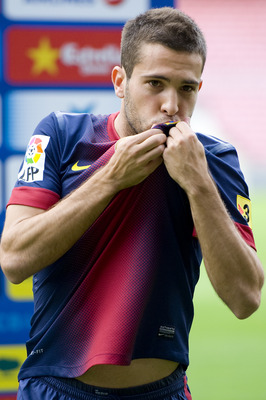 Jordi Alba
David Ramos/Getty Images
The biggest transfer of the summer so far in La Liga was one of the most expected transfers in recent Liga history. Jordi Alba's return to FC Barcelona from Valencia had been rumored and expected for many months before the official transfer on June 28. Barça paid €14 million to Valencia for the 23-year-old who will take over the LB spot formerly held by Eric Abidal.
As we saw in La Liga last season, Jordi was the spark of Los Che for many games. His speed and offensive-minded game makes him always a threat to cause damage to opposing teams, not to mention his speed to get back on defense.
Jordi played very well against Real Madrid in La Liga last season, particularly in Valencia's 0-0 tie with Los Blancos at the Santiago Bernabeu in April.
Culés saw what they are going to get out of Jordi Alba this Liga season when Alba became the breakout player of Euro 2012. Jordi was a part of both the offense and the defense throughout the tournament. His chemistry with Andres Iniesta was something special to see.
With a left side of Jordi Alba at LB, Andres Iniesta/Cesc Fabregas/Xavi playing left-midfielder throughout the season and David Villa/Pedro playing LW, teams in La Liga including Real Madrid are going to suffer on the left side of the pitch.
Real Madrid Have not improved this offseason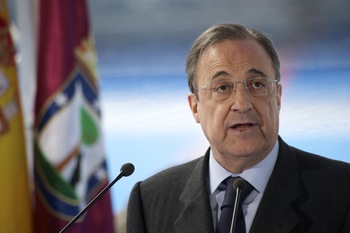 Florentino Perez has not brought in new players as of yet.
Carlos Alvarez/Getty Images
As of the date of this article, Real have not brought in new players to reinforce their squad. Luka Modric seems to be the player Real will pick up this summer.
Does bringing in Luka Modric improve Real Madrid? Yes, but it's not a dramatic, game-changing move. Luka would more than likely replace Kaká, who was and is a costly, injury-plagued bust. Ricardo Carvalho seems to be on his way out as well. Florentino Perez may look for a right-back as well.
Perhaps this is the year Real Madrid finally gives their young players a shot, as B/R's Liga expert Michael Cerna pointed out in his recent article discussing Real Madrid.
I'm sure many Madridistas would see that as a warm welcome.
Madrid still has time to improve, but as of right now the signing of Jordi Alba by Barcelona gives Barça a huge edge over Real in improving their squads. Modric would be a very good signing by Real, but Modric will not have the impact that Jordi Alba will have with Barcelona.
Remember, the dynamic Jordi Alba will impact both the offense and the defense of FC Barcelona.
For now, Real Madrid hasn't done anything to improve their squad.
And yes, you have to continuously improve your team in order to stay champions. That's what champions do: they're always looking to improve; never just keeping things the same.
Alexis Sanchez and Cesc Fabregas Will Improve in Year Two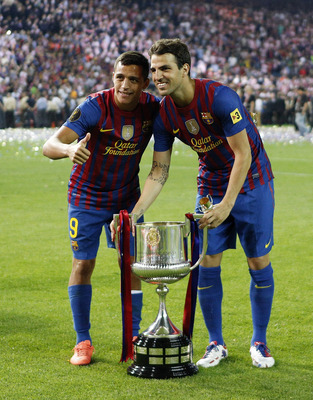 Alexis and Cesc
Angel Martinez/Getty Images
Alexis Sanchez and Cesc Fabregas were FC Barcelona's big purchases last summer. Both were looking to help el blaugrana win their fourth consecutive Liga title.
But the injuries that plagued Barcelona affected Alexis and Cesc in different ways.
Sanchez got off to a good start in 2011, playing very well against Real Madrid in the Spanish Super Cup. But Alexis picked up a hamstring injured in Matchday 3 against Real Sociedad. Sanchez was out for eight weeks.
Sanchez would go on to have another injury in March, missing a few games.
Cesc Fabregas would be affected by injuries in a different manner. Cesc started off to an great start in 2011 as he scored in four consecutive matches, an FC Barcelona record.
But with the injuries to David Villa and others, Cesc was asked to play left-wing. Fabregas did not look comfortable and struggled to help Leo Messi on the attack.
You couldn't blame him. Cesc is a midfielder, not a winger. Cesc actually plays better as a "false 9" rather than as a winger.
This season, look for both Alexis Sanchez and Cesc Fabregas to have much improved seasons as they will be more relaxed and comfortable with the Barcelona offense. Cesc will not rotate to LW as Villa is healthy along with Pedro, Cristian Tello, and Isaac Cuenca. Those same players will help give Alexis Sanchez plenty of rest as well.
A Motivated Leo Messi
Leo looking to win La Liga again.
Angel Martinez/Getty Images
Lionel Messi had arguably the greatest individual season in world football history. Messi shattered various records, including scoring a mind-blowing 73 goals and 29 assists in all competitions.
Even though Messi led FC Barcelona to four titles in 2011-12 including the FIFA Club World Cup, Spanish Super Cup, UEFA Super Cup, and Copa Del Rey, Messi was not able to lead el blaugrana to either of the two most important titles: La Liga and the UEFA Champions League.
This is the first time in almost five years since Lionel Messi and FC Barcelona have not won either La Liga or the UEFA Champions League.
This is not acceptable for Leo, who cares more about the team than individual records and is much more competitive than he likes to show.
Messi is humble yet very competitive and King Leo will be motivated to lead Futbol Club Barcelona past the team that knocked them off the Liga mountain in Real Madrid.
Even though Messi thinks of the team first, Leo knows he needs to get off to a good start this upcoming season if he wants to be in the lead for the 2012 FIFA Ballon d'Or. Messi knows that he is competing with Real's Cristiano Ronaldo for the trophy.
Even though Messi won't admit it, he knows winning individual awards help his legacy.
Messi will look to lead Barcelona over Real Madrid this season and win a fourth Liga title in five years and a third Champions League title in five years.
Health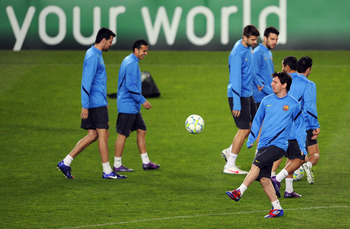 Staying healthy.
David Ramos/Getty Images
The injury bug was one of the main reasons Barcelona was not able to stay even with Real Madrid in La Liga.
Last season, it seemed like almost everyone minus Lionel Messi was injured.
That's because pretty much everyone on the entire lineup was out at some point in the season with an injury.
Some players where out only for a few games while some injuries were greater than others: David Villa, Cesc Fabregas, Xavi, Carles Puyol, Victor Valdes, Sergio Busquets, Alexis Sanchez, Pedro, Isaac Cuenca, Ibrahim Afellay, Adriano, Gerard Pique, and Andres Iniesta.
I don't see the injury bug biting Barcelona as bad as last season. Think about it, even with all the injuries the team had, FC Barcelona was able to reach 91 points in La Liga
But we can't deny it: if it wasn't for Lionel Messi's record season, Barcelona doesn't see 91 points last season.
One key factor will be if Carles Puyol is 100% healthy. David Villa is fully recovered from his injury and so is Ibrahim Afellay.
Barça will be even more solid with young talent with the return of Afellay (if he is not sold this summer) as well as the full-time promotions of Marc Muniesa, Martin Montoya, and Marc Bartra on defense. Cristian Tello will finally play a full season and there is a chance Barcelona B wonder striker Gerard Deulofeu could be called up to the first team.
Even with an injury-plagued season filled with defensive woes, Messi carrying the offense, and a managerial "Will he stay or will he go?" drama throughout the year, FC Barcelona still were able to make a late comeback in La Liga and get 91 points.
Image what a healthy FC Barcelona can and will do in La Liga this season!
Xoel, The Voice of FC Barcelona on Bleacher Report.
Follow me on Twitter:@XoelCardenas
Don't forget to check out my other columns:
FC Barcelona: Barca Must Give Young CBs a Shot
FC Barcelona: Steve Nash and Others Pay Tribute to Lionel Messi
Keep Reading

FC Barcelona: Like this team?