Team USA Basketball 2012: Statistics Highlights, Lowlights from Olympic Warmup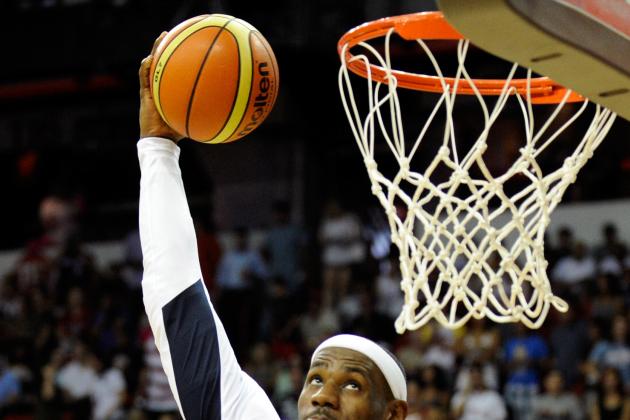 David Becker/Getty Images

LeBron James has been the leader of Team USA, as was expected after he won his first NBA Championship this year.
Including a 30-point outburst against Brazil that led the U.S. to the 80-69 win, and 16 against Great Britain, he is averaging 17.7 points per game.
While The King is ruling in terms of scoring, Tyson Chandler is the one letting the team down. He is averaging just 3.3 points per game, including not scoring against Great Britain.
Chandler is the seven-footer who plays center for the Americans, and he should be having a much bigger impact. If he can't put up double-digit points against a small Argentina team then he will be classified as a huge let-down.
Team Leaders
| | | |
| --- | --- | --- |
| Rank | Player | Average |
| 1 | LeBron James | 17.7 PPG |
| 2 | Kevin Durant | 16.0 PPG |
| 3 | Carmelo Anthony | 11.7 PPG |
Those Struggling
Rank
Player
Average
12
Tyson Chandler
3.3 PPG
11
Chris Paul
4.3 PPG
T-8

James Harden,

Kevin Love,

Kobe Bryant

5.7 PPG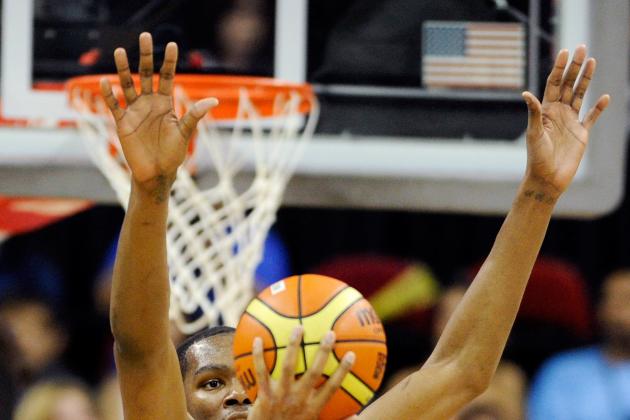 David Becker/Getty Images

Even with 7'1" Tyson Chandler on the roster, it's Kevin Durant who is grabbing the most rebounds.
The shooting guard/wing of Durant is leading the team on the boards, which is not altogether shocking since Team USA does not have many big men, and Durant plays the second-most on the team behind only LeBron James.
Durant is cleaning the glass, but some of his teammates are letting him down.
Deron Williams and James Harden are not crashing the boards, which is unacceptable because the team can't rely on big men like Williams can rely on Brook Lopez and Harden can rely on Serge Ibaka during the regular season.
Both men are averaging just 0.7 rebounds per game, which is the lowest on the team, and must improve.
Team Leaders
| | | |
| --- | --- | --- |
| Rank | Player | Average |
| 1 | Kevin Durant | 5.0 RPG |
| T-2 | LeBron James | 4.7 RPG |
| T-2 | Andre Iguodala | 4.7 RPG |
Those Struggling
Rank
Player
Average
T-11
James Harden

0.7 RPG
T-11
Deron Williams

0.7 RPG
T-9

Chris Paul,

Anthony Davis

2.0 RPG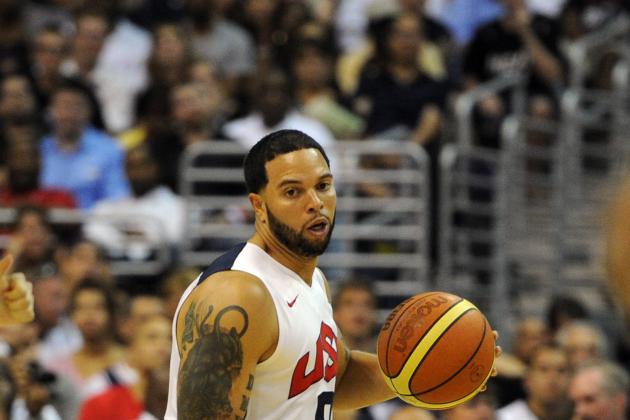 Patrick Smith/Getty Images

Deron Williams has been a driving force in Team USA's offense, racking up the assists. During his one and only start for Team USA he dished out five assists and dropped 19 points against Great Britain.
This is his second Games, and he looks for a second gold medal, adding to the one from Beijing. He is doing all he can to win it, but he is not getting help from everyone.
Andre Iguodala, Kevin Love and Kevin Durant are all struggling on that front, all three averaging just one assist per game and combining for fewer assists than Williams.
While Love can hardly be called a good passer, Durant should be looking to facilitate as much as score, and he is struggling to get assists.
He should look to improve in London.
Team Leaders
| | | |
| --- | --- | --- |
| Rank | Player | Average |
| 1 | Deron Williams | 5.3 APG |
| 2 | Russell Westbrook | 4.3 APG |
| 3 | Chris Paul | 4.0 APG |
Those Struggling
| | | |
| --- | --- | --- |
| Rank | Player | Average |
| T-10 | Andre Iguodala | 1.0 APG |
| T-10 | Kevin Love | 1.0 APG |
| T-10 | Kevin Durant | 1.0 APG |