London 2012: NBA Finals Leave No Doubt LeBron James Will Be Team USA's Alpha Dog
June 22, 2012

Ronald Martinez/Getty Images
LeBron James finally won the NBA Finals last night, and he now sets his sights on a gold medal with Team USA in the 2012 Olympics. James' performance not only gives him momentum heading into the London Games, but also dictates that he will be the alpha dog on the world's best basketball team.
LeBron proved that he is the best player in the game today with his dominance in the NBA Finals against the Oklahoma City Thunder, averaging 28.6 points, 10.2 rebounds and 7.4 rebounds per game.
He recorded two double-doubles in Games 3 and 4 (missing a triple-double in Game 4 by a single rebound), and even notched a triple-double in the series-clinching Game 5.
James also played stifling defense against the league's scoring champion, Kevin Durant. When James guarded Durant, the league's best scorer could not find a way to dominate as he had all season. James' length and physical defense took away Durant's ability to impose his will against smaller defenders.
After putting on a performance that rivaled those of—dare I say it?—Michael Jordan in the NBA Finals, LeBron is now going to be the team leader for the USA in the Olympic Games.
This will be the first time in his illustrious career that he is the alpha dog of an international squad.
During the 2008 Olympics it was Kobe Bryant who controlled Team USA. A 23-year-old LeBron James took a backseat and modeled his work ethic after the Black Mamba.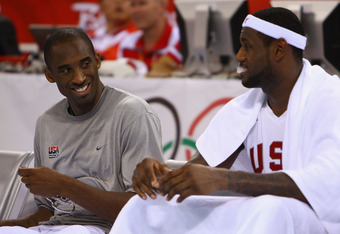 Jeff Gross/Getty Images
Kobe was the mentor of the team last time, but after being surpassed by the 27-year-old LeBron James, Bryant will be the one in the backseat, as James looks to drive this team to gold.
As we watched James hoist the Larry O'Brien trophy and win NBA Finals MVP honors last night, we looked upon a much more mature athlete than we saw announce that he would take his talents to South Beach just two years ago. He is no longer the arrogant child who claimed that the Miami Heat would win eight championships with him, but is now a man and a leader.
LeBron has matured in recent months, expressing his many regrets about those times. He no longer wants to be a villain and would rather be a good role model.
But perhaps the biggest single instant in his maturity came last night.
After finally attaining his goal of winning a ring, we saw James enter into a new phase of his life. He is now a mature athlete who has the ability to lead a team both on and off the court.
This final stage of his maturity bodes well for Team USA. James is now the type of leader that Bryant was four years ago, and LeBron may even be a better player than Bryant was at that time as well.
James has finally come of age in a way. He is clearly more mature than we would have thought possible two years ago, and this is his time to shine.
He will be the player that the rest of the guys on Team USA can rally around and base their work ethic off of, and this championship will help him be the alpha dog that the team needs.
LeBron led his Heat to a championship, and there is no doubt in my mind that he can lead Team USA to a gold medal.