Joe Paterno Statue: If It Comes Down, Don't Stand in the Way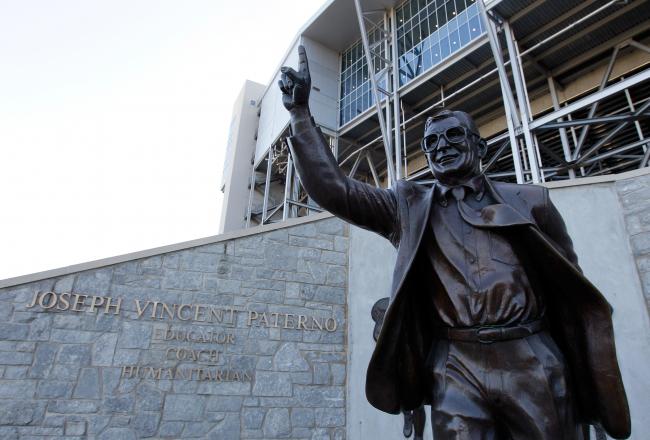 Rob Carr/Getty Images
The beloved Joe Paterno statue—long a fixture of Penn State's Beaver Stadium and a rallying point for students and fans during the last few tumultuous months—may be coming down this weekend. Maybe.
Reports from several sources, including NFL Network's Kimberly Jones and broadcaster Bonnie Bernstein, indicated that the Penn State Board of Trustees decided over a recent conference call that the statue should be removed this weekend.
It's important to note, however, that Penn State would not confirm that report, per StateCollege.com's Laura Nichols:
Penn State spokesman Dave La Torre: "I'm not aware of any decision being made," regarding the Joe Paterno statue.

— Laura Nichols (@LC_Nichols) July 20, 2012
Just to drive the point home, one of the board members spoke to Ms. Nichols and issued an outright denial:
Penn State Board member Capt. Ryan McCombie said "We did no such thing," re: voting to take down Joe Paterno statue, made no more comment.

— Laura Nichols (@LC_Nichols) July 20, 2012
Now, one owes it to Capt. McCombie to take him at his word on this one. If he says the reported vote didn't happen, then it didn't.
That being said, if he's lying, that may be the only way to get the statue down without a massive disruption taking place, because if there's anything Penn State fanatics have demonstrated over the past few months, it's that a small but significant minority of them will absolutely lose their minds over the statue coming down.
[UPDATE: ESPN's "Outside The Lines" reports that Penn State president Rodney Erickson is expected to decide about the future of the statue within the next 72 hours.]
Do you believe Penn State's denial about the statue coming down?
For one, there were students camping out in front of the statue days before the rumors of the statue coming down even began. They reacted rashly when the word Paterno was taken off the title of their student encampment for Friday nights at Beaver Stadium. They flat-out rioted when Paterno was fired.
So there's going to be a reaction to this news, even as Penn State denies it.
The odds that Penn State students and other extreme partisans are already organizing to protest in front of the statue are basically 100 percent right now. How large such a demonstration would be is anybody's guess, but as we've seen, a Penn State reaction can be quite a thing.
Our only plea is this, and it is sincere: If the statue comes down, either this weekend or this month or at 4:38 a.m. on Wednesday, Aug. 15, do not stand in the way. Don't risk your safety, and don't act so defiantly they need to bring in the cops.
Don't be that person.
Even if you think it's a mistake (and we're guessing you do), you have to let them make that mistake and deal with the consequences themselves. You owe it to the reputation of your university to show that maturity, and even if you don't care what outsiders think, your university does.
Oh, it's totally fine to be there; that's reasonable, in fact. You can stand as close as they'll let you. You can watch, cry, pray or curse the name of everyone who made this decision.
Sing the alma mater. Hit the world with a "We Are" chant so loud they hear it in Maine. Be as Penn State proud as you've ever been in your life.
But if the powers that be say the statue has to come down, as an adult (you are adults, right?), you have to abide by that decision. So please do that instead of turning a sad situation ugly. Please.
This article is
What is the duplicate article?
Why is this article offensive?
Where is this article plagiarized from?
Why is this article poorly edited?