College Football 2012: Michael Dyer Transfer Rumors Should Stop at Rumors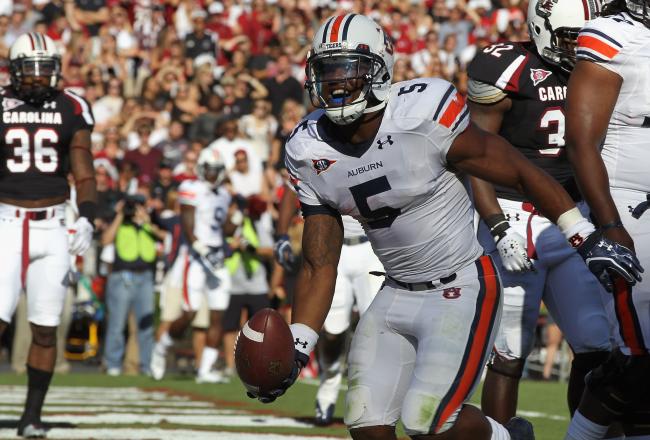 Streeter Lecka/Getty Images
Michael Dyer, the hyper-controversial running back who left Auburn for Arkansas State, is back in the news. Matt Miller, our draft analyst here at Bleacher Report, reported that the running back was transferring for the second time this offseason; this time to Pittsburg State.
Michael Dyer update: New source says Dyer is transferring to Pitt St, waiting to be finalized. That's three sources who confirm transfer.

— Matt Miller (@nfldraftscout) July 19, 2012
Pittsburg State is not in Pennsylvania; it's a small Division II school in Kansas, and their mascot is the Gorillas. Dyer, who followed Gus Malzahn to Arkansas State following issues at Auburn, is a heck of a running back, and Pitt State would certainly benefit from his expected presence.
However, the rumors continued yesterday, as, in a great job of real-time reporting, Matt Miller kept us updated:
As reported by others, Arkansas St to hold 1pm press conference tomorrow to address Michael Dyer's future. Pitt State still oddly quiet.

— Matt Miller (@nfldraftscout) July 19, 2012
The Red Wolves set up a presser as the situation got hectic. At this point, the Dyer-to-Pitt State rumor has surpassed the Da'Rick Rogers to Georgia State affair from earlier this year.
Reporter in ARK says Dyer is staying. Reporter near Pitt State says Dyer "wants to be a Gorilla". Reality is Dyer may be deciding still

— Matt Miller (@nfldraftscout) July 19, 2012
We'll ultimately find out the final verdict today, as the Red Wolves have a presser scheduled. On a thin news Friday, this could well be the highlight in the college football world. Given what we know as of now, the information delivered in the press conference could go either way.
Hopefully the rumors stay as just that: rumors. Dyer to Pittsburg State makes sense on only two levels: The young man truly expected to get the transfer waiver, and upon not receiving it, he still desperately wants to play this year; or he's flat-out miserable at Arkansas State. The latter seems less likely than the former, as his coach, Gus Malzahn, is there and he's only had a spring ball to get acclimated.
In the grand scheme of things, outside of those two very acute reasons, Dyer should be sitting it out at Arkansas State. Not because he's a spoiled brat or should learn his lesson and suffer—if that's your reasoning for "forcing him to stay," then I'm not the guy you should be reading.
Rather, for his future's sake, he should sit tight and wait it out.
Playing at Pitt State is not going to elevate his stock in the NFL draft. Going out and dominating against Division II athletes is not going to show the general managers of the league anything more than they have already seen from Dyer. The players are not very good, at least on the broad spectrum of college football as it relates to getting to the NFL.
Should Michael Dyer stay at Arkansas State?
Simply put, Michael Dyer has two years of quality film in the tank against quality opponents. Playing against inferior competition is not going to raise him above the level at which he currently resides.
Like Robert Quinn before him, Michael Dyer has done enough.
The kid will find a place in the NFL, and that was proven by his ability to set the tone in the nation's toughest conference, the SEC. He's a great blend of speed, agility and power and can slip a tackle, shake off a defender and then get out of the gate to pick up extra yards.
More than any other position, running back is about the amount of hits you take on a play-by-play basis. An extra year of wear and tear is a year off of what he can do at the next level. My advice is to stay at Arkansas State for the fall semester, be the best scout running back the nation's had in a long time and get ready for the NFL draft in 2013.
This article is
What is the duplicate article?
Why is this article offensive?
Where is this article plagiarized from?
Why is this article poorly edited?