Forget Patience, Bulls Need to Be a Part of the D12 Talks in Some Way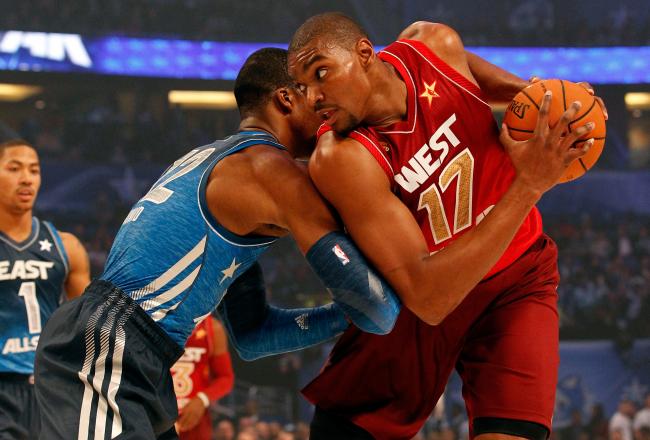 The Bulls owe it to the fans to try and get one of these two guys. The operative word is try,
Ronald Martinez/Getty Images
So far the NBA offseason for the Chicago Bulls have been abysmal, and that is putting it mildly. Their significant additions have been two former Atlanta Hawks. They are…drumroll please! They are Kirk Hinrich and Vladimir Radmanovic. Time to jump for joy Bulls fans.
Dwight Howard, arguably the best center in the league, is not walking in the doors of the Berto Center. Ray Allen decided to join the South Beach circus in Miami. Everyone else that has a pulse is looking at the Bulls as a franchise in disarray. Is this the curse for the spurning of Michael Jordan, maybe, maybe not? The trend is even lesser players like O.J. Mayo and Courtney Lee refuse to come here to play.
Wow!
The franchise says that it is time for patience, but I spell patience with a B and an S. Maybe they have a move in their back pocket to bring in Howard or an Andrew Bynum…wait! If the Cleveland Cavaliers can help facilitate a deal involving Howard and Bynum, why in the hell can't the Bulls?
You mean to tell me that Anderson Varejao is a better player than Joakim Noah? It just seems to me that the Bulls are just content to wait out the process and not give you and I what we want.
What we want is another title at any and all cost. Watching every other team that has postseason hopes make moves or at least engage in "talks" is discouraging to a fanbase that deserves more.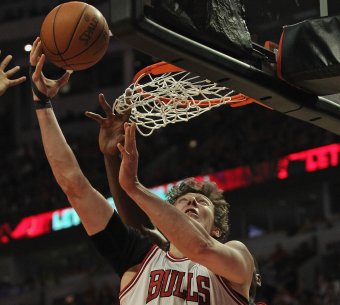 Financially the Bulls are doomed if they match the Rockets offer for Asik.
Jonathan Daniel/Getty Images
We deserve more than Luol Deng as our second-best player. We deserve more than a defensively challenged Carlos Boozer. We deserve more, but we have to wait. We have to wait patiently for the 2014 offseason when the top free agents will laugh at the Bulls much like they did in 2010.
The Bulls will probably bring back Ben Gordon at that point. He will be their top free-agency acquisition because they will have financially ruined their team by foolishly matching the idiotic Omer Asik offer.
By that time the Bulls will have alienated a fanbase that is starving for a winner and surely deserves one.
That leaves me back to where the Bulls should be today.
They should be involved in the Dwight Howard talks either as the primary team or as a third-party facilitator. If the Cavaliers are able to somehow help the Lakers and Magic pull off a reported trade proposal, the Bulls will be staring up at two teams. Not in the Eastern Conference but in the Central Division with the Cavaliers and Pacers. Maybe even the Bucks.
Chew on that thought my fellow Bulls fans, and let's enjoy that seventh seed in the playoffs. Patience!
This article is
What is the duplicate article?
Why is this article offensive?
Where is this article plagiarized from?
Why is this article poorly edited?

Chicago Bulls: Like this team?